AMA is coming!!!!!!!!!!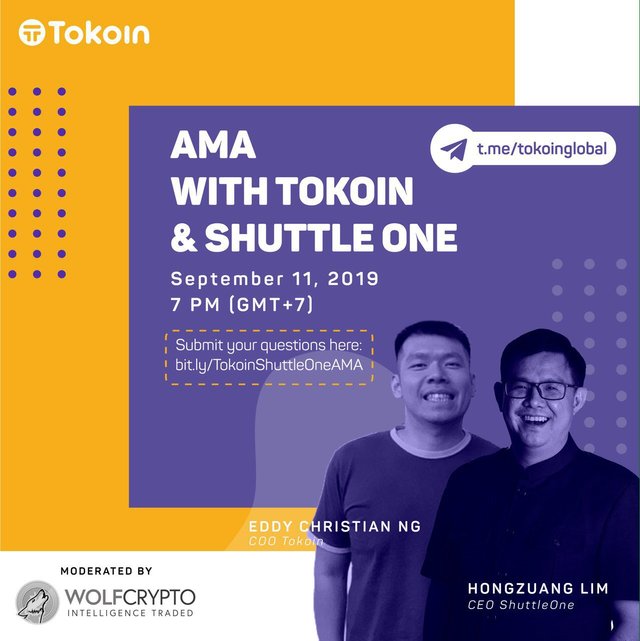 GOOD NEWS!
We're proud to announce that we're having another long-awaited AMA, this time with one of our advisors, Mr. HongZhuang.
The details are as follows:
⭐️ SHUTTLEONE & TOKOIN AMA ⭐️
⏰ Count down to the AMA Time: - https://bit.ly/2m7yJ3D
✋ Submit your questions here - http://bit.ly/TokoinShuttleOneAMA
The AMA will be moderated by Wolf Crypto.
In Tokoin Telegram Group, the AMA will happen at: 12 - 1 PM (GMT) or 7 - 8 PM (GMT+7):
Join: https://t.me/TokoinGlobal
In ShuttleOne Telegram Group, the AMA will happen at: 1 - 2 PM (GMT) or 8 - 9 PM (GMT+7):
Join:httpss://t.me/shuttleone
Read more about ShuttleOne: http://bit.ly/ShuttleOne
Read more about Mr. Lim's contribution to Tokoin: http://bit.ly/TokoinXZhuang
Rules for the AMA:
Join both Telegram channels.
At the time of AMA, the chat groups will be muted.
Users can pre-submit AMA questions by using the Google form, or by posting in the projects Telegram groups using the #AMA hashtag, prior to the AMA
We can't wait to answer your questions!
#Tokoin #Shuttleone #AMA