Opps! She did it again / Yine yaptı!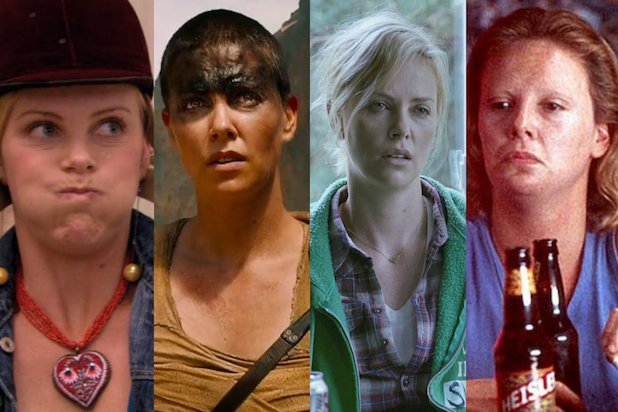 The Evolution of Charlize Theron, From 'Monster' to 'Tully'
Charlize Theron yeni filmi
Tully
için yirmi kilo aldı -ve sonra veriverdi. Rol gereği, biri daha bebek olmak üzere üç çocuk annesi, doğum kilolarından henüz kurtulamamış bir kadını canlandırmak için Theron kahvaltıda burger, gece geç saatte de soğuk peynirle makarna yiyerek kilo aldı. Fakat sonunda sadece kilo almakla kalmadı, söylediğine göre bir de üstüne ağır bir depresyona girdi.
Önce fiziksel dönüşümü hallederim, sonra karakterin iç dünyasına yoğunlaşırım diyordum. Ama sonunda bana da, tıpkı karaktere ve diğer pek çok kadına olan şey oldu. Bu kadar şeker ve işlenmiş gıda yediğinizde bunlar sizin ruh halinizi ve beyninizi de etkiliyor. Sonuç olarak hayatımda ilk defa çok, çok derin bir depresyona girdim. –Charlize Theron
Bu arada dün gece filmi izledim. Fikir iyi ama film baştan sona estetize. (Bizim Türk filmleri böyledir. Mesela Mutluluk'u izlemiş miydiniz? Hani Özgü Namal incecik alınmış kaşlarıyla bir köylü kızını oynar ve o güzelim koydan bu güzelim koya dolanırlar, bütün manzaralar güzeldir, hayat güzeldir, filmin güya asıl konusu olan dertler adeta sırası geldiğinde sahneye çıkan oyuncular gibidir. Bu filmde de o hesap.) Öyle yirmi kilo alıp depresyonlara girmeye falan gerek yokmuş bence.
Ha, yaptığı kolay bir şey mi?
Katiyen!
İki kilo fazlam var, iki haftadır ekmek yemiyorum. Yirmi kilo nasıl verilir, hayal bile edemiyorum.
Marlo:

[Yıllar sonra ilk kez, eskiden oturduğu Brooklyn'den arabayla geçerken] Köpek pastanesi olmuş şimdi!


Tully:

Daha önce neydi ki?


Marlo:

İnsanlar içindi. O zamanlar insanlar un yiyordu.
Bunu neden yapıyorlar?
Ben şahsen dünyaca ünlü yıldızların bir rol için böyle değişimler geçirmesine gerek olduğuna inanmıyorum (rol buna değse bile). Eminim dünya üzerinde, şişman, zayıf ya da çirkin (estetik engelli:) birini, fiziksel dönüşüm geçirmeden de layığıyla canlandırabilecek bir sürü yetenekli –ama adı sanı duyulmamış- aktör vardır.
O zaman niye ünlü aktörler bu kadar sıkıntıya giriyor ki?
Ah, bir saniye… Sebebini biliyorum.
Oscar kazanmak için.
Sınırsızlar Kulübü'nde Matthew McConaughey ve Jared Leto, HIV pozitif olan karakterleri canlandırmak için acayip kilo verdiler ve gayretlerinin karşılığında ikisi de evine Oscar heykelcikleriyle döndü.
1994'te Tom Hanks de bir AIDS hastasını canlandırdığı Philadelphia için 10 kilodan fazla vermiş ve bu rolüyle Oscar kazanmıştı.
Anne Hathaway, Sefiller'deki küçük rolü için birkaç kilo verdi ve saçlarını kazıttı; Hillary Swans Milyon Dolarlık Bebek için bayağı bir kas yaptı; Nicole Kidman Saatlerde Virginia Woolf'u canlandırırken protez burun taktı… Ve işe bakın ki Akademi hiçbirini evine elleri boş yollamadı.
Tabii Charlize Theron'u da unutmayalım.
Cani filmi için kilo aldı ve yıkanınca çıkan bir dövmeyle cildini yaşlandırdı. Sonuç? Hı hı, o da altın heykelciği evine götürdü.
Charlize Theron olmak da zor!
Ama Charlize'e hakkını vereyim: Kadın bunu bir kere, iki kere değil, defalarca yaptı: Çılgın Max: Öfkeli Yollar için kas yaptı ve saçlarını kazıttı, Sarışın Bomba'da kaburgalarını incitmekten ve dişlerini kırmaktan kaçınmadı.
Benim aksime Charlize Theron muhteşem görünüşünün film endüstrisinde bir avantaj olduğunu düşünmüyor.
İki metrelik şık şıkıdım bir model olduğunuzda rol bulmanız zor. –Charlize Theron
Eh, o öyle diyorsa…
Demek şöyle oluyor: Manken gibi olmak sinema dünyasında rol bulmanızı sağlamıyor, dolayısıyla güzel aktörler "sıradan" insanları oynamak için fiziksel değişim geçirirken "sıradan" görünüşlü yetenekli aktörler ekmek parası kazanmak için çırpınıyor.
Charlize Theron gained -and then lost- 50 pounds (20 kilograms) for her latest film, Tully. To get closer to the character, an out-of-shape mom of three (including an infant), she ate In-N-Out Burger for breakfast and cold mac and cheese late at night. She not only underwent a physical transformation, but also went into a really deep depression –as she put it in an interview:
I thought I was just going to start with physical transformation, and then I would get to her inner workings. And what I ended up happening was very much like this character, and I think a lot of women. It really affects your mood and your brain when you're eating that much processed food and sugar, and for the first time in my life I went into a really, really deep depression. –Charlize Theron
By the way, I saw Tully last night. The idea is good, but the movie is too aestheticized. There was no need to gain 50 pounds and go into a depression for this movie, in my opinion.
But what she did isn't easy, that I can tell you.
I need to lose four pounds (2 kilograms), and I haven't eaten flour for two weeks! I can't imagine how hard it must be to lose 50 pounds.
Marlo:

[Driving through her old Brooklyn neighborhood for the first time in years] That's a dog bakery now!


Tully:

What was it before?


Marlo:

A bakery for humans. People used to eat flour back then
Why do they do that?
First things first: I don't think it is necessary that world-famous stars should undergo a physical transformation for a role (even when the role is worth it). I'm sure there are many talented no-name actors who can perfectly play a fat or scrawny or simply ugly (aesthetically challenged:)person without needing a transformation.
So why do famous actors do that all the time?
Hold on a second… I know why.
For the sake of winning an Oscar!
Matthew McConaughey lost an extreme amount of weight to play HIV-positive Ron Woodruff in Dallas Buyers Club, so did Jared Leto for his role as a transgender woman who is also HIV positive, and they both took home an Oscar for their efforts.
Back in 1994, Tom Hanks had also won an Oscar for Philadelphia for which he lost 25 pounds to play an AIDS sufferer.
Anne Hathaway dropped quite a few pounds and shaved her hair for her brief role in Les Miserables; Hilary Swank built muscles for Million Dollar Baby; Nicole Kidman wore a prosthetic nose to portray Virginia Woolf in The Hours… And what a surprise, the Academy didn't send any of them home empty-handed.
And, of course, Charlize Theron.
She gained weight and had her skin layered with washed off tattoo ink to give it a weathered look for her serial killer role in Monster, and, guess what, she took home her golden statue.
Being Charlize Theron is difficult in its own way
But I have to hand it to Theron: she did it not once, not twice, but several times: she added sinewy muscle and shaved her head for Mad Max: Fury Road, and she didn't flinch from bruising ribs and cracking teeth while filming Atomic Blonde.
She, in contrast to me, doesn't think that her gorgeous look is an advantage in film industry at all:
It's hard to get roles when you're a 'gorgeous, f**king, gown-wearing eight-foot model' –Charlize Theron
Well, if she says so…
Then, having model looks do not help you get roles in the movie world, so gorgeous actors have to undergo physical transformation to play "ordinary" people while talented actors with ordinary looks scratching a living.