Holiday and tourism paradise.
I will tell you about the tourism and holiday paradise. This is Antalya/Manavgat/Side. Antalya is Turkey's districts.Manavgat is a district of Antalya. There are a lot of neighborhoods depending on Manavgata. Side neighborhood is a great neighborhood for holidays and tourism. 10 million tourists came to Antalya last year. Side is one of the most visited places. There are many historical and artistic places to visit in Side. Peoples are doing their holidays and observing the historical ruins with curiosity. The most important historical relic is the ancient city. Millions of people visit and photograph every year. The picture I took below is the columns from that period.
[Sizlere tatil ve turizm cenneti olan Side'yi anlatacağım. Side Antalya'nın Manavgat ilçesinin mahallesidir. Manavgat'ın tatil yapmak için birçok mahallesi vardır. Bugün Side hakkında yazacağım. Antalya her yıl 10 milyon turist ağırlıyor.En çok ziyaret edilen yerlerden biriside Side'dir. Çünkü Side'de tatil ile birlikte insanların ilgisini çeken tarihi kalıntılar ve sanatsal yapılar vardır. Tatile gelen turistler tatillerini yaparken aynı zamanda tarihi kalıntıları ilgiyle gözlemliyorlar. En önemli tarihi yeri Antik Kent'dir. İnsanlar buralara gelerek fotoğraflar çekiyorlar ve bilgiler ediniyorlar.Aşağıdaki sütunlar Antik Kent kalıntılarındandır.]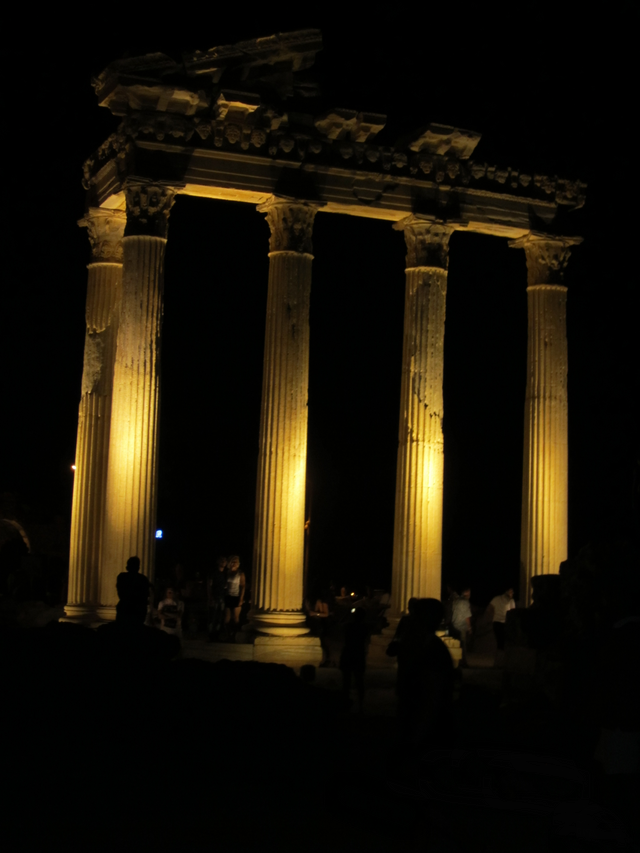 This is the temple of Apollo. This temple is known as Roma peace in the world. It really is a temple from a very old time.(150 BC) Apollon is mentioned as the son of Zeus and Leto in Roman mythology. Apollon is also a god. It is the god of art and poetry as seen from historical ruins. I gave you brief information. Those who want to learn can look at Roman mythology.
[Burası Apollon Tapınağı. Bu tapınak dünyada Roma barışı olarak bilinir. Gerçekten çok eski zamanlardan kalma bir tapınaktır (M.Ö. 150) Apollon, Roma mitolojisinde Zeus ve Leto'nun oğlu olarak geçiyor. Apollon da bir tanrıdır. Tarihi kalıntılardan görüldüğü gibi sanat ve şiir tanrısıdır. Sadece kısa bilgi verdim. Öğrenmek isteyenler Roma mitolojisine bakabilir]
Many people come from all over the world for the holidays. Sea, sand and sun are really great. I'll give you some information about the sea of ​​Side. Side has the best sea in Turkey. The water comes to your body even if you are 20 to 25 meters from the beach.
[Dünyanın her yerinden birçok halktan insan tatil için geliyor. Deniz, kum ve güneş Side'de bir başkadır. Size Side denizi hakkında ufak bir bilgi vereceğim. Side, Türkiye'nin en iyi denizidir diyebiliriz. Plaja 20 - 25 metre mesafede olsanız bile su boğazınızı geçmiyor ve birden derinleşen bir denize sahip değil.]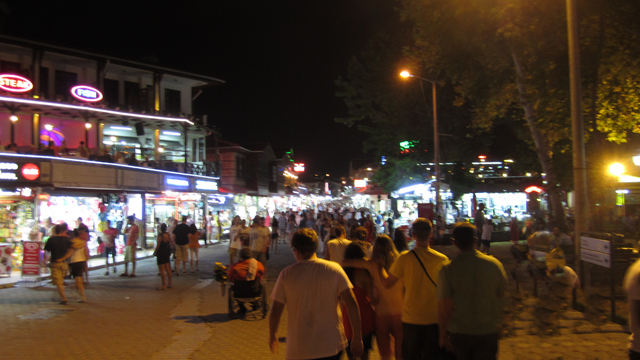 In the evenings, the bazaar is very crowded. There really is no place to step. The picture above is when the market is empty. If this is the least, consider the full one. : ) There are hotels to suit every budget. Tent camps are available if you want adventure. Side is where the perfect friendship is established. There are discos outside the hotel, which you can enjoy at night. Many foreigners fall in love with this city.
[Akşamları, çarşı çok kalabalık. Gerçekten adım atılacak yer olmuyor. Yukarıdaki resim çarşının boş olduğu zamanlar. Bu en az ise, tam dolu iken düşünün. :) Her bütçeye uygun otel var. Macera istiyorsanız çadır kampları da mevcut. Otelin dışında geceleri eğlenebileceğiniz diskolar vardır. Ama Alanya kadar fazla değil. Birçok yabancı Side'ye aşık oluyor ve her sene mutlaka geliyorlar.]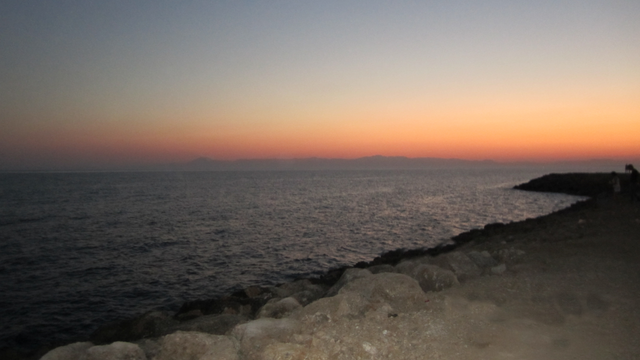 I didn't use an effect on the photo. Despite this, it looks naturally wonderful. Watching a unique sunset gives people peace. It completely destroys the stress you have experienced for a year. We expect everyone in the world to come to this beautiful city. We are honored to welcome you. Goodbye : )
[Fotoğrafa herhangi bir efekt uygulamadım.Buna rağmen doğal güzelliği harika görünüyor.Harika gün batımını Side'de izlemek güzel oluyor.Dünyadan herkesi buraya bekliyoruz.Sizleri ağırlamaktan memnun oluruz.Hoşcakalın.]
[Photos belong to me]