TOZEX | The One Stop Platform For Cryptoassets Issuing, Financing and Trading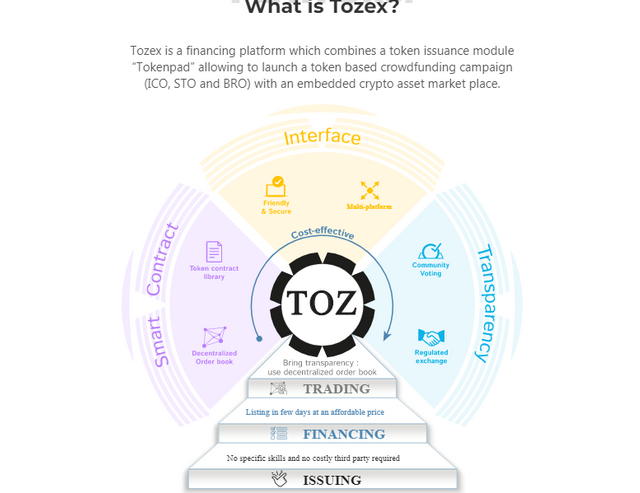 Image source
Introduction
TOZEX is a financing platform that combines a token issuance module with an embedded crypto asset market place. It enables entrepreneurs, project managers, and investors to set up a token-based crowdfunding campaign and also choose from a variety of campaigns to support. It uses blockchain technology to raise funds for SMEs in a regulated, transparent, safe, and non-volatile environment.
The problem before the Project
The current cryptocurrency ecosystem is made up of disarrayed markets that pose a set of challenges to traders, entrepreneurs, and investors. The challenges faced by traders are as a result of the difficult processes involved in the creation, listing, and Trading of tokens. Some of these challenges are;
Creation of Tokens: Token creation requires a certain level of expertise from developers; they need both financial and programming backgrounds. Such skills are in short supply due to the lack of training programs, and they are not readily available for the average entrepreneur.
To tackle this, the entrepreneur has to pay a costly fee (about USD 150/hour) to developers, to get his token created. This results in a long wait. On creation, it becomes difficult for the entrepreneur to access the smart contract. The unavailability of the required skills further results in security challenges with the token created.
Some of these challenges could be poor code quality, bugs, and insufficient audits. These affect user experience results in loss of funds and token suspension. As a result, caution should be exercised in the programming of smart contracts.
2.Token Listing: After the creation of the token, it is expected that a trader should list it on an exchange platform. Due to the scattered nature of the market, the listing process is both cost and time-intensive. The current process lasts from a few weeks to 12 weeks before a token is listed, and traders have had to pay large sums of money to be listed on good deals. Due to the disarrayed nature of the market, there will be different criteria and listing prices to choose from on the platform. The lengthy verification process, as well as the high cost of listing also pose a barrier to the entry of potential entrepreneurs.
Trading of tokens: Trading of tokens proves to be a challenge, particularly for small-sized projects that don't have the support of a large community. These projects suffer from liquidity issues. They have to wait for a listing announcement before they know when to trade.
Most crypto exchange platforms have a non-transparent clearing and settlement process that exposes the trader to abuse and fraudulent use of their assets.
The present cryptocurrency platforms are centralized systems prone to threats and other issues while the decentralized form of cryptocurrency platforms contend with user experience, liquidity, and trading functionality.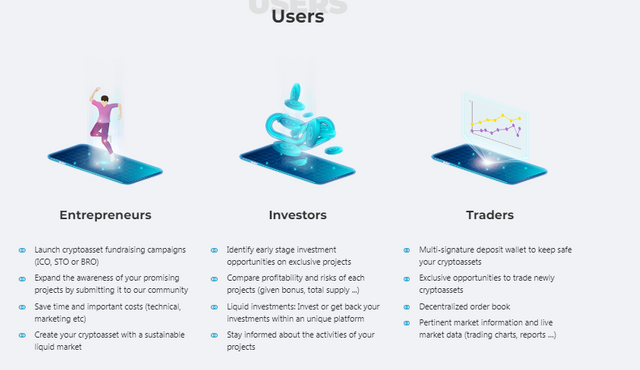 Image source
Solutions Proferred by the Project
TOZEX proposes to solve the challenges faced in the cryptocurrency environment by providing a crypto exchange platform that has an integrated decentralized order book.
Token Creation: This will be carried out through the use of "token pads," that offer friendly and automatic issuance of tokens. The technicalities of the process have been removed, which means that there is no need for a background in programming.
All a trader has to do to create a token is to fill the necessary forms.

Token Listing: The tokens to be listed must comply with the platform's regulations. Tokens that comply are listed with immediate effect. This enables investors and traders to sell as soon as they are listed, and the process is free of high costs and long waits.

Trading of tokens: [TOZEX](https://tozex.io/} aims to improve the liquidity of assets by introducing TOZEX Resere, which provides a decentralized liquidity mechanism involving project owners and market makers at the different stages of the asset's lifecycle.

Regulation of the industry: TOZEX seeks to regulate the industry by becoming the first crypto exchange, fully regulated under MIFID II. This is due to the belief that financial and asset tokens can be subjected to traditional financial regulations that protect customers and also support innovation.
Product of the Project
Knowing that the fundraising process is not a one size fits all, TOZEX allows entrepreneurs to select the fundraising platform convenient to their projects.
Ø Initial Coin Offering (ICO):
An Initial Coin offering is designed for entrepreneurs who want to provide digital access to an application or service. This ICOs can reach an international audience, in order to raise funds. Their launch costs are relatively low and the exhaustive processes of conventional fundraising are avoided.
Ø Security Token Offering (STO):
STO is open to entrepreneurs who want to offer tokens similar to securities such as stocks and bonds. This token gives financial and voting rights to holders.
Ø Believers Reward Offering (BRO):
This product allows a project to raise funds by borrowing crypto assets from contributors all over the world.
Conclusion
Improvements can be made to the state of crypto assets in the Cryptocurrency ecosystem, which TOZEX seeks to enforce through its platform. With the model being deployed by Tozex funding of projects will no longer be a basis for projects not to succeed because the enabling environment has been provided and seamless project development should be the way to go.
Please, see below links for more detailed information;
Website
Facebook
LinkedIn
Twitter
Telegram
Medium
Reddit
Whitepaper
Author's details
Bitcointalk profile link
Proof of Authentication Post