📈STEEM Investor Report 12 March 2018 (Bitcoin Reversal, Broader Market Up)
Trading Recommendation:
HOLD, broader market appears to be oversold and will likely rebound, significant risk of STEEM falling if SBD returns to $1
Investment Recommendation:
HOLD, expecting to be much higher after the release of communities, SMTs, and partner applications
Analyst Commentary:
The STEEM price is up 6.91% verse the USD over the past 24 hours on lower volume ($4,788,700) as Bitcoin rises $9.86k and the broader market market is up in response. The broader market is repeating the activity from Friday-Saturday so it continues to be beaten down by the flood of Mt Gox Bitcoin. Korean trading still leads the volume and has increased to 59% of trading activity. New account creation data is not available today. The % vested indicator is up at 70.78% as the elevated SBD price continues to drive investment. Daily active account data is not available today. SBD is at $2.63 on Bittrex which is still very elevated over the peg, receive you rewards in 50% SBD and then use the SBDs to buy STEEM on the exchange. SBD conversions are a waste of money again!
For traders, I believe STEEM is fairly valued around the $3 level, but we will remain elevated until SBD returns to the $1 peg. On the investor side, I believe we will be significantly higher after communities are released and the account creation problem is solved (the timeline for this is currently unknown). I would power up your rewards and buy after STEEM corrects to the $3 level.
Marketing Trust
Please support the @marketing-trust by following and upvoting the daily posts. The project was created to generate capital for a paid advertising campaign to promote Steem.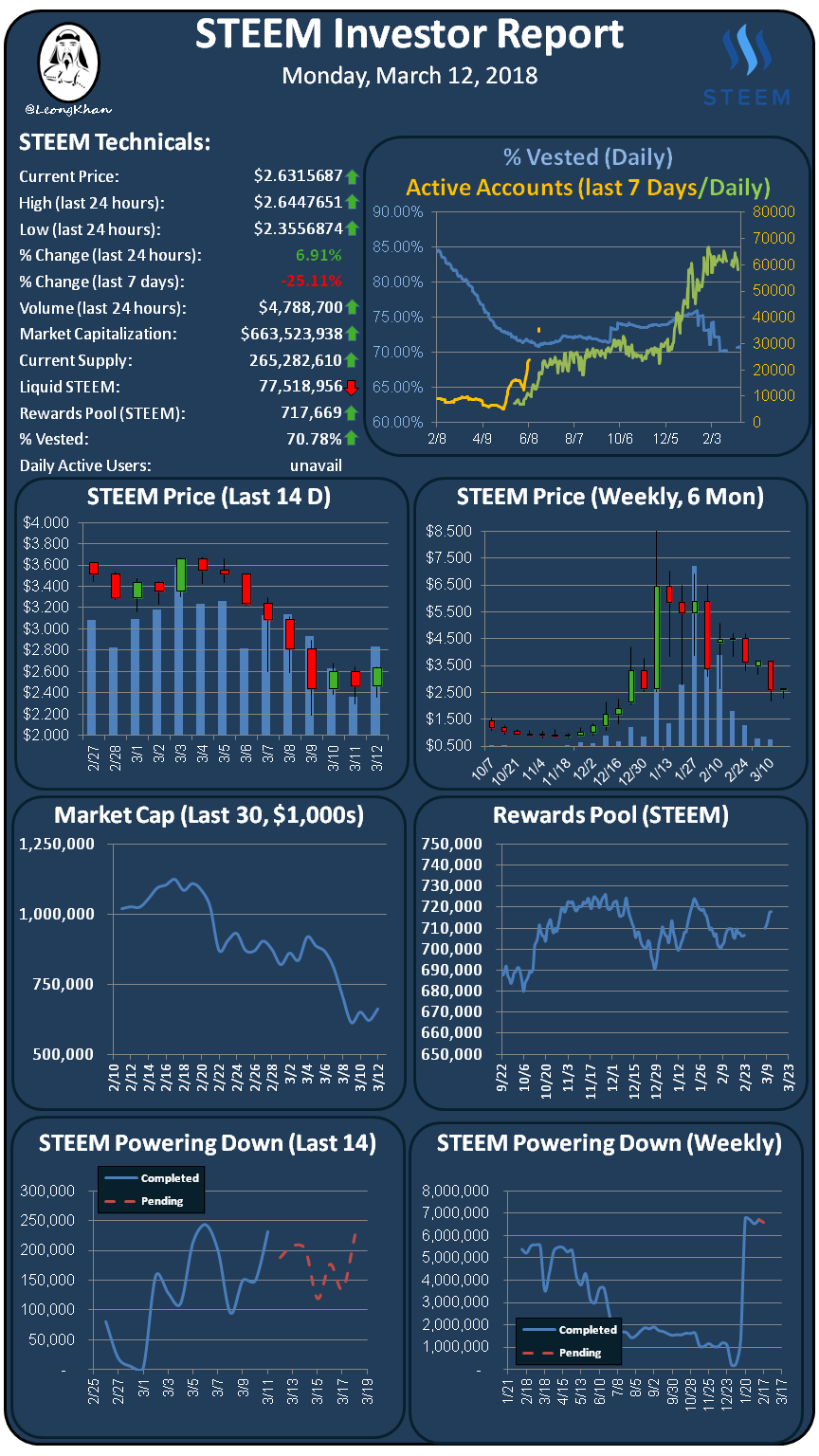 Data Credit:
Coinmarketcap.com
@penguinpablo Daily Report
Steemd.com
Steemdb.com
Coindesk.com
Disclosure:
The report published above is based on my assessment of the cryptocurrency market. Investors should consider this report as only a single factor in making their investment decision. All investments involve market risk, including possible loss of principal invested. The author is a cryptocurrency investor and while he seeks to provide honest assessments to the best of his ability may have a conflict of interest that could affect the objectivity of this report.
SmartSTEEM
I'm a member of the SmartSteem team. Earn income by selling your votes or promote posts by buying votes through the banner below (referral link).