BTC Trading Challenge - Day 100 (0.07455 BTC)

Disclaimer: I do not have a lengthy track record as a successful trader. This is a personal challenge and meant for entertainment purposes only. If you do decide to actively trade in cryptocurrency then never use more than 1/10 of your overall stack. You will make mistakes and you will get hurt. However, if you can learn a profitable strategy before getting completely rekt then the initial investment will be irrelevant.
Today is the 100th day of my challenge! In the first post I laid out my expectations and thought that I could complete the challenge in 117 days. That is based on an average of 2% ROI per day.
Looking back that is a very aggressive profit margin to shoot for and I do not feel discouraged to realize that I am not on pace to meet my expectations. Now I am thinking a 1% daily ROI is a better goal to shoot for. That would require 182 days to complete this challenge and that will be my new target. That is according to [Compound Daily(http://compoundaily.com/).
I went on a losing streak immediately after starting the challenge and by day 14 I was down to 0.04316 BTC.
I am extremely proud of the resilience that I have shown and that is what I am focusing on during this milestone post. I assume that 95+/100 people would have given up by now and likely quit trading all together.
I have gone through three separate stretches of losing 7+ losing trades in a row. If I was to close out my current position then I would be beating the market by ~40% over the past 100 days. That is what it takes to succeed at trading! I am very happy to say I am on the right track and moving at a steady pace!
Open Positions


Watchtower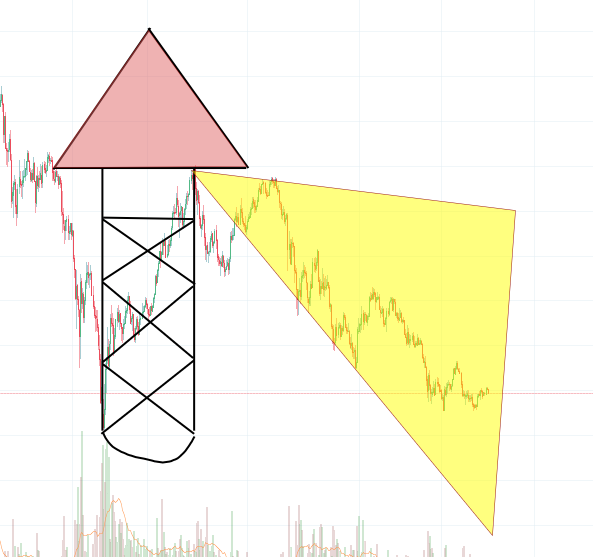 These are trade ideas and/or open positions that I am keeping my eye on. They may or may not pan out the way I see. These are just ideas, I am not recommending them to anyone else.
(1) Watching for retest of 12 day EMA. View that a a return to equilibrium and a strong point of resistance for bears.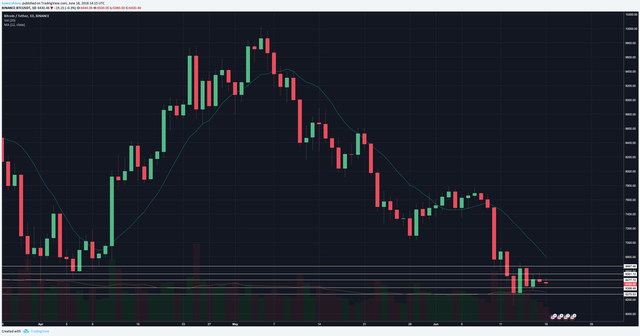 (2) BTC:USD | 5 day triangle (orange) | Viewing a break upwards as a trap | Break to the downside could cause a new swing low below $5,975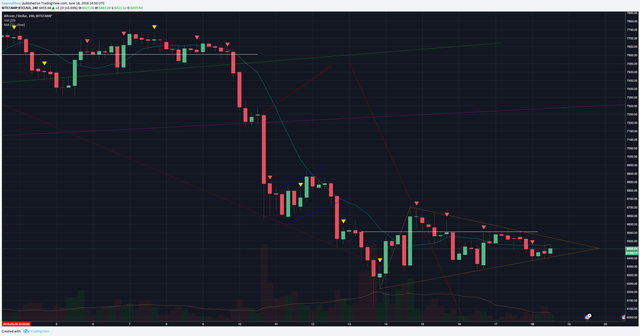 (3) ETH:BTC | Currently at resistance cluster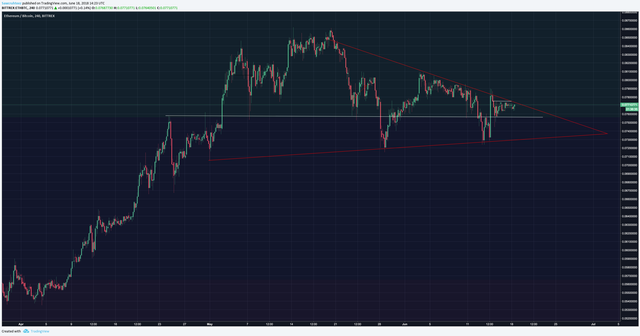 (4) LTC:BTC | watching for new swing low below 0.01432 | Has been a leading indicator over past couple weeks.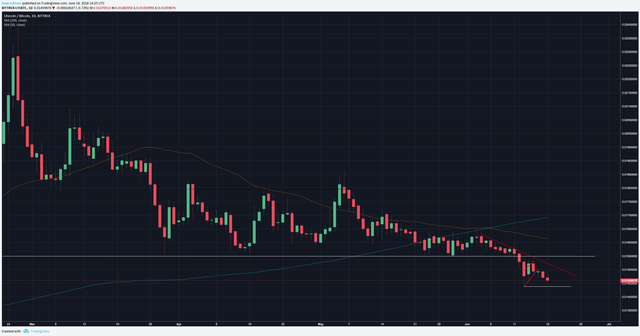 Lifestyle
Yesterday's post was rather depressing, but it helped me to get some stuff off my chest and it is very important to me to share my true feelings on this blog. That is the only way I can imagine helping someone who is going through the same struggles. If you have dealt with mental health issues or are interested in the topic then I would recommend giving it a read.
Yesterday also happened to be #SoberSunday and it was very hard to get through. Seemingly every part of myself wanted to get drunk to numb my pain and I had a difficult time shaking that thought/feeling. I went for an hour long walk and that did the trick. Today I am very happy that I was strong and did not compromise my morals.
After the walk it was a time to heed my own advice and I must say that it worked like a charm!

I watched a replay of the UFC heavyweight bout between Brendan Schaub and Cro Cop. Cro Cop's famous saying is:
"Right leg hospital, left leg cemetery"
Schaub took multiple left legs to the head in the three round fight. He appeared to have a broken nose after a stiff elbow and was bleeding uncontrollably. Do you think he gave up? I get full body chills to think about how the fight ended and will not spoil it for you anymore than I already have!
Schaub is one of my heros and has been a tremendous source of inspiration through his career in football, fighting and now as a comedian/content producer. He also seems to have very good morals and business savvy. Having people like him to look up to is often what helps me believe in myself.
UFC has been the most inspiring sport for me to watch over the past couple years. It brings out a primal part of myself that I am often very disconnected from in my day-to-day routine. UFC 226 is coming up on July 7th and I think it is going to be best card of the year! Can't wait to see DC fight Stipe and Holloway defend his title against Brian 'T City' Ortega!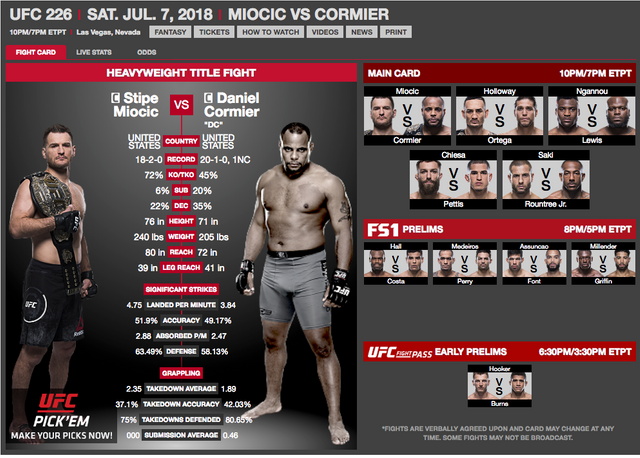 Tweet of the Day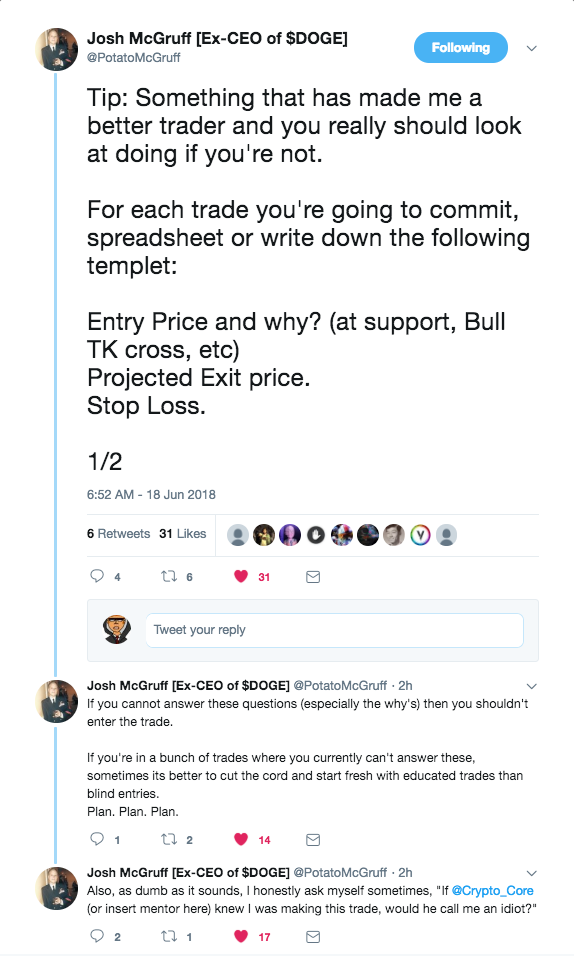 Great advice! Anything you can do to consistently decrease emotional entries will pay dividends in the long run as well as keeping you from going busto in the short run!
Homework
Article about options, futures and hedging is Coming Soon!
Just finished reading this article about options which was written by @ThinkingUSD.
Would highly recommend it to anyone who is interested in the topic. I learned about buy/selling volatility, calculating profit and implied volatility.
---
Thanks for reading! If you liked it then smash the like! Remember that resteems, comments and follows are good karma!

After content like that, who wouldn't want more?
Yesterday's Post - Day 99
Trading Challenge - Day 113
Weekly Gold Update - Week 14
School - Intermediate Trading Strategy | Gold Weekly Update (week 13) | White Paper Cliff Notes: AION | Intro to Indicators: Stochastic | Bitcoin Market Cycle
Need a break? Read some Poetry! - Aliens | The Universe is a Hologram | Sunset