Back to Nature, Back to Steemit | Bø i Telemark, Norway | Adventure Every Day
Hey there Steemit! Remember me? Yeah, I still exist, just took a little hiatus there. But not one without adventure!
---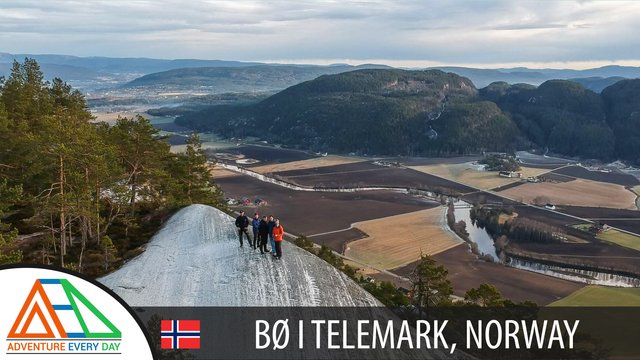 ---
Truth be told, 2017 ended up being a challenging year. It was tough, but I can't say it wasn't a great year at the same time. After all, there were tons of excellent adventures, like ice cave exploring under the northern lights on Svalbard, camping in the snow in Norway, exploring the Blue Eye of Albania, and sampling the local beer offerings of beautiful Prague, just to name a few. Oh, and several others that I still haven't posted about, including Ireland and Norway's mystic Lofoten islands.
A blessed year indeed.
However, the second half of the year saw my girlfriend leaving Norway to come back to Ohio, just as the days began getting shorter and the cold, dark winter setting in. Coupled with a never-ending sinus infection that lasted for months on end until now, as well as some bad bets and poor investments, and I lost some of my steam for Steemit (and some STEEM and SBD...).
But that's behind me now, and I'm determined to make 2018 a good year. A year of getting back on track.
So here I am, back to posting. I hope some of you remember me, and that I can become acquainted with some of the new folks here. I see some things have changed. New logo, some new navigation tools, and HOLY CRAP THE PRICE OF STEEM AND SBD!!
A sustaining adventure
So that sinus infection I mentioned, it was a b*tch. I didn't want to make a big deal of it, but week after week of getting a little bit better, then a little bit worse, amounted to a tough stretch of minimal productivity.
One thing that did give me a temporary lift was tasting the flavor of nature in beautiful Bø (pronounced sort of like "buh"), Norway. A good friend from work invited me here, his hometown. It was a nice reprieve from the grime of the "big city". (If you've been to Oslo you understand the quotes...)
Especially when we set out to ascend Korpenuten, a flat-rock summit on Eriksteinfjell towering over my friend's beautiful farm in the valley below, right along the Bø river (Bøelva).
I wasn't sure I was up for it when we set out due to the climb and cold temps, but turns out the fresh forest air was just what I needed. And what my companion Lil' Sparky II needed to capture some great footage, compiled here in this very short video:
P.S. - the mannequin challenge we performed in the last shot was totally unplanned and coincidental - honestly!
---
Thanks for checking out this post! I welcome any comments from anyone who enjoyed it or wants to help me reacquaint myself with Steemit - I feel like a lot has changed here in the past couple months. Just no spam please!
---
Adventure Every Day started as a dream by two expats lost in Norway. It never amounted to much more than that, but the spirit lives on in our sporadic adventures. Keep adventuring my friends!
All of our short films can be found here on Steemit as well as the Adventure Every Day YouTube channel. Click the logo below to follow!