My Journey To Becoming A Pop Up Tent Trailer Owner: Finding A Good One; The Struggle Is Real!
Hi Everyone,

Whenever I'm asked if I prefer the US to the UK, I always say that the climate here suites my lifestyle better. I love to camp and hike, and well, just relax surrounded by the beauty of nature!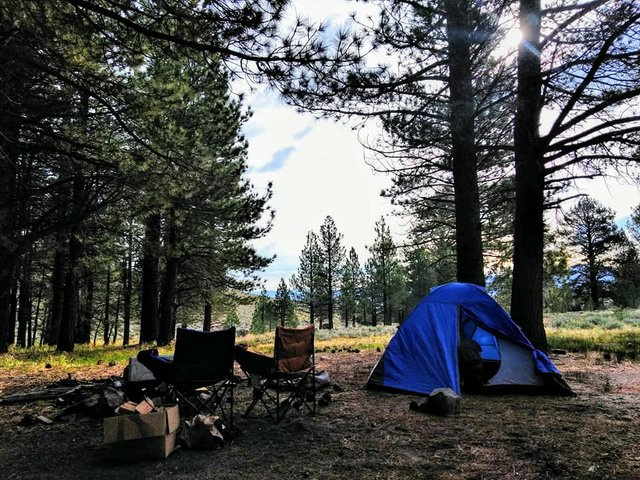 I put this down to the fact I was brought up with family camping trips, in our big 80's style tent, and then we upgraded to a small caravan/camper. The table and chairs turned in to my Parents bed at night. The side bench at the back of the caravan, turned in to my bed for the night, and my brother had a hammock, that we set up at night to sleep in.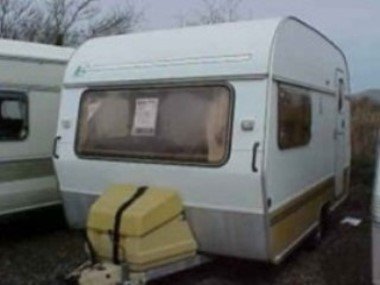 Not a picture of ours, all of those photographs are back in England, but ours was similar to this.
Image source location:
I have such wonderful memories of those days in the caravan, and all the places we visited. There is a lot of freedom in just having to transport a tent, but the luxury a caravan affords you is awesome! No more wet nights or mornings due to rain, or even having to pay for an unexpected motel room due to rain.
As a child I'd seen the pop up tent trailers around the campgrounds, but I didn't like them, as these were the basic sleeper tents. Just sleeping compartments that opened, and nothing else.
So, I thought, you are off the ground, but that's it. Once I learnt that these pop ups, came with a galley (sink, stove and an ice box), well that changed my opinion on them completely! I now wanted one, as I saw it as a crossover between a tent and a caravan.
I'd always seen these pop ups in the campgrounds, now as an adult, and the love for one would return to me again. Just seeing them in action reminded me how awesome they are. I didn't want an A frame hard top pop up as inside the sloping walls didn't leave much useful living space. Basically for me the floor plan is all wrong and Id feel claustrophobic maybe. And, I dislike RV's as I find people who own them just stay in them. I mean they are in a beautiful place, but sat inside! I also like the idea of having the tent windows still, allowing the fresh air to flow through.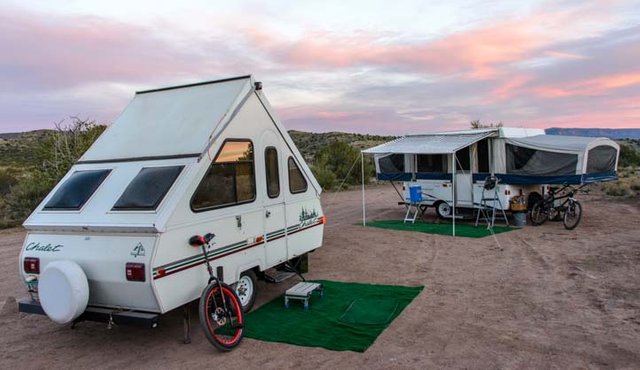 Also, I'm not getting any younger, and sleeping on the floor for multiple nights can give me some slight aches in the morning. So, a tent trailer would mean more comfort, less aches, less packing (as I'd leave most of the stuff in the trailer) and longer, further away trips now weather wouldn't be a deciding factor. It was settled, I'm now on the search!
First, I looked at the current prices these go for on sites such as Craigslist and Offer Up. Wow, they were a lot more expensive than I'd initially thought. Trailers with no canvas were still at an asking price of $400-800!! And good quality ones were over a thousand, usually starting around $1300-1500. And that was for the 70's and 80's models.
Hmmm…this will be harder to find than I thought, and a 'project' will need to be undertook to end up with something nice that doesn't leak.
I realized as I have Suzuki's, which are very small and light SUV's, I'd need to check the tow capacity for each of them. Once I knew this amount I could narrow down my search. It wasn't good news, I'd hoped my Samurai would be my weekend warrior and tow the trailer to all these places I want to explore!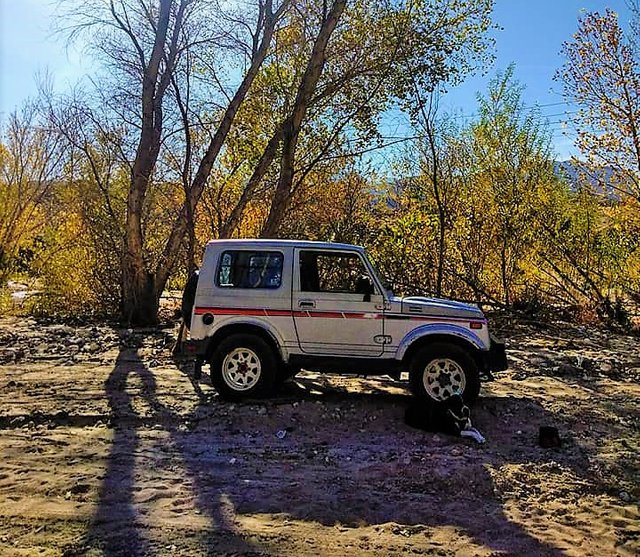 But Norman's max tow weight is 1000lbs (without trailer brakes).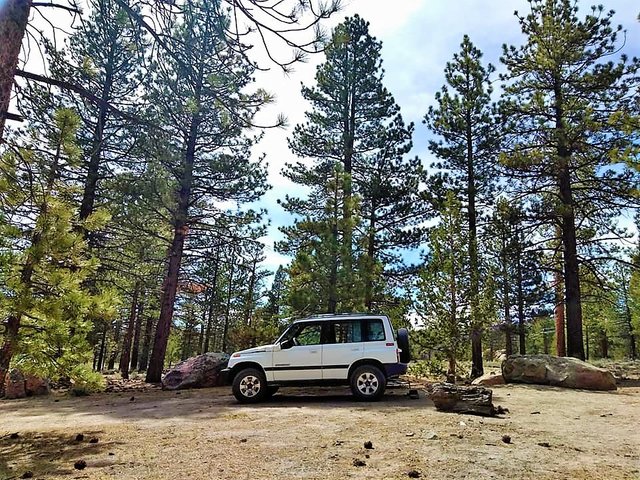 Sydney, being a 4 door, can tow a little more at 1500lbs (without trailer brakes). So, I'd need a small light trailer to pull, so I'm not stressing out my vehicles. I also posted tow questions on the Suzuki groups on Facebook for others experience. I got a lot of ideas for how to upgrade Norman, so he can tow as much as Syd can, but that's another post.
Long story short, through 3 weeks of research, I concluded that I needed either a Viking or a small Coleman. Vikings seem to be the smallest and lightest of all the makes and models, coming in at a lighter weight for larger trailers, but are very hard to find in good condition, mainly due to the age and the fact everyone wants one as they are so light, and now classed as 'Retro/Vintage'. Coleman had many small, light models from the 70's and early 80's I could have, but now I needed to find one.
After about 2 weeks of looking I found a Viking Mini Gasser for sale. This would be perfect as with the Mini Gassers, only one side slides out to create a bed, meaning these are under 600lbs!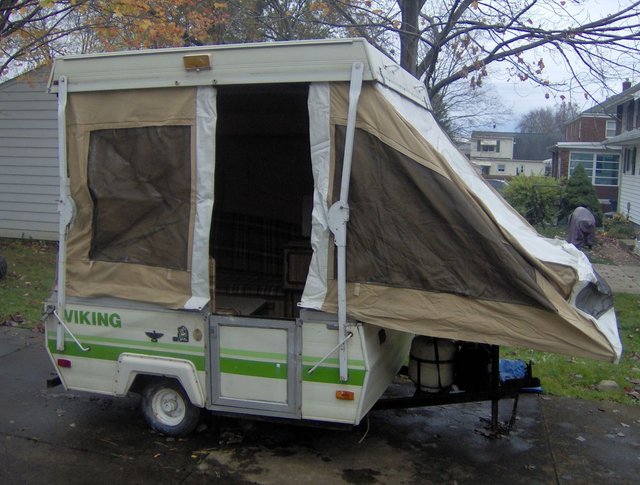 Image Source
Problem being its condition! Tears all over the fabric, rust on the trailer, no back lights for driving, no title, no plate and no idea if anything works on it, $450. So, I talk the guy down to $200 before I go to look at it. But it was in worse shape than I'd imagined. I didn't mind a project, but this was a complete renovation! Even for $200, I couldn't buy it as I had no idea what I'd be getting myself in to.
But, from my research, I'd found a great forum called 'Pop Up Portal'. This is a whole website dedicated to people's blogs of their refits, asking questions for advice, and just passing along stories about their 'PUP', as they are referred to. This forum was amazing for the responses I'd get after posting my questions. Here is a link to the site, if you want to check it out for yourself: Pop Up Portal
Back to my search, by now I'd sent messages to several sellers, with a limited amount of responses. Now, I'd found a 1975 Coleman Patriot I was going to see at the weekend. The seller told me it needed new tires, the lens to a backlight was broken, and there were some seams that had come lose that would need to be repaired. But this trailer sleeps 5 (4 comfortably if you ask me) and came in at 810lbs and a size of 6'7 x 10. Just over 16' when opened. Perfect for me!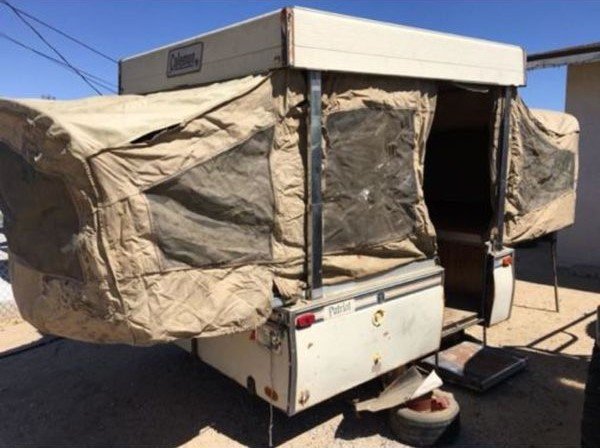 Photo taken from Offer Up Advert
I was excited to go see it in person, driving there my head full of ideas as to how I'd fix it up and our adventures in it……but my bubble was burst on stepping inside it. They hadn't mentioned the roof leaked and so the whole roof would need repairing. Stripping away all the rotting interior panels and insulation. As well as sealing the exterior, so it wouldn't leak again. The rest of the interior wasn't in great shape, but better than the last one I looked at. They also showed me the electric hook up still worked. But the propane tank had been stolen from the front and the copper line and connector took to. This was too big of a project for me to take on as well, although I did start toying with the idea.
That weekend, I'd got a reply from another seller of a small Coleman trailer. I'd asked my initial questions about a model name, condition of canvas, if it had a complete galley and working hook ups etc. She had replied but not answered most of my questions, including the model. We had about 4 or 5 messages back and forth, before she admitted the real state of this trailer. The whole canvas will need replacing, there aren't any cushions, so no beds or seating. Again, no idea about what is working and what isn't, but she still wanted $700 for it!
I was getting disheartened. Would I ever find my tent trailer??
It had been 3 days since I'd gone to see the Patriot and I was beginning to think I'd never find anything in my price range, and would have to wait and save up another $1000 before I'd be able to get one I wanted. Then a miracle happened! I got a message from Offer Up, so logged in to read it. Just a message that something had sold. I decided to search again for any new adverts, and there it was… A Viking Little Gasser!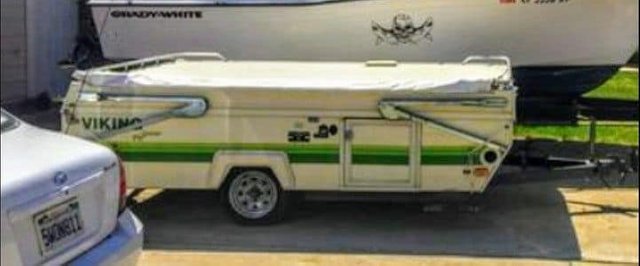 Photo taken from Offer Up Advert
The needle in the proverbial haystack!
It had only been on for 12 mins, so I sent a message asking my standard initial questions. To my surprise I got a reply within a min or two. Everything was good on it, the seller was only selling it due to the City telling him to tidy up his driveway of vehicles, boats and trailers. So, he has 45 days to sell it. We talked back and forth a little about the trailer, and I was all excited again, I just needed to know what exact model it was. All Little Gassers came in at under 1000lbs, but there are 4 sub models, which vary in size, but all sleep 6. Everything seemed perfect, except its location as it was 65 miles away. That's an hour and a half one way without traffic, but that only happens in the weekdays while people are at work. Even the weekends are bad as it's the freeway that leads to the beach cities. So, I'm not able to go after work really to check it out (They have a 5-year-old daughter, so I wouldn't be rude turning up there late at night) and I had a camping trip already planned for the weekend. I told the seller my concern that he would sell it before I even have chance to get to look at it, I asked if there was any chance of him 'Holding it' till after the Monday when I could see it. To my surprise he asked me to give him a call that evening, to discuss things.
Boy am I glad I made that call! Not only do the sellers seem like lovely people, saying how that weekend they would clean it out of all their belongings, and give it a clean to. But, he told me how they'd had about 40-50 responses from the advert, but I was the first and seemed the most knowledgeable (as I'd given them the size for the different models, so they could just measure it, if they couldn't find the sub model info) and had shown I was a legit buyer, who would use the trailer to make memories in. Not just flip it for a profit! I was informed that they brought the trailer 3 years ago as a project, and fixed it up for their family camping trips, as well as adding some upgrades.
The trailer has a new roof to it that doesn't leak. A new floor put in. All dry rot fixed. New paint job, as well as, levelers on each corner, and an exterior awning attached to the front of it. He'd also found out which model Little Gasser this was; M18.5 Little Gasser S, the biggest of that series, with 2 queen sized beds. It was a little larger than I had wanted, but still come in at under 900lbs! I was sold on it, and hadn't even seen it in person!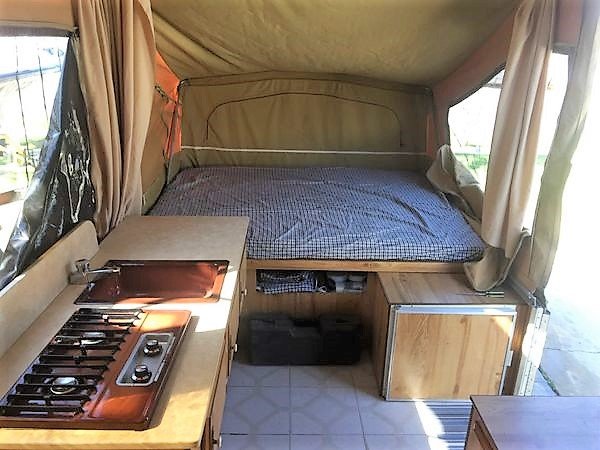 Photo taken from Offer Up Advert.
My concern about missing out to someone more local was even bigger now though. But the seller put my mind at ease when he told me; "I've had over 40 responses about the trailer, so if you don't want it, I know someone will, so I'm not worried. I can wait for you to come over." WOW! So now I wait to see it.
If all goes well I will be posting about purchasing my trailer, getting it home and then making it my own, as well as, lots of future posts about our adventures in it!
Thanks for reading. If you liked this post please remember to upvote it, resteemit and follow me, so you dont miss out on any of my future content.
All photographs are my own, except if stated below the image. Source location link is provided.