Off Leash Adventures: Pup's In Truck's; Episode Two - Finding The Three Eyed Alien Under The Railway Bridge
Hello Everyone!
Well it wasn't a Billy Goat and Troll under the bridge this time, but 2 dogs and a three eyed Alien!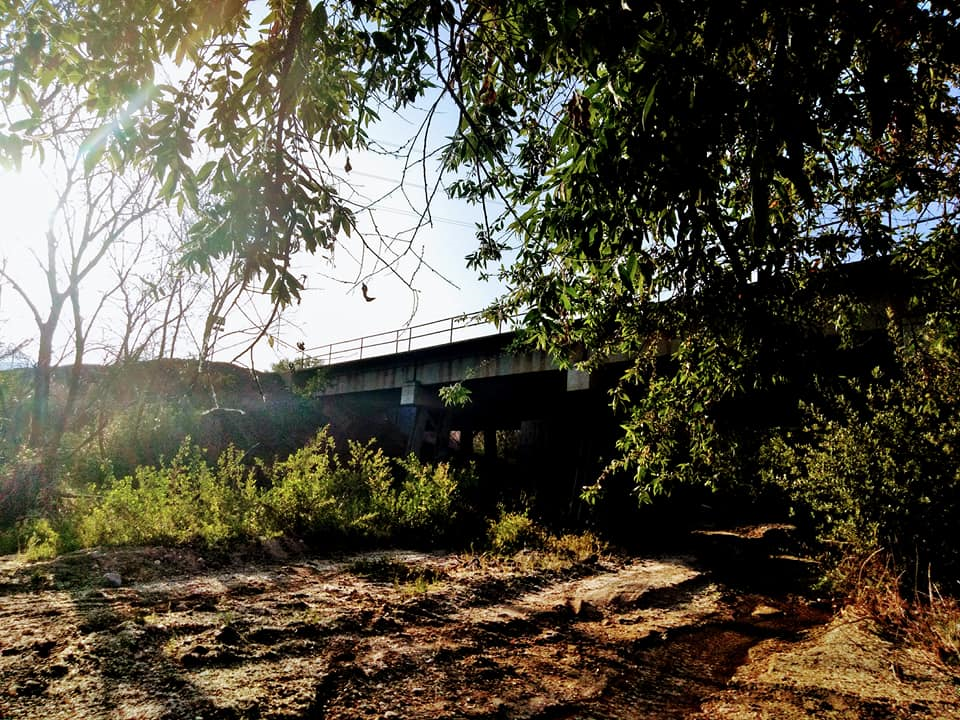 Every weekend I take my dogs out somewhere to have an off leash adventure, and to get their energy out. This week was no exception.
We got the dogs in the car; Buddy appreciated the new air freshener I'd put in the back that day: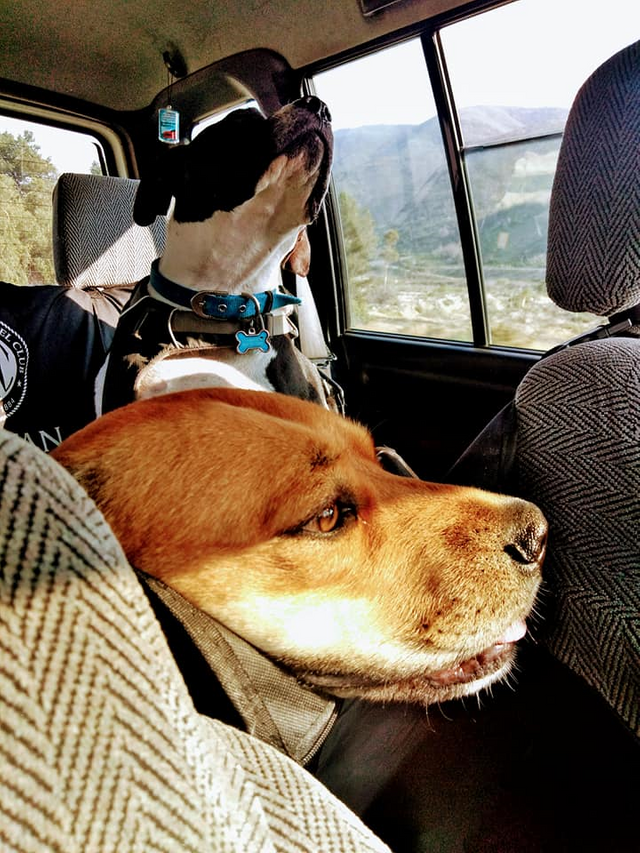 and set off for some off road and off leash fun! First stop was to get some gas and then some burgers: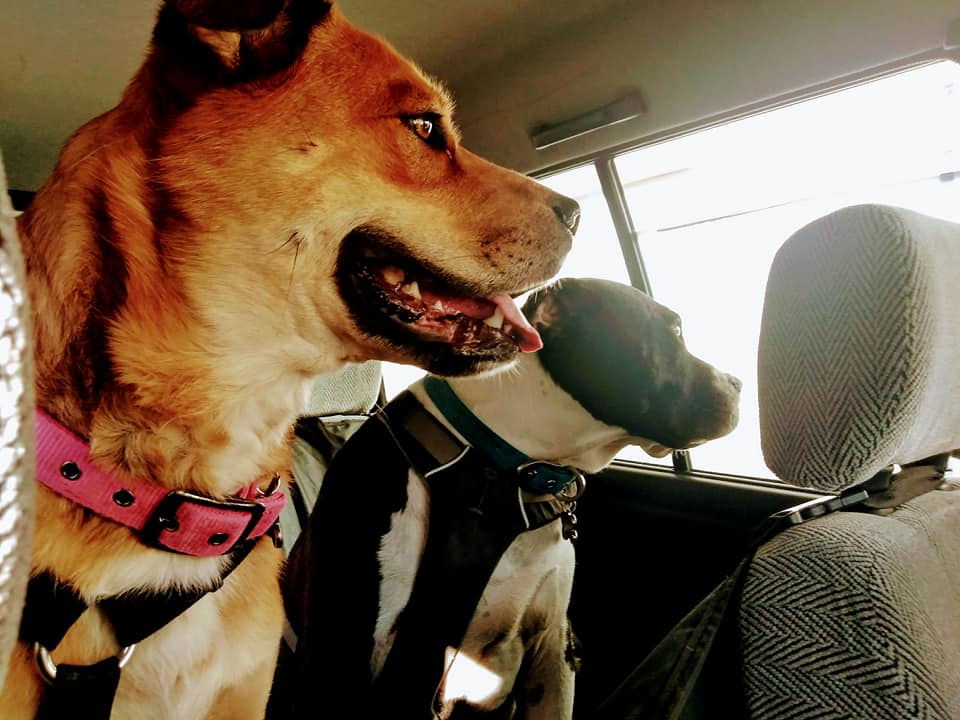 "Yuuuuuuummmmmmm Cheese burgers!"
We headed out to our new off road spot in the San Bernardino Mountains, only to find the gate closed at the start of the trail (insert very sad face here) So with no where else to go but down the trail, we found ourselves in the wash bed of Cleghorn once more.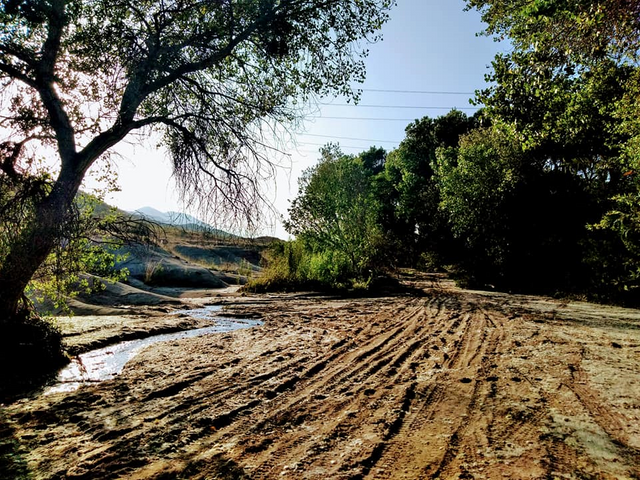 We eat in the car, then let the dogs out for a run around: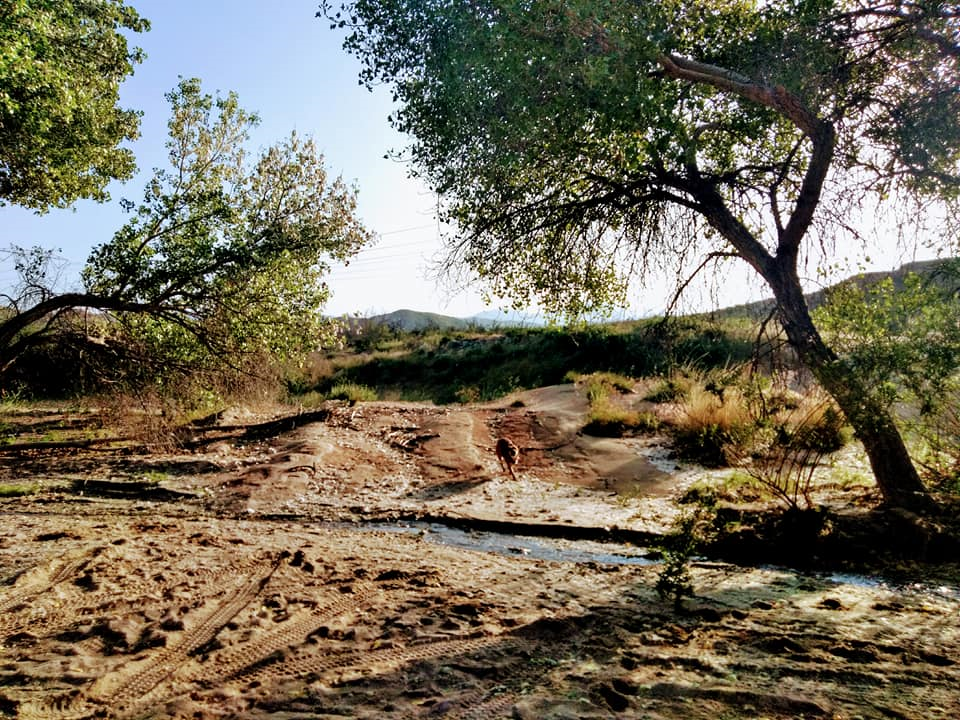 Buddy doesn't like to walk away from us, so I took them for a walk up the wash bed: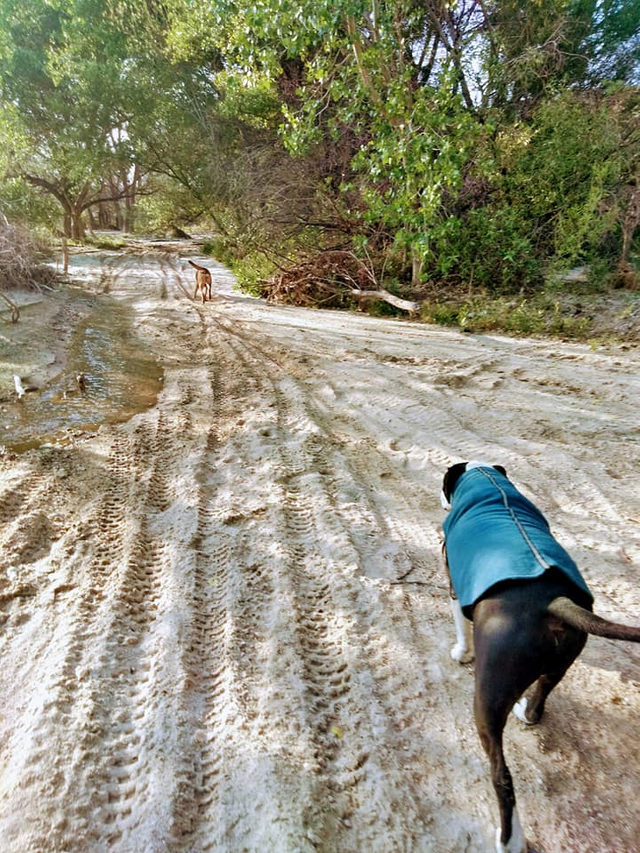 They were enjoying themselves, just doing what comes natural to them, just them being dogs: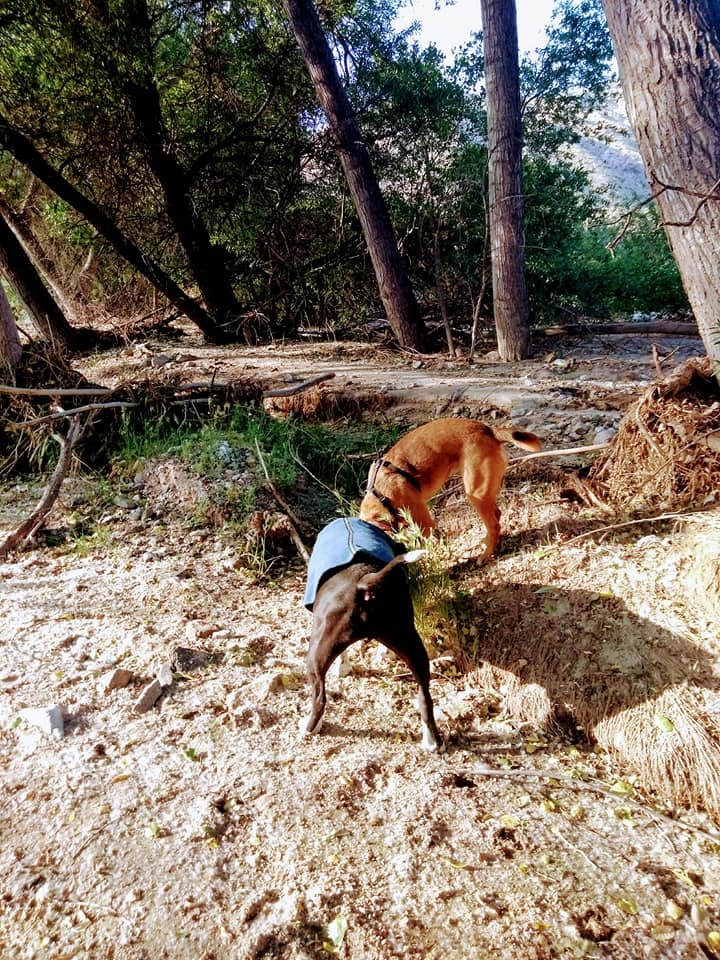 And its a nice location to take them for a quick walk: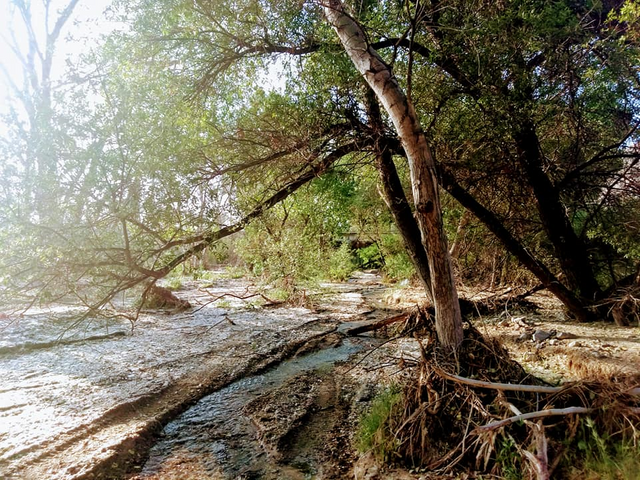 Buddy following me closely as always: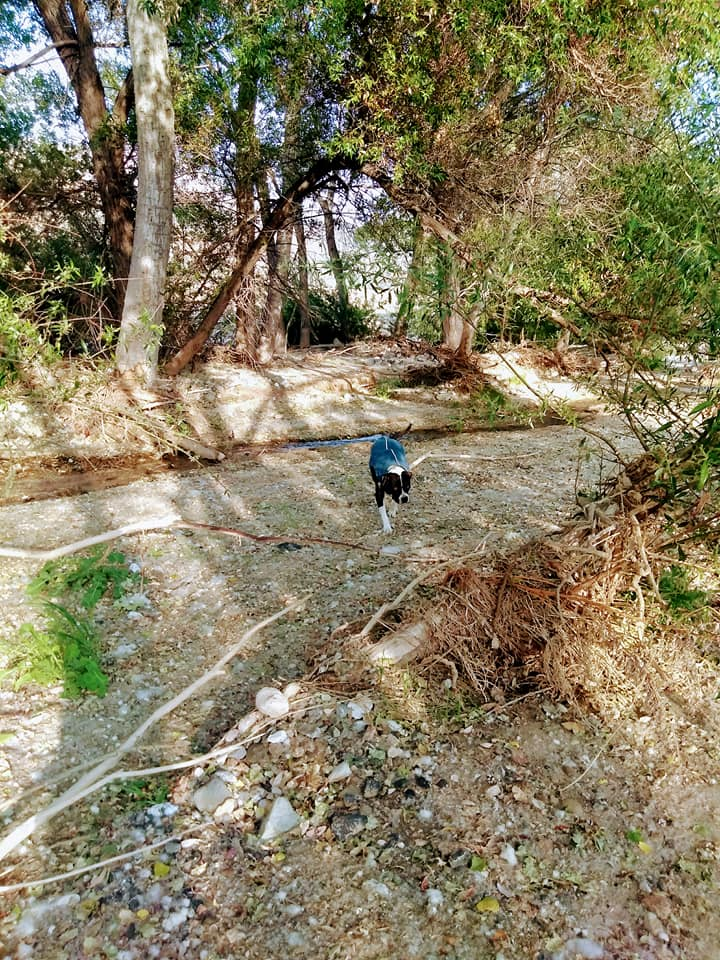 Happy running round in circles as always, then stopping for a drink from the stream: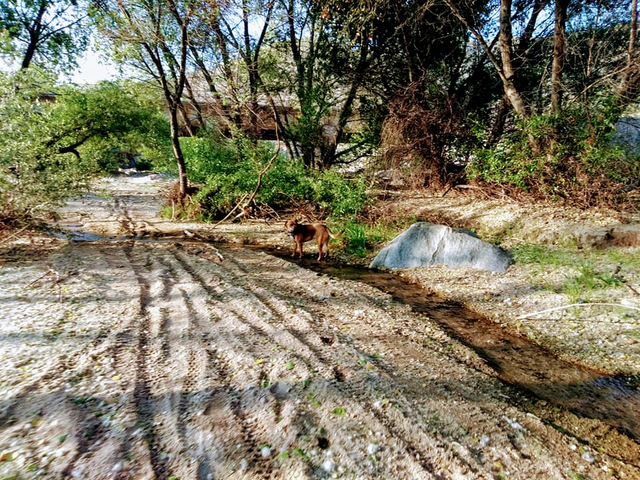 As we walked further up, I noticed a bridge in the distance: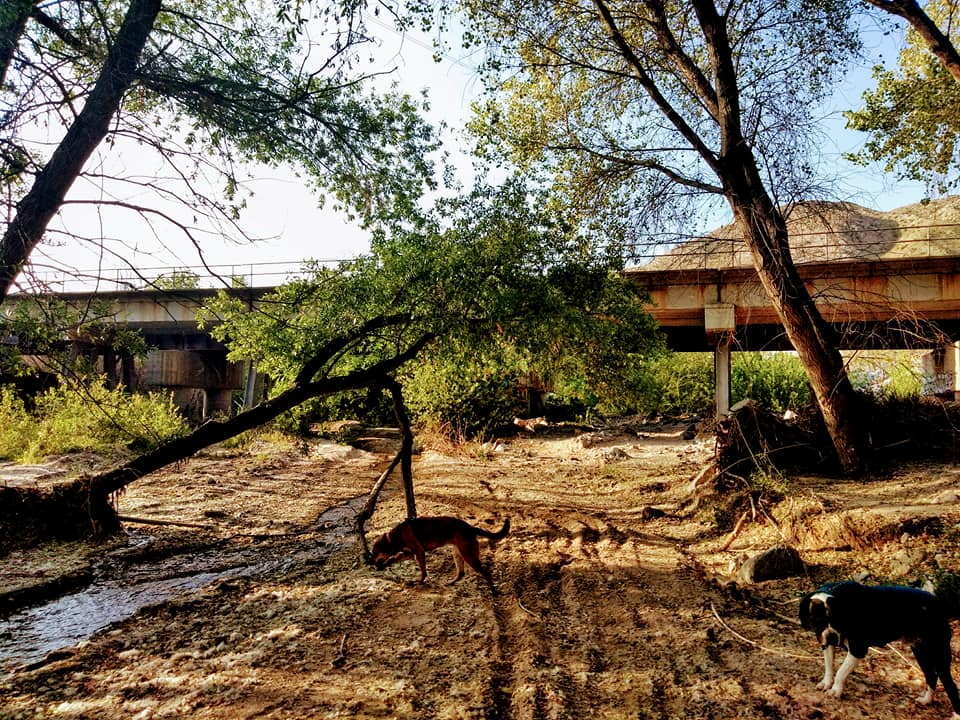 I realized it was the bridge for the freight trains that we see passing through here: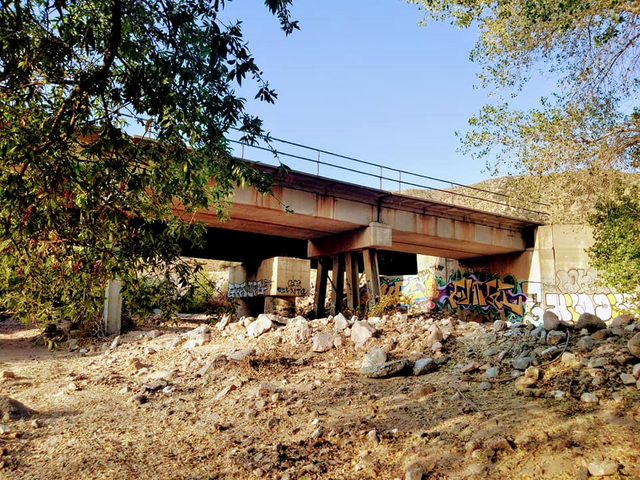 We went to check it out, as I could see some colorful graffiti around this area: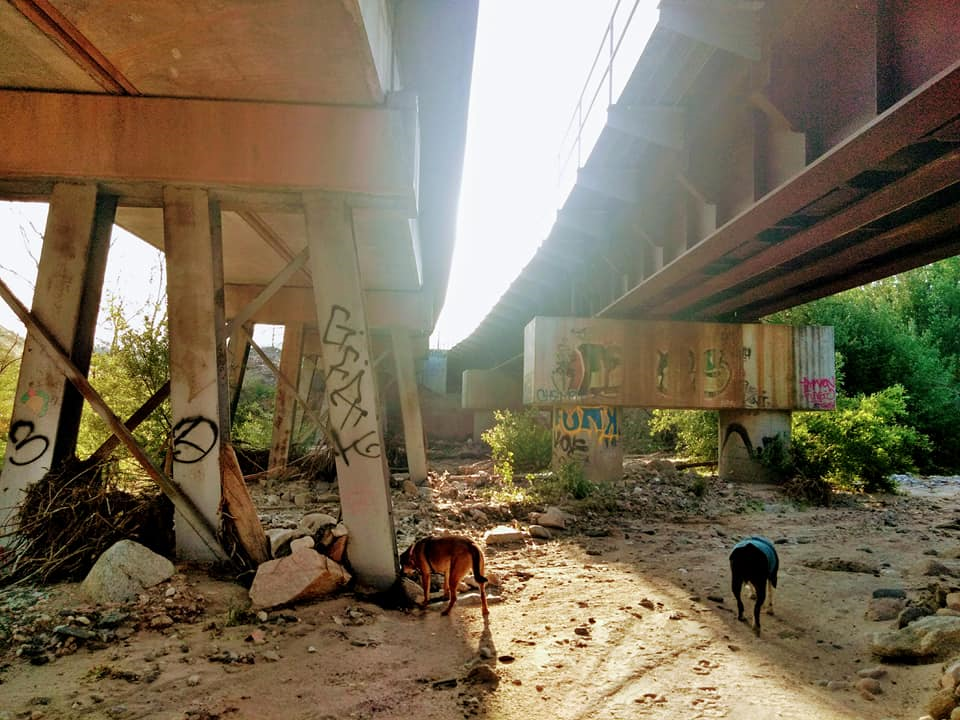 That's when we found the three eyed alien: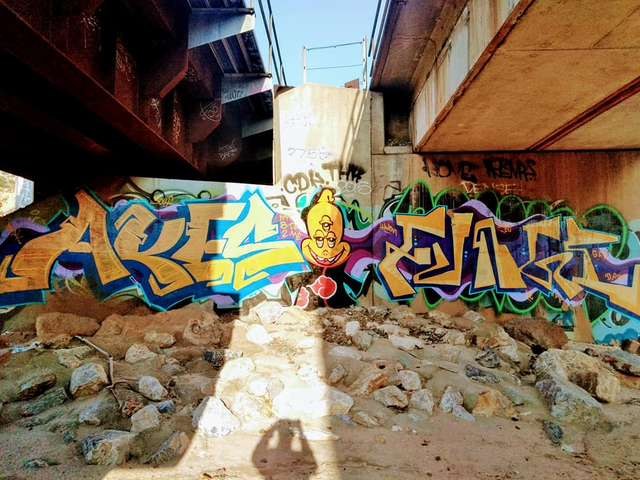 I really liked this piece of artwork, not just the usual tagging, but an original image. A very bright colorful friendly looking alien, chilling under the bridge. Tell me you didn't smile at his happy face?
There was a lot less graffiti the other side of the bridge: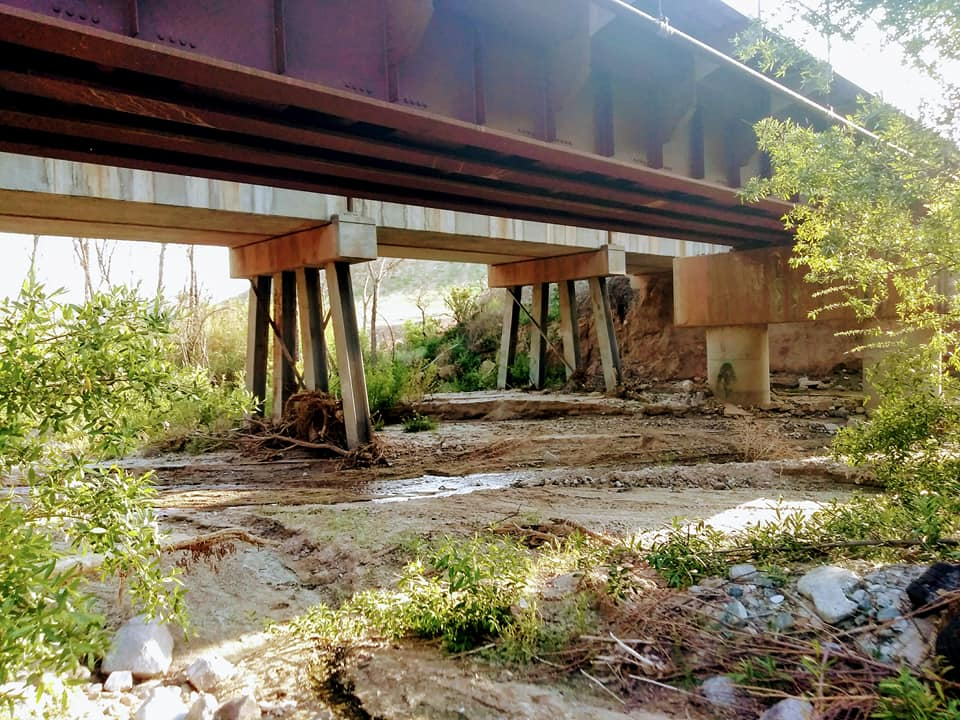 I decided to carry on walking to see what was the other side of the bridge: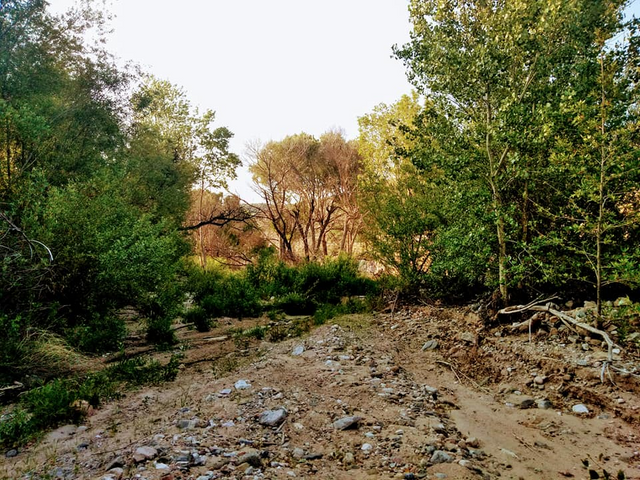 At first it was just overgrown bushes and trees, and I was about to turn around to head back to the car. "Okay here is Buddy next to me.....where is Happy?"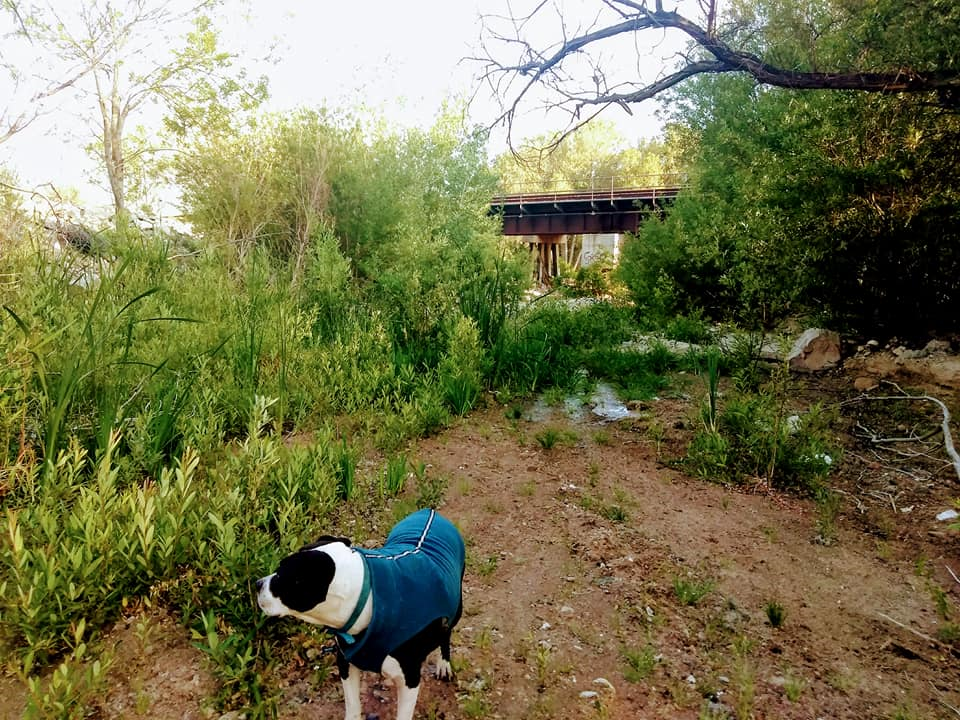 I called for her and heard her moving through the shrubbery in front of us. I walked towards where she was and then saw some more colors through the bushes: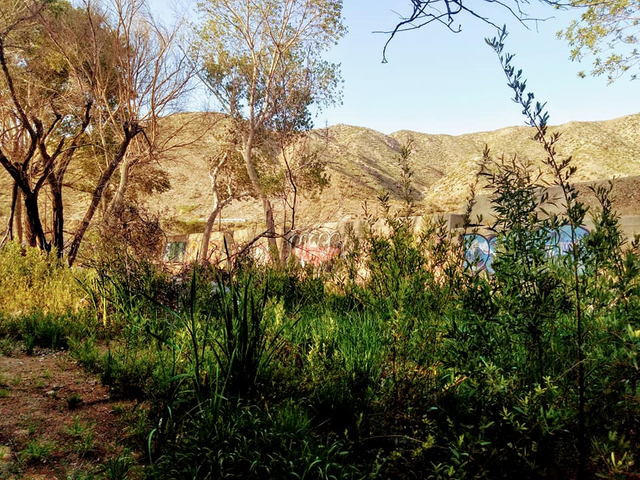 But these were just tags, no cartoon characters here: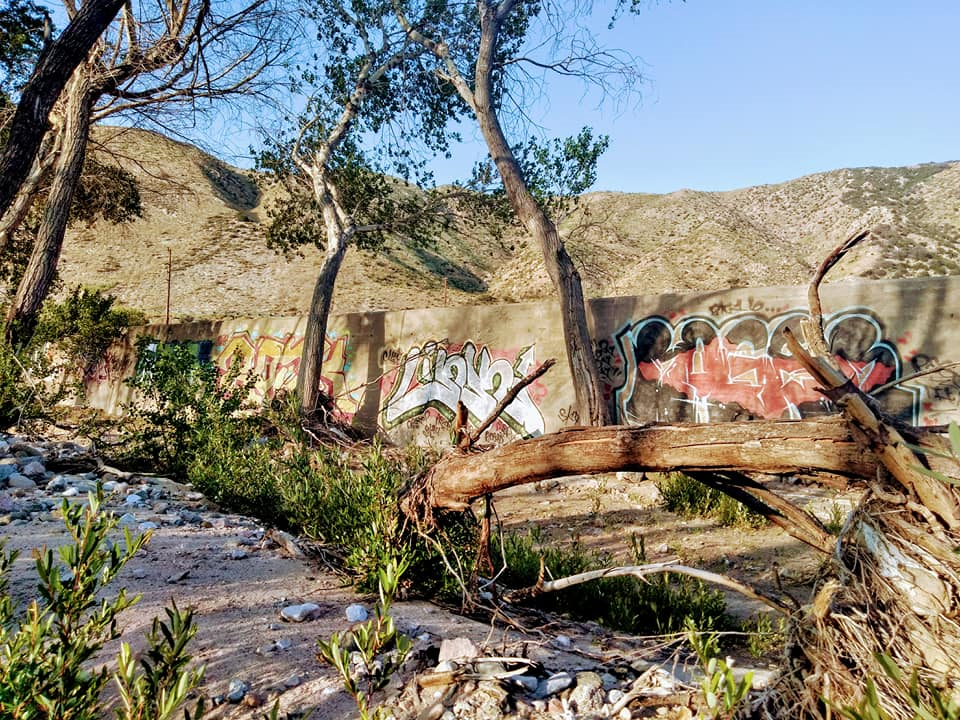 We turned around and walked back towards the bridge: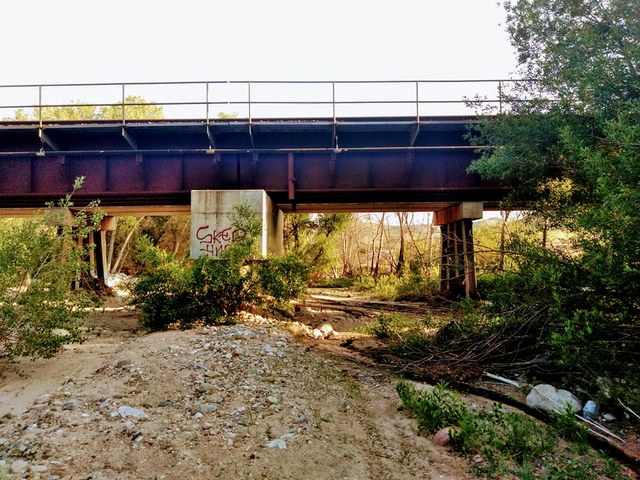 Walking underneath it, just before a freight train passed over head: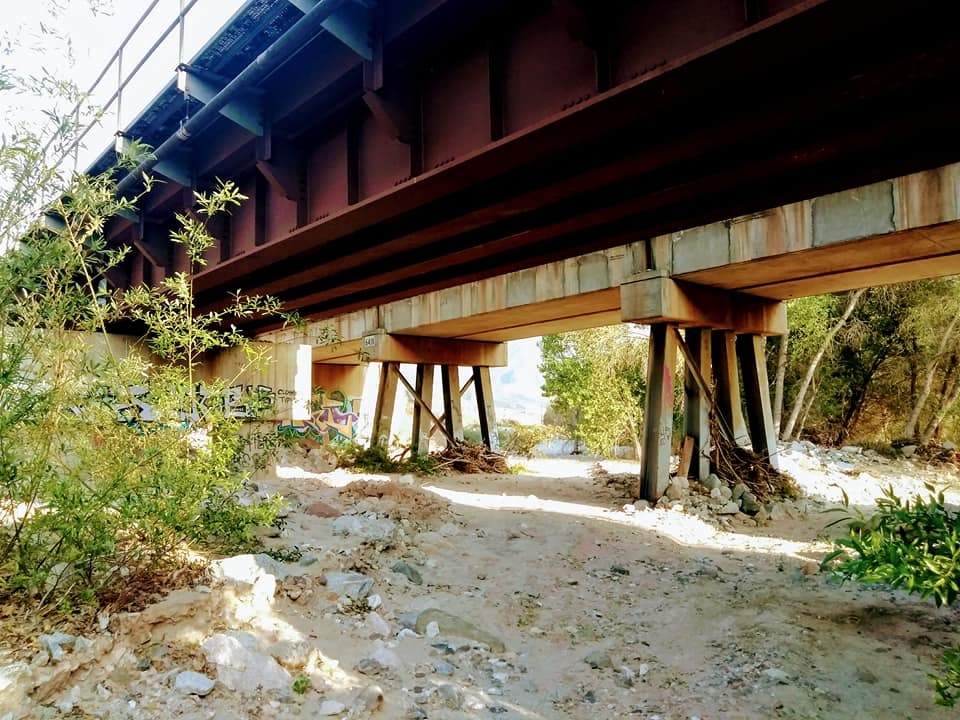 Walking back with Buddy next to me, we met up with the stream again: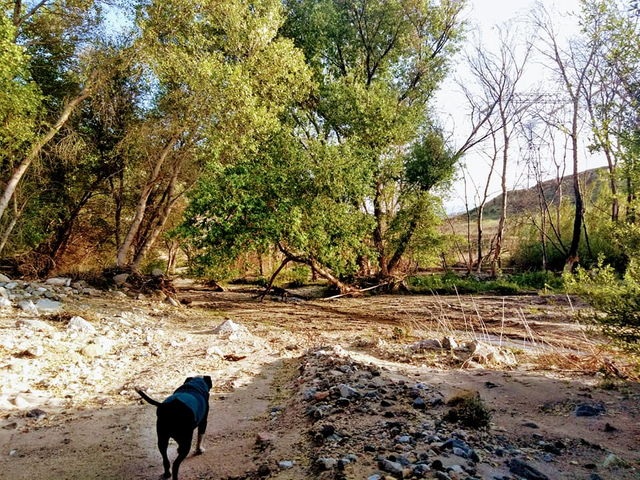 Which is where Happy joined us: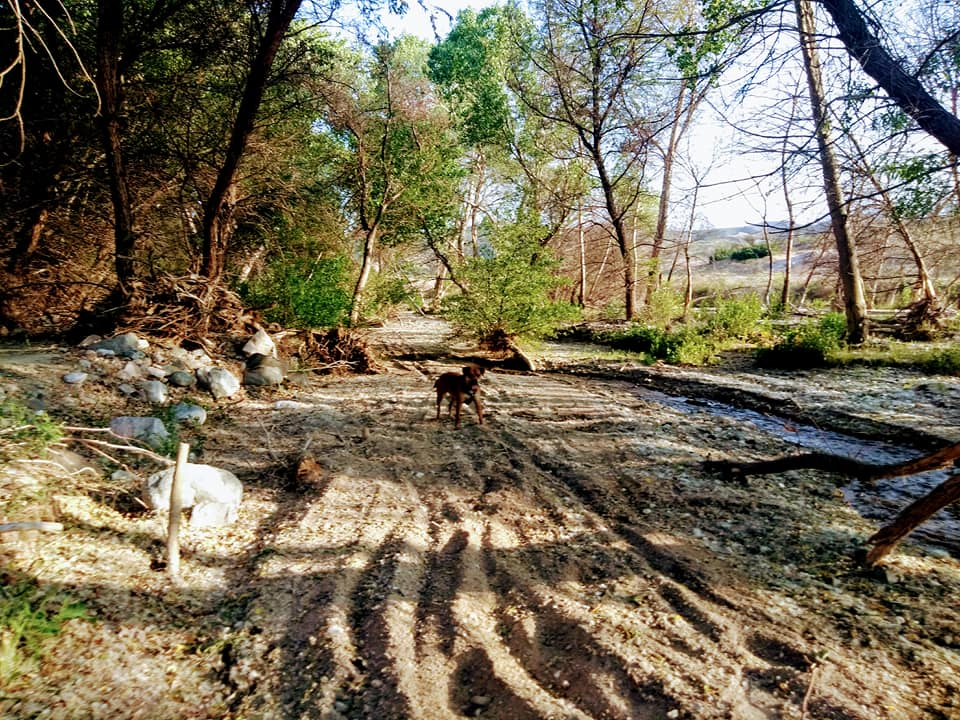 She always runs off in front, all excited about where we are and what she will find here, but always returns to me to ensure I'm still behind her.
As they knew we were on our way back to the car, the dogs decided to play together for a while: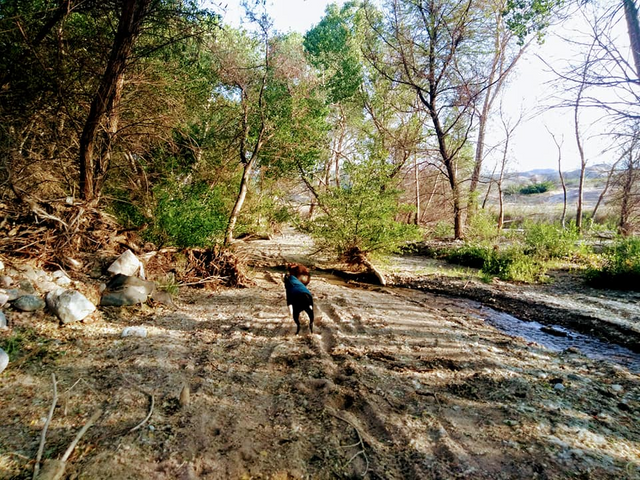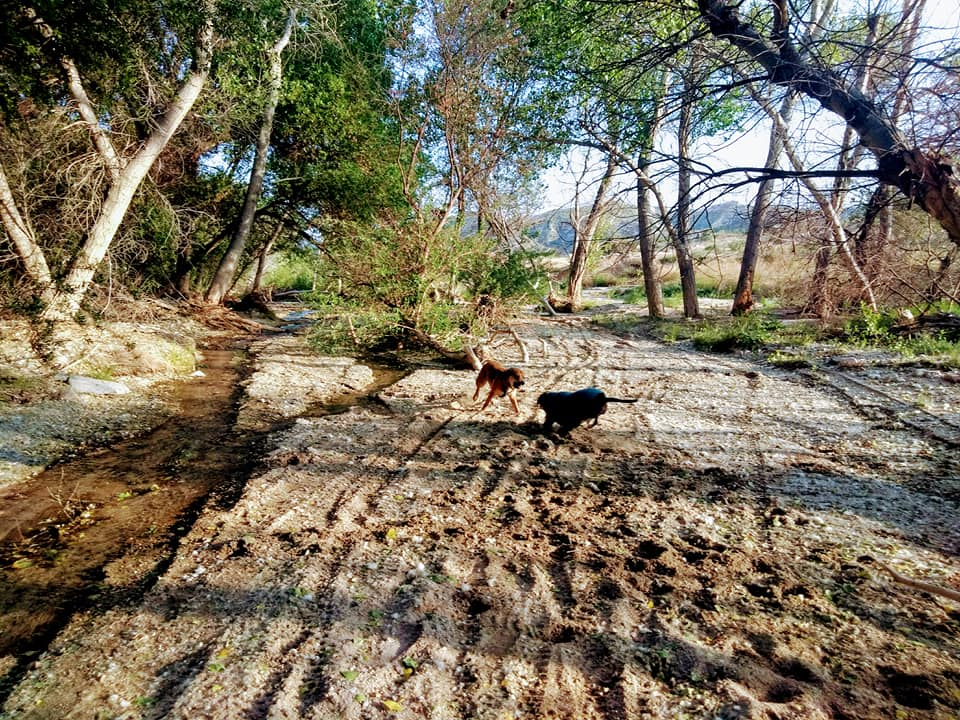 And as standard, when they were done playing, Buddy came right back over to me: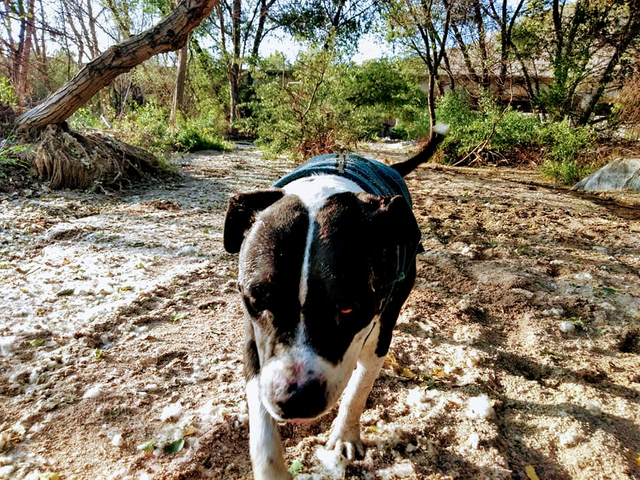 I took a detour, over the rocks, to see if we could get a good sunset photo: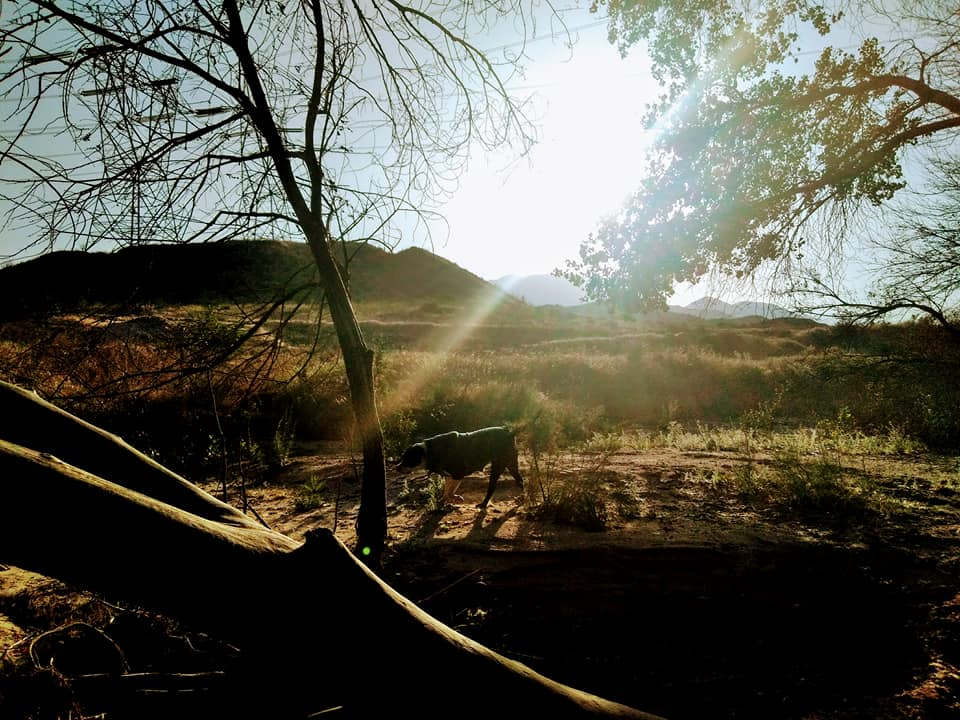 Happy checking to see where we are as always: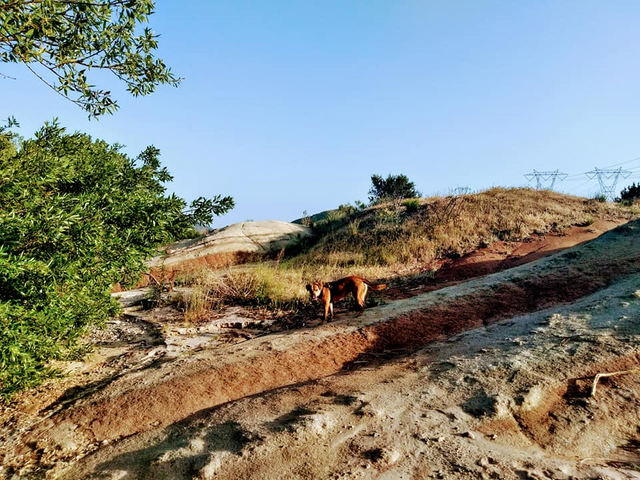 There wasn't going to be a good photo of the sunset from here, so we walked back to the stream: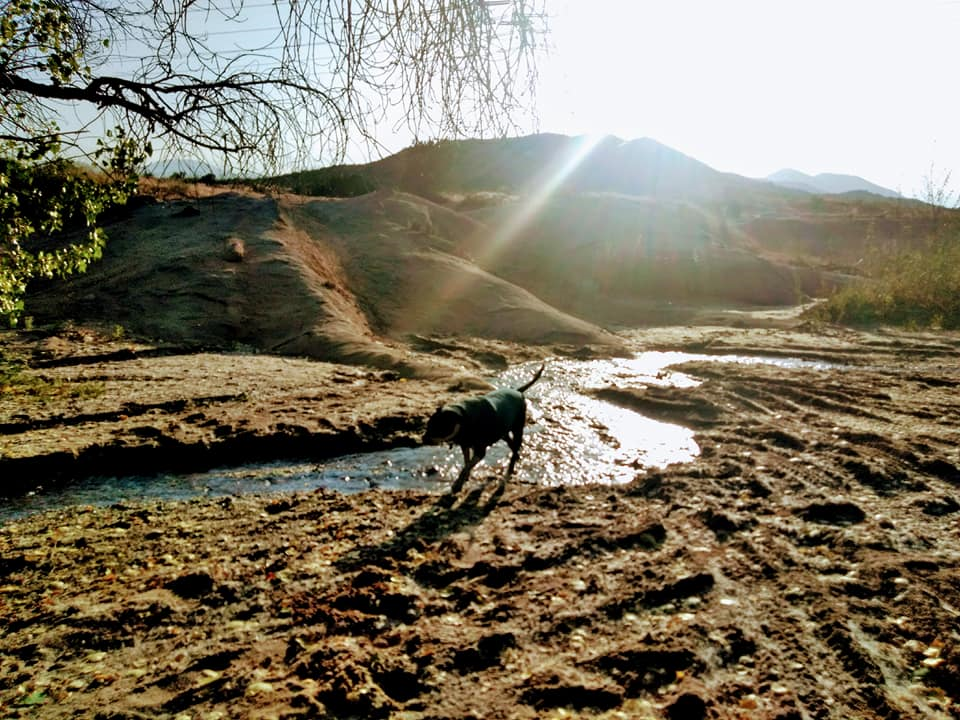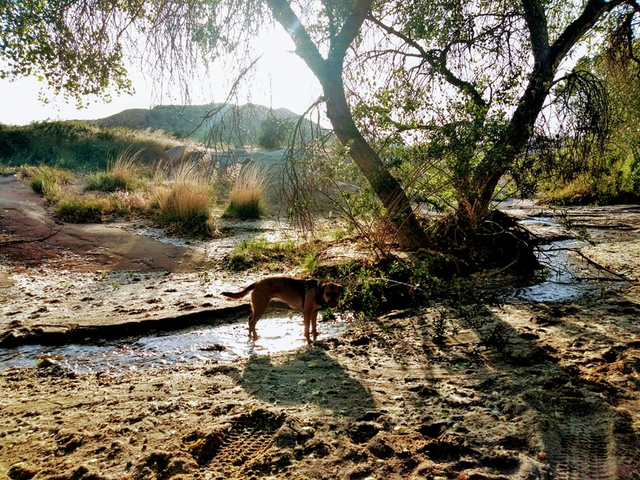 Where Happy cooled herself off, after all the running around she had done: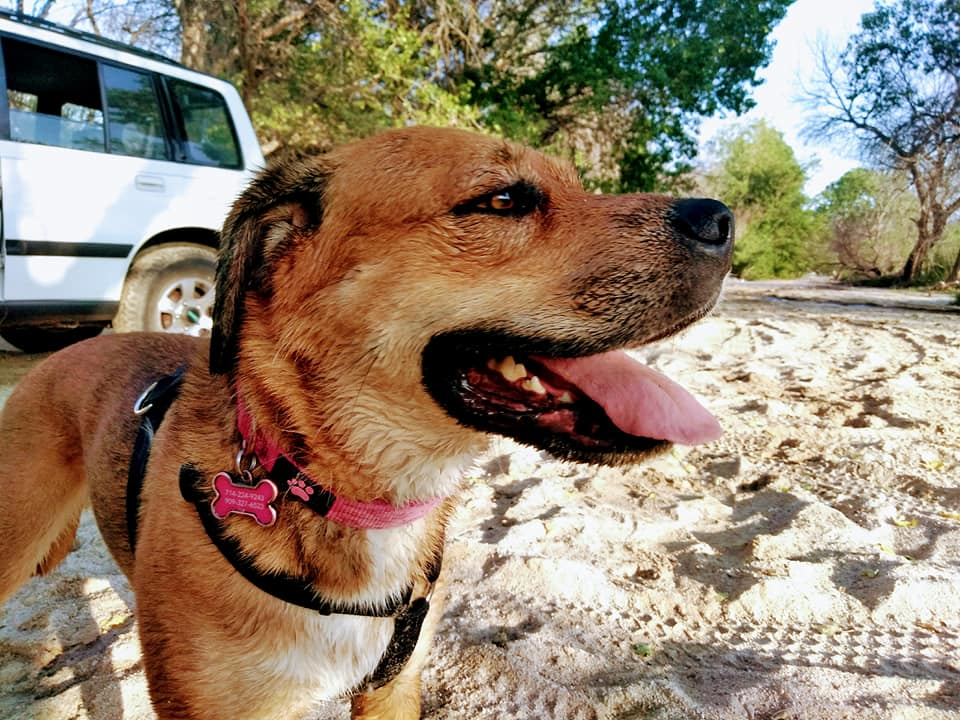 Now we had to let her dry off before getting back in the car.
The sun still hadn't set yet, so we decided to extend our trip with a bit of off roading along the trail here: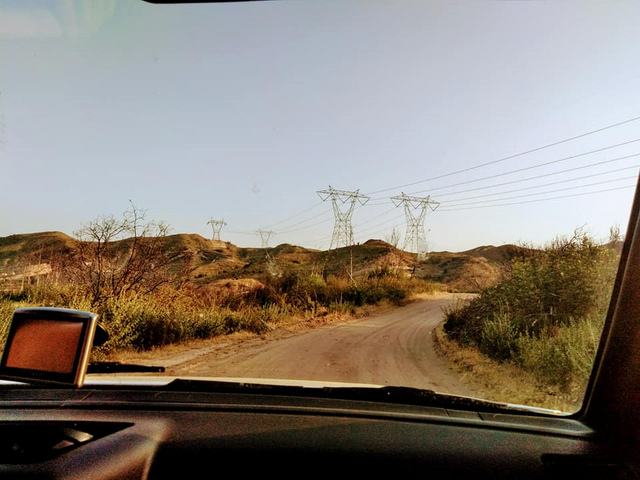 We took the trail that leads to the railway tracks, as we approached, a train was already passing through: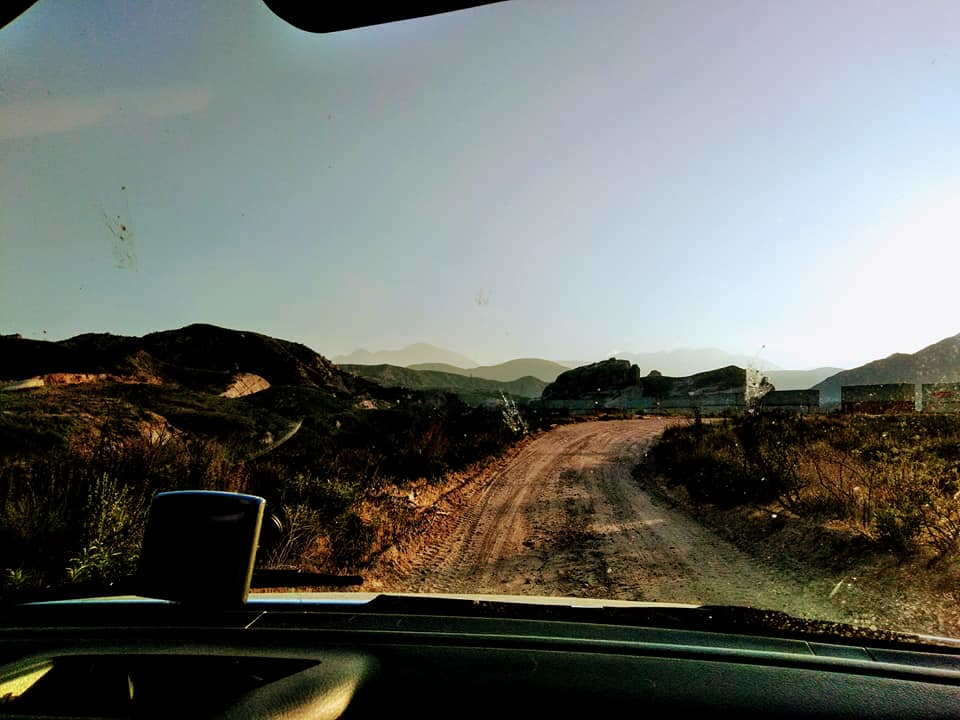 Buddy watching the long freight train moving down the tracks: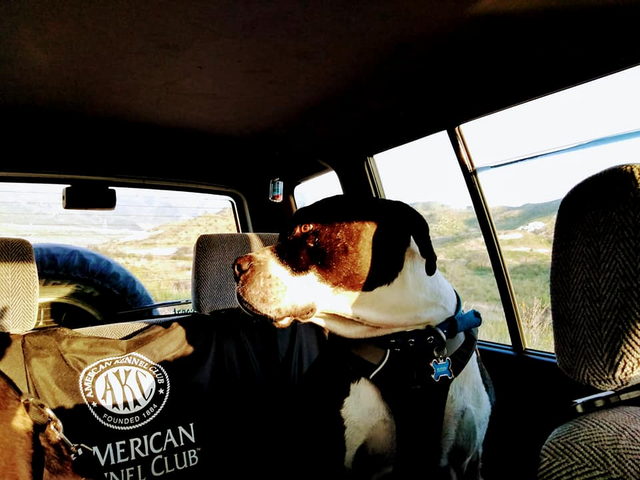 Once the train had passed, we were able to cross the track to the other side, and follow the trail down: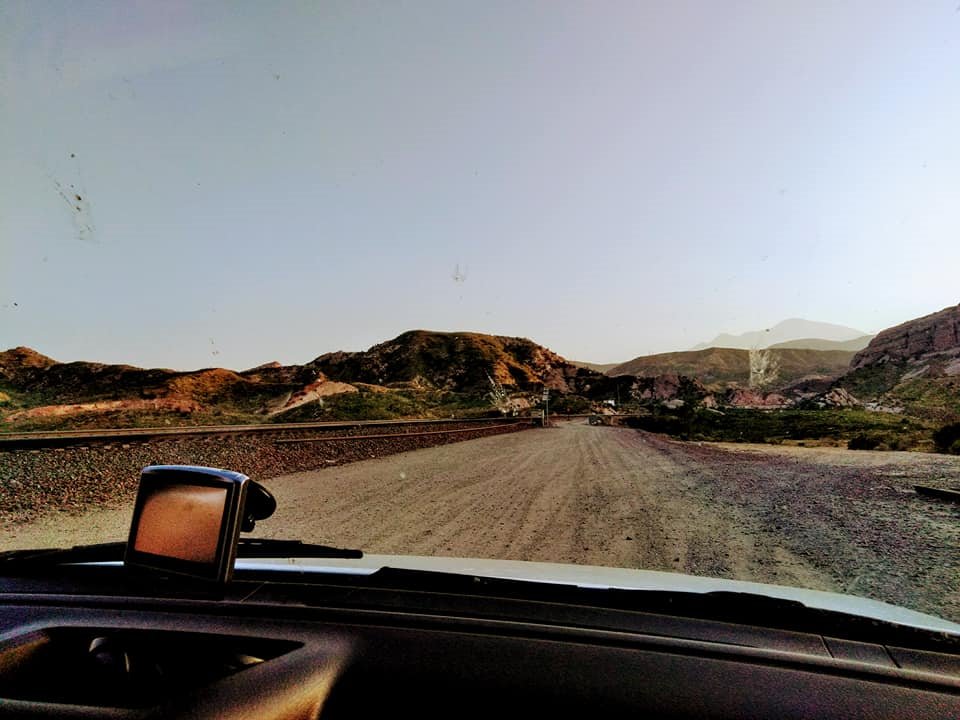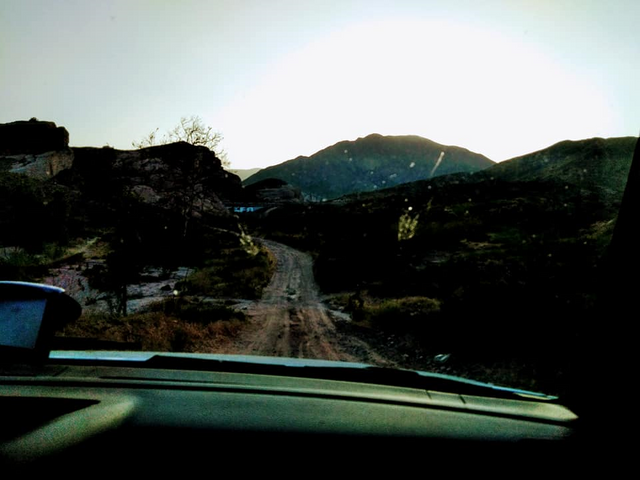 Passing P.C.T as we drove: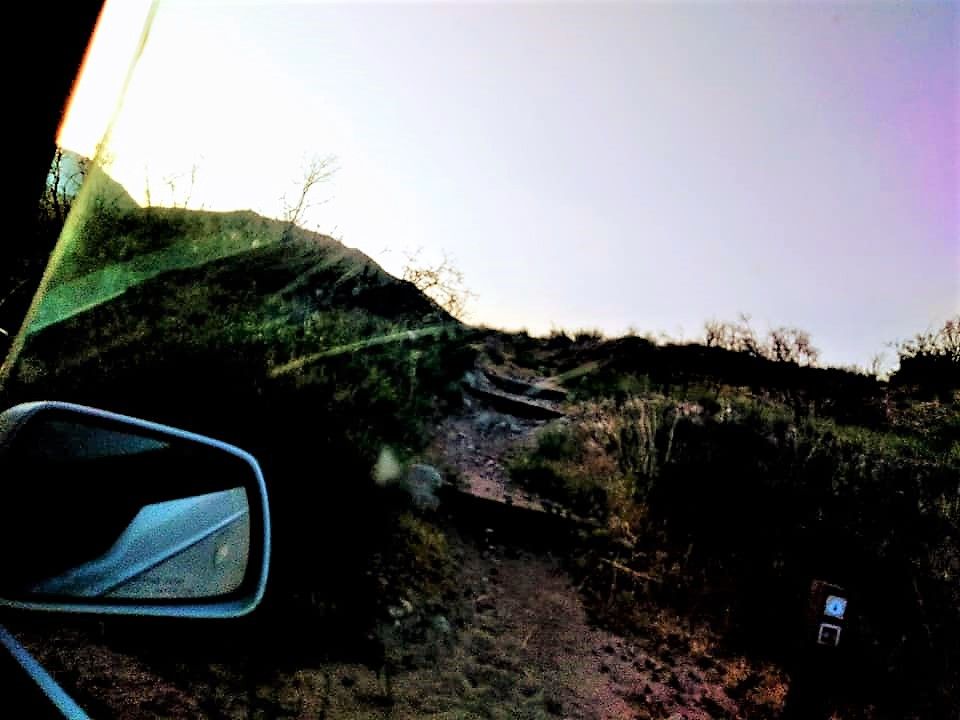 Stopping at the end of the trail at the second set of tracks: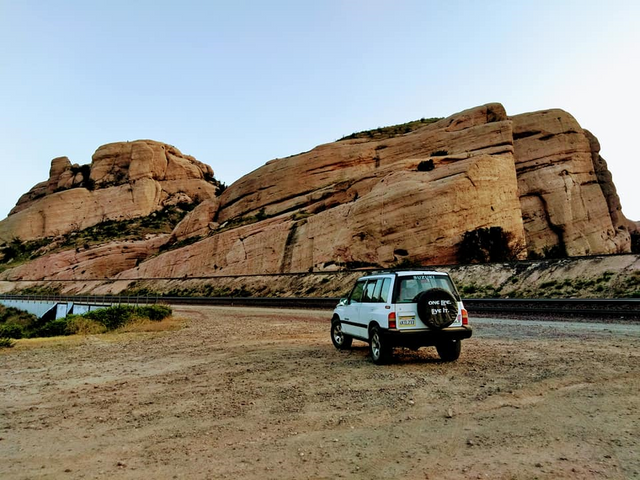 I got out to look around: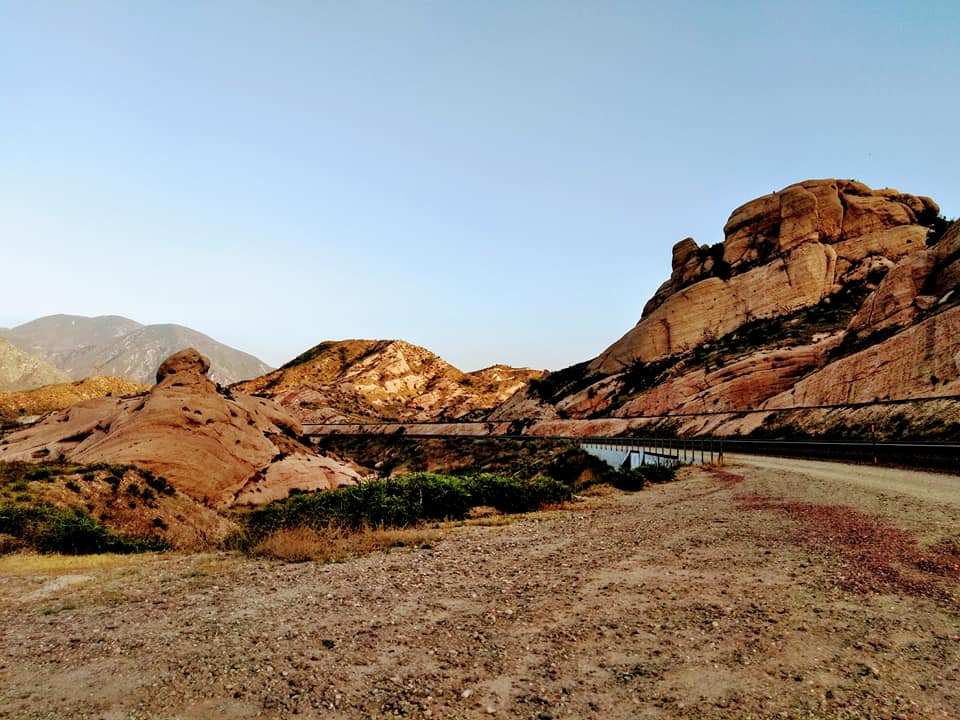 and noticed a lush green valley to the side of the tracks: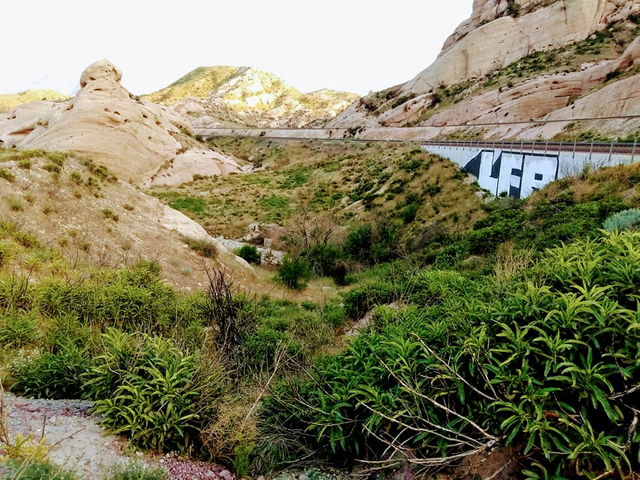 Above it only dirt, rocks and tracks for as far as the eye can see: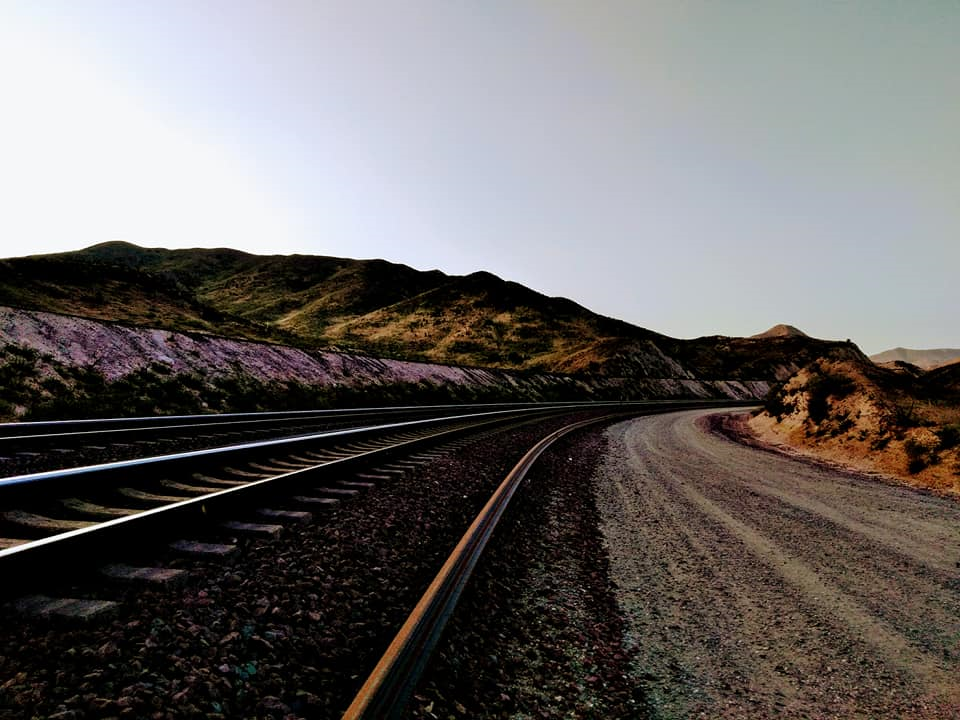 In both directions: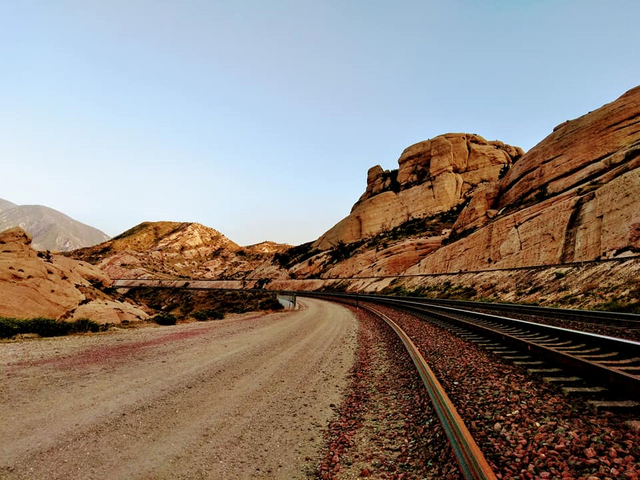 Our outing was now at an end, so we drove back to the tracks, where we got stopped by another long freight train: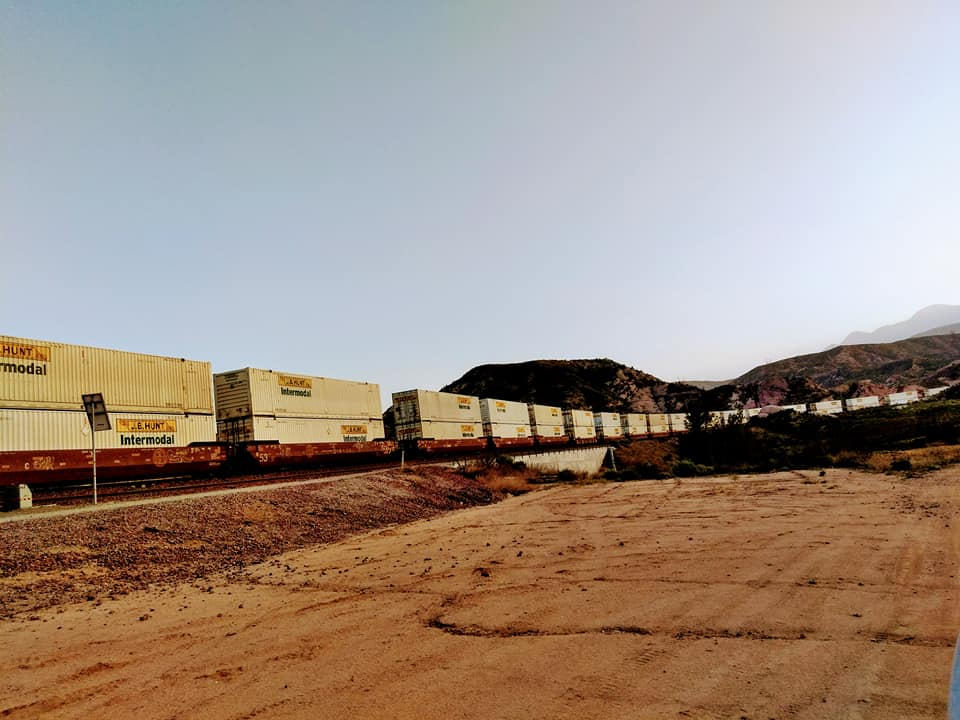 Before long we were back out on the road and heading back home with sleepy pups and happy relaxed humans.

Thanks for reading. If you liked this post please remember to upvote it, resteem it, and follow me so you don't miss out on any future content.
All photographs were taken by @beckymeep using a ZTE Blade Spark Android.
!steemitworldmap 34.300867 lat -117.463697 long ´San Bernardino California´ D3SCR