Off Leash Adventures: Road Trip From California To Oregon Part 1; Walker Lake, The Drive, And Camping On The Beach!
Hi Everyone!

What a week we've had on our annual road trip to Oregon. As we were on the road and camping all but 1 night, I was unable to post on here, but don't worry, as now I can tell you the cool details of our trip in a 2-part edition of Off Leash Adventures!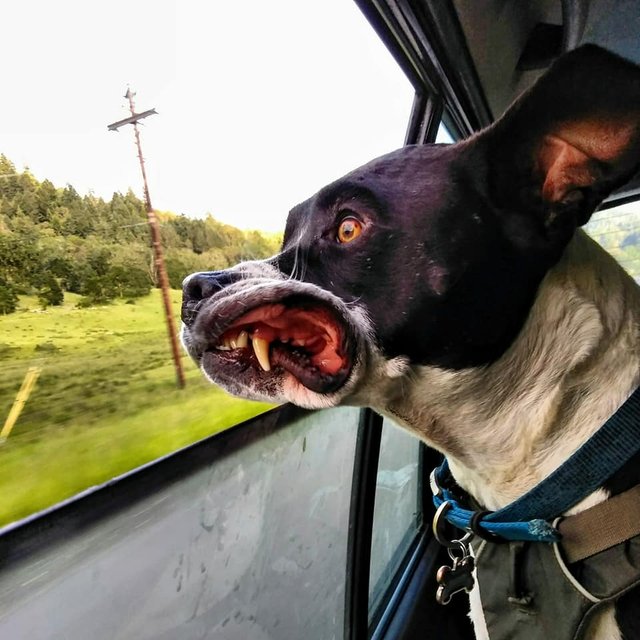 This photo of Buddy always makes me laugh, he is such a funny dog!
Myself and @csusbgeochem1 started off on our journey Friday night. I'd got out of work a little early so we had time to pack up the truck (Sydney, My Suzuki Sidekick) and hit the road before the traffic got bad on the 15 or 395. It was also the first time we'd be using the car topper I'd brought for extra storage on longer journeys such as this. It was a bargain I picked up from Offer Up for $20. I then seam sealed it and used a waterproof spray on it for extra protection from the elements. It states its Water resistant, but Oregon can get bad rain, so I wanted to make it as waterproof as possible.
We drove while watching the sunset over the desert: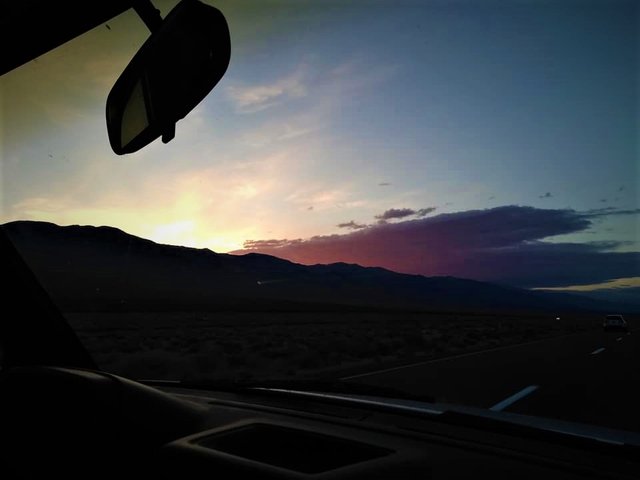 And got to Walker Lake about 11pm. I love Walker Lake! It honesty is my peaceful place. As soon as we hit the dirt road that leads us to our camping spot there, I feel a blanket of relaxation fall over me. But who wouldn't be relaxed and peaceful here: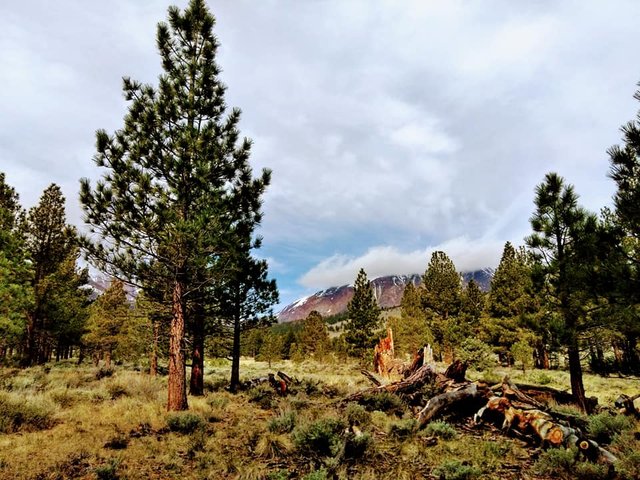 We'd brought dinner as we drove for ease and quickness. So, we just quickly set up camp and got to bed.
Not a bad morning view: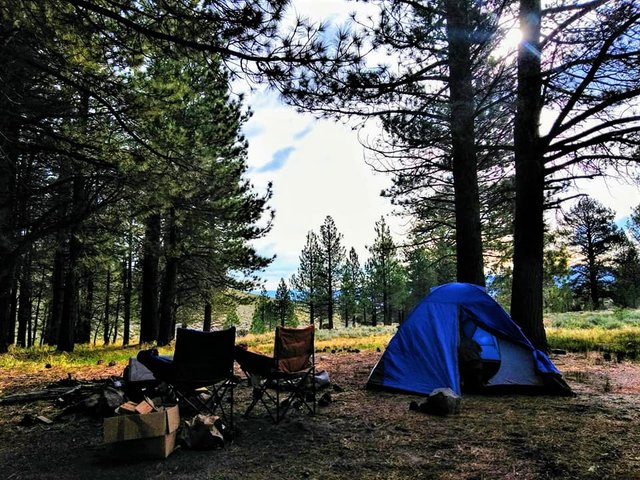 Buddy had been here before with us, but Happy hadn't and wanted to explore, and run as fast as she could around: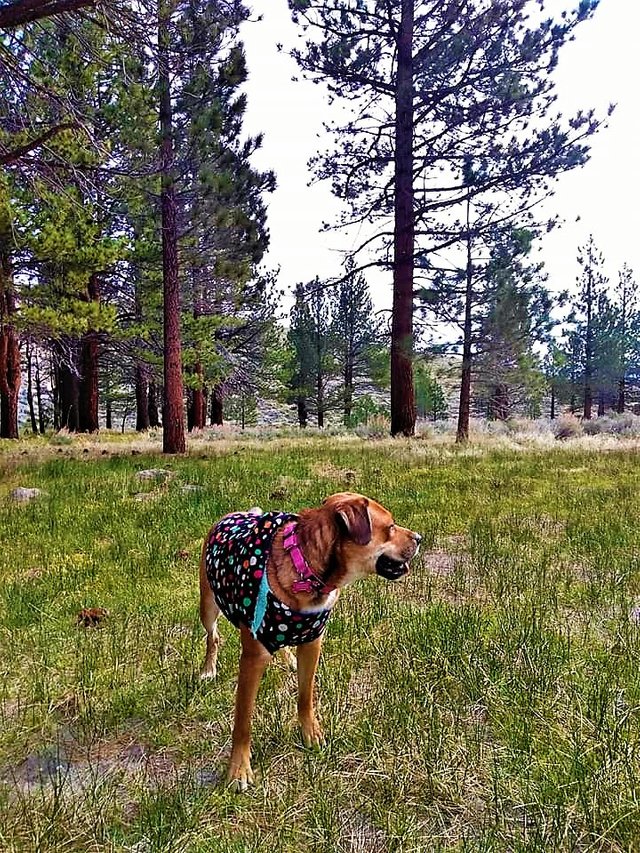 As with most mornings here, a deer came walking by as we drank tea and coffee at camp: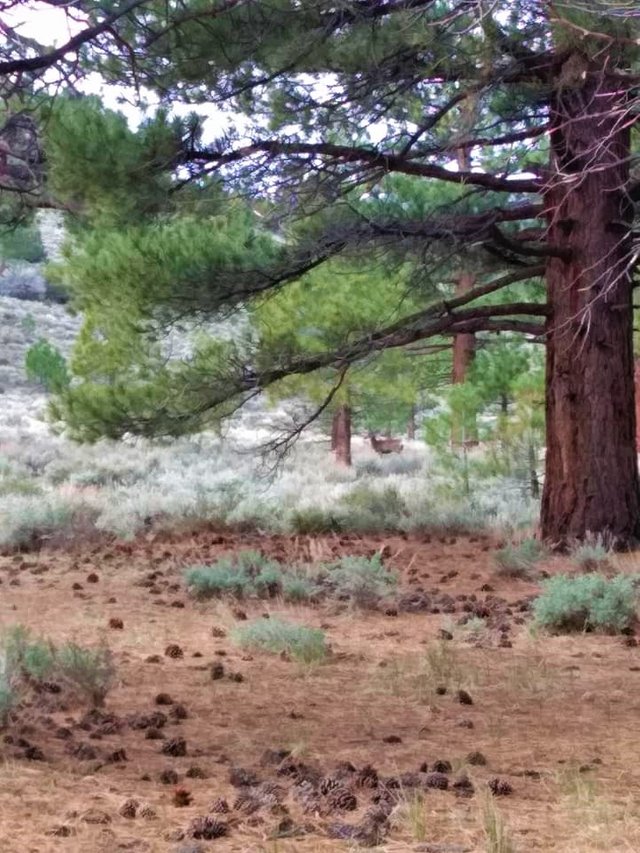 Happy had never seen a deer before, I don't think she knew what to make of it: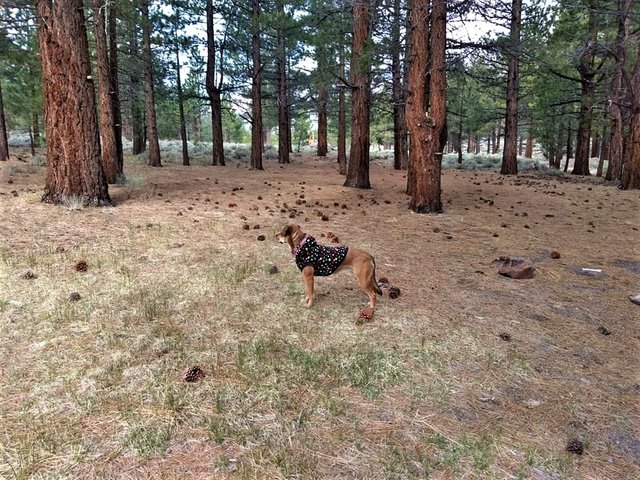 I took the dogs for a walk through the trees to the clearing, as we had a long drive ahead of us: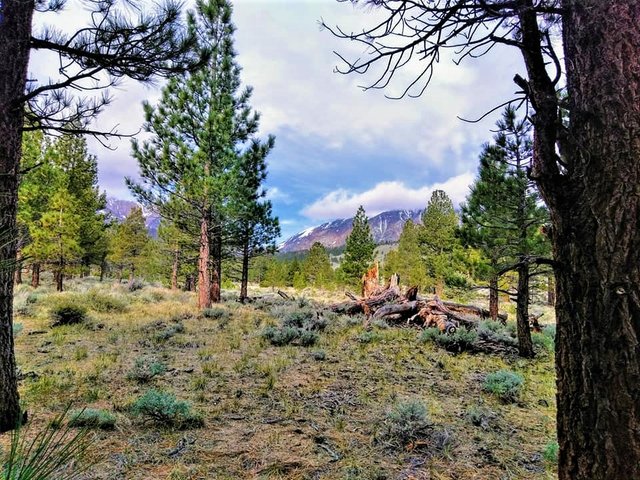 It's so beautiful here: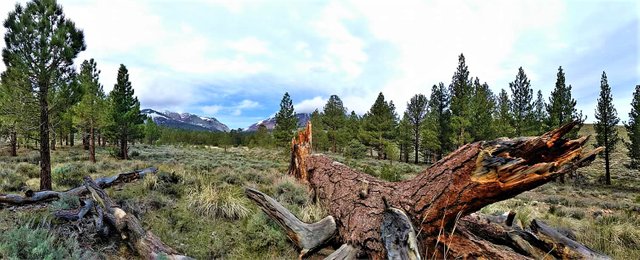 Can you spot the 2 photo bombers though LOL: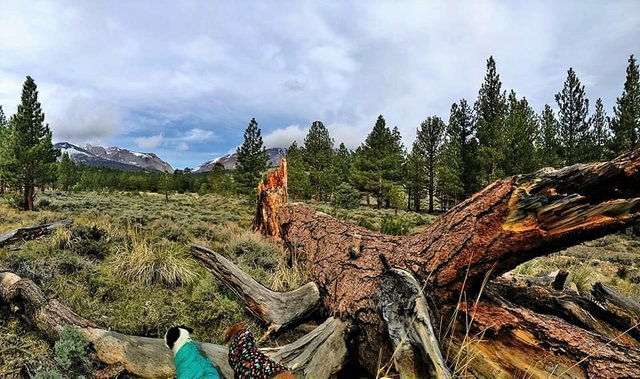 Buddy was very interested in this fallen tree: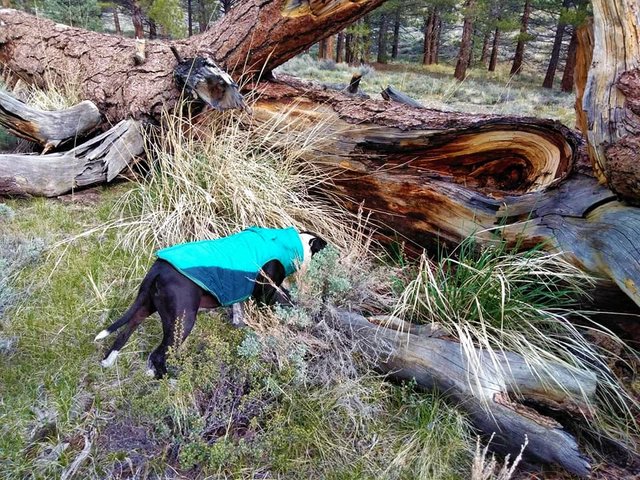 Which made me notice this interesting knot: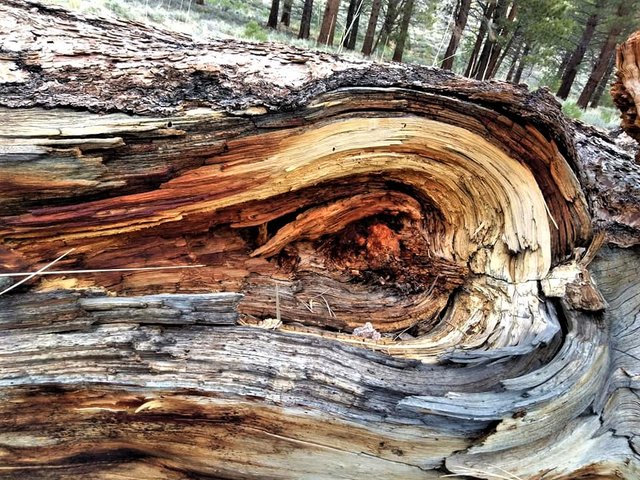 It looks like a dripping heart on its side.
We walked back to pack up and get on the road as we needed to be in Oregon by nightfall, still taking in the breath-taking beauty here: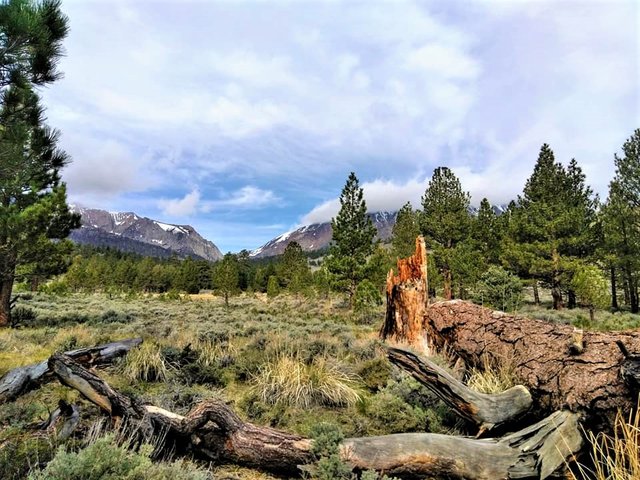 And we hit the road once more: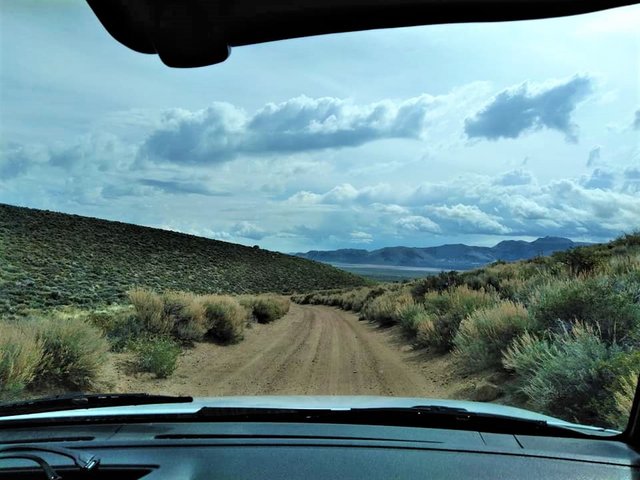 The mountains had fresh snow on the tops as we drove away: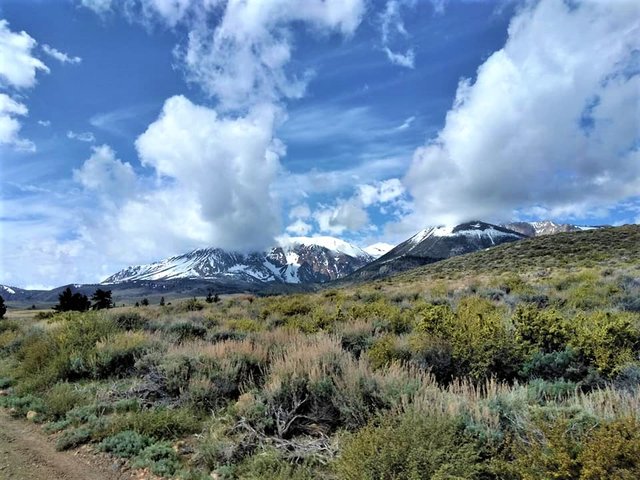 We started out driving in the sunshine with blue sky's: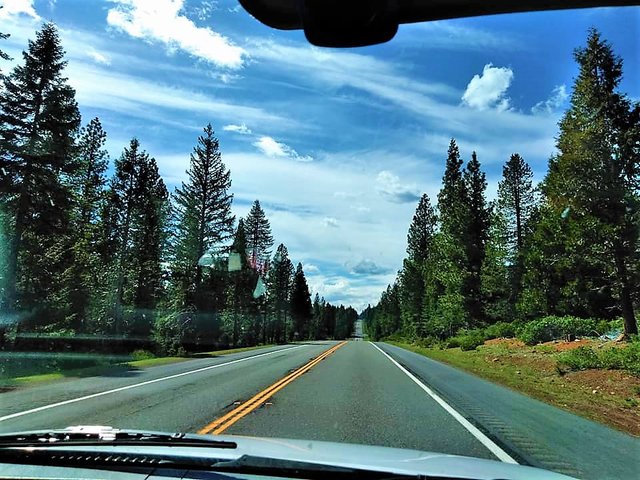 And went past a company that has Rainbow Trucks!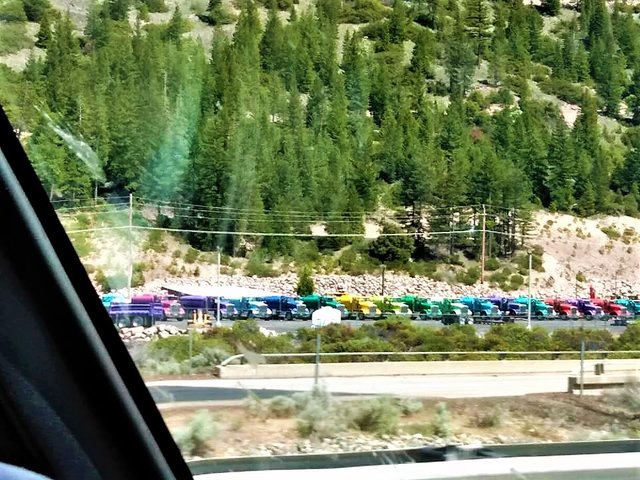 Trucks of every bright color!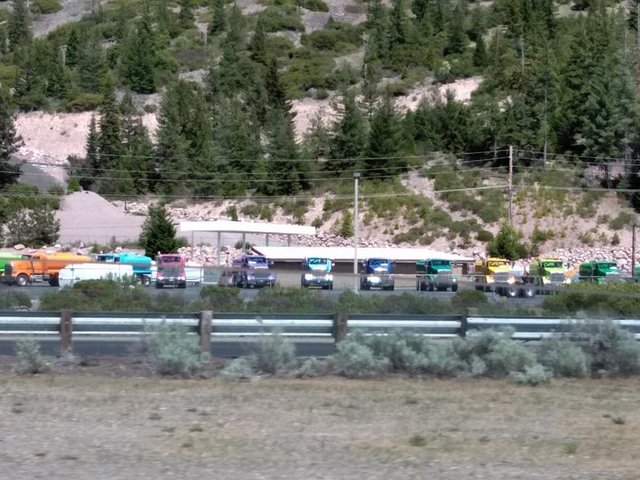 Then we hit clouds: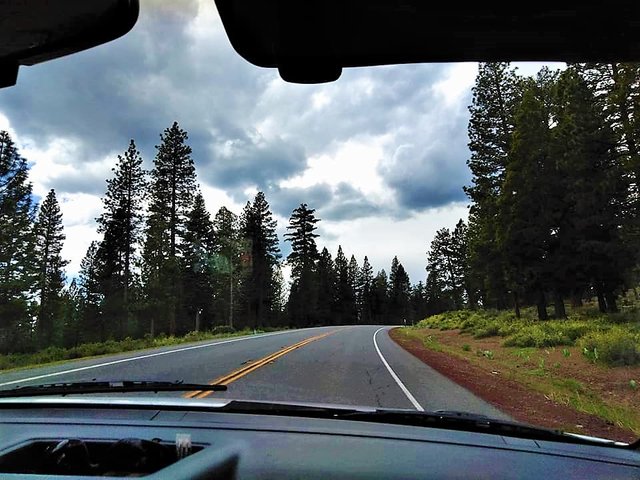 Then we hit Shasta: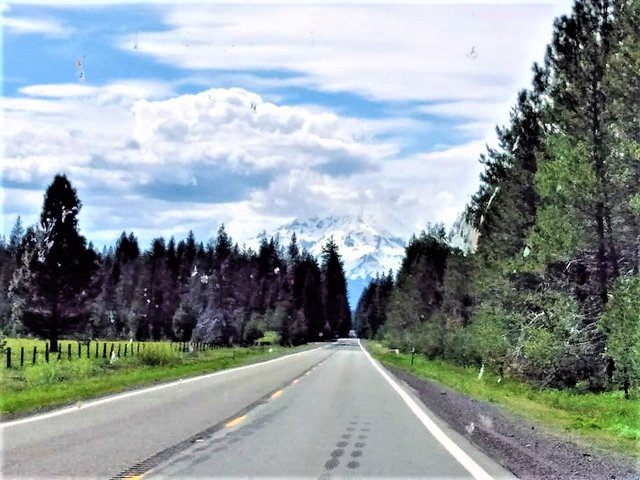 Then we hit rain, good job I waterproofed the storage bag on the roof!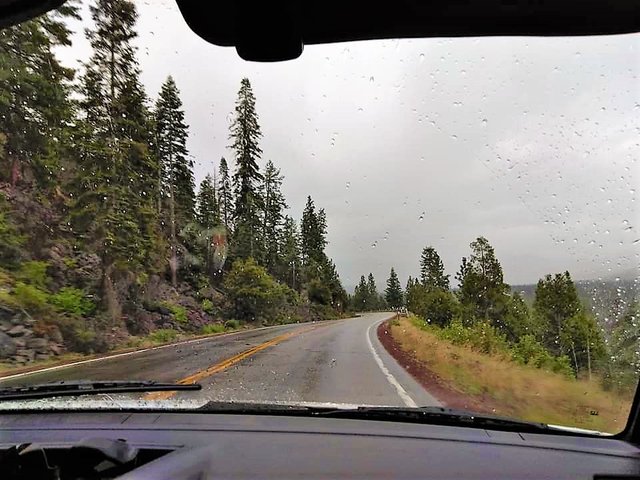 Once we got further in to Oregon the weather improved again: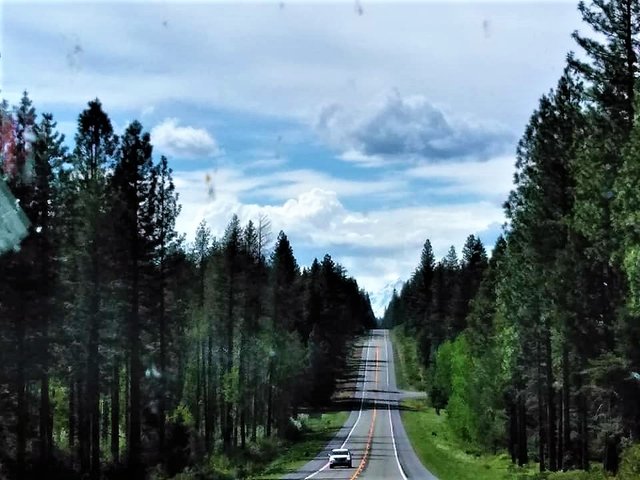 Buddy was enjoying having his head out the window, and I managed to get these action shots of him, and his cheek in full motion LOL: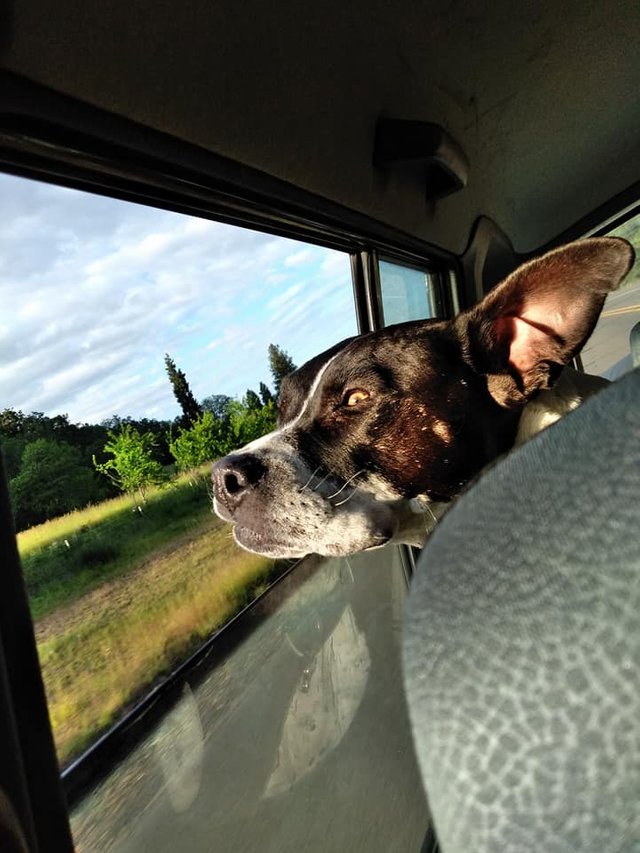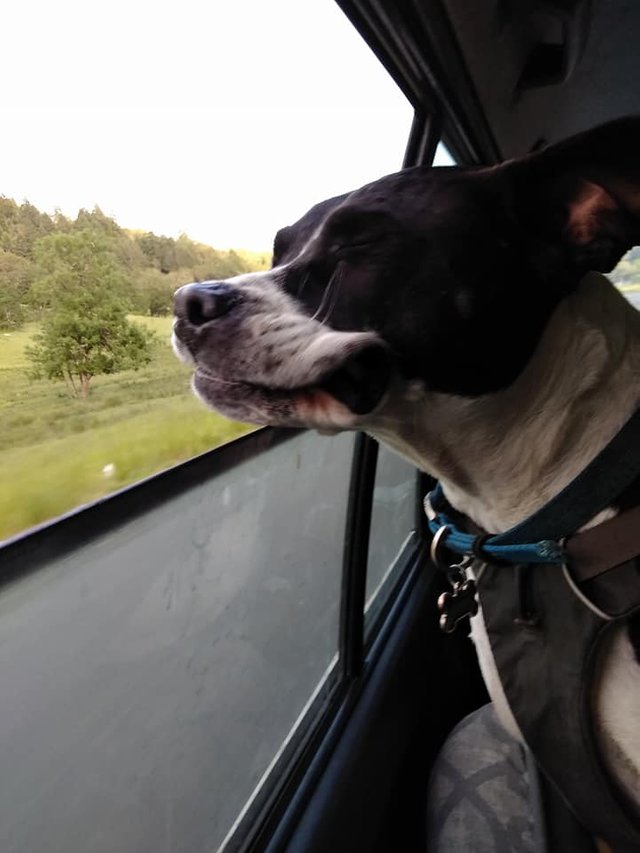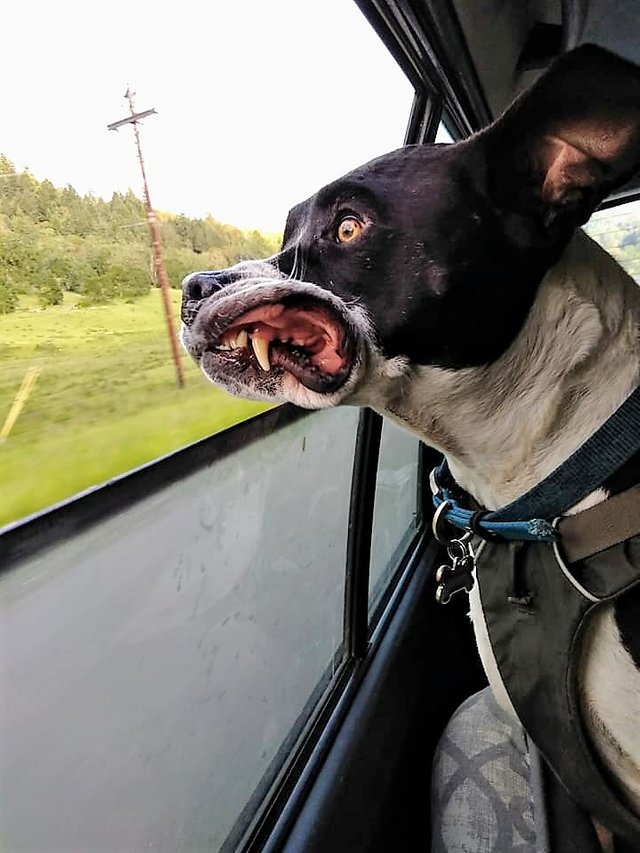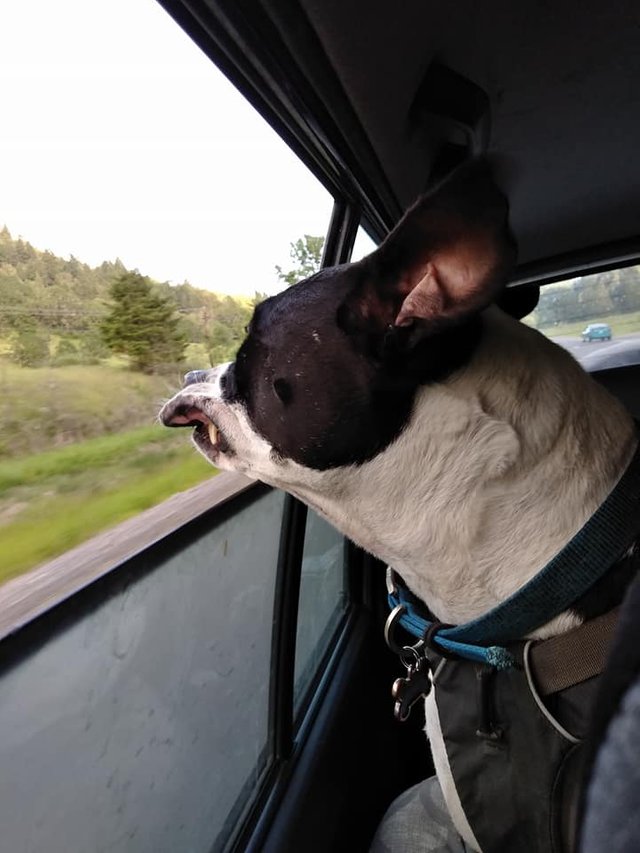 We managed to get all the way to Seven Devils, our camp location for the night as the sunset. I mean who doesn't love camping on a beach!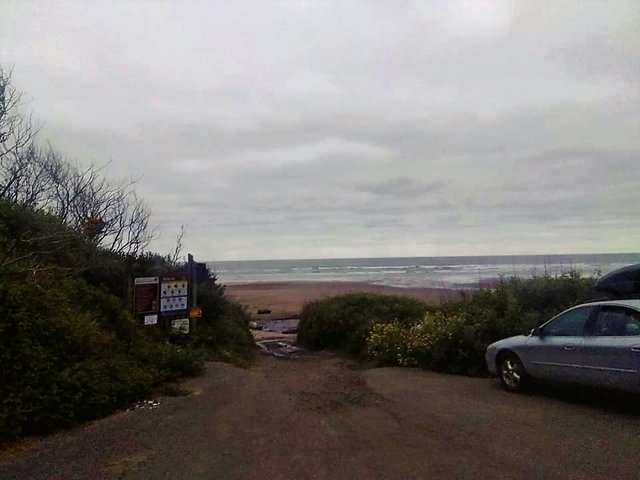 We were tired but needed to set up camp, while the dogs ran around after being in the car all day: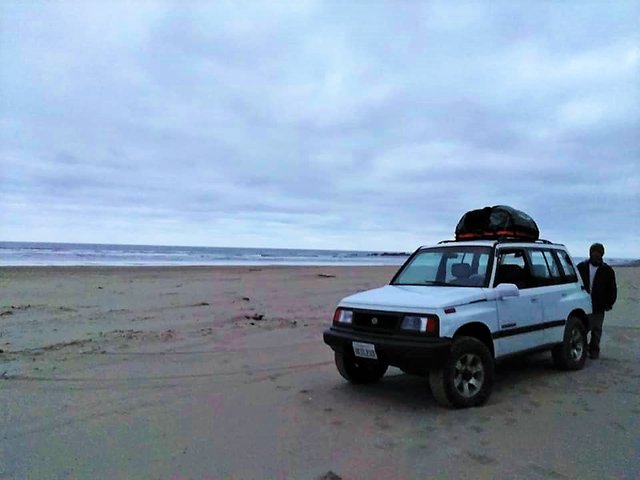 And when camping on a beach you get to have a camp fire, something us Californian's don't get to experience back home due to fire restrictions: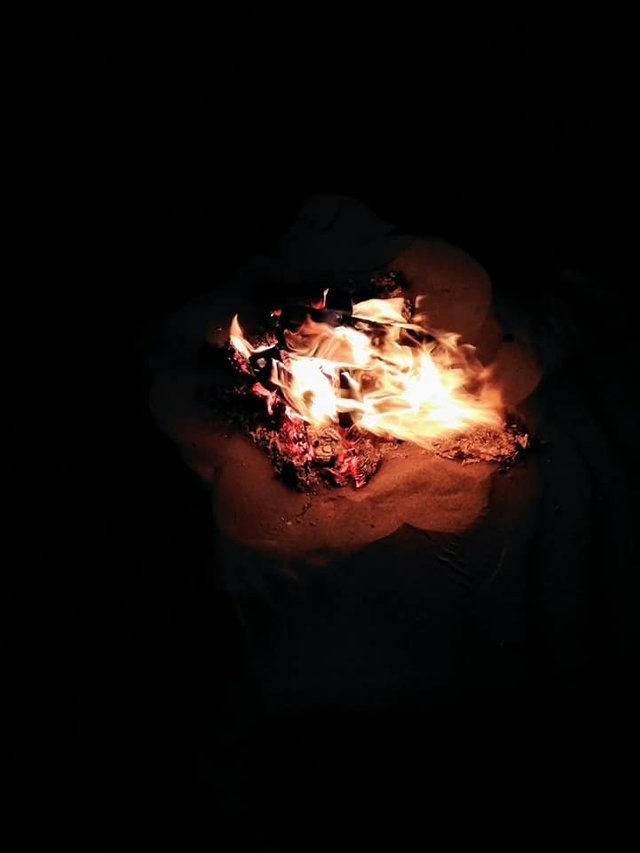 There is something about the ocean air that means you sleep so well all night long! And wake up to this view: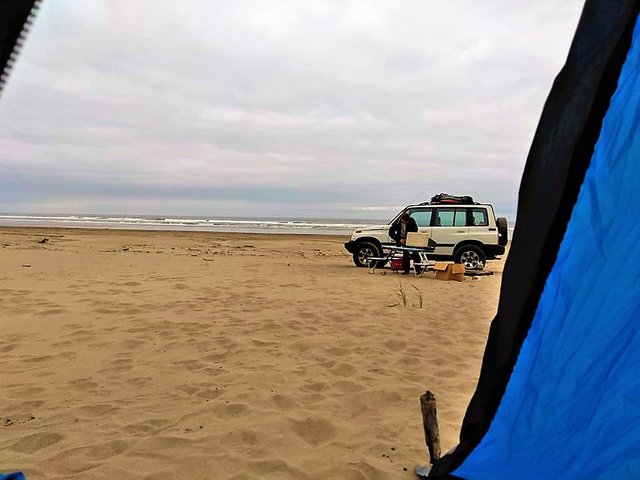 As it was Happy's first time on the beach I walked her down to the shore line, as we had the whole beach to ourselves: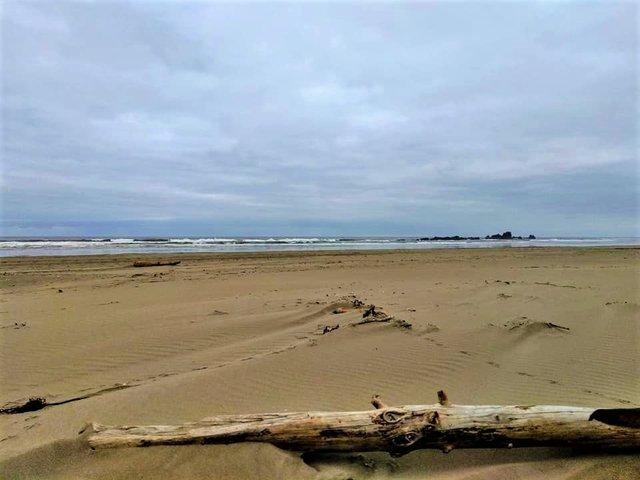 Looking back at our camp. Buddy saying "Momma, wait for me!":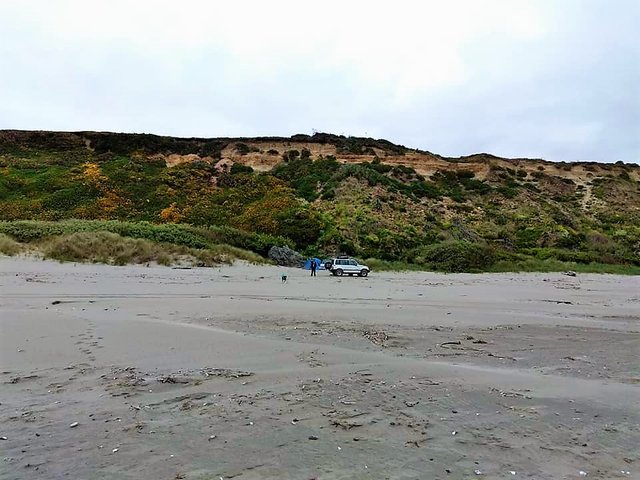 I told the dogs they could go to the waves: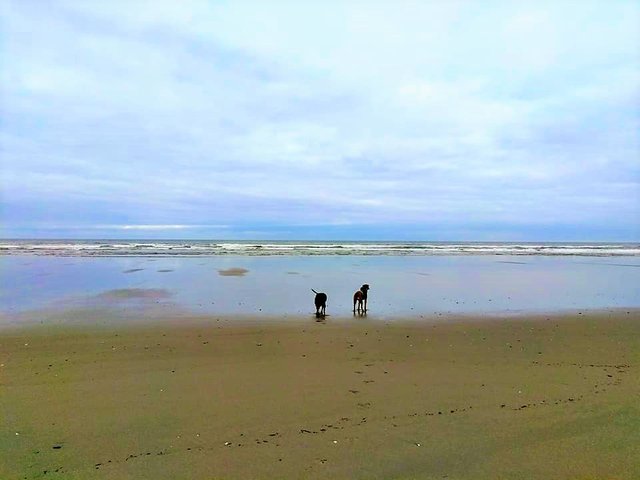 Obviously not fans of the cold-water temps: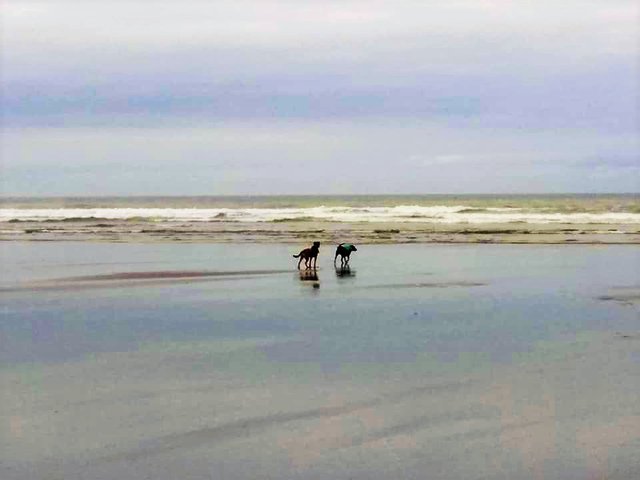 But Buddy likes being on the beach:

As we needed to pack up camp and move on to our next location I told the dogs to play to get some energy out: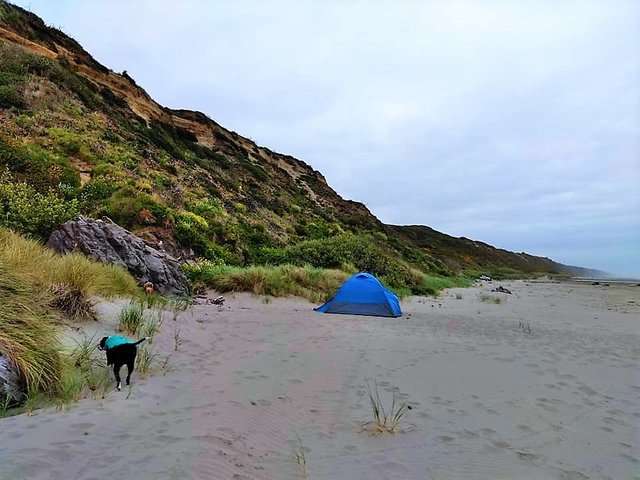 They ran around: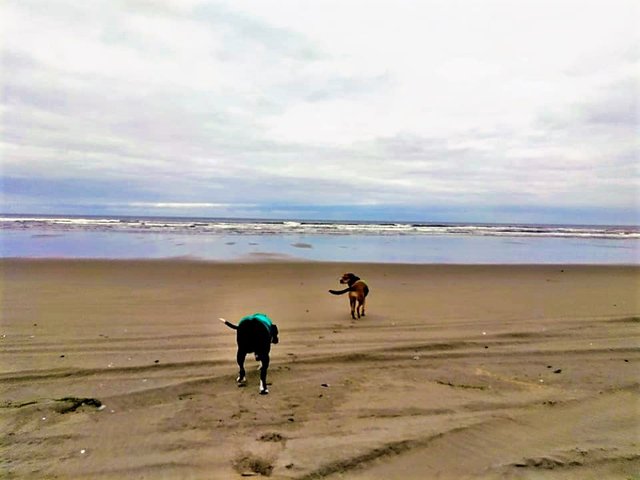 And up and over: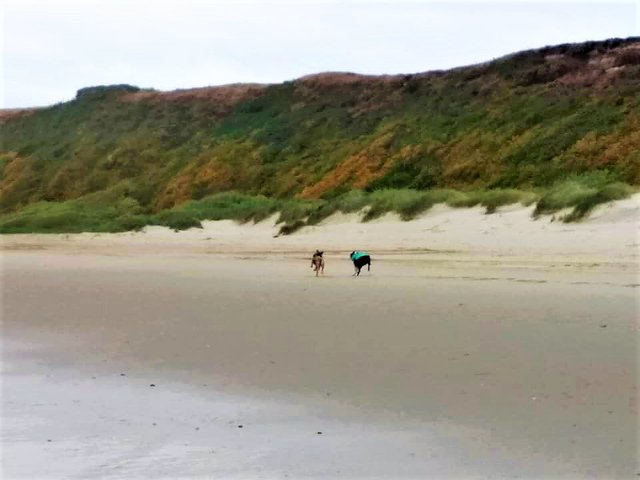 And everywhere they could: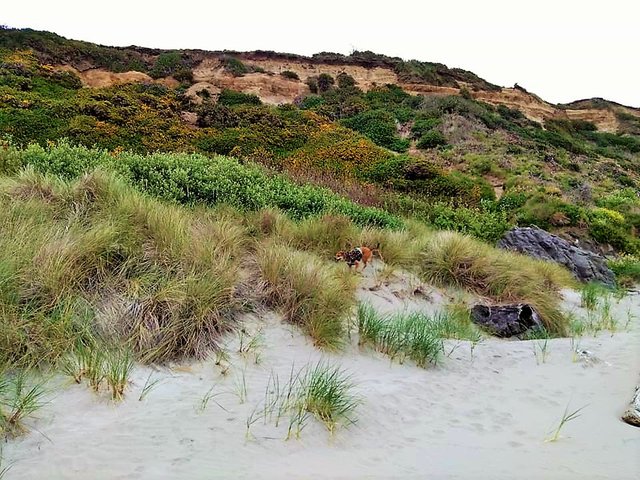 Happy also seems to like being on the beach. Here she is watching the waves roll in: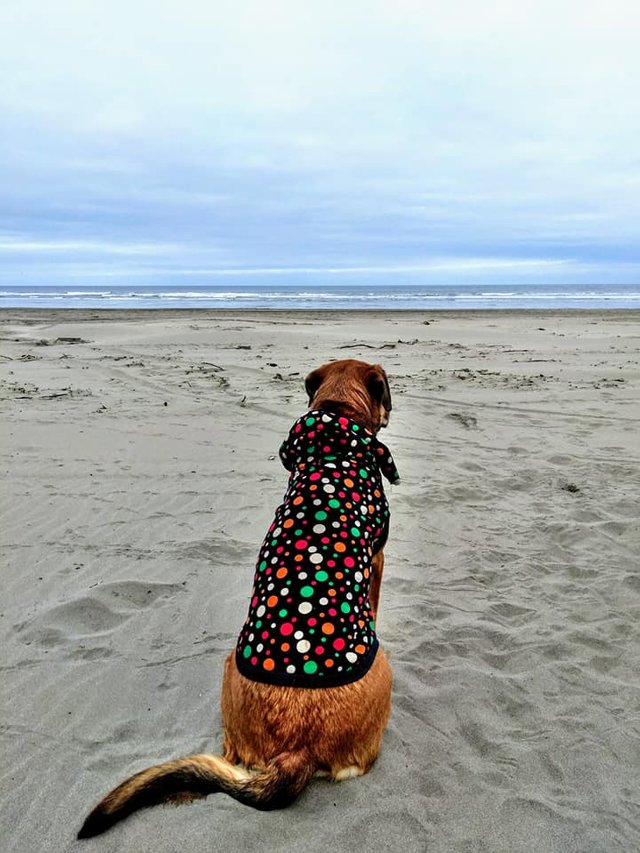 Now we were in Oregon we didn't have a lot of driving to do each day, and could enjoy our time here instead. So, we left the beach and headed over to the Recreational Sand Dunes for some off road fun, before checking in to our Yurt for the night!
To be continued in Part 2…….
Thanks for reading. Please remember to upvote, resteem, and follow me so you don't miss out on my future content.
All photographs are the property of @beckymeep, taken with a ZTE Blade Spark Android phone.
!steemitworldmap 43.2346343 lat -124.3904222 long ´Seven Devils, Bandon, OR´ D3SCR