Off Leash Adventures: Road Trip From California To Oregon Part 2; Off Roading On The Sand Dunes, Visit The Creamery & Staying In A Yurt.
Hi Everyone,

Welcome to Part 2 of the Off Leash Adventure to Oregon! Sorry for the delay in posting this Part 2 of our road trip, I was doing a bit of part time work after my regular job, which didn't leave me with any free time.
I'll start, where I left off: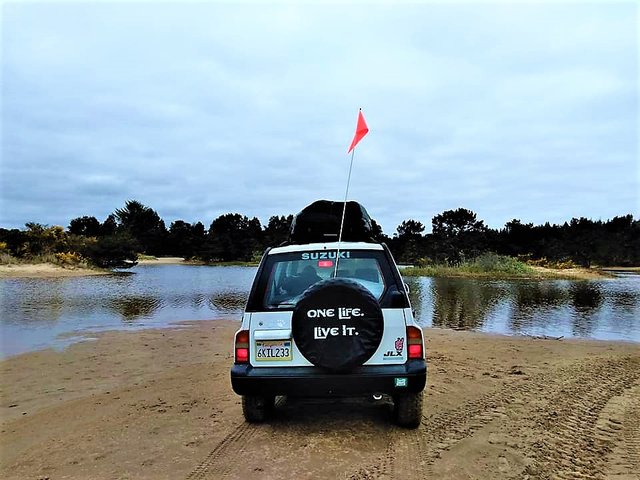 We'd just packed up our camp on the Beach at Seven Devils, and headed over to the office to get the ATV permit and flag for off roading on the sand dunes. @csusbgeochem1 had spend a lot of time fixing the issues on Sydney, so that we could take this trip. So his reward was spending the afternoon roaming the dunes!
Permit in place: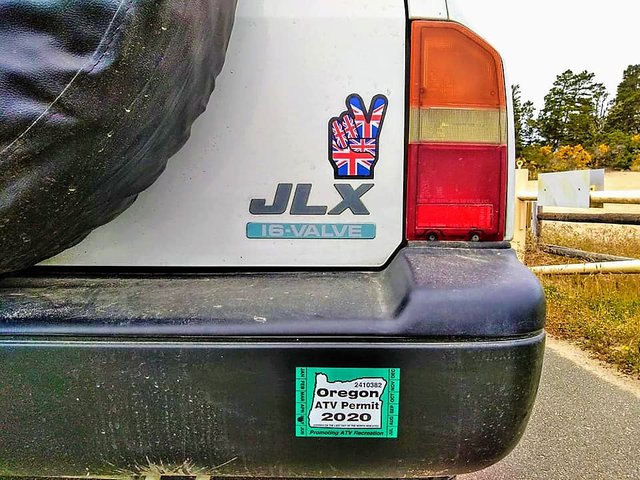 Airing down before we hit the sand: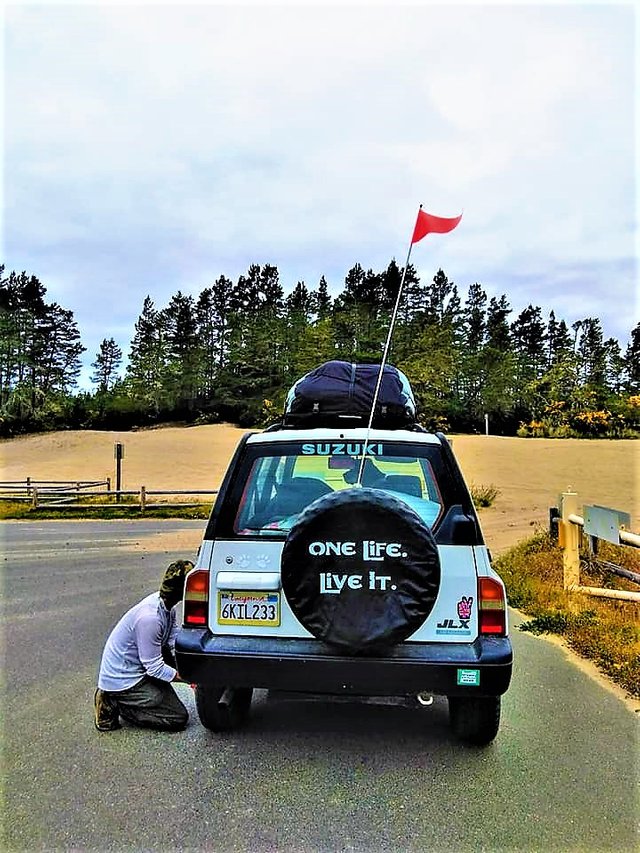 First we roamed around the bottom areas, that had ponds in them from the rain:

Sydney looked so cool:

Then we went for a roam up the dunes. I did get a little worried when Syd stopped going forwards and started going more sideward through the sand, but @csusbgeochem1 had it all under control:

Sitting on the top, loving the views: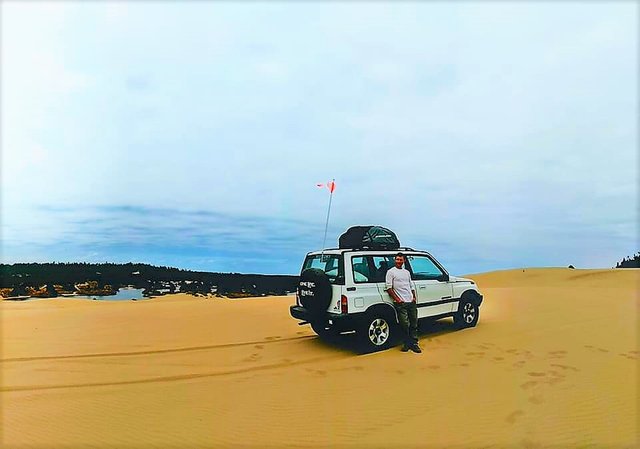 My favorite photo from the afternoon on the sand:

Views over the water from up here:
Sea and Sand!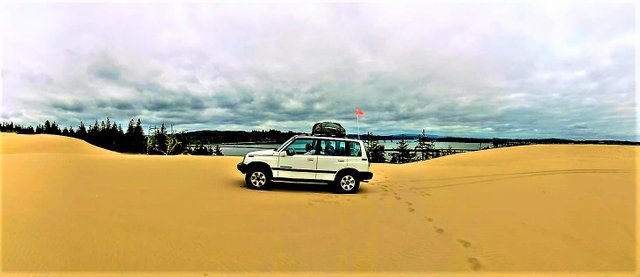 Some more roaming around, getting odd looks from people as we are the only street legal vehicle out there! Well we did have the car all packed up, with the dogs heads out the back windows LOL.

Then we stopped by another 'pond' for some lunch: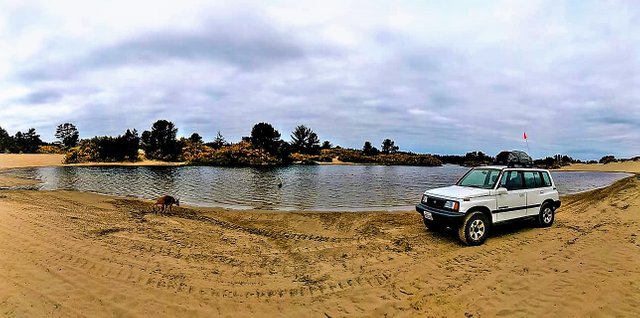 The dogs were loving running around in the sand, Happy was so, well happy, she was rolling around in it: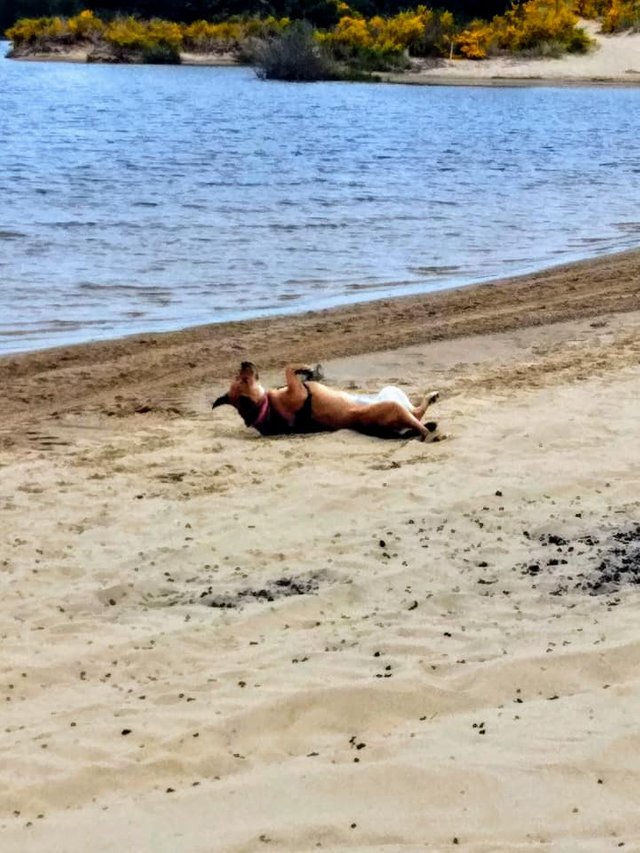 While Buddy took to laying down and watching the passersby: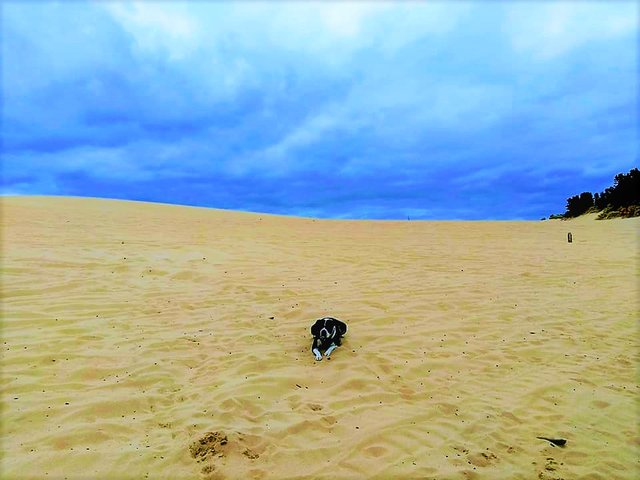 After a bit more roaming, we left this recreational area, and headed down the road to a beach trail: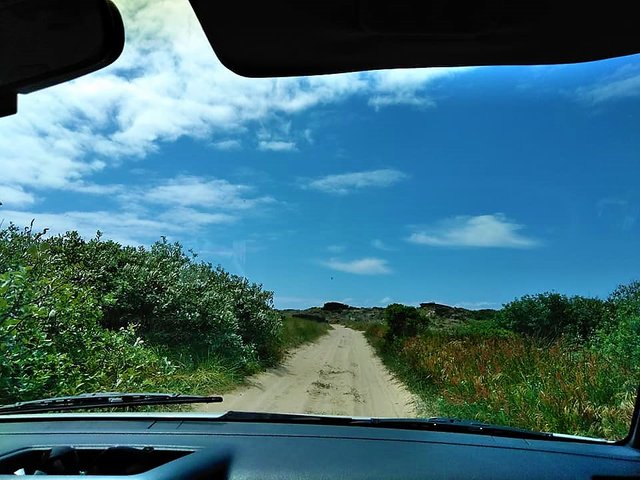 It was a beautiful area:

One of my favorite photos from the trip:

We carried on driving to the split, where we saw a red pick-up truck head down the side for the Beach Loop. @csusbgeochem1 stated that he hadn't drove that loop before as the tide has always been blocking it. We decided to follow the truck, as if the red truck doesn't come back, it must be open!
Before we knew it, we were driving on the beach next to the water!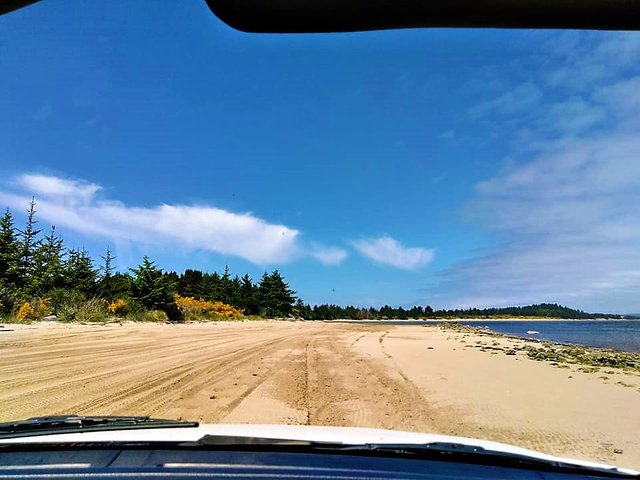 It was a long loop;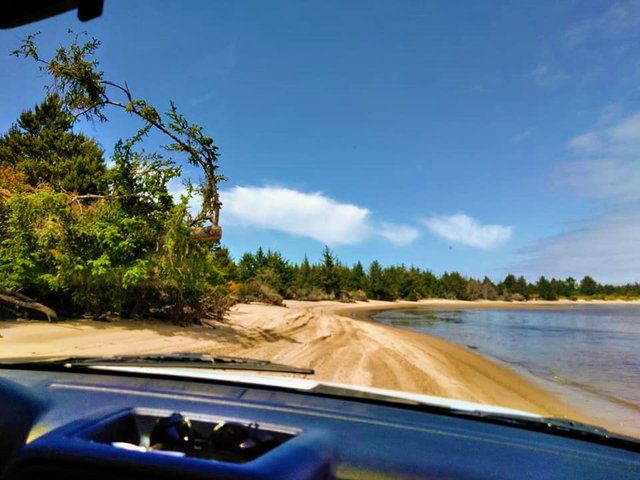 But very beautiful: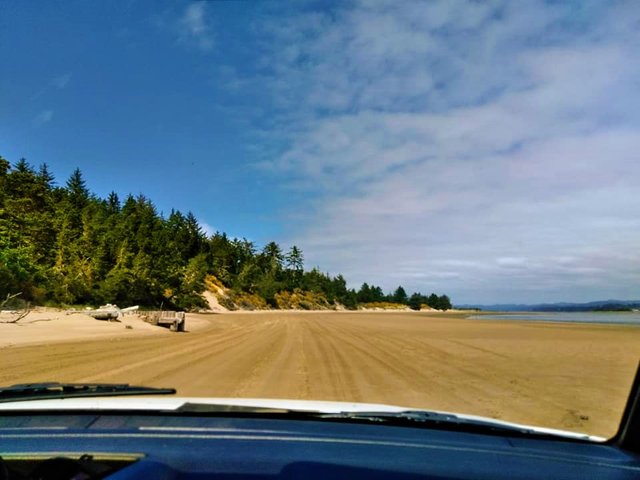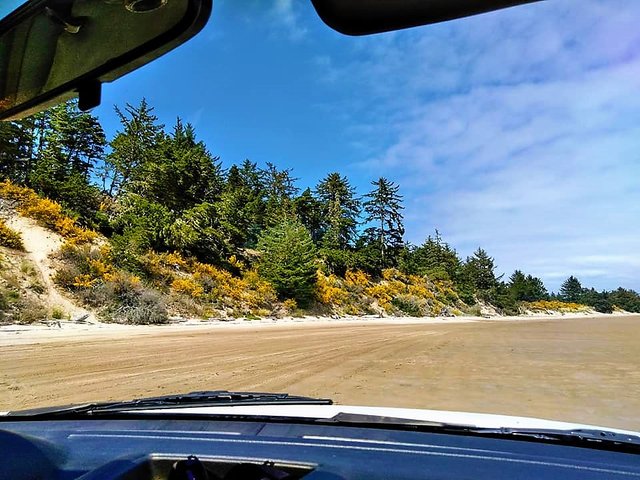 I could tell why this loop isn't accessible normally, due to the water level being too high: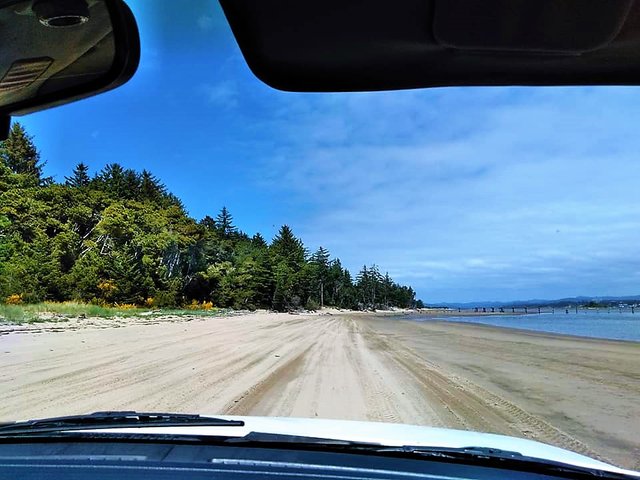 It just kept going: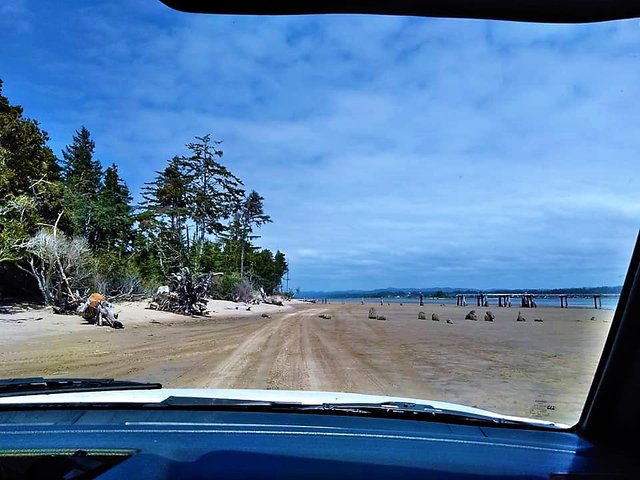 Then we saw the trail leading us off the beach and... well we weren't sure where it leads: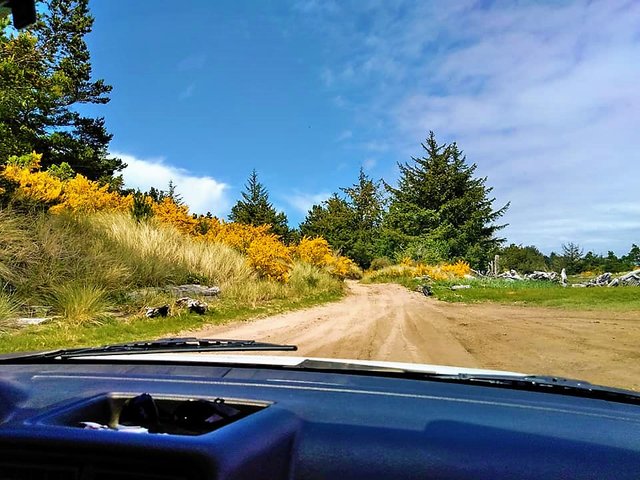 Again, it was a beautiful trail: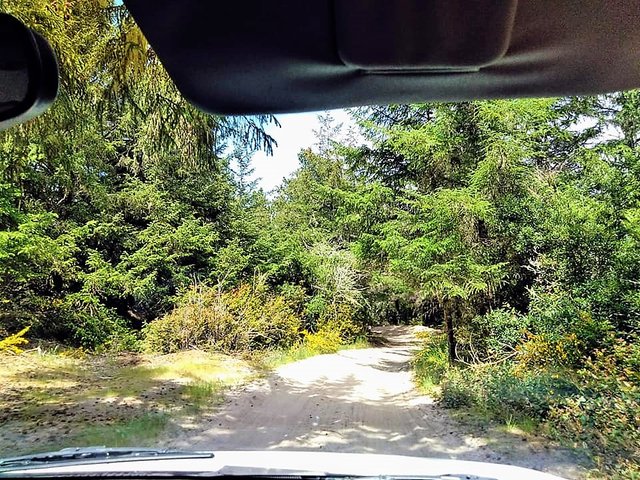 That lead us to a car park area. Perfect for airing the tires back up for street driving. There was also a map of the trails here: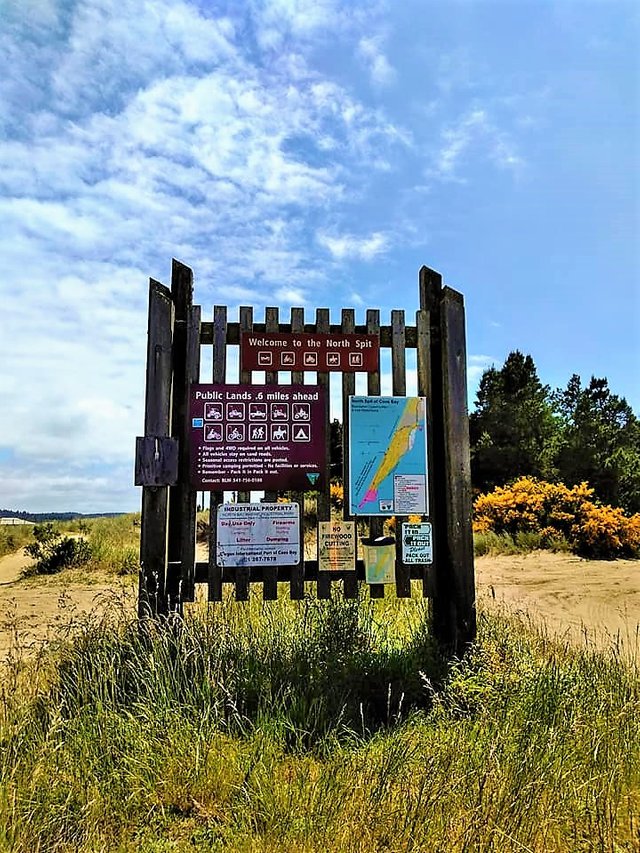 After our adventure on the sand and trails, we headed over to Bullard's Beach State Park, where I'd booked us a Yurt for the night: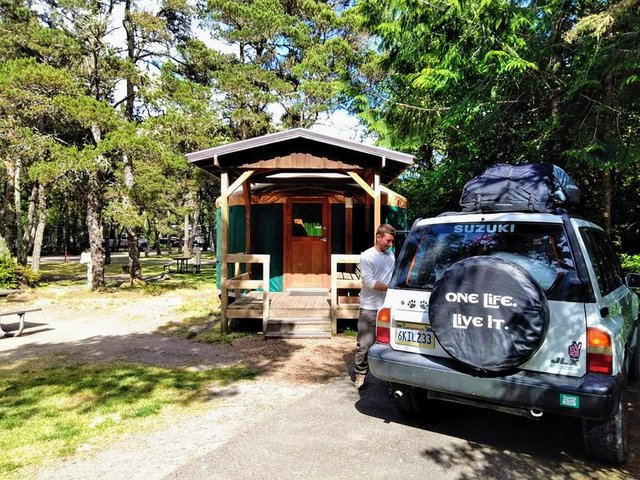 We'd stayed in a Yurt here once before, and it was such a great experience we wanted to recreate it on this trip. I mean, why wouldn't we? Look at how cute they are: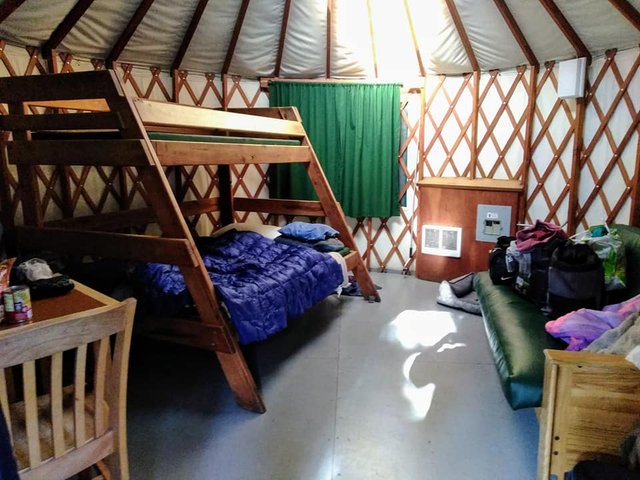 The dogs laid around outside next to the bench, soaking up the sun's rays: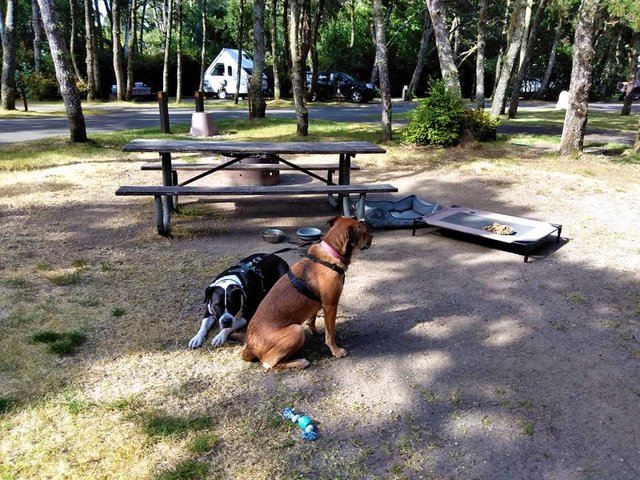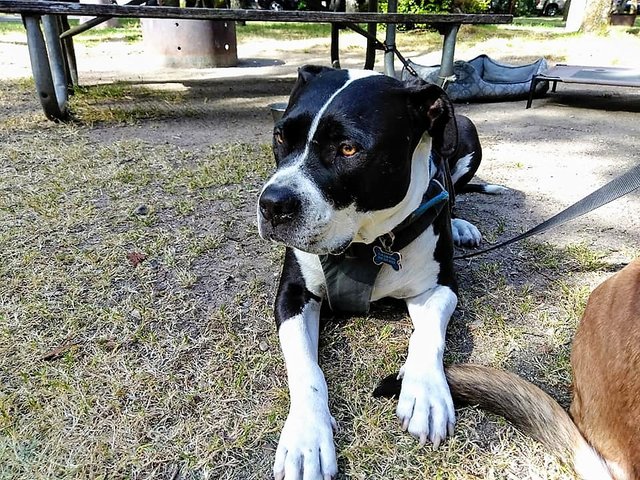 I must admit, I'd booked the Yurt, as it was supposed to rain on and off all day Sunday. But we had a lovely sunny day instead. I didn't mind as I really enjoy staying in a Yurt, not only are they super cute, there is a heater to keep you cozy at night, and we could use the site facilities. The dogs preferred staying at the beach as they could run and frolic all over the sand, but seemed to appreciate the yurt on the night, being able to walk around and have a bigger bed than they have in the tent.
We enjoyed a cozy, peaceful nights rest, and then a relaxed, rush free morning at the Yurt, before packing up and heading over to The Face Rock Creamery in Bandon. It's by far my favorite creamery in Oregon. I've visited Tillamook and Blue Heron, but Face Rock is the best! The cheese is so creamy here, and there are samples of all the flavors (unlike Tillamook who just have 3-4 to sample). My favorite is the Smoked Cheddar, Pizza Cheese (honestly, I don't know how, but it tastes just like pizza, and it was on buy one get one free! Homemade pizza heaven!) and Monterey, which I could just eat blocks off it's so nice: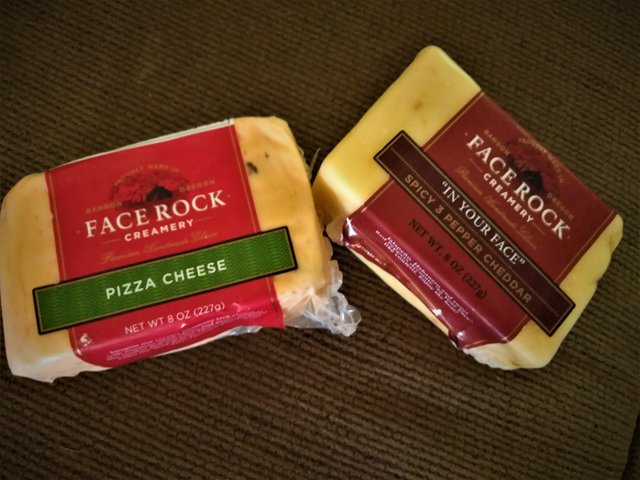 They have a great selection of wines to buy, as well as other items. We brought a bottle to share while eating our ice cream, as there is a seating area upstairs. The ice cream server told me to take my purchased bottle over to the hot food counter, as they would swap it out for a cold bottle, open it and give me the glasses.
Cheers!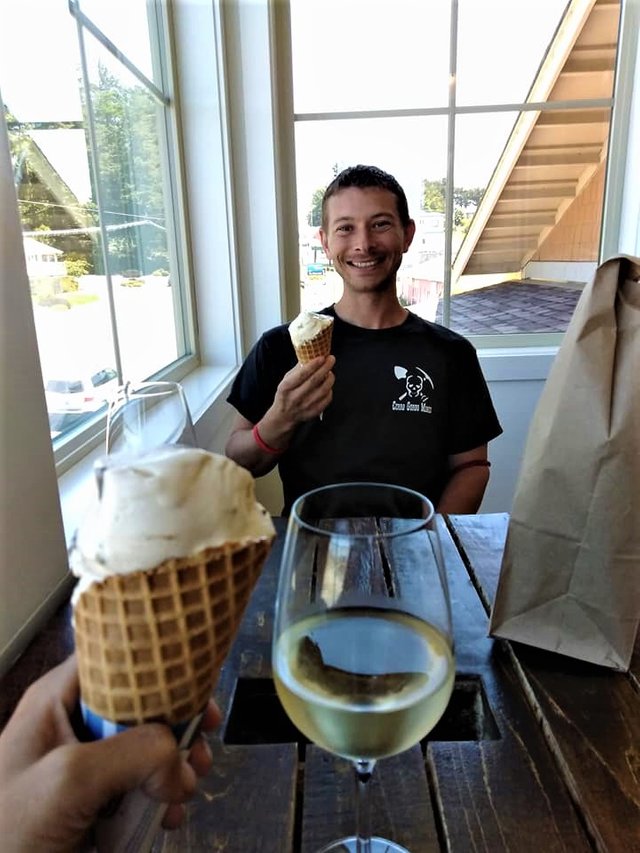 Their ice-cream is just as creamy as the cheese, and this is a Childs cone for $2.50!!
Yes $2.50 for all this, even @csusbgeochem1 couldn't finish a whole one: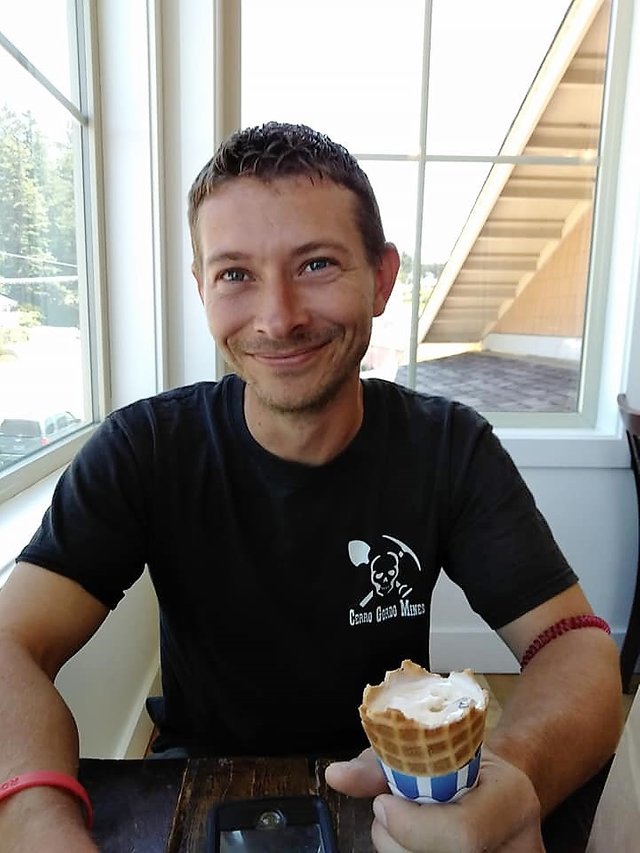 I shared mine with the dogs, Buddy remembered from last time he can eat the cone…. but he eat the wrapper to!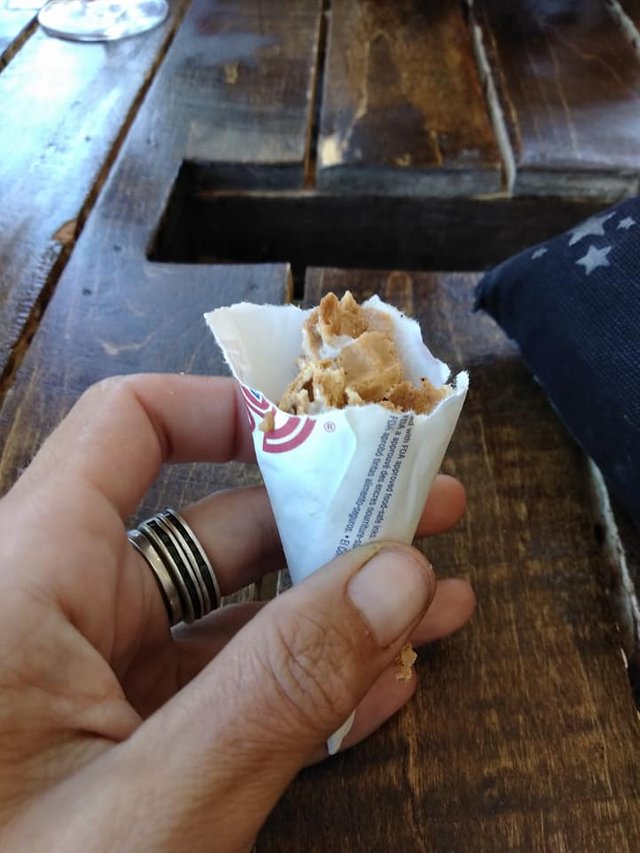 We had a room booked that night at Motel 6, as they allow 2 dogs in a room at no extra costs. And they are decent rooms for approx. $50-60 a night. I've stayed in worse, believe me! Motels where you don't even want the water from the shower touching you, let alone wearing flip flops in there! And sleep in your sleeping bag so you aren't touching their sheets as you don't know what disease you may contract from them!
The dogs like a Motel bed: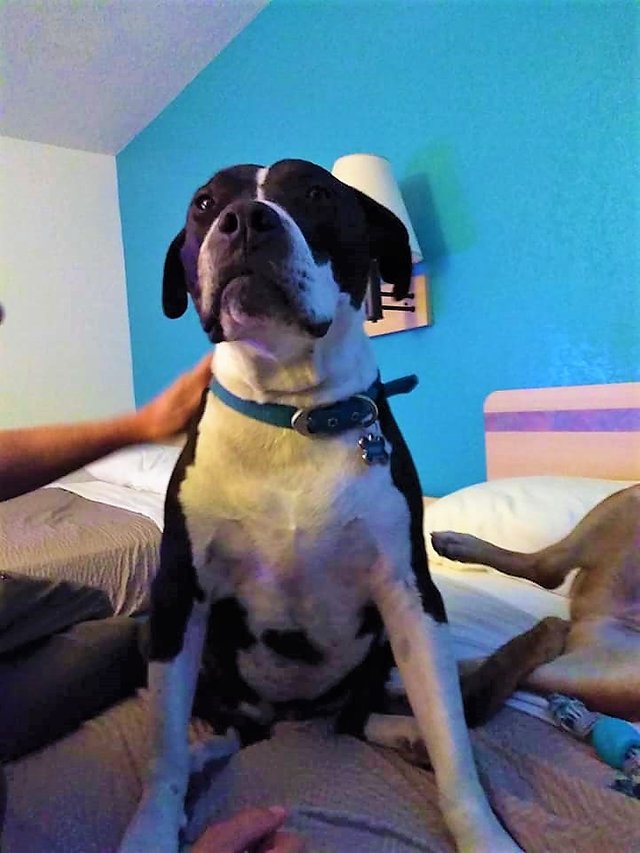 Happy falling asleep almost instantly: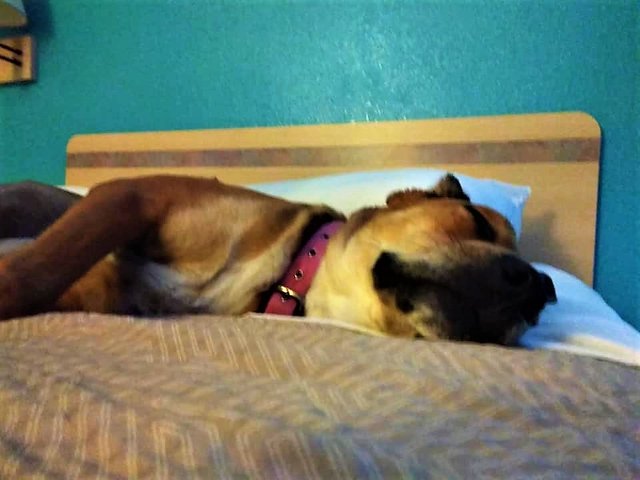 The next morning, we stopped for a nice brunch before starting the long drive back to CA.
Proper cuppa tea!: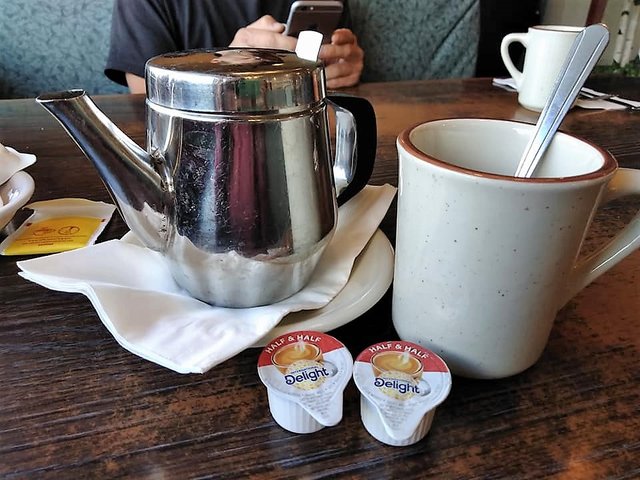 I was so surprised to see a Tesla charging station in Bandon, I had to take a photo of it: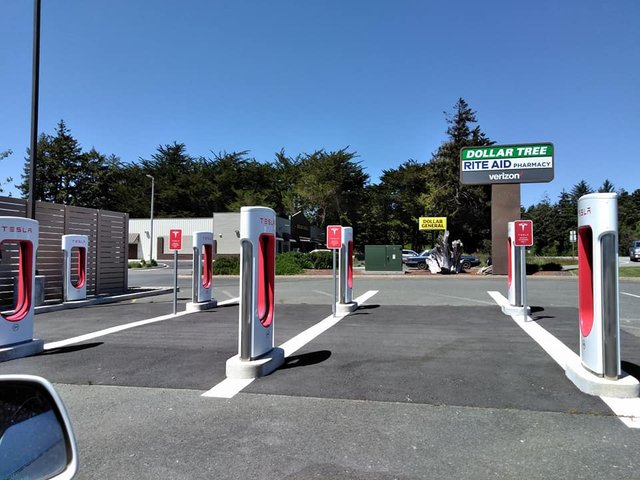 We had a long journey ahead of us, but the dogs clearly had a blast on the trip, as they were all smiles and wagging tails. Happy likes to travel home with her head on my shoulder, so I finally took a selfie of her doing this: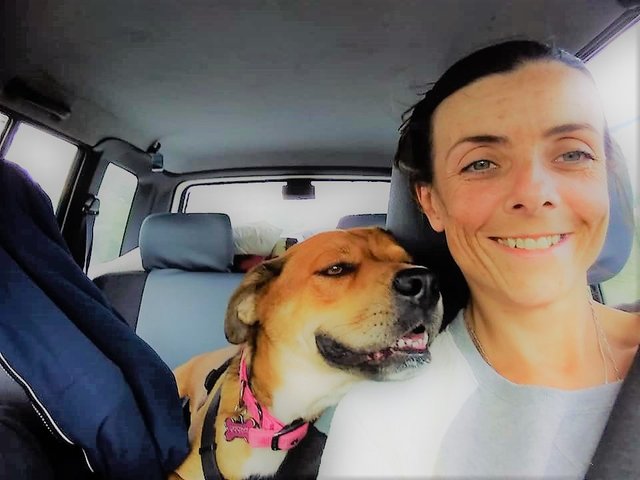 Ignore the no make up, wind blown hair look. I'd been camping for a week! LOL
Our plan was to drive back to Walker Lake and stay there for the night again, like on the way up: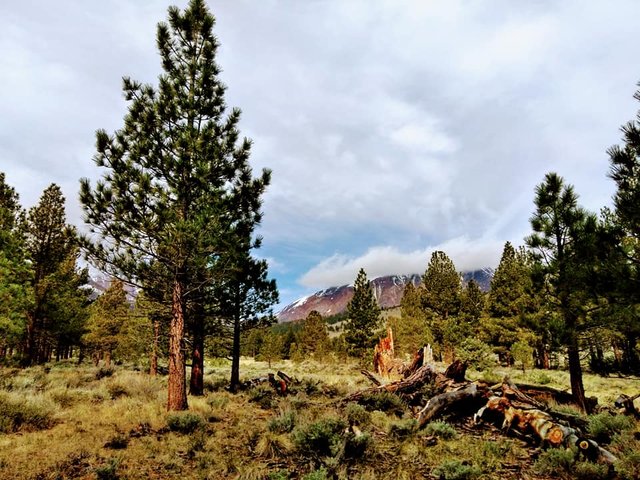 However, we hit rain: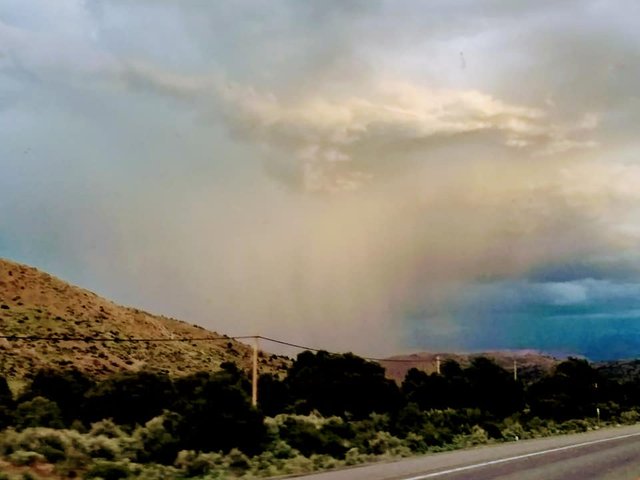 I mean hours and miles of non-stop rain! The type of rain that means you can't see the lane markings on the road in front of you. At first, we had hope that the rain would stop and we'd be okay to camp. But it was raining when we got to Walker lake, so we carried on. We'd camp somewhere in Bishop!
Nope, it was still raining there to. 4hrs straight it rained on us for. At this point we were about 5hrs from home, and although I'd treated the roof topper bag, there was no way it wasn't leaking rain in on all our camping equipment by now. We had no option at this point but to drive all the way back home.
We got back at 4:30am, after starting out on our return journey at 11:00am. We were exhausted, but we were home!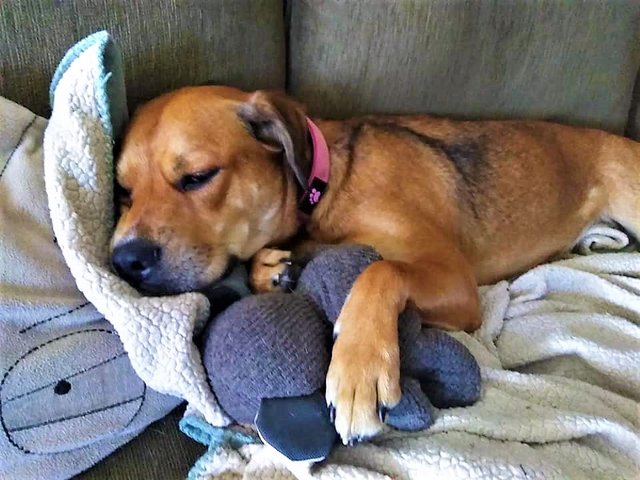 Thanks for reading. Please remember to upvote, resteem, and follow me so you don't miss out on my future content.
All photographs are the property of @beckymeep, taken with a ZTE Blade Spark Android phone.
!steemitworldmap 43.118851 lat -124.4098603 long ´ Face Rock Creamery, Bandon, OR ´ D3SCR