Pop Goes The Trailer - Update After The Heavy Rain.
Hi Everyone,

Finally we had a lovely weekend here in SoCal and I got to open up my Tent Trailer to air it out, check for rain damage and add in my belongings to give it some personality.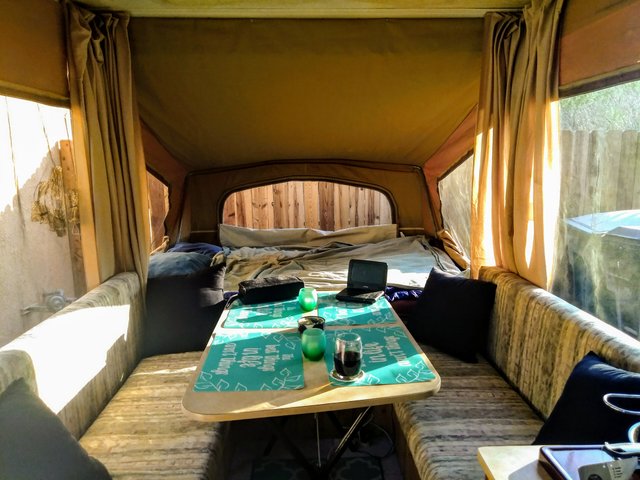 I did buy a marine grade waterproof cover for my Tent trailer to protect it from the winter showers we usually get, but this year we got RAIN! So much of it and for days at a time. Even a marine waterproof cover cant withstand days of pouring rain. I was scared the roof will have leaked and the tent material or beds would now be moldy and need replacing before I even take it out anywhere!
Luckily on opening it up there was no nasty smell from the inside and nothing seemed damaged. But I wouldn't know fully until the sides where out and I could go inside to look round. To my relief, it was fine! Well I could see from the roof that a little water had penetrated the roof but it hadn't gone through the inner roof ruining the interior. Hopefully I will be able to simply seal up all the edges and corners to stop any further rain getting in.
Well that was a relief! No major repairs or replacements so far.
Now I could busy myself moving in all the stuff I'd brought for it. Mainly being kitchen supplies of; placemats, oven mitt, dish cloths, plates, bowls, cups, measuring cups and jugs: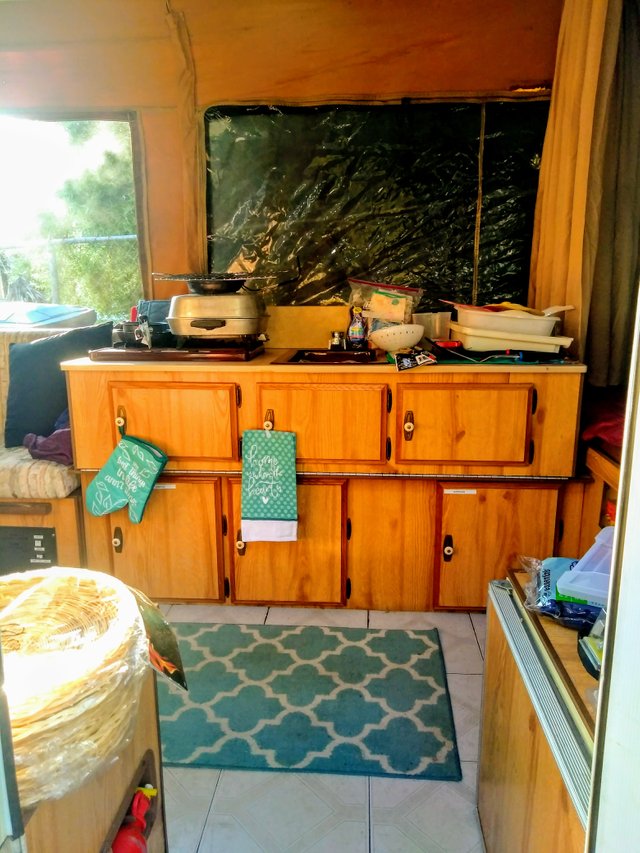 Even put in pots and pans and a nice rug to cover the 80's style linoleum flooring: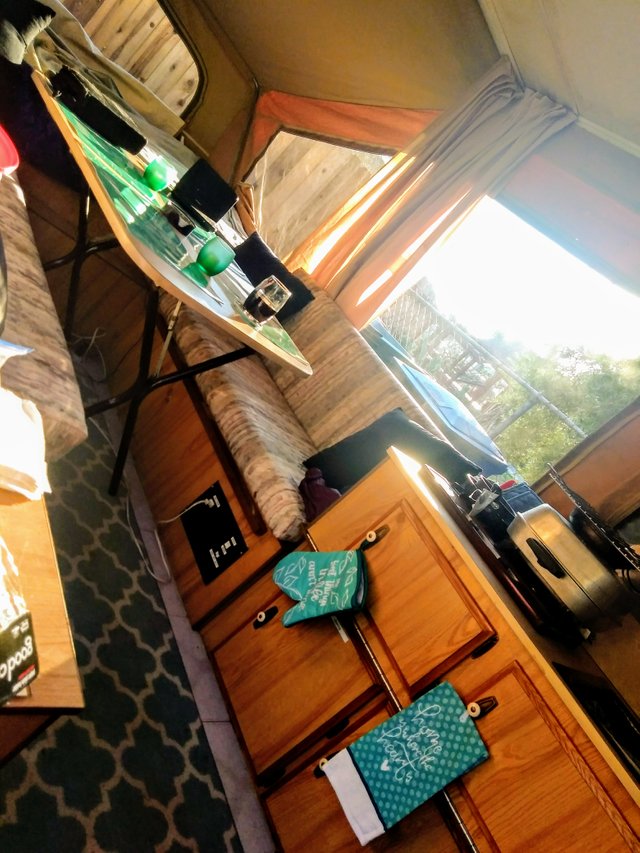 However @csusbgeochem1 did discover the electric water pump my Mom had brought for the trailer (so the sinks tap wouldn't be a pump action, but work when you flip a switch) wasn't the right type, and I will need to take that one back to Home depot and buy the correct type so he can install that the next time we pop it open.
Now I need to cover the seats and get some bedding for the next Pop of the Trailer.
Thanks for reading. If you liked my post, please remember to upvote it, resteem it and follow me so you don't miss out on my future content.
All photographs are the property of @beckymeep.