Bangkok Day 2: Longboat Ride, Wat Arun, Khao Sahn Rd, and Learning the Scams of Thailand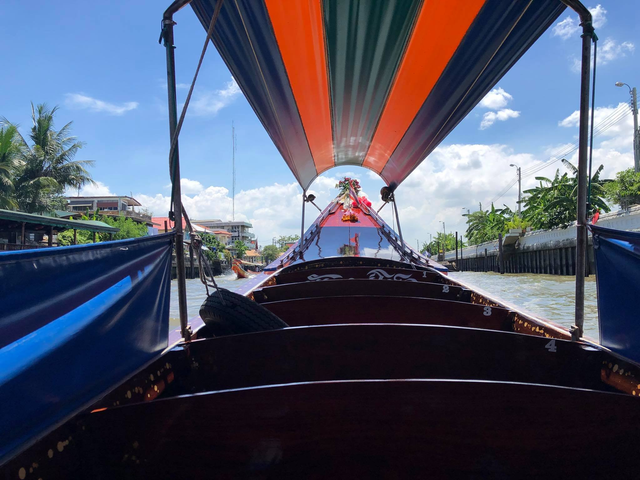 Scams of Thailand
Let's start this blog off with some lessons learned about Thailand. First off, I hate using the word "scam" because it's so often misused in today's online world. But I can't find another word to describe what we've experienced here in Bangkok with the tourist traps that have literally led us down the road of spending unnecessary money.
How it works
As tourists (such as us) walk down the road heading to our destination, a random person on the sidewalk will appear out of nowhere with a friendly face asking us where we're going. Seems like a kind and genuine gesture of concern, right? Wrong. They ask us to pull out our map and show them where we're going. At some point in the conversation they always ask where we're from. This just adds to the confusion. Why would somebody wanting to take our money care where we're from? Obviously they are really interested in us, right? Wrong.
As we explain where we're going, they will either tell us to take a tuk tuk, which is usually waiting on the sidewalk next to them, or they'll explain that we should really go see something else (where we'll spend more money and they get a cut). I can't prove this at all, but it's happened on more than one occasion now and it's becoming apparent what's going on.
Example A:
Yesterday we were at the Grand Palace. But we weren't dressed appropriately to go in. A guy standing on the sidewalk told us that we could instead go to three other places on a tuk tuk for 30 Baht (which is super cheap). What we weren't told is that one of the stops was at the silk suit shop where they were going to really try and sell us a suit. So for 30 Baht we got to see a lot of the city and several beautiful temples. But it ended up costing us a grand total of 10,030 Baht ($303 USD), and we strongly feel that the driver (and probably the man who set it all up) got a cut.
Example B:
Today we were walking along the road heading back to the Grand Palace because we now had the proper attire on. Once again, a man standing on the sidewalk asked where we were going and where we were from. We explained that we were headed to the Grand Palace. He told us that today wasn't a good day to go because it was the King's birthday and they were having a celebration there. This was in fact true, but we hadn't considered it affecting our plans to tour the palace. We're still unsure whether it would've mattered or not.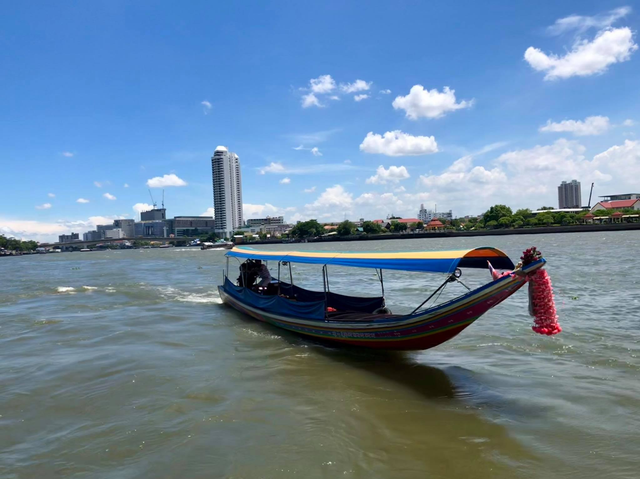 He recommended that we take a tuk tuk to the ferry port where we could get a longboat for 1,000 Baht a piece and tour the canals of Bangkok and visit a floating market. It sounded like fun, and honestly 2,000 Baht didn't sound like much in our heads at the time. As soon as he said tuk tuk, one magically appeared next to us ready to go. So we climbed on board and headed to the docks. On the way there, I realized that 2,000 Baht is $60 USD. That's REALLY not cheap in Thailand, considering that an hour in a taxi costs, at most, 200 Baht ($6 USD). Once again, we knew we had been taken. But what could we do at this point but try to enjoy the boat ride.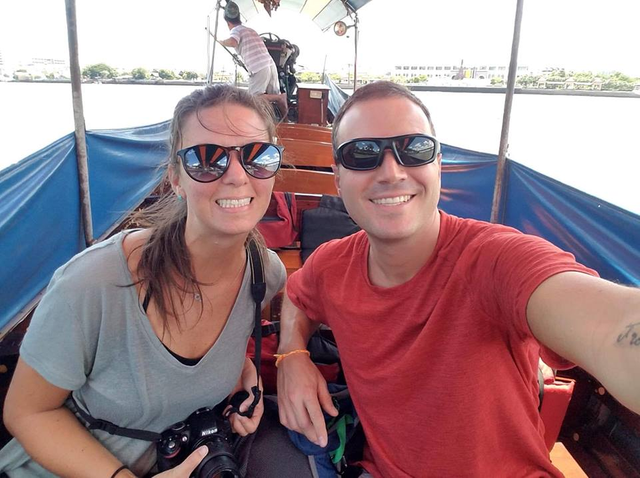 To make matters worse, there was no floating market. It was just one guy in a canoe that came up to our boat selling some overpriced beer and fruit. We purchased some mangoes for 100 Baht ($3 USD) which should have been.. maybe.. 20 Baht at most.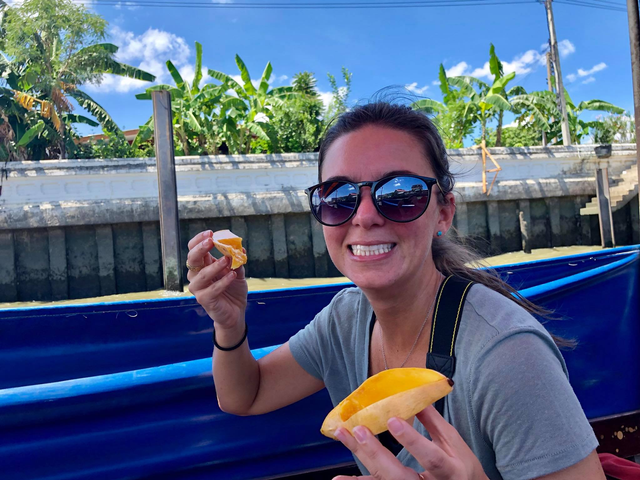 We also got to a spot where we fed some fish and a lady was selling bread for 20 Baht. This was actually more reasonably priced, and at least we got some excitement out of it.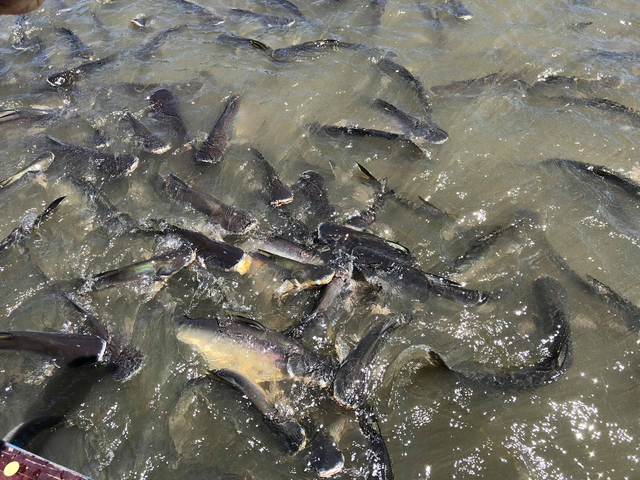 Once the hour ride was over, we landed at a dock next to Wat Arun. Seems our little tourist trap was over. Not yet! As we stepped off the boat there were two lades sitting there telling us we needed to pay 30 Baht for a landing fee. Wth? Really? Why doesn't the driver (who just made $60 USD from us) pay this fee? And we really don't even know that these ladies own the dock.
Just so you guys know, I'm not cheap. And I'm not exactly poor either. But I do appreciate a dollar and I also absolutely HATE being taken advantage of. It's one of my biggest pet peeves while traveling. I'd rather walk 2 miles in the heat than pay for an overpriced tuk tuk and that actually happened yesterday LOL. When I travel to a destination, I'm no longer using the US Dollar. I'm using the local currency. And I expect to spend my money as the locals do, especially in a country like Thailand where the money goes so far.
Anyways, just be careful when coming to Bangkok. I'm not sure if the rest of the country is like this, but always check to make sure you're getting a fair deal and avoid these sidewalk hustlers. They really seem genuine and out for your best interest, but we've determined there are other motives at play here.
Wat Arun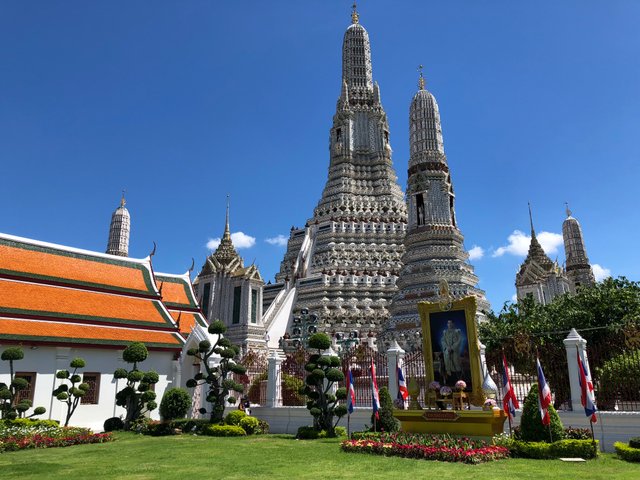 Luckily we landed at one of the temples we've been wanting to see here: Wat Arun, also knows as the Temple of Dawn. This Buddhist temple (wat) gets its name for the Hindu god Arun and the locals believe that the temple protects the lives of Thai Buddhists in this region from dawn til dusk. It's outside is covered in very detailed porcelain which makes it unique when compared to other temples.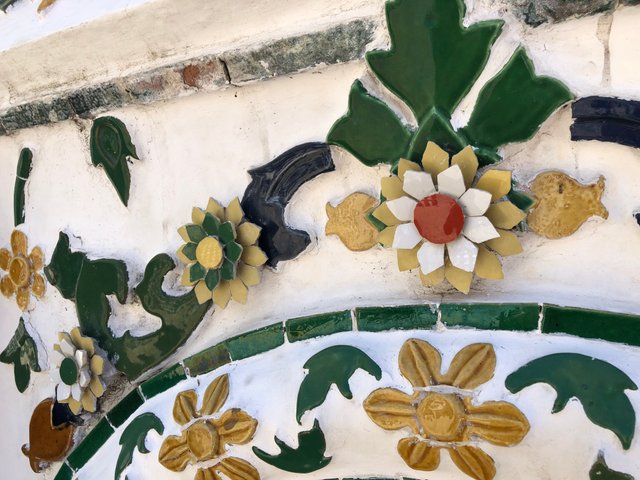 Sorry for the lack of pictures. The internet is horribly slow here.
Khao Sahn Rd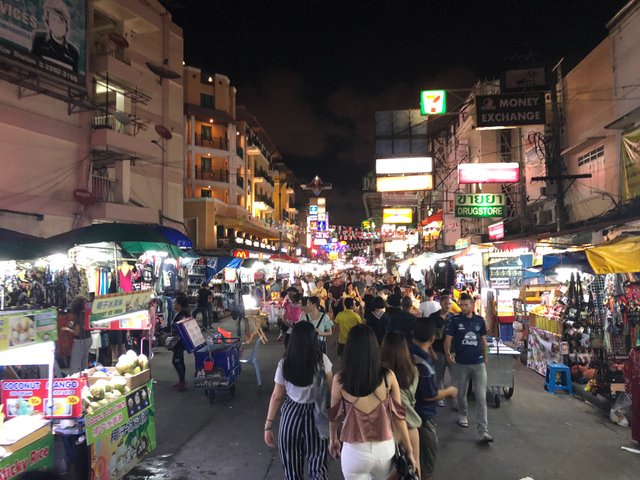 A trip to Bangkok wouldn't be complete without spending a little time on Khao Sahn Rd, exploring the little shops lining the road and watching the tourists get their buzz on. Oh, and we also found more fried bugs (which I still haven't worked up the appetite for 😆).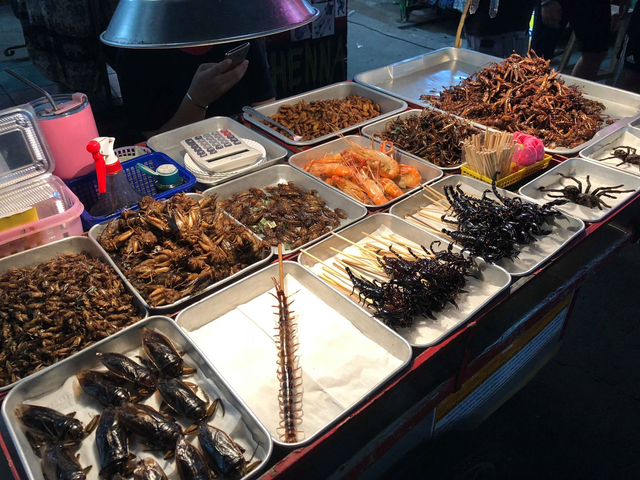 We found a restaurant not far off of Khao Sahn Rd that was super cozy. The decor felt like a blend of traditional Buddhist Thai with a modern, rustic, hippie vibe. We kicked off our shoes (no shoes allowed) and found us a little table. We were surrounded by other tourists, and even locals, who were either laid out on the floor with their drinks and food or sitting on a cushion on the floor indian style. It was a very cool experience.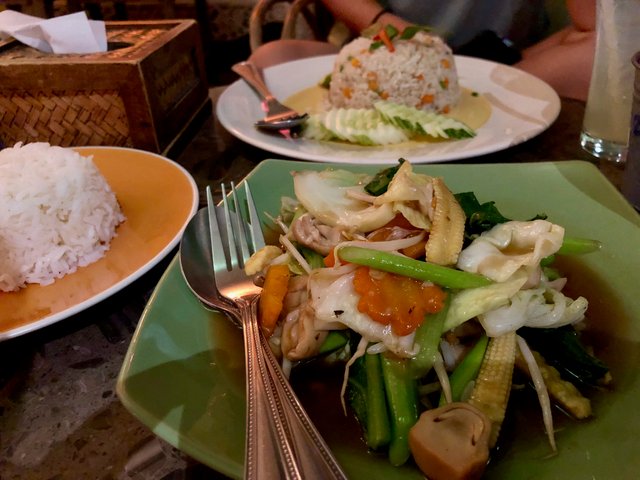 We ordered thai lemongrass tea and two different vegetable plates which were both great. The dishes are so simple, yet so good!
After we ate, a thunderstorm set in. It was time to rush back to our hotel and get some much needed rest. Tomorrow we have something VERY special planned. I'm not going to give anything away here, but it would be worth checking out my blog tomorrow. I'll just leave it at that! 😉
Thanks for following along with our journey through South East Asia! I hope you've enjoyed reading about our experiences. Be sure to follow my blog for more travel adventures over the next couple of weeks!

Recent Posts
---