Guatemala by Chicken Bus
Guatemala by Chicken Bus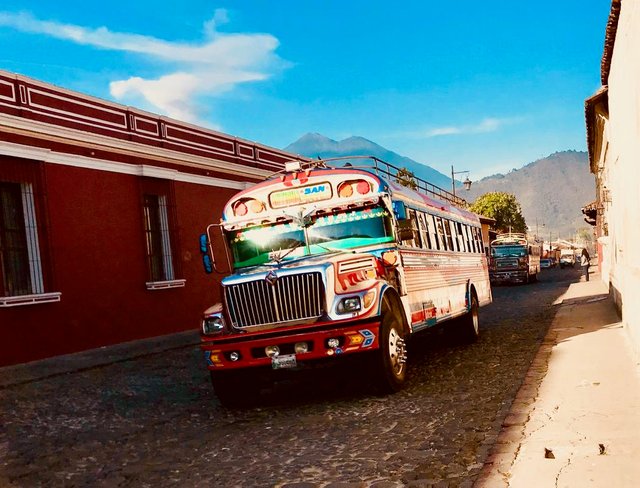 When in Guatemala, do as the locals do and take a chicken bus!
A chicken bus, or tranvía, is the colloquial term for the colorful public buses that most Guatemalans use to get anywhere in the country. Public buses are the primary method of transportation in Guatemala, and run regularly along designated routes.
The buses are commonly packed, three or four people to a seat, and often transport live animals, hence the name 'chicken bus'. You may feel like a chicken yourself, smushed among people, yet chicken buses offer a unique and vibrant insight into Guatemala, for the price of a few quetzales.
Most of the buses are, in fact, retired North American public school buses, once used to transport children to and from school. At a certain mileage, the United States deems the buses outmoded and auctions them off on the international market. Most end up in Guatemala, where, upon arrival, they receive a new transmission, luggage rack, side paneling and a colorful paint job. Bus drivers will commonly decorate their bus further, adding religious paraphernalia, decals, and stereo systems to attract more passengers.
---
Do you think that travel by chicken bus sounds exciting, but feel nervous about navigating the public transportation system?
Here is what you can expect:
The average bus is operated by two men, a licensed driver and a bus attendant, or ayudante. While the driver maneuvers the twists, turns, and potholes of the Guatemalan roads, the ayudante loads and off-loads luggage, solicits passerby, and collects money.
Most buses have a distinguished route. The placard on the front of the bus displays the final destination, however the bus will service most towns and villages along the route. Bus placards are not always correct, so listen for the ayudante who solicits the bus route.
Some cities and larger towns have terminals with a steady stream of buses however, most towns will only have a designated bus stop or street corner for on-boarding. Ask a local to confirm the place, as different buses may have different pick-up locations. If you miss the bus at its stop, you can sometimes board as it drives by, space permitting.
As you board the bus, the attendant may offer to take your bag and place it above on the luggage rack. Space inside the bus is typically very limited, however if you can manage it, it is safer to keep your bag on you. Once all passengers are onboard and seated, the attendant will come by to collect the fare. The fare is determined by distance, not by trip. The cheapest fare I ever paid was two quetzales (27 cents USD) for a fifteen minute ride, and a three-hour ride cost me 20-25 quetzales ($2.75-3.50 USD)
Once on the road, it is common for food vendors and other solicitors to board the bus at stops. Typically the food fare consists of empanadas, corn tortillas, fruit, chips and ice cream. Because of water contamination, cooked foods are typically safer to eat than the fresh foods.
---
A few notes of caution: Pick-pocketing is common on chicken buses. If possible, keep your bag on you at all times. If you put your bag in the storage space above your seat, keep it within your sight. Choosing to sleep on a chicken bus puts your belongings at risk; use common sense.
Chicken buses are not to be confused with the red city buses you will see in Guatemala City. Tourists are strongly advised to avoid the red city buses for safety concerns.
---
For those of you who might still be on the fence about taking a chicken bus, I'll tell you that some of the most beautiful and fulfilling experiences we can have, exist on the other side of uncertainty. Go get 'em tiger!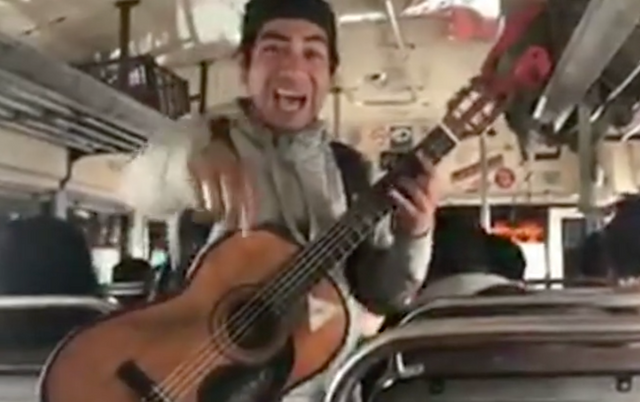 Watch Jams on a Guatemalan Chicken Bus
Happy Travels!
Brooke