Northern Patagonia: The Road Trip of a Lifetime
Northern Patagonia: The Road Trip of a Lifetime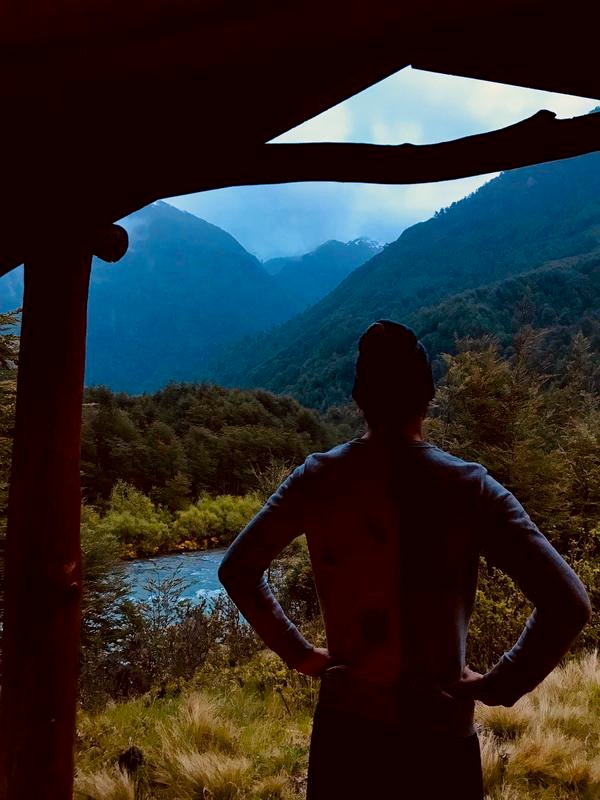 Cara del Indio, Palena, Chile
The Backstory
Back in November, I did something crazy. I was in southern Patagonia, feeling clearer than I had in a long time. I wanted to stay forever and fully integrate the raw insights I was receiving from full immersion in nature. I was dreading my upcoming flight home to the US.
I had also met this guy, a kindergarten teacher from Holland. We first met when I was in a tizzy— stressed out as I packed my bags for an upcoming six day solo trek.
We soon met again, my second night on the trail, and he asked me my plans for after the trek. "I dream of renting a car and taking on the Carretera Austral; you should join me," he said.
In time, I finished the trek and I met him in a neighboring town. Together, we booked a flight north for Puerto Montt.
We arrived in Puerto Montt, rented a car and camping gear, stocked two weeks worth of food, and I canceled my flight home. Phew! The following day we set out for the Carretera Austral and I kept asking myself if I was brave, or crazy.
You may be thinking this is some kind of fairytale love story… the kind that makes you vomit a little bit in your mouth. And, it was, but, much more, our story is one of two very different people stuck with each other for two weeks. We laughed, cried, and drove each other crazy!
This article is about our experiences, and the gifts that the Chilean backcountry has to offer. Here is what you should know before you go:
The Carretera Austral: Place and People
The Carreterra Austral (CH-7), is a Chilean highway that spans 1,240km or 770mi from Puerto Montt to Villa O'Higgins, providing access to the sparsely populated areas of the southern Los Lagos and Aysén Regions of Chile. This road— narrow, pot-holed, and primarily gravel—remains a wild stretch, carved through a landscape of deep blues and greens.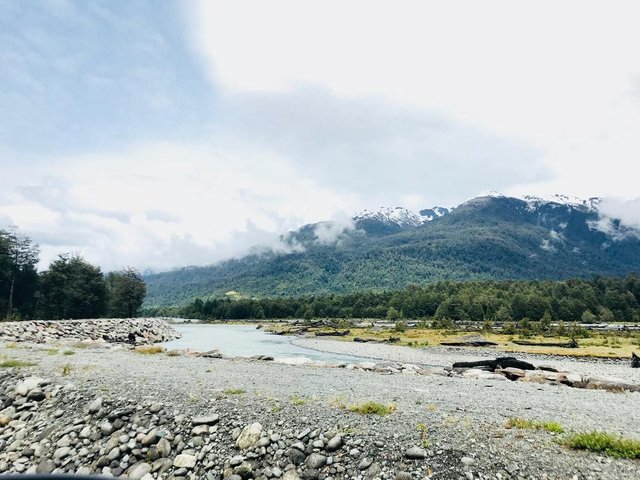 Outside of La Junta, Chile
The Carretera Austral is a relatively recent infrastructural feat, constructed under the dictatorship of Augusto Pinochet in the late 1970s. Pinochet deployed more than 10,000 soldiers to blaze through the thick forests, fjords, glaciers, canals, and mountains in an effort to unite these areas with the rest of Chile. By consequence of nature, many laborers lost their lives, and still, nature looms over the road with its overgrowth, seeking to restore its terrain.
Whereas before, land access to northern Patagonia involved crossing the Argentinian border, the construction of the Carretera Austral united the long-isolated communities of these regions with the rest of the country. And yet, to this day, the residents of these areas remain relatively insulated in mentality.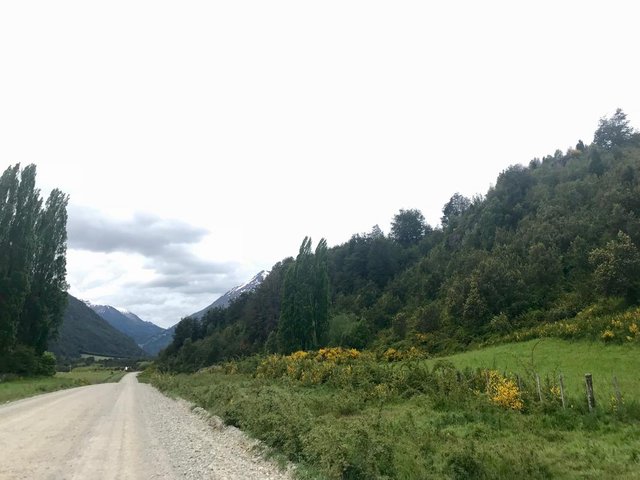 Outside of Futaleufú
Here, the huaso or cowboy culture is still very much alive. In the springtime you will find local rodeos abundant. There are also plenty of huasos, skilled horsemen that sport traditional garb— riding boots, baggy trousers, a beret and neckerchief, and sometimes a wool poncho.
As an outsider, I was struck by the qualities of pride, courtesy and resilience I felt in the company of the people I met. I sensed a general reservation towards outsiders, but also a generosity— experienced as fresh-baked bread, warm conversations over Yerba mate, help with car maintenance in the pouring rain and engaged explanations of the rules of Chilean rodeo. In a place as wild and remote as this southern corridor, strong community ties are not merely an aspiration, but a necessity for survival.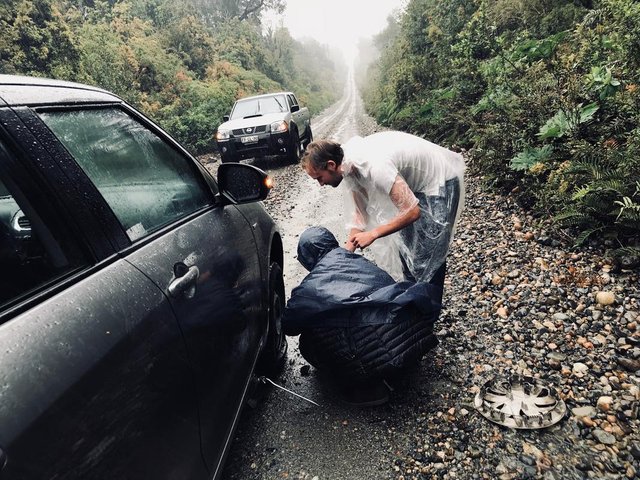 Before You Go
I. Renting a car
Puerto Montt, a port town in the southern part of the Los Lagos Region, marks the beginning of the Carretera Austral and will serve as a launching point for the journey.
Many travel books and rental car companies recommend you rent an SUV with four wheel drive to endure the poor quality roads. And, although an SUV would have been a smart choice, we rented an economy sedan and experienced little trouble traversing the road; I confess that we aren't the most conservative drivers on the road! That being said, it is essential that you have a spare tire! Getting a flat on the Carretera Austral is almost a rite of passage, so account for this inevitability in your planning. Many also recommend bringing a spare tank of gas in case of emergency. I can't say we followed that advice either, but we did take every opportunity to fill up on gas along the way.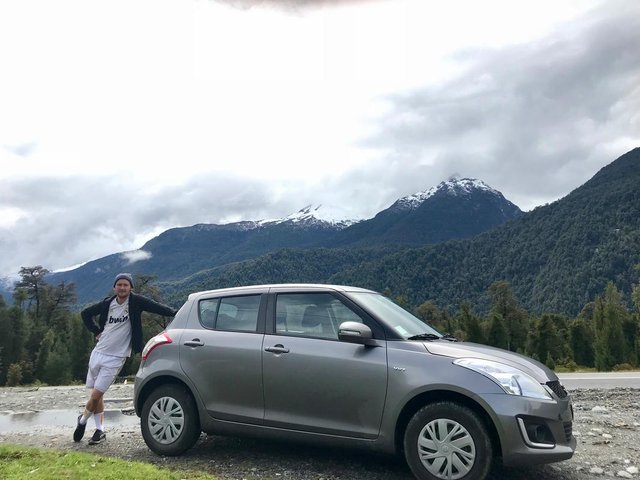 You will find many rental car companies at the Puerto Montt airport. However, there is an off-site rental company, Norway Rental, which costs less. Conveniently, they have stationed one mobile employee at the airport to advertise their services. In choosing Norway Rental, our overall price was significantly cheaper— around $500USD for a fourteen day rental agreement. Just be sure to check the insurance coverage! Their coverage can be misleading and it is important you ask for the maximum coverage that they offer. Trust me on this!
II. Food and Supplies
Puerto Montt will also be the cheapest place to buy food and supplies. There is a relatively inexpensive grocery store, Hiper Lider, located on the outskirts of town at 1400 Parque Industrial. Stock up on bulk food but also FRESH food, as the further south you go, the more expensive and outdated the produce will become.
It is also important to bring adequate cash with you, as many vendors will not accept credit/debit cards, nor will there be atm machines abundant along the way.
In preparing, we had the hardest time locating rental camping gear in Puerto Montt, but there is an excellent service in Puerto Varas, fifteen minutes north of Puerto Montt by Highway 5. The owner of Rent a Tent, is a young entrepreneur and super fair with his rental prices. He supplied us everything we needed for a very reasonable price and delivered the equipment right to our hostel. Talk about buenahonda or good vibes!
We were lucky that Rent A Tent's gear stood up to the wet and temperamental conditions of northern Patagonia. That being said, bring some extra waterproof and wind-breaking gear to stay dry and warm!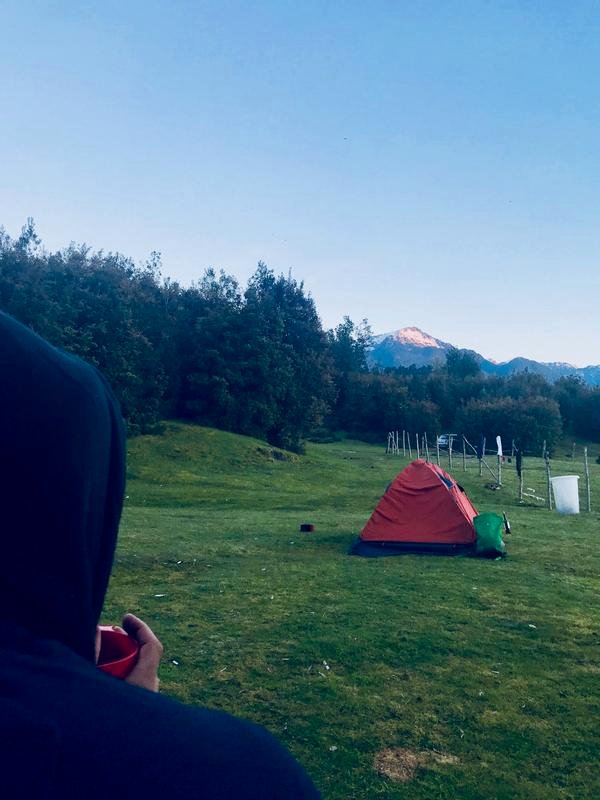 Camping grounds in Hornopirén, Chile
III. Logistics
A final consideration is to check the current ferry schedules. The difficult geography of this area makes maritime transportation a big part of your journey south. In fact, you will take three ferries before you hit Chaitén, the quarter mark between Puerto Montt and Villa O'Higgins.
Residents of the area commonly say that if you are in a rush on the Carreterra Austral, you won't get very far. They're right! It is advisable to book ferry tickets in advance, especially for the ferry stretch between Hornopirén and Caleta Gonzalo.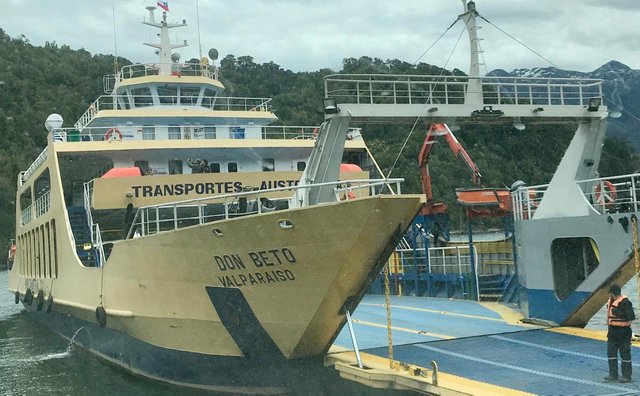 A Nine Day Itinerary: Northern Carreterra Austral
Day 1: Puerto Montt- Hornopirén (106 km)
Begin heading south on Carretera Austral Route 7 out of Puerto Montt. At La Arena, you will take a short ferry ride to continue. Ferries typically leave every 60-90 minutes. Upon disembarking the ferry, you will drive 55km to reach Hornopirén.
Hornopirén lies on the major regional Liquine-Ofqui Fault and is located below a stratovolcano, said to have erupted in 1835. Here you can visit the Hornopirén National Park, known for its glacier fields and alerce tree forests. There are also various thermal pools you can visit nearby. Termas de Pichicolo are a ten minute drive away; Termas Llancahué, Cahuelmó & Porcelanas are located on the fjord. More on Hornopirén here.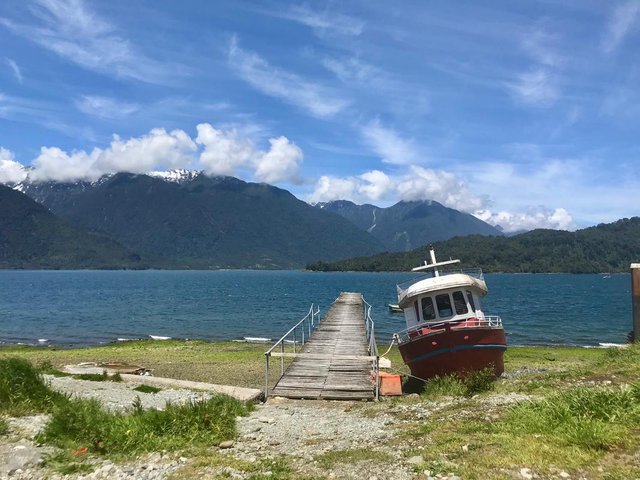 Hornopirén, Chile
Day 2: Hornopirén- Chaitén (134 km)
The ferry you catch at Hornopirén can be more tricky, as it leaves once per day in low season and three times per day in high season. The ferry will lead through the fjord to a peninsula. From there you will disembark, and drive 10km to load another ferry. While you drive across the peninsula, notice the native trees along the road. You are seeing Pumalin Park, one of the largest forest conservation projects in the world. The second ferry will bring you to Caleta Gonzalo, and from there, drive onward 55km to Chaitén for the night. In total, the trip between Hornopirén and Chaitén should take between five and six hours.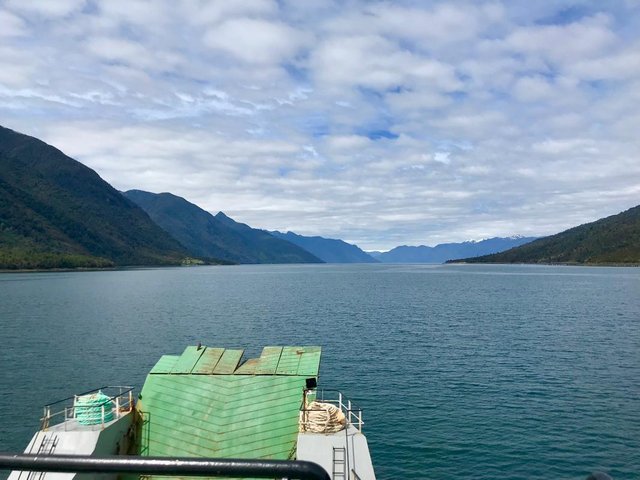 The ferry between Hornopirén and Pumalín Park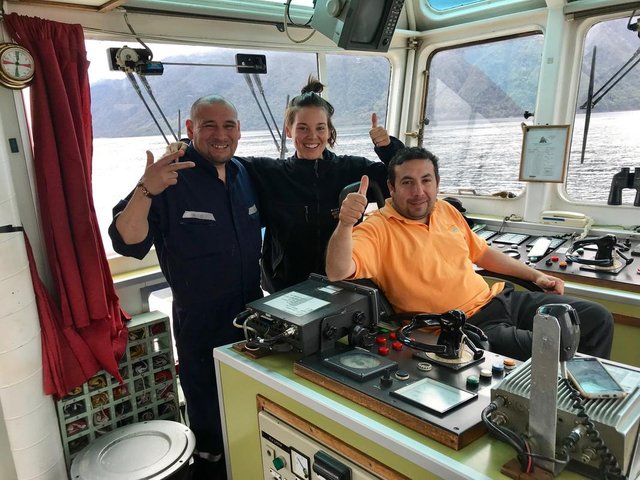 Kickin' it with the captains
Put on the map by the recent 2008 volcanic eruption that evacuated the town, Chaitén is a small port town offering several restaurants and accommodations. Additionally, the Naviera Austral, services this area, providing a maritime option for returning to Puerto Montt or visiting the nearby Chiloe island!
We lucked out on finding a good place to eat. Pizzería Reconquista offers wood-fired pizzas with fresh ingredients— a rarity in these parts!
Day 3: Chaitén- La Junta (144km)
From Chaitén, drive south 144km to access La Junta. Springtime (September-December) marks rodeo season, and La Junta typically hosts a rodeo every Sunday.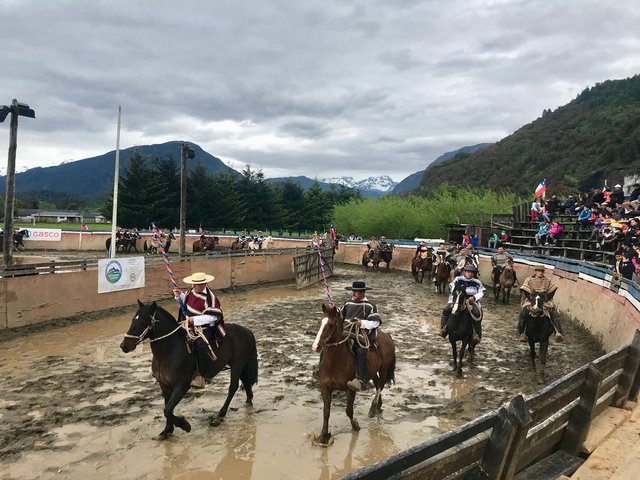 Rodeo in La Junta, Chile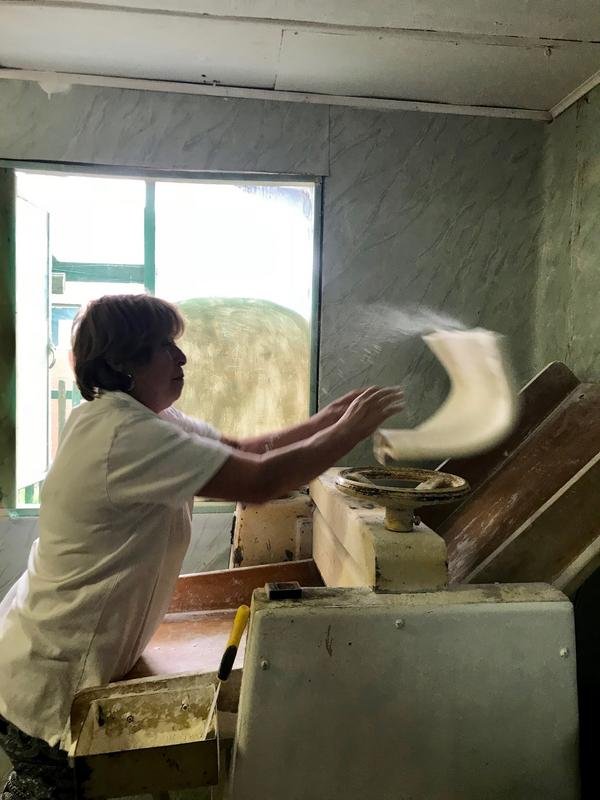 Bread-making in process at a panería in La Junta
If you have camping gear and are looking for a secluded place to spend the night, drive 1km north of La Junta. Take a slight left onto X-12 towards Raúl Marín Balmaceda. Within fifteen to twenty minutes, you will see a sign for Termas Los Sauces on the right side of the road. Here you will find communal and private thermal pools, and rustic facilities. Camping is $10 USD per night and includes access to the thermal pools.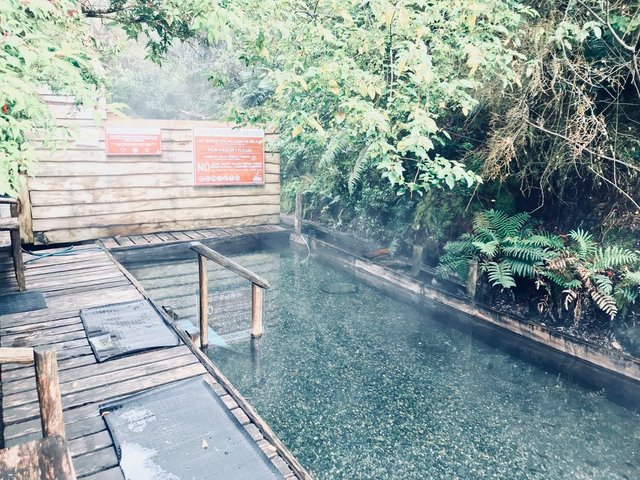 Termas Los Sauces
Day 4: La Junta- Raúl Marín Balmaceda (75km)
Take X-12 west to access the small fishing town of Raúl Marín Balmaceda. Along the way, you will take another short ferry ride across Rio Palena; the ferry typically runs every thirty minutes until 4pm.
Raúl Marín Balmaceda is a quaint fishing town that offers humble hosepdajes, or bed and breakfasts and a diverse array of wildlife. Various ecotourism companies in town offer kayak and boat tours to access the penguins, dolphins, sea otters, sea lions, and various birds that inhabit the area.
Day 5: Raúl Marín Balmaceda- Puyuhuapi (120km)
Track X-12 back to La Junta and head south on Route 7 for 46km. You will come to Puyuhuapi, a small village at the head of a fjord.
Puyuhuapi is best known for its thermal activitiy and five star spas, such as Puyuhuapi Lodge and Spa and Termas del Ventisquero. However, there is also the nearby Queulat National Park, most famous for its two mile hike to a hanging glacier.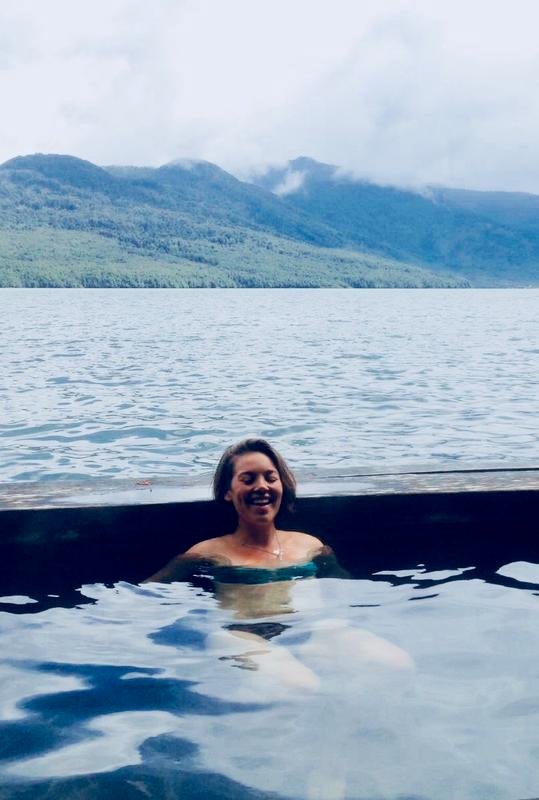 Day 6: Puyuahuapi- Futaleufú (190km)
Head north on Route 7 for 143km. As you near Lake Yelcho, turn right on Route 235 and continue 47km.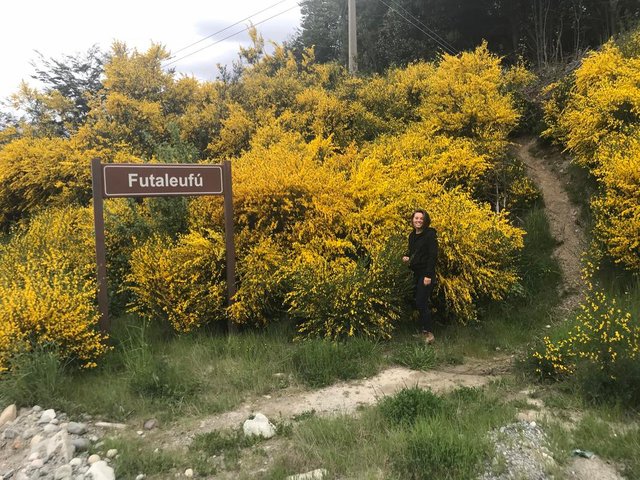 Futaleufú, Chile
Futaleufú sits high in the Andes on the border of Argentina. It's proximity to Argentina accounts for some of the cultural fusion you may find here— most apparent in the residents' accents. However, most notably, Futaleufú is home to the Futaleufú River, renowned for its world-class white water rafting. There are a number of outfitters in town that provide half and full-day trips down the river. We went with Patagonia Elements and were happy for the warm coffee and finger foods they offered us after!
Day 7: Futalefú- Palena (approx. 25km)
Take 231 west back towards Route 7; stop before Lake Yelcho.
If you are feeling worn-out by the road, rent a cabana at Cara del Indio, 20km outside of Futaleufú in Palena. Cara del Indio offers private cabanas on the edge of the Futaleufú River, as well as rafting services and a rustic sauna. Make sure to bring some food with you, as there are limited options in the Palena Valley. Also, check out the cliffs across the river; can you see the Cara del Indio, or Indian Face?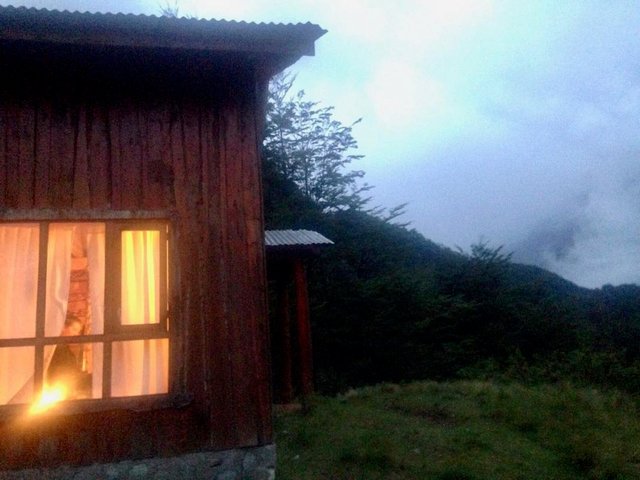 Cara del Indio, Palena, Chile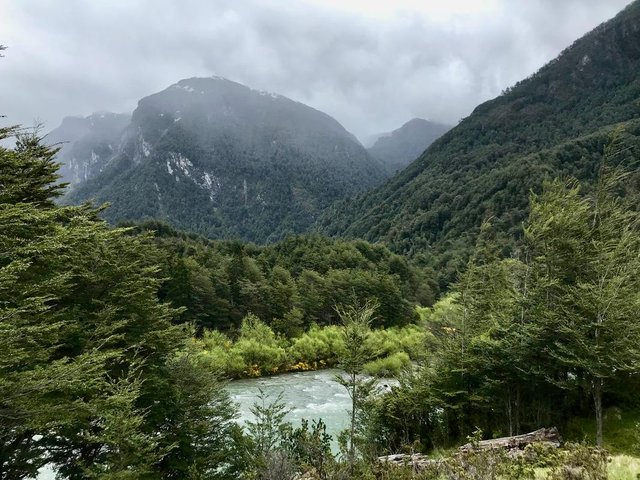 Futaleufú River, Palena, Chile
Day 8: Palena- Chaitén (approx. 125km)
Continue west on 231, take a right on Route 7 and drive north for 76.5km.
Day 9: Chaitén- Puerto Montt
The Naviera Austral ferry runs twice a week between Chaitén and Puerto Montt, leaving early in the morning and dropping passengers off in Puerto Montt by late afternoon. Ferry tickets are expensive and the trip is long— nearly nine hours— however, passage by Naviera Austral eliminates the hassle of coordinating ferry schedules north. Typically, Naviera Austral offers this Chaitén- Puerto Montt stretch on Thursdays and Sundays. You can double check the schedule and buy your tickets here.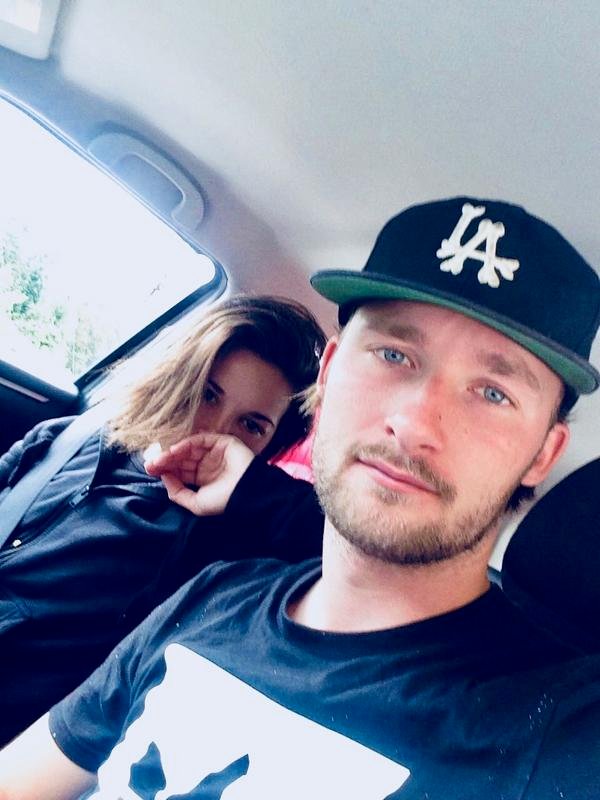 Interested in taking on the Carretera Austral? Have further questions? Comment below.
May the road rise to meet you, always.
Brooke