Planning for Torres del Paine National Park, Chile (Part Three)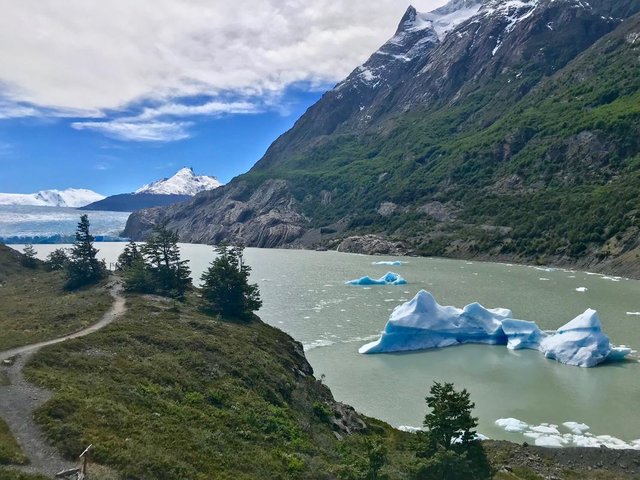 Lago Grey, Torres del Paine National Park, Chile
Several months ago I had the opportunity to hike the W trek in Torres del Paine National Park in Chilean Patagonia. To put it lightly, the raw nature of Torres del Paine broke me open.
Nature's sounds, smells and dramatic landscapes demanded my full attention and the chattering critic of my mind slowly began to unwind. I experienced a quality of mental spaciousness I hadn't felt in a long time.
With that space, the mountains humbled me, the sounds of rushing mountain water washed over me, the birds overhead reflected nature's patterns. I felt open, receptive, inspired and deeply provided for.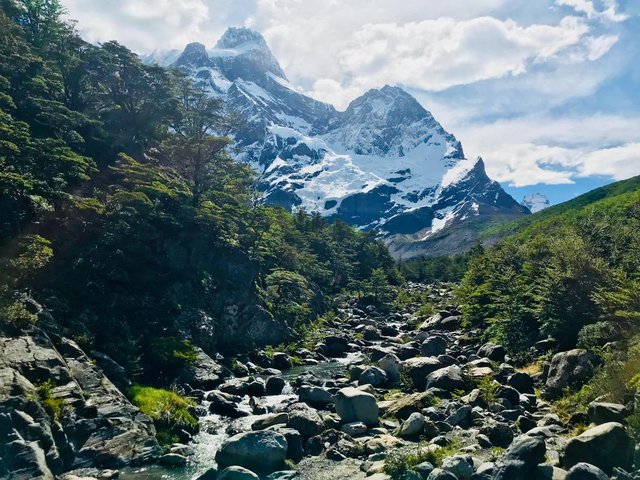 Near Refugio Italiano, Torres del Paine National Park, Chile
I hope that everyone gets to experience this kind of peace and provision, at least once in their lifetime. While there are a bajillion unique ways to reach this feeling, Torres del Paine graciously offered it to me. It is out of my gratitude for my experience on the W trek that I want to share a full download on Torres del Paine National Park with you, in three articles.
Part Three, offers all transportation logistics— how to access and move throughout the park by bus and boat. If you want a more general overview of the park, check out Planning for Torres del Paine, Patagonia, Chile, Part 1; or read my detailed packing list in Planning for Torres del Paine, Patagonia, Chile, Part Two.
May the trails rise to meet you, always.
Brooke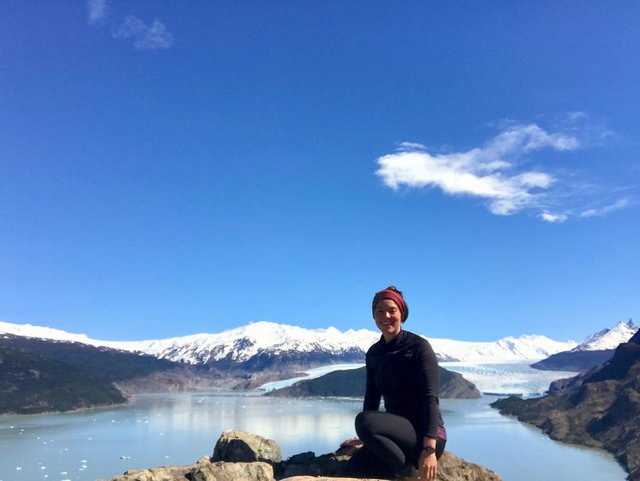 Me at Mirador Grey, Torres del Paine National Park, Chile
Getting to Torres del Paine National Park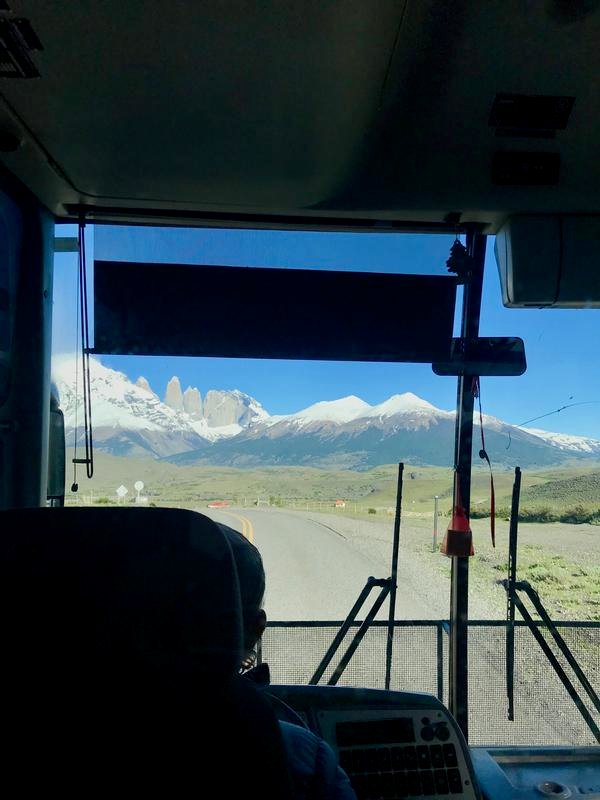 Most visitors to Torres del Paine use the nearby town of Puerto Natales as their base. Puerto Natales, is located about 2.5 hours from the park and is equipped with numerous outdoor outfitters, adventure tourism companies, hostels and supermarkets, making preparation for Torres del Paine easy and efficient.
Many of Puerto Natales' hostels accommodate hikers by providing bag storage and selling bus tickets to the park. I highly recommend Hostel Last Hope, located at Arturo Prat and Bernardo O'Higgins. The hostel is clean and comfortable and warm breakfast is provided. Also, Diego, the owner, is just an awesome person, and a very helpful resource.
Before you set out on your adventure you will need to ensure that you have reserved all of your campsites on the trail and that you packed adequate food, clothing and equipment. (See Part One and Part Two for more information)
After this, you will need to purchase a round-trip bus ticket between Puerto Natales and Torres del Paine. The park requires that all hikers have pre-purchased their return ticket. You can purchase a ticket with many hostels and outfitters in town or at the Puerto Natales bus station, terminal rodoviario, at Avenida España 01455. Bus companies that service the park are Buses Gomez, Buses Fernandez, Buses Maria José and Bus Sur.
A round-trip ticket will cost between $15-20 USD. Buses depart from the Puerto Natales bus station at 7:30am and 2:30pm, arriving at the Laguna Amarga park entrance at 10am and 5pm respectively.
Moving through the park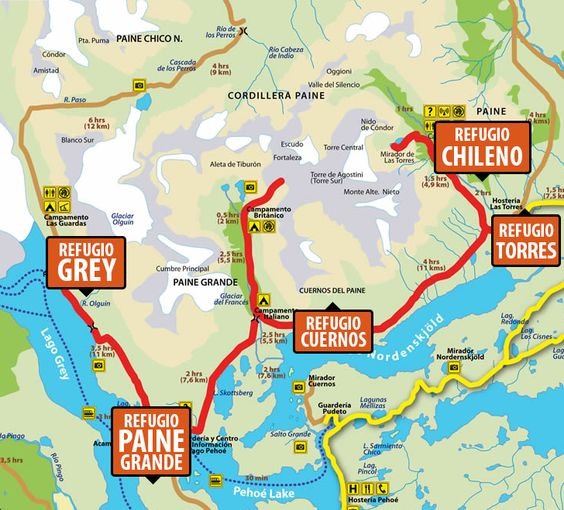 Picture source
Once at Laguna Amarga, the bus driver will instruct all passengers to disembark the bus in order to register with the park. You will be corralled through the registration office, where you will be asked to sign a waiver, pay the park entrance fee in cash (approx. $35USD) and watch a video on park rules and safety.
After completing registration, passengers will return to the buses outside. Bus drivers organize passengers by their drop-off location, so you may be asked to switch buses depending on where you want to go. The buses will make multiple stops, so it is important to know where you are going.
Most W Trek hikers choose to begin at Refugio Paine Grande, hike to Refugio Grey and back, and then head east towards The Towers. To do this, you will load the bus that is headed west towards Pudeto and Administration and disembark at Pudeto. Once at Pudeto, you will take
a 30 minute catamaran ride to Refugio Paine Grande. The catamaran leaves from Pudeto twice daily 11am and 6pm and costs approximately $40 USD in cash. You can check the updated catamaran schedule here
Some hikers choose to hike west, going to The Towers first. If you want to hike west, look for the Hotel Las Torres hiker shuttle from Laguna Amarga. The shuttle costs $5USD cash on board and will take you to the Welcome Center and the Hotel, where you can begin your hike.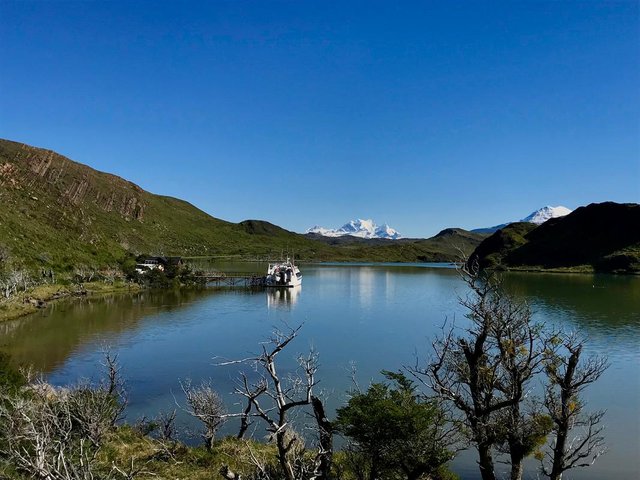 Catamaran at Pudeto Jetty, Lake Pehoé, Torres del Paine National Park, Chile
Leaving the Park
Depending on which bus company you purchase a ticket with, your bus will leave Torres del Paine for Puerto Natales between 1:00-3:00pm.
If you hiked east and ended at the Towers, you can catch the shuttle at the Welcome Center or at Hotel Las Torres. The shuttle costs about $5 USD and will bring you back to the Laguna Amarga entrance, where you will board the bus to return to Puerto Natales.
If you have hiked west and ended at Refugio Paine Grande, you can take the catamaran back to Pudeto at 11:35am, and then catch a bus west towards Laguna Amarga, where you will board the return bus for Puerto Natales.
---
Logistics for Torres del Paine can be tricky and confusing. Need some extra help planning your trek? Comment below and I will be happy to help!