Planning for Torres del Paine, Patagonia, Chile (Part Two)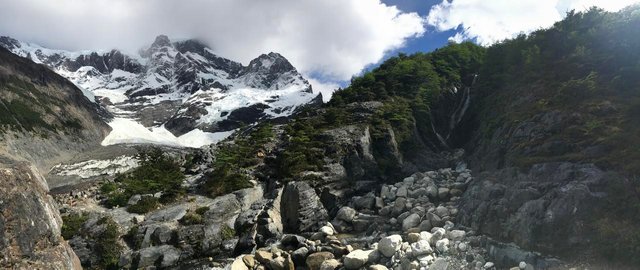 Back in November, I took a trek that changed my life. I spent six days in Torres del Paine National Park, surrounded by crystal lakes, glaciers and tall mountains. The sounds of rushing mountain water, bird song, whipping wind and distant avalanches, drowned out my anxious thoughts and I was able to fully immerse myself in the rhythm of nature. The lessons of Torres del Paine are still with me today, and I know it will take much longer to fully integrate my experience on the trail with my daily life.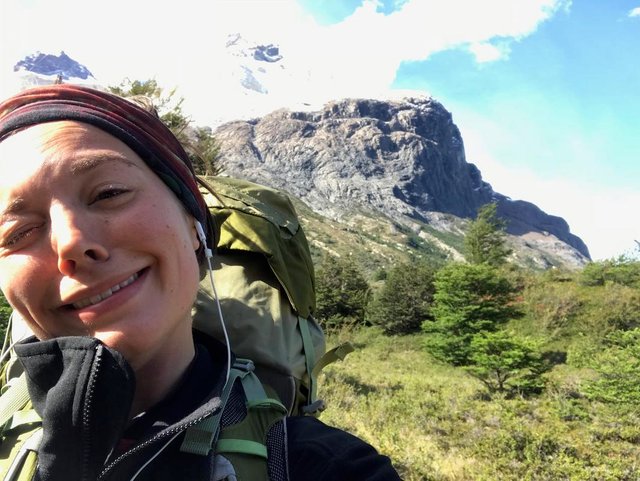 Suffice to say, I have a lot of gratitude for the place and want to share the full download on Torres del Paine National Park with you, in three articles. Consider it a trip of a lifetime.
In Part Two, I will offer a full packing guide, specifically targeted to travelers on a budget, however if you want an overview of the park first, check out Planning for Torres del Paine, Patagonia, Chile. Part 1
Happy Trails!
Brooke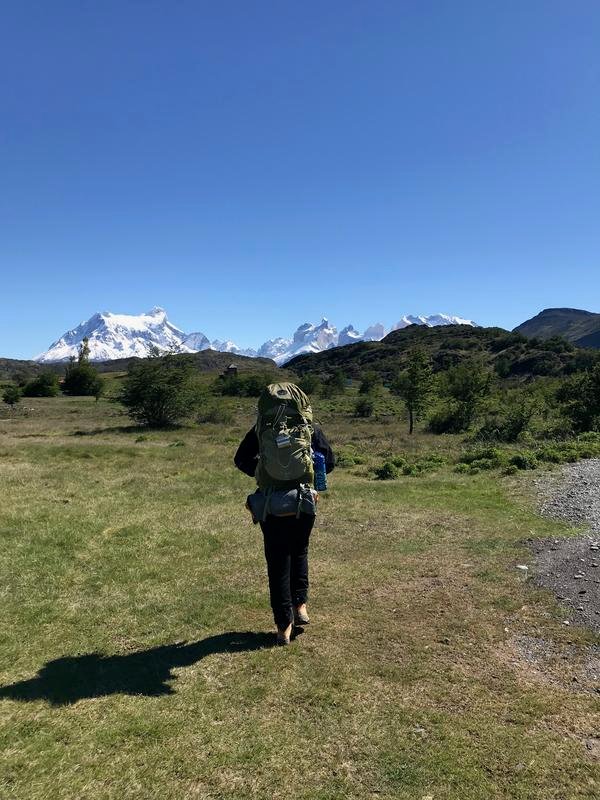 Pack Like a Pro
Specific to the W Trek
Part of what makes Torres del Paine so special is its accessibility to all ages, abilities, and levels of hiker. That being said, the W trek boasts several refugios, equipped with pre-pitched tents, hot showers, fresh food and even alcohol! In fact, you can hike the entire W with just a day pack, but it will cost you a pretty penny.
A Note on the Weather
Due to the high winds of Patagonia and the topography of the park, weather patterns in Torres del Paine are infamously unpredictable. The mountain range within the park shields hikers from the storms of Campos de Hielos Sur, and in turn, creates special microclimates on the trail, such as the heat of Laguna Azul, the cold of Los Perros Camping and the voracious wind at Paine Grande. While the spring and summer months offer visitors longer daylight hours and warmer temperatures, the change in weather is still quite variable, leaving you reaching for your rain jacket at one moment and your sunglasses at the next.
---
Equipment
Tent, Una Carpa
To withstand the high winds, seasoned hikers recommend a four-season tent with aluminum poles. A year-round tent will cost you upwards of $500 and are largely impractical, unless you camp in cold climates often.
I visited Torres del Paine in late spring (November) and did just fine with a regular tent that had fibreglass poles and a wind-fly.
If you are considering whether or not to pack your tent from home, know that Puerto Natales (thankfully) has many outfitters and equipment rental services. I rented a tent, pots and cutlery from a company in town and spent less than $40USD for seven days.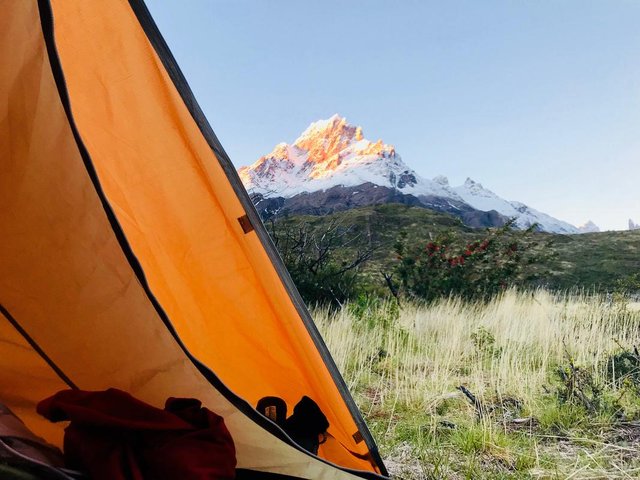 Tarp Una Lona
Some tents come with a tarp and some don't. I personally had the hardest time finding a tarp in Puerto Natales and finally settled on a big plastic sheet from a hardware store. Others on the trail didn't seem to have this issue, so not to worry.
A Backpack and Rain Cover Una Mochila
I had plenty of room with my 60L Osprey Bag
Sleeping pad Un Aislante
You can rent a sleeping pad in Puerto Natales. Companies will typically loan the roll-up pads, as the blow-up pads tend to pop and deflate easily.
Sleeping Bag Bolsa de Dormir
It is recommended to have a sleeping bag that can withstand below freezing temperatures. I purchased a three season Kelty down 20 F/-6 C sleeping bag and was the coziest girl ever.
Stove Una Estufa
Most hikers opt for a traditional camping stove that uses isobutane canisters. Conveniently, isobutane canisters can be purchased in nearby Puerto Natales. If you are planning to do any more hiking and camping in Chile I would recommend the MSR Whisperlite Universal, which accepts kerosene, white gas, isobutane, even unleaded gas!
In calculating how much gas to bring, consider the number of people you are hiking with, the number of warm meals you will cook per day per person (lunch and dinner) and the amount of time and water your food will need to cook. Calculating adequate fuel can be tricky, but
this article breaks down the equation.
Cookware Utensilios de Cocina
You can rent all cookware in Puerto Natales or bring your own! What cookware you bring is contingent on your menu. Think one plate, bowl, knife, spoon and fork for eating. You will need either a pot, pan or both for cooking. A cutting knife and small cutting board are helpful for prep, and a sponge and biodegradable soap are essential for clean up.
Water bottle or Camelback
Lucky for us, Torres del Paine has abundant fresh mountain water. It isn't necessary to carry liters and liters of water at a time, nor filter your water with iodine. That being said, some hikers have gotten sick from the water in recent years. Apparently, there was some water contamination from dirty dishwater. Hikers are now told to empty all food scraps and dishwater onto the land.
Small Forget-Me-Not Items:
Toilet paper. Matches. Flashlight. Headlamp. Ziplocs. Hygiene Products.
Just in Case Items
Pocket Knife. First Aid Kit. Fishing Wire. Mylar Emergency Space Blanket. Hand Warmers.
---
Clothes
Due to the high winds and weather variability, think layers. A base layer should be light, water-wicking and fast-drying. Your second layer should serve as insulation.
For warmth, I brought *ski gloves, a beanie and two large jackets with me—one for insulation and the second for breaking the wind. I also brought long-sleeve thermal underwear that I used for the nighttime.
Socks are a make-it-or-break-it item. Make sure to invest in some hiking socks that are warm but breathe and wick moisture. Personally, I love the Woolsmart brand.
Quality hiking boots are a must; also pack sandals or easy-going shoes to rest your feet at night.
A poncho or rain jacket is also recommended as there is sporadic rain in the spring and summer at Torres del Paine.
The ozone layer is particularly thin in the southern pole, so sunglasses, sunscreen and a hat will make your trip much more safe and enjoyable.

Food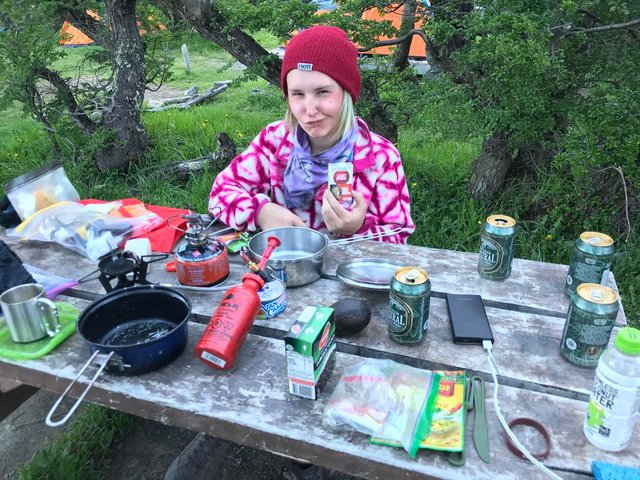 You can definitely pack lighter than I did, but I ate well! Here is a basic breakdown of what I brought with me on the trail for five nights and six days:
Breakfast
Instant coffee
6 Oatmeal Packets
Cinnamon
Nuts and Raisins
Lunch
Twelve Tortillas
Block of Cheese
Box of Deli Ham
2 Dried Sausages
4 Avocados
4 Apples
A Jar of Nutella :P
Dinner
2 cans of Black Beans
1 can of Lentils
1 bag of Rice
2 dehydrated soups
2 bags of pasta
2 packages of tomato sauce
Cumin
---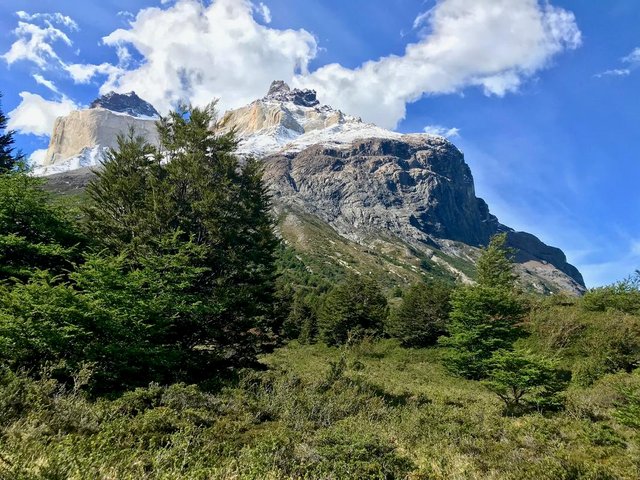 Think that backpacking in Torres del Paine is in your future? Have questions? Comment below.