Travels in Chile: Everyday Angels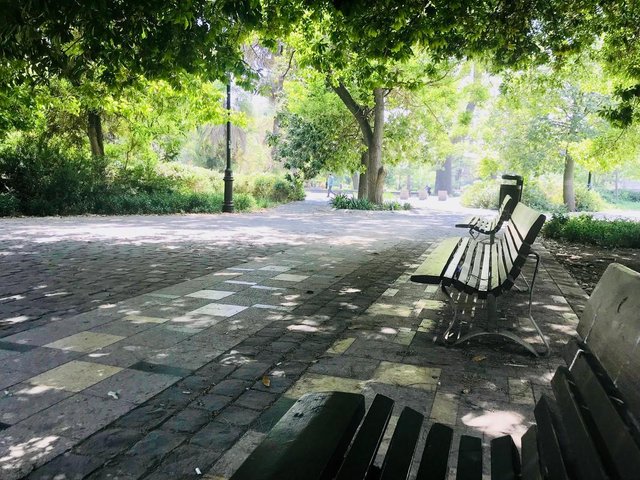 It was 3:55 in the afternoon and the double-decker bus for Santiago de Chile was just now rolling into the terminal. Spotting it, I double checked my ticket. Was that my 4:00pm bus?
I had spent the last twenty minutes anxiously walking up and down the terminal, asking people where it might be, as the 4pm bus was the final trip to Santiago that day.
Surveying the terminal one last time, I concluded it must be mine and bent down to grab my bags. Momentum in my legs, I popped the backpack onto my back, adjusted the weight and buckled the belt at my hips. Threading my back pack strap through my arms, I began to walk with confidence in each step.
As a young woman traveling alone, transit could be the most daunting or empowering experience, depending on the situation. Most of the time, carrying my 60 liter bag made me feel strong and unstoppable. Other times, the bulky weight strapped to my body felt like a big red target, inviting harassment.
The trick then was to make oneself small enough to not attract extra attention, and fierce enough to fend off unwanted advances. Sometimes it was just easier to simply resign to the deadpan, fuck-off vibe.
Reaching the bus, I handed my bag to the attendant and climbed the steps to the second level. I fell into my seat, relieved to be on the final stretch of my trip that day. Closing my eyes, I put in a small request to the universe:
"If you are listening, I want to sit next to a rad Chilean girl, please make it happen."
The past two long bus trips I had taken were spent with men who hit on me the entire way.One previous bus ride I had sat next to an old man who was insistent I visit his home for new years. Tired, I ultimately put in my earbuds to drown out his dogged requests.
He could have meant the best… still better safe than sorry.
A young girl with a fresh bob cut, dressed in scrubs climbed the stairs. She looked at her ticket, then looked at me. Prayers answered!
We quickly hit it off. Her name was Maria. She was the same age as me, an occupational therapist and on her way home to visit family. For the next few hours we talked incessantly, slowing only to translate the words we couldn't act out.
She told me about her family, boyfriend and friends. She schooled me on machismo culture, the drug and human trafficking of northern Chile, and general Chilean politics. Sitting next to Maria, I felt safe and held. She gave me the girl-to-girl download of information I needed to hear.
We passed through a small town on the outskirts of Santiago, famous for its baked goods. An old woman with a woven basket covered in white linen boarded the bus. Maria bought a bag of cookies from the woman and handed me one. The fine powder sugar dusted my lips as I took my first bite, the dough instantly melted in my mouth."Que rico!," was all I could say. Rich was the moment. I felt grateful to be sharing an experience with someone, all guards down.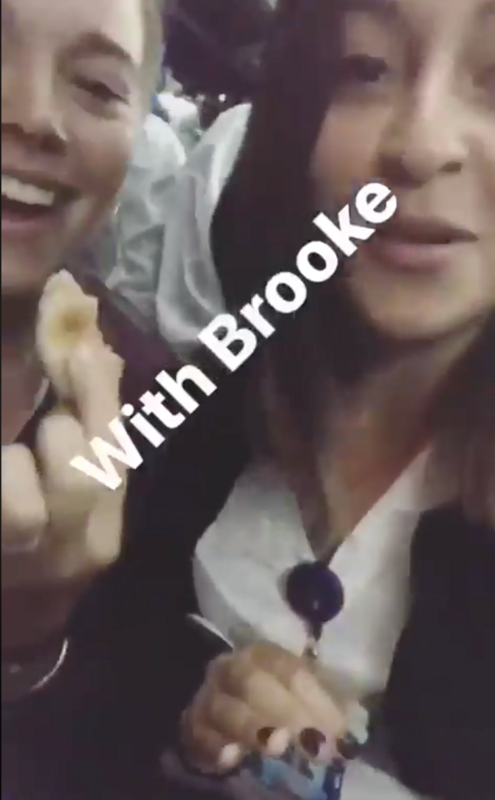 We pulled into the crowded Santiago terminal at 11pm and the streets were lined with people. Sensing my anxiety, Maria took one look at me and pulled out her phone to call a cab. She asked the driver several questions and negotiated me a fair price.
We were met by Maria's boyfriend at the terminal. Taking her into his arms, they kissed, eyes shining at one another. He introduced himself as Diego and offered to take my bag. Hand in hand, Maria and Diego walked me to my cab. Maria gave me a final kiss on the cheek; *"Cuidate, y que te valla bien!," take care, and may everything go well! I left in a glow, overwhelmed by their kindness and generosity. I had needed an angel that day, and the universe had gifted me Maria.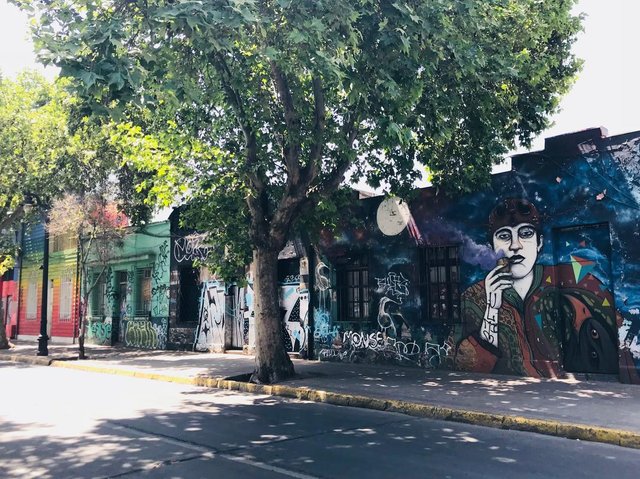 The following morning I wandered alone through the quiet streets of Santiago's historic neighborhoods. It was a balmy Saturday and the energy of the city was peaceful. I neared the edge of a public park, passing vendors selling ice-cream and empanadas. Looking up, I made eye contact with a dark, slender man walking towards me with his bicycle. His eye contact was gentle, kind. I kept walking.
The park was full that day—young families covered the green with their picnic blankets; teenagers congregated in circles under the trees. I ambled the shaded pathways of the park, finally making my way to a wooden bench to sit and sketch.
It was not long before the same man passed me again. I looked up from my sketchpad to met his eyes. "May I sit with you?," he asked tentatively. Hesitant, I paused, and then invited him to join me.
His name was Emmanuel; he was from Haiti and in Chile on a working visa. To make ends meet he washed dishes in a kitchen six days a week, Saturday being his only day off. He lived humbly, sharing an apartment with four other men and riding a bicycle everywhere he went.
Quinta Normal park was where Emmanuel spent his free time. He enjoyed the park for its variety of trees, plants and birds. He pointed to a pigeon nearby; "paloma," he said first, "columbidae," reciting the scientific name after. I pulled out a pastry from the night before, and began ripping it into small pieces. Together, we fed the pigeons as we continued in broken English and Spanish.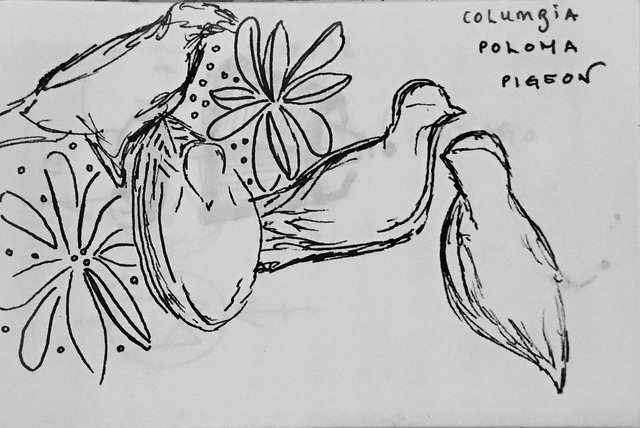 Before Emmanuel had come to Chile, he was a working professional in Haiti. He had a family who still lived there. After the 2010 earthquake he and his brother left the country to find work; his brother went north to Canada, and Emmanuel went south. He hadn't seen any of his family in years, but still sent regular checks in the mail.
There was pain behind his eyes, but there was also something much more profound, grounded. For all of the pain he may have endured, he had an energy of deep gratitude, reverence, almost. And he had an insatiable appetite for knowledge and learning.
He gave me a mini lesson in French, writing out the regular verb conjugations in my sketchbook. We laughed as I contorted my face to pronounce the French verbs. I shared with him all of my drawings from my travels. He looked at each one, thoughtfully considering the shapes. "You are very intelligent," he said.
It came time to leave and I felt a surge of grief. Two hours had passed, yet in our time together time had fallen still. We said our respective goodbyes and he blessed me, first with his words, second with his hand on my heart.
I reached the busy road outside the park, where cars whisked by. Standing on the warm pavement, I took a deep breath and time began again.
My travels have taught me that angels are everywhere, often in the places we least expect. Some of the most beautiful encounters I have had occurred beyond the safety of what was known, safe and comfortable, whether that be talking to a stranger or canceling my flight home to take on another adventure.
There is a delicate balance in discerning risk; what situations are merely new or uncomfortable, and what is potentially dangerous? Naturally, we alI have various blockages for protection, but what situations might be navigated better with calculated risk, discernment, and courage?
A bit of calculated risk is a small price to pay for the beauty and delight that can ensue when we are open.