The Japan Diaries: a visit to Tokyo Skytree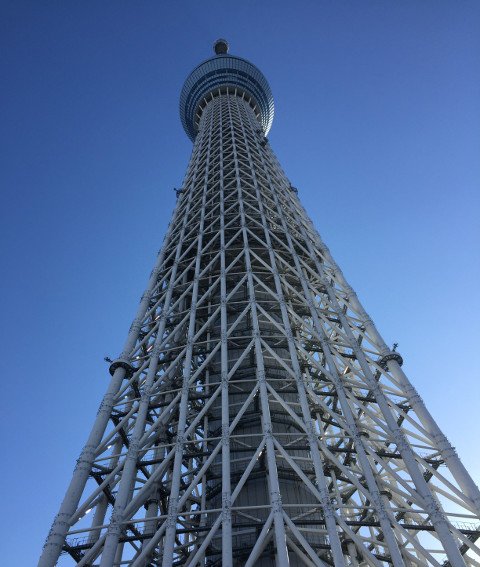 Tokyo Skytree is the Japanese capital's newest futuristic landmark. With a height of 634 meters, this television & radio broadcasting tower is the tallest building in Japan, and 2nd tallest structure in the world. Visiting it has been high on my bucket list for a while, and last weekend I finally had my chance.
We (my daughter, wife, and I) got up before dawn on Saturday to make the long train ride into central Tokyo. Skytree is an enormously popular tourist attraction with hours long lines, so we wanted to get there right when it opened to beat the crowds. Happily our strategy paid off. Not many people were milling about when we arrived around 7:30.
After a brief stop at a coffee shop for a much needed shot of caffeine and some breakfast rolls, we made our meandering way through the shopping mall that surrounds Skytree, looking for the ground floor ticket counter. I couldn't resist snapping a pic of this fine eatery along the way: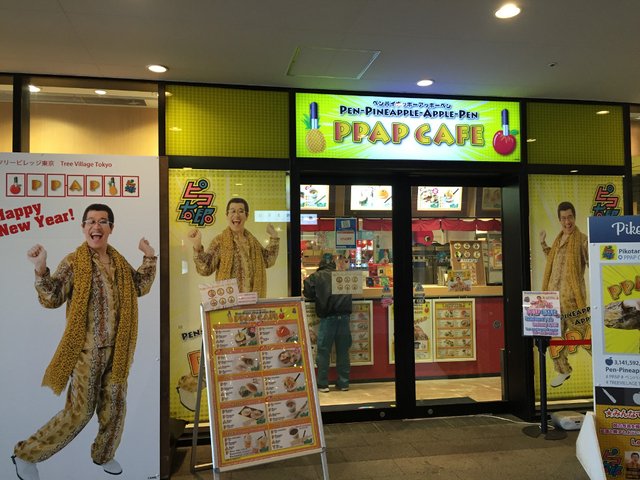 Sing it with me now... you know you want to... I have a pen!
Skytree features 2 observation decks to enjoy amazing views over the city, one at 350 meters and another at 450 meters. And of course you have to pay separate expensive ticket fees for each deck (nothing in Japan is free, especially in Tokyo). But it's worth the price of admission, provided the weather is clear. Here are some of the sights from the lower deck: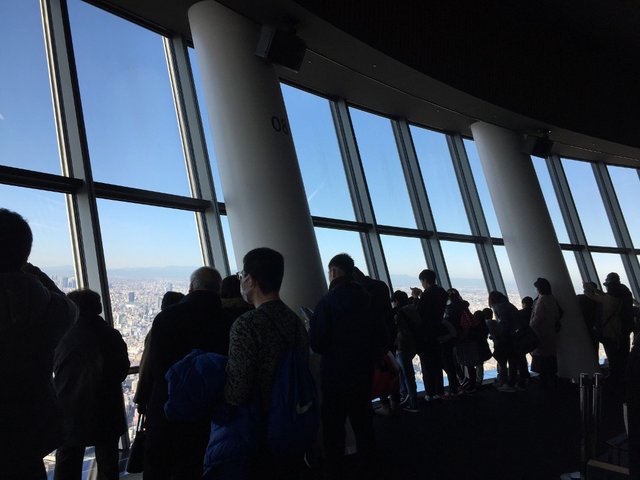 Early in the morning it wasn't too hard to get a good viewing spot right beside the massive floor to ceiling windows.
Yes, that is Mt. Fuji poking above the mountains in the far distance.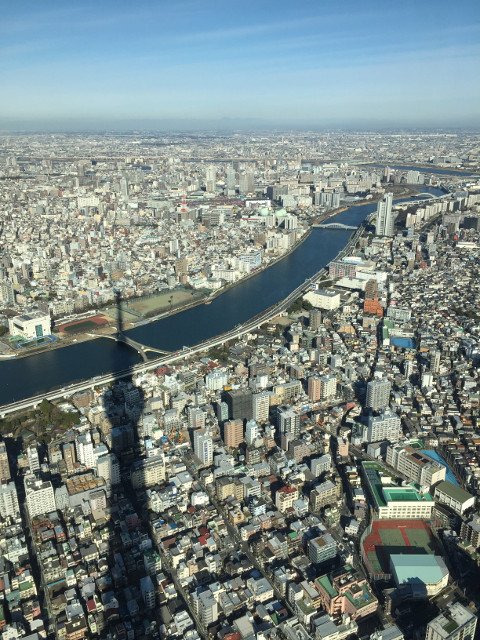 Skytree is so tall that its shadow covers a good portion of the surrounding buildings.
The 450 meter observation deck is even more impressive. It actually consists of two separate floors connected by a space-age tube circling around the outside of the structure. Definitely not for the faint of heart!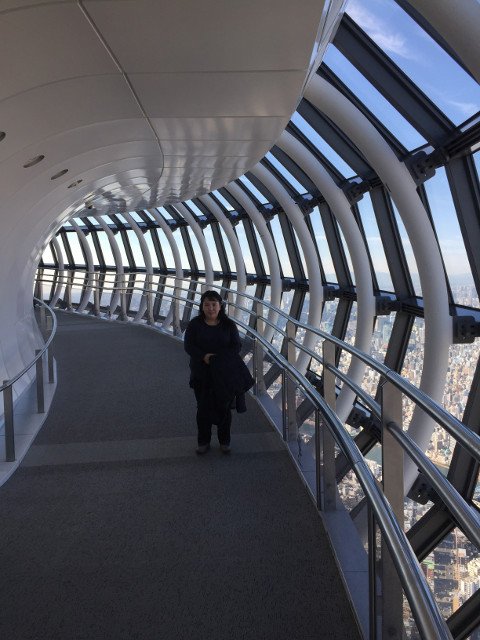 My wife posing in the middle of the "sky tube" winding around the upper observation deck.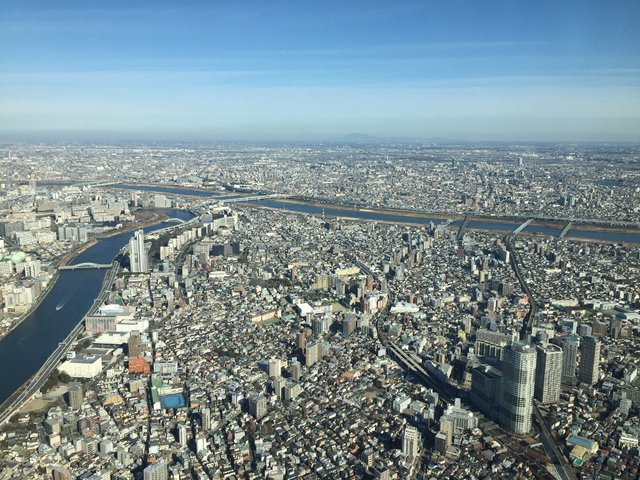 At 450 meters high, this is the only spot in Japan where you can see the urban sprawl like this without being in an airplane.
Before heading back down, we ate lunch at the fabulously expensive Sky Restaurant 634. Initially we were turned away due to our lack of a reservation, but my wife turned on the charm and was able to persuade the maître d' to let us in. The menu only had 2 choices, both multi-course sets. We went with the cheaper one at 6500 yen (about $60) per person.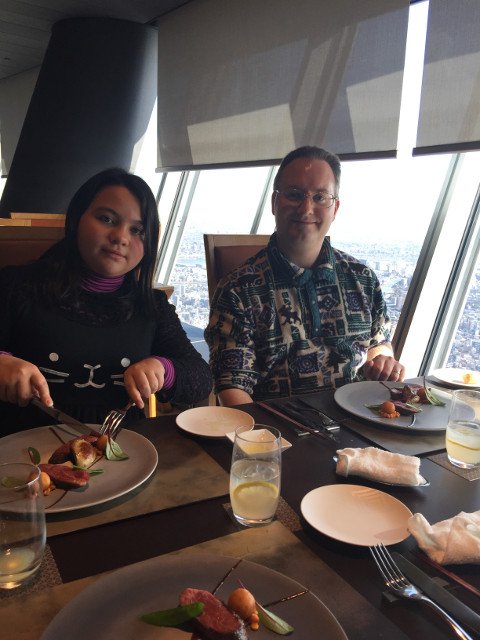 My daughter and I enjoying an exquisite lunch high in the sky.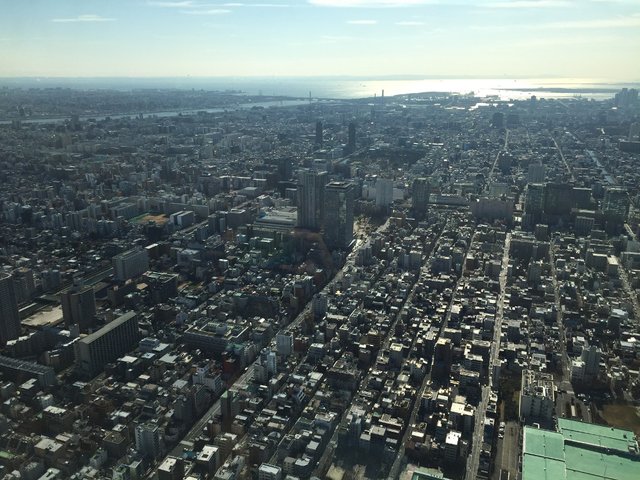 A little wine goes great with this view from our dining table!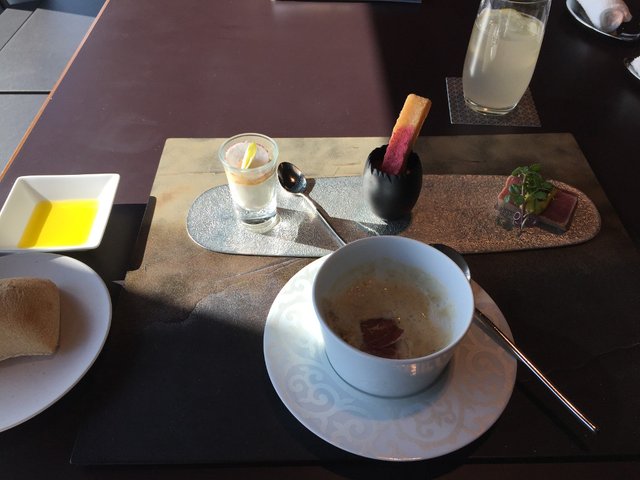 Half the time I didn't know what I was eating, but it sure tasted good.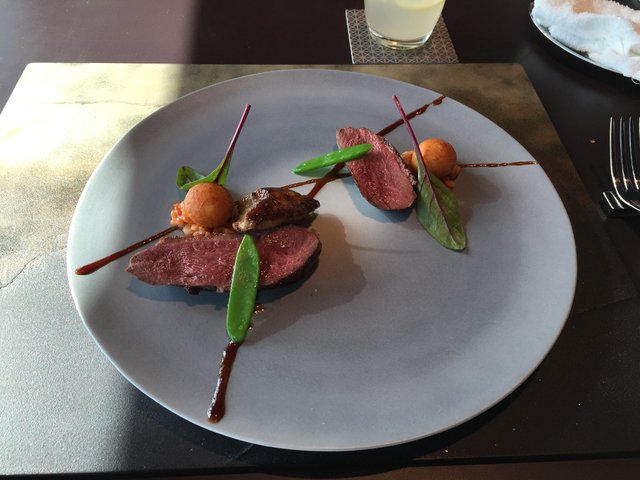 The main course: portion sizes are small so you have to savor every bite.
On the way back to the elevators, we passed an area with a glass floor, allowing you to look all the way down to the ground far below. There were a lot of people milling about here, so we could only enjoy the spectacle for a few seconds before the staff hurried us on. But that few seconds was enough; heights have never bothered me but even I felt a bit dizzy thinking of all that open air only inches beneath our feet: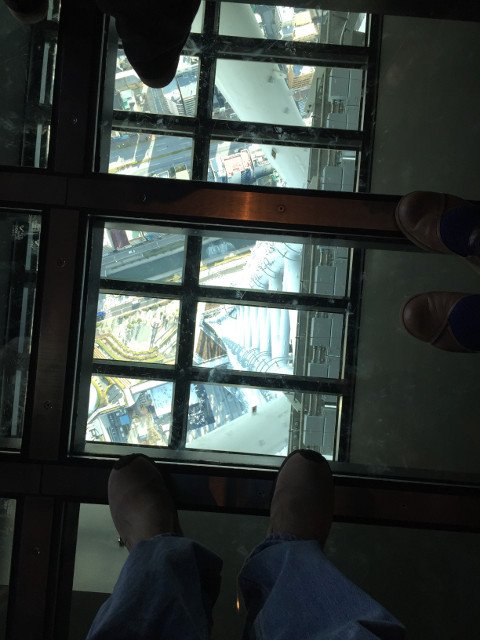 Looking down for too long makes you dizzy!
I've always been fascinated by tall buildings. Someday I hope to visit the Burj Khalifa in Dubai, currently the world's tallest building, but for now I'm content with seeing the 2nd tallest right here in Tokyo. If you're ever in town and only have a couple days for sightseeing, Tokyo Skytree is worth checking out! But be prepared to spend some serious cash; we went through about 50,000 yen ($450) on this excursion, if you count entrance tickets, the fancy lunch, and souvenirs at the gift shop.
---
Links for more info
Previous entries in my Japan Diary series:
     

Hanging out with the ghosts of GeGeGe no Kitaro

Strolling around Showa Kinen Park

A Kawasaki Halloween

Shopping in Kawagoe

Wishing you a Merry Christmas
Wikipedia article on Tokyo Skytree: https://en.wikipedia.org/wiki/Tokyo_Skytree
Skytree official web site: http://www.tokyo-skytree.jp/en/index.html
For more posts about cryptocurrency, finance, travels in Japan, and my journey to escape corporate slavery, please follow me: @cryptomancer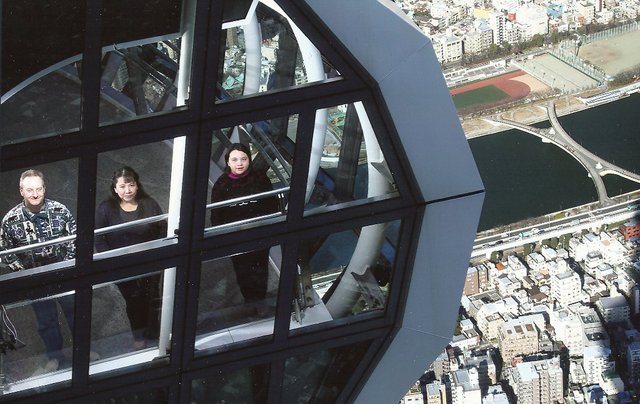 ---
Image credits: all images in this post are photos taken on my iPhone, with the exception of the last one, which is a souvenir shot taken for us by Skytree staff.

Achievement badges courtesy of @elyaque . Want your own? Check out his blog.