Tanzania – to the top of Mt. Kilimanjaro (5.895m) with my sons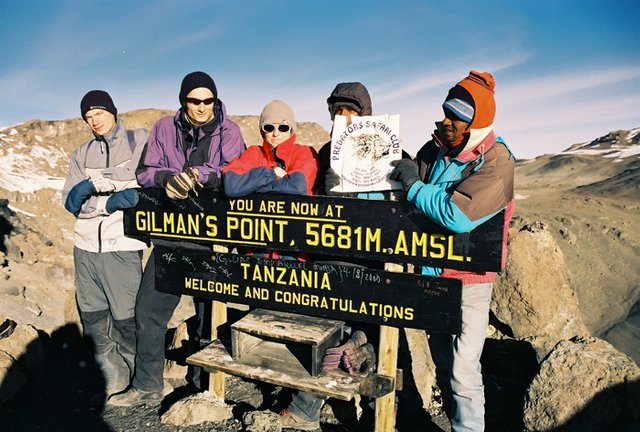 Mt. Kilimanjaro is one of Africa's most iconic and recognizable landmarks. The highest mountain on the African continent, the world's highest free-standing mountain and one of the world's highest volcanoes, reaching the hight of 5.895 meters above sea level. To get to the top, you start in the warm tropical rainforest and ends where temperature drops dramatically to 20 degrees minus.
A few days ago as I was browsing an old photo album, I realized that today it is eighteen years ago I stood on top of Mt. Kilimanjaro together with my sons. In 2001 Kenneth was 15 years old and Chris was 22. They were used to hiking from a young age and Kenneth was only 11 years old when we did the hike to the top of the highest mountain in Norway, Galdhøppiggen, 2.469 m. But to climb a mountain like Kilimanjaro, was not quite like a hike at home. It was challenging, but also an adventure, that taught us how we react and interact on a trip that requires us to function as a group.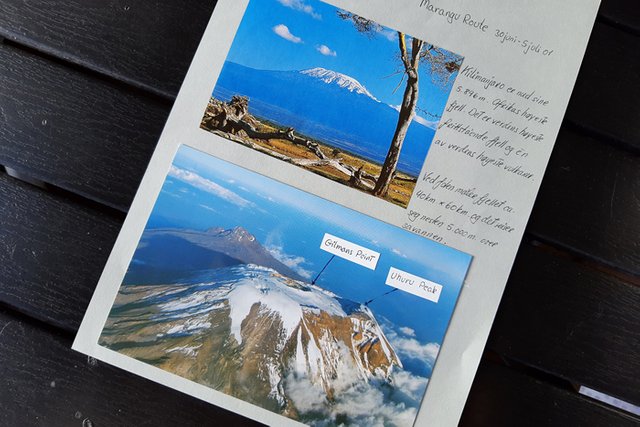 There are several routes to the top. Marangu route, also known as the «Coca-Cola» route is the oldest and most established. The nickname has been given because it is considered to be the easiest way to Uhuru Peak. It is also the only route that offers accomodation. We chose this route. Normally it is estimated to take 5 days, but many choose to take an acclimatization day on day 3, to increase the chance of reaching the top and avoid altitude sicknes. There is no quarantee really on how to avoid that. Kilimanjaro is considered a challenging mountain. We were told that only every 5th person who attempt to reach the top succeeds.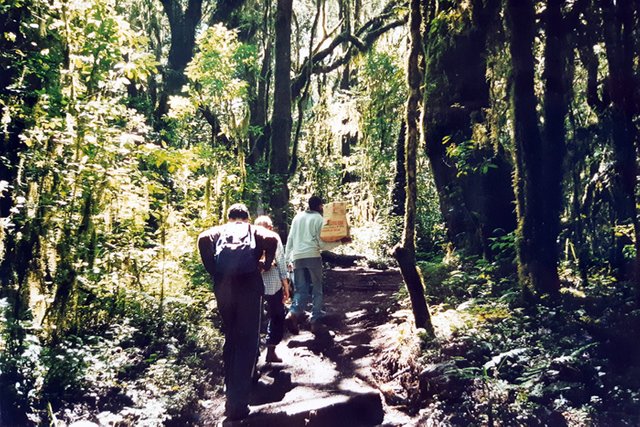 Here is a little excerpt from my hand written diary, day by day, followed by some photos. Unfortunately not the best quality since they are scanned. At that time I didn't have digital camera.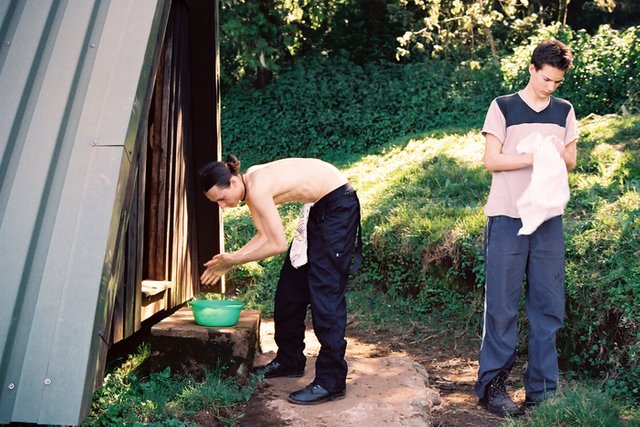 Mandara Hut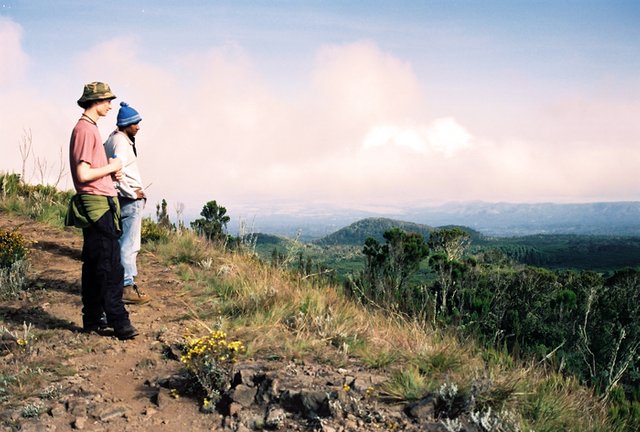 Day 1: Marangu Gate – Mandara Hut (1850-2700m.) Distance: 7 km.
In Moshi we met the crew. Porters, the chef and guide were busy packing food and equipment. The trek started in the rainforest among camphor trees that stretches 25 -30 meters up towards the sunlight. Monkeys were jumping from tree to tree above our heads. Today's trek took us about 3 hours at a leisurely pace. When we arrived Mandara the porters were already there ready to make us a cup of tea served with biscuits. Noisy monkeys will probably make this a rather sleepless night!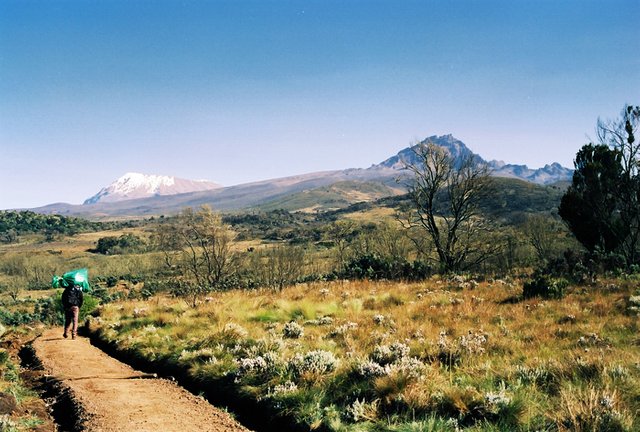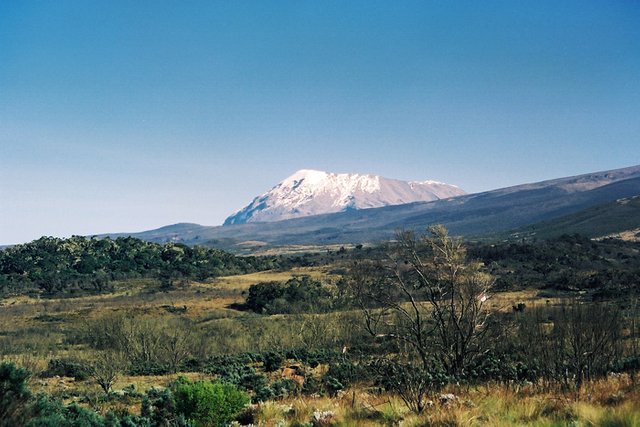 Day 2: Mandara Hut – Horombo Hut ( 2700-3720 m.) Distance: 11 km.
Today we left the rainforest and continued to the open moorland.  Beautiful scenery. We walked slowly and had many short stops to study the vegetation and enjoy the view. It took 6-7 hours to reach Horombo. Now we start to feel the altitude.The toilets are situated 80 meters down a slope away from the huts. All of us felt out of breath when returning from a visit to the toilets! From now on we have to move in slow motion if we want to breathe normally.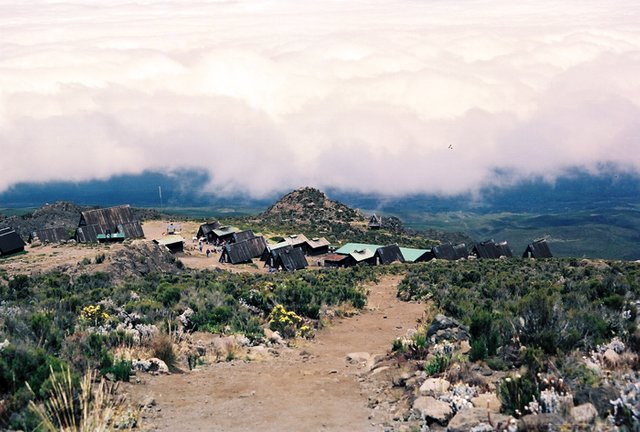 Horombo Huts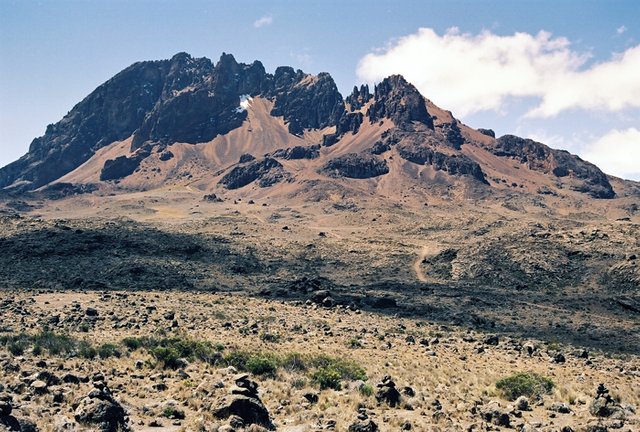 Mawenzi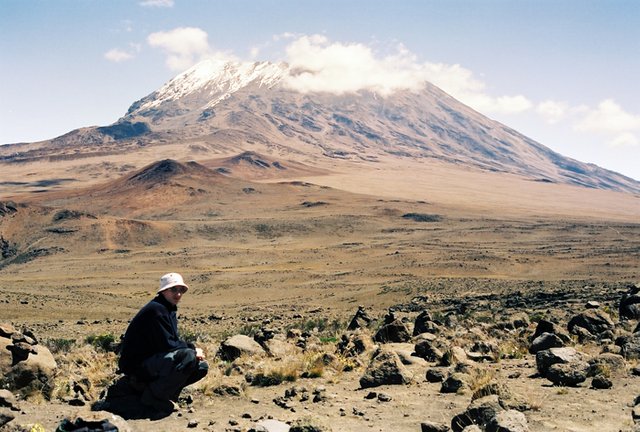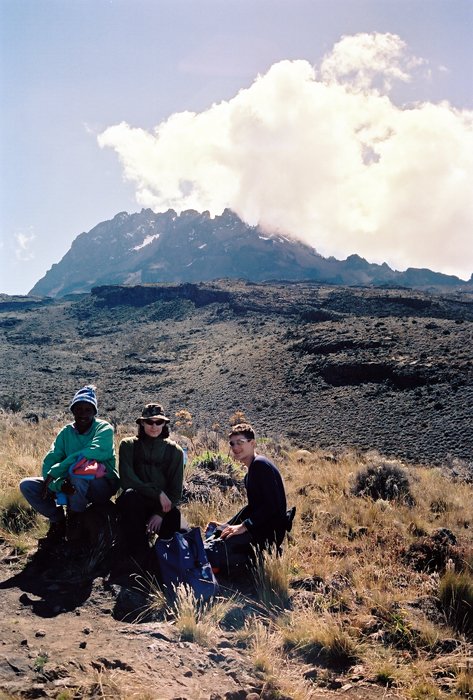 Day3: Acclimatization day – Horombo Hut (3720m) Distance: 6km.
Horombo is the largest of the huts. The reason for this is that many people take an extra acclimatization day here. So did we. The day was spent taking a short hike up to «The Saddle» - the area between the peaks of Kibo and Mawenzi. Today we were learning Swahili words from our guide. Especially « pole, pole» which means « slowly, slowly». Apart from teaching us Swahili he told tales from Tanzania. We walked with the pace of a snail, listening to local folk stories. An enjoyable afternoon. From now on the altitude starts has an impact on our appetite. that night it took a very long to consume the dinner.... and the guide looked after us to make sure we ate!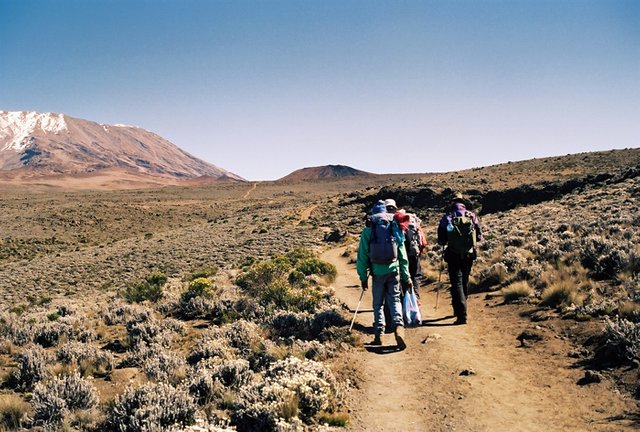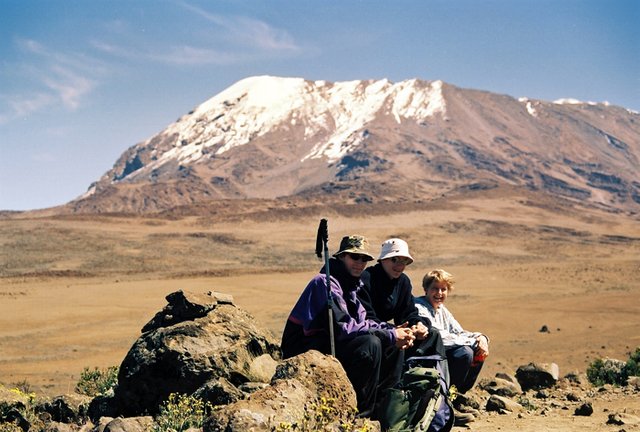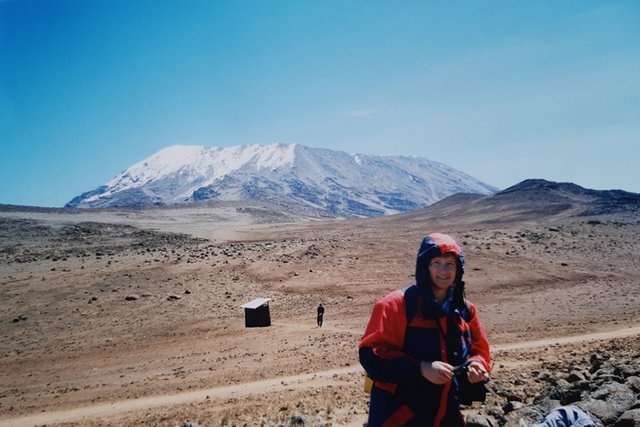 A toilet with a view (it had no door..) to Kibo
Day 4: Horombo Hut – Kibo Hut (3750 -4700m) Distance: 12km.
After a good nights sleep we started on the last stretch before the summit. A long day. It took about 8 hours to walk 12 kilometers! The temperature has now droped to zero degrees. At Kibo Hut we tried to sleep a little, since the ascent to the summit starts midnight. When it was time to wake up, the guide brought us a cup of tea and biscuits. He also made sure we were properly dressed for the cold night. Now was the time for the woolen underwear. Well influenced by the altitude every little movement feels as a struggle. It took a long time to get ready to go.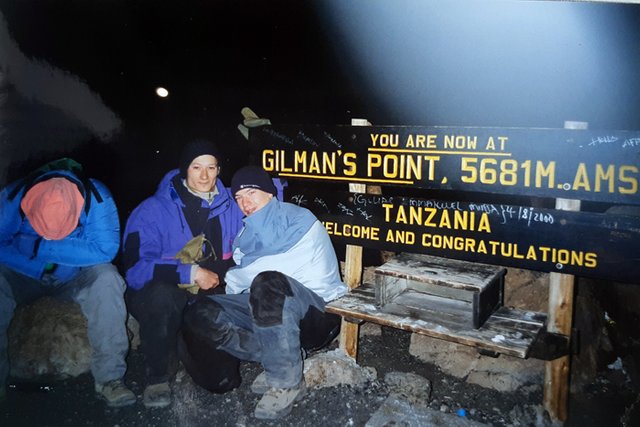 Chris and Kenneth at Gilmans Point at 05.15 o'clock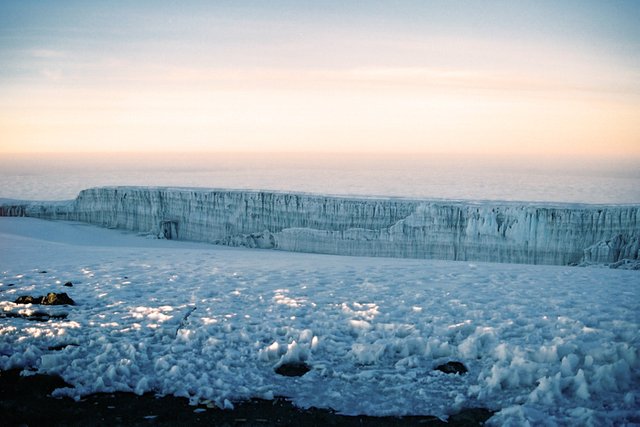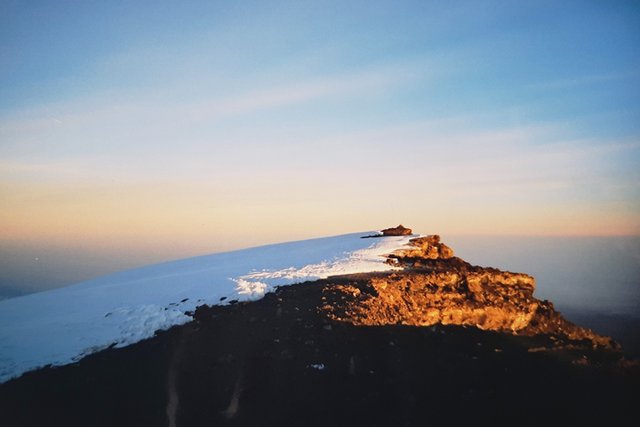 Day 5: Kibo Hut – Uhuru Peak – Horombo Hut ( 4700 – 5895-3720m) Distance: 21 km.
Shortly after midnight we started the ascent to Gillmann's Point (5681m). Even putting one foot in front of the other became a tough task. We did not talk to each other for hours. No energi for that! It was dark when we started. The only light was the moonlight. The point of starting midnight is that you will be at the top when the sun rises. The steep, rocky ascent will be frozen at night, making the ascent easier and less tiring than during the day. I did look up occasionally, but had no idea where the crater rim was. We were accompanied by the guide and two of the porters for safety reasons. In case one of us should have to return. Somewhere along the way I felt nauseous and dizzy. I wanted to return to the hut. But the guide said "you can do it". He took it more slowly and asked the two porters to continue with Kenneth and Chris. They reached Gilman's 15-20 minutes before me. There they sat freezing in the dark while waiting for me. Everyone looked incredibly tired. But they did not complaine. I was the one who would be satisfied reaching this point. Now I have been to the top! But the guide gave me only a short rest before we continued for another one and a half hour. As we continued along the crater rim Uhuru Peak became visible during the sun rise.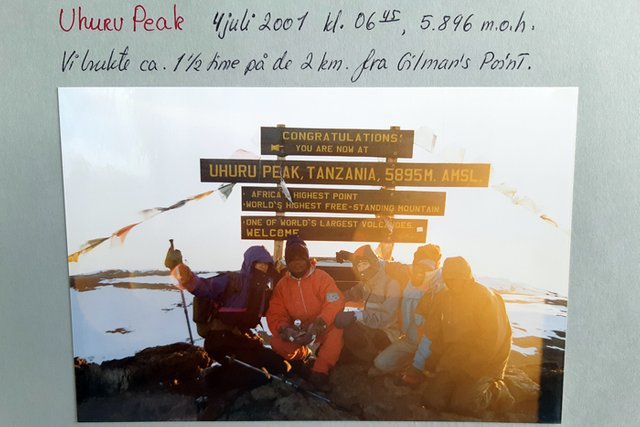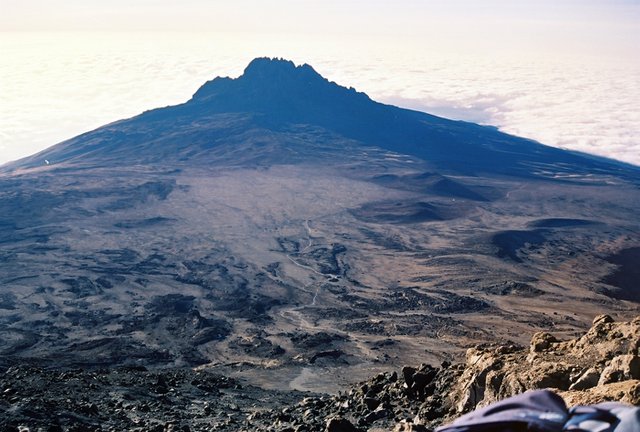 Mawenzi seen from Gilman's Point on the return
Finally we reached Uhuru Peak, 06.45 o'clock. Everyone were tired, affected by the lack of oxygen and the freezing cold air. We did not spend to much time here. Only long enough to watch the sun rise and enjoy the view of the surrounding landscape. Then it was time to descent to Kibo Hut. While we had breakfast we started to gain energy again. We talked about the night's experience. When and where each oneof us had the greatest challenges. It was a relief finally to be able to crawl into the sleeping bag that night.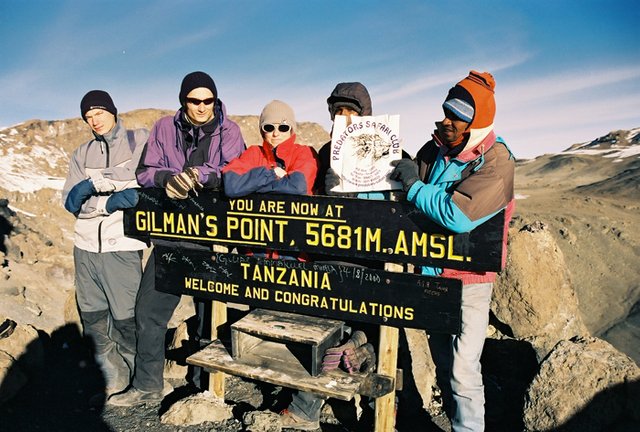 Gilman's Point before the descent
Day 6: Horombo Hut – Marangu Gate – Moshi. Distance: 18km.
Last day today. An easy, but long walk back to the starting point and time to say goodbye to our crew. They are the real heroes. They looked after us, cooked our meals and were encouraging. It is because of them that we all managed to reach the top.
Please do follow if you want to keep up with my next travel story. Any upvotes or resteems are hugely appreciated!
Latest travel stories, check out :
Vardø – The city of witchcraft in Norway
U.J
Kristiansand, Norway
All the photoes are mine, Ulla Jensen (flickr, Instagram and facebook)
[//]:# (!steemitworldmap -3.075230 lat 37.351199 long Tanzania – to the top of Mt. Kilimanjaro (5.895m) with my sons d3scr)
Read about us? // Main page!
Latest content: Travel, Art, Food, Article, Poetry