Lake Of Dreams ( RATI GALI)
Hello Dear Steemians!
   Today my blog is about the unexplored, beautiful and serene place on earth. In fact my opinion God would have taken his time to create this place.With every flower and every steep slope unravels new heights of awesomeness of mother nature. This place is located in Azad Kashmir (Pakistan).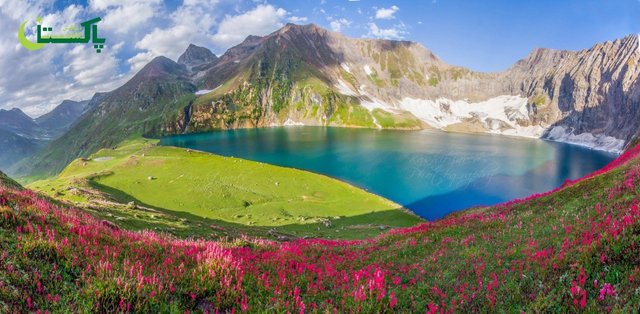 Ratti Gali Lake :
                                     Is an alpine glacial lake which is located in Neelum Valley, Azad Kashmir (Pakistan) at an altitude of 12,130 feet (3,700 m). The lake is fed by the surrounding glacier waters of the mountains.The lake is accessible from Dowarian by an unmetalled 19 kilometers (12 mi) road cum hiking trek through breath-taking sites. Dowarian is the base camp to this lake.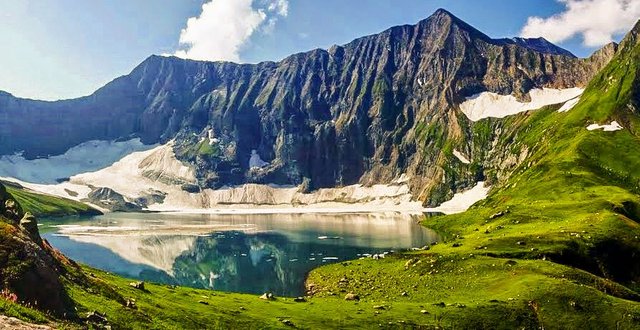 The lake is also locally known as Dowarian Lake because of the nearby village which has the same name. Ratti Galli lake is a true wonder of nature as it is surrounded by the green pasture covered mountains and fed by the water from the surrounding glaciers. The flora and fauna found at the Ratti Gali Lake are renowned throughout the world for their unsurpassed beauty. Hawks and otters can be easily seen in the area when one treks around the place. As the lake is located in the Neelum Valley which is home to a number of waterfalls, tourists can also go and explore areas.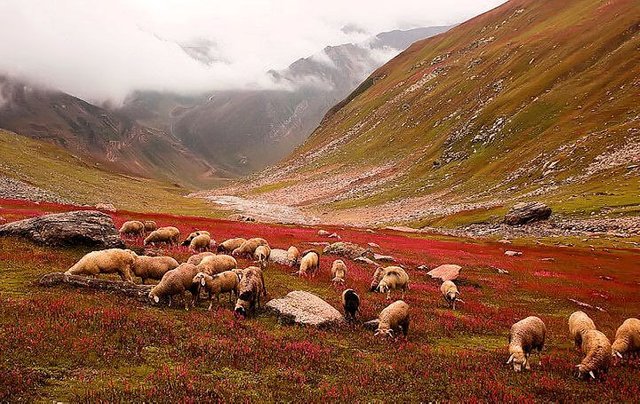 The rugged land landscape makes trekking the only option through which one can visit Ratti Gali Lake. The high altitude makes it a seasonal lake which is not accessible in the winter season. In order to have the best experience of this enchanting lake, it is advised to travel between the months of May and August.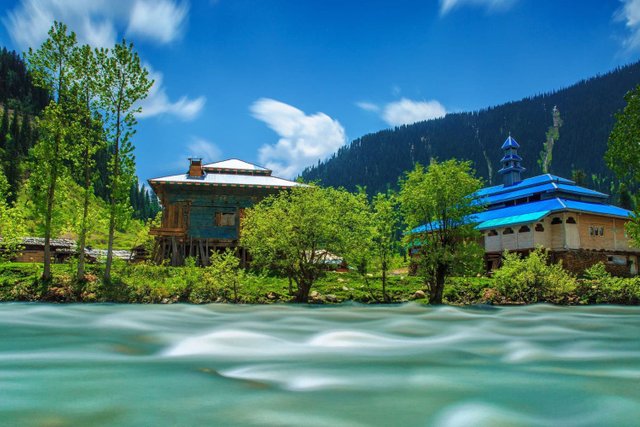 Recommended Gear:
Sun Block and Sun glasses
Beanie (highly recommended)
Hand wash/soap/sanitizer, wipes, tooth paste and all other necessities
Muffler (highly recommended)
Gloves (highly recommended)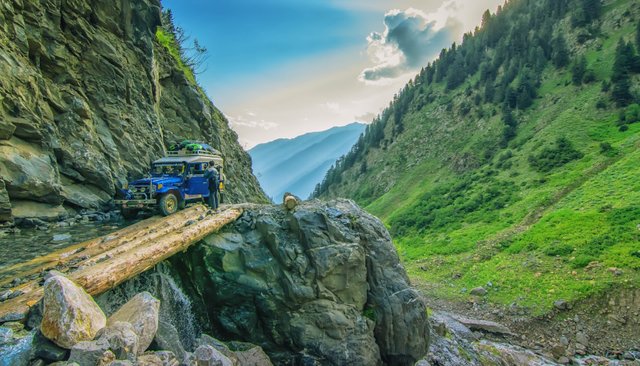 There are jeeps available at Dowarian towards Ratti Gali Lake. The jeep would take PKR 5,500 on same day return & PKR 7,500 for next day return from the Lake. The base camp is around 16 KM from Dowarian, the jeep would take around 2 hours from Dowarian to Base camp.On the way, you can witness Glaciers and a great natural mesmerizing scenes. There is a complete Tent City installed by individuals at the Base Camp, for an over night stay the base camp. It would take an hour trek to the lake or you can take the services of a horse in PKR 300 per person from Base Camp to the Lake. A tent at the base camp is available between PKR 500 to PKR 1200 per night, depending on accommodation facilities. 
Accommodation:
                            There are government rest houses, lodges and hotels along the way. Government Rest houses are either managed by Ministry of Tourism or Forest Department of AJK Government. While there are a number of private hotels and camping also available. Here is a list of Rest house with respective departments of AJK Government.
Keran Resort                                       
Tourist Huts, Upper Neelum
Tourist Huts, Salkhala
Domail Resthouse
Dawarian Resthouse
Some of the best private hotels before the lake are
Paradise Lodges, Keran
Habib Guest House, Upper Neelum
 Precaution before visiting Neelum Valley:
                           You must have your CNIC or NICOP before travelling to Neelum Valley. Foreigners are strictly not allowed in the valley, due to it's vicinity from LOC. Army check posts are every where in the valley. 
                          I hope those who are reading this post must visit this place once before death. If you miss this place believe me you missed a chance to visit heaven on earth.This place has attraction and it will bound you and you will never want to leave this place.If you have any query about this place do ask me in comment i will guide you in the best possible manner. I am adding a video of travel to Rati Gali do watch in HD .
              If you enjoyed the post give feed back in comments .
                                                Follow, Resteem ,Upvote