Calling all Steemians! Be more than just a tourist when you travel (original photos)
Interactions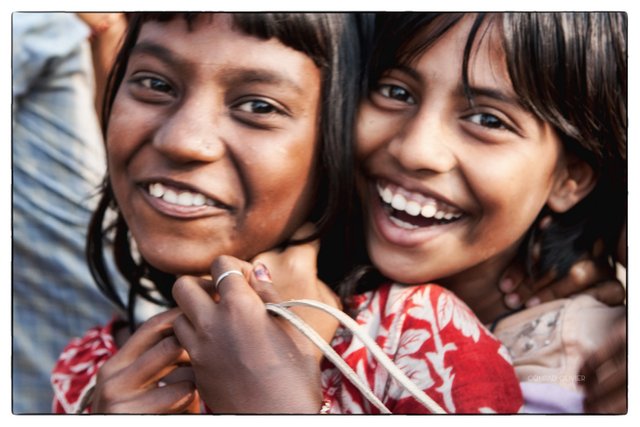 Keep in mind, when you travel, you are representing the rest of us who will visit these same places later down the line. What you do and how you go about things impacts the world in many ways from perception of certain groups to cultural & ideological exchanges.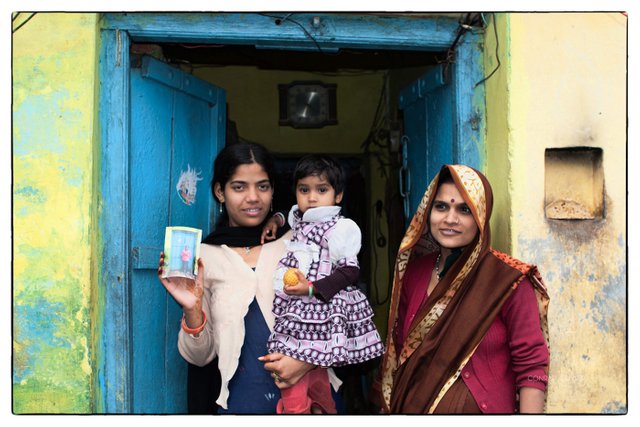 What am I talking about? A good example of a mutual exchange is when you want to photograph someone, ask them first (remember they aren't in a zoo for you to just snap away at). I know that is overkill for most of us, but trust me, there are some that need to get a clue.
In this case, my camera attracted the attention of this mother who did not have a photograph of her handicapped child as they were quite poor. She wanted to have a portrait of her alone - so I obliged & as this was in 2007, it happened to be a digital file. I was able to find a local printer who was able to make a print within a few hours. This was magical for this family. We take for granted the power of a photograph and how easily we can obtain one at this point in time.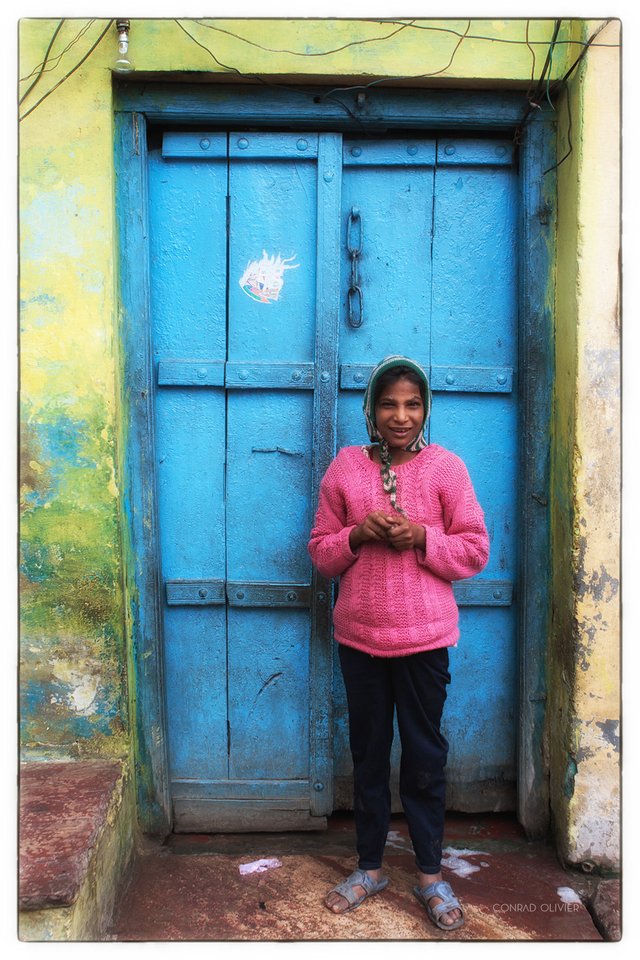 Asking to photograph someone can often lead to interesting conversations and stories will come forth that you will may not have otherwise ever been able to be privy too.
I've found HANUMAN in the flesh: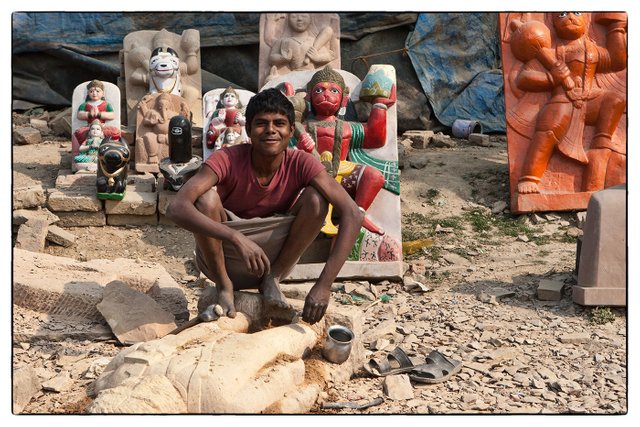 (this young stone carver does nothing but carve the image of Hanuman into stone, Hanuman incarnate right there folks.
---
Experience the intense camaraderie on the streets of India
---
Roadblock
The only way to proceed down this street was to oblige them and do a big group shot: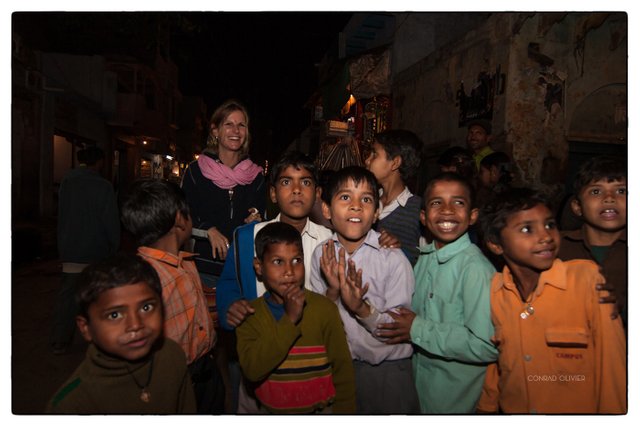 ---
Getting Up Close and Personal
Try sitting down next to a group of people and communicate verbally or at least with your eyes - acknowledgement goes a long way in forging a path towards interaction.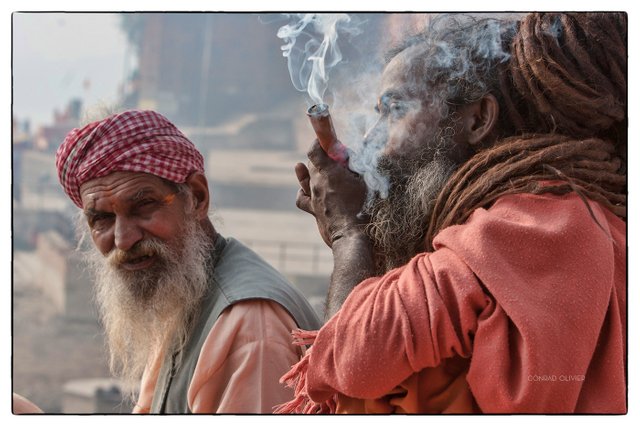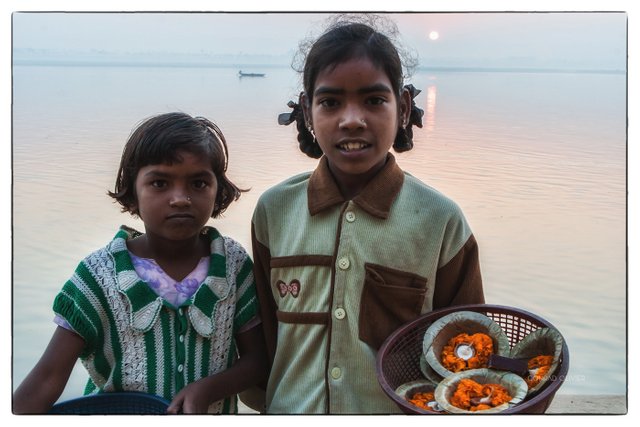 Blessings aren't necessarily 'gratis':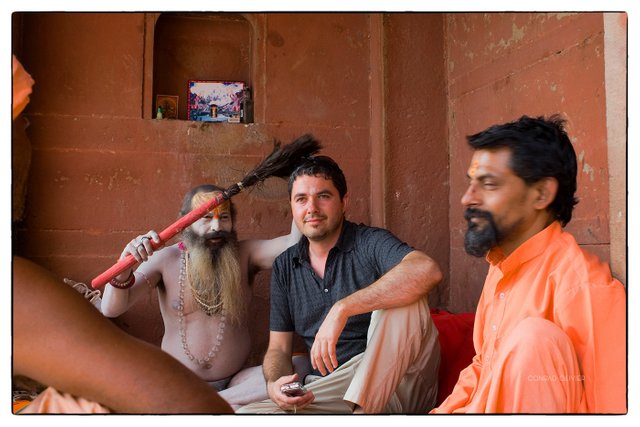 Be considerate & do not photograph someone if they ask you not to regardless if they are in public or not.
Most of us do not travel to save the world, but sometimes someone with an unfortunate situation will cross your path. You should have already figured out how you will handle this as it can be an emotional moment. I know b/c I cried 4 times in 30 minutes the first time I visited the landfill in Phnom Penh in 2003.
Giving money to children directly is a terrible thing to do as if they've asked for it, there is someone behind the scenes pushing them to do so. This will perpetuate their life as a money slave to a parent or pimp. You can get take out food for them and perhaps some new flip flops, a book, pencil & paper. Taking them to a restaurant may be fraught with unintended consequences especially if you are a male. I have brought street children in Cambodia to a hotel restaurant, no one thought any ill of me rather the children are seen as a nuisance and bad for business. This really upset my internal being. I only managed to get them a spot on a bench out front of the establishment - talk about social injustice!
For more images & posts, click here for my blog page and hit the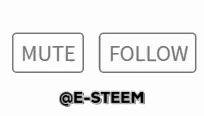 #travel #portraits #photography #steemit #culture #india #humanitarian