Our Caribbean Getaway - St. Thomas (USVI) 2020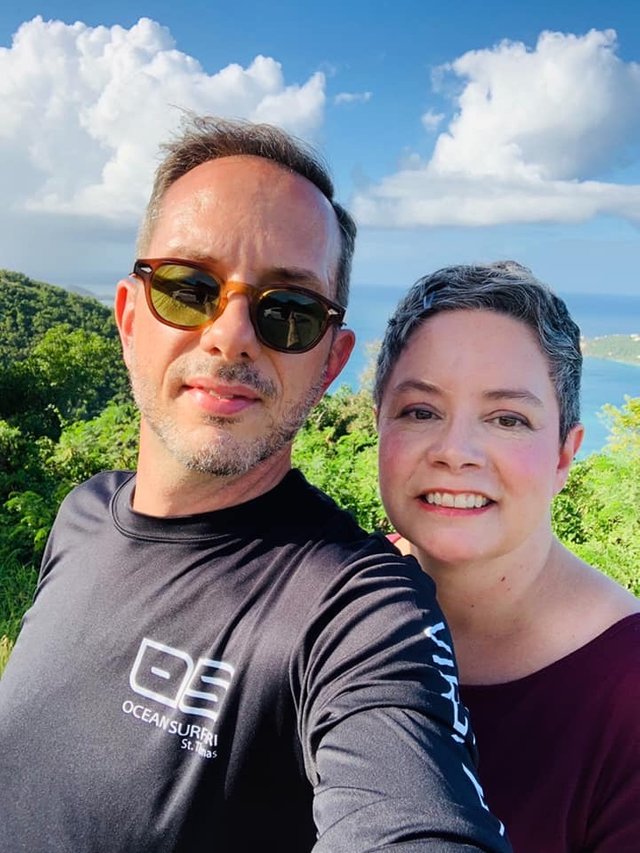 My wife and I happen to live in one of the coldest states in the US, Minnesota. Winters can be soul crushingly extreme and long here. You can usually count on six months (Nov-April) of winter. Some people here are into winter sports like snowmobiling, hockey, etc. and actually love the cold weather but my wife and I don't count ourselves among them.
To help maintain some shred of sanity we've been visiting the Caribbean island of St. Thomas for the past five years (see last year's posts here) and the island has become like a second home to us. We've had some amazing experiences there that will be a part of us for the rest of our lives. We've also made a lifelong friend, Lecia, who we met during our first trip in 2016 when we booked her amazing Airbnb. If you're planning a trip to St. Thomas we highly recommend checking her bed and breakfast out (click Airbnb link above.) By sharing her decades of experience living on the island she's allowed us to get to know it almost as well as a local.
Life is different on the island. After being acclimated to the fast-paced, materialistic lifestyle in the U.S. it always takes us a day or so to get recalibrated. You may have heard the term "island time", let me tell you it's not a fallacy. Everything happens at a slower pace and sometimes not as you might expect. What this does is forces you to relax and let go of your unhealthy need to be able to anticipate every aspect of your day.
---
"Island time is one of those delightful double entendres: On the one hand it refers to pace, a certain slack attitude towards the clock. But it also refers to time well spent, away, in a place that refreshes the spirit and cleanses the soul."
---
This year we embraced island time whole-heartedly. Instead of hopping on ferries to explore the surrounding islands of St. John, St. Croix, and Water Island we concentrated on enjoying the beautiful beaches of St. Thomas for the entire week.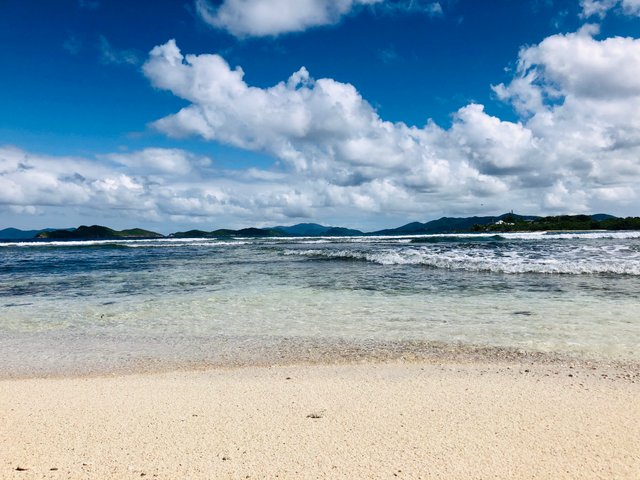 Lindquist Beach, my favorite beach on St. Thomas.
We spent most of our time on Lindquist and Sapphire Beaches this year. Sapphire is the most touristy of the two. The beach is nice and you can get food and drinks delivered right to your beach chair. Many of the cruise ships shuttle passengers to Sapphire and it can get a little too "peoplely" sometimes. Lindquist is like Sapphire's shy (but more attractive) sibling. It's not as well known but it's even more beautiful than Sapphire and there's rarely more than a handful of people there.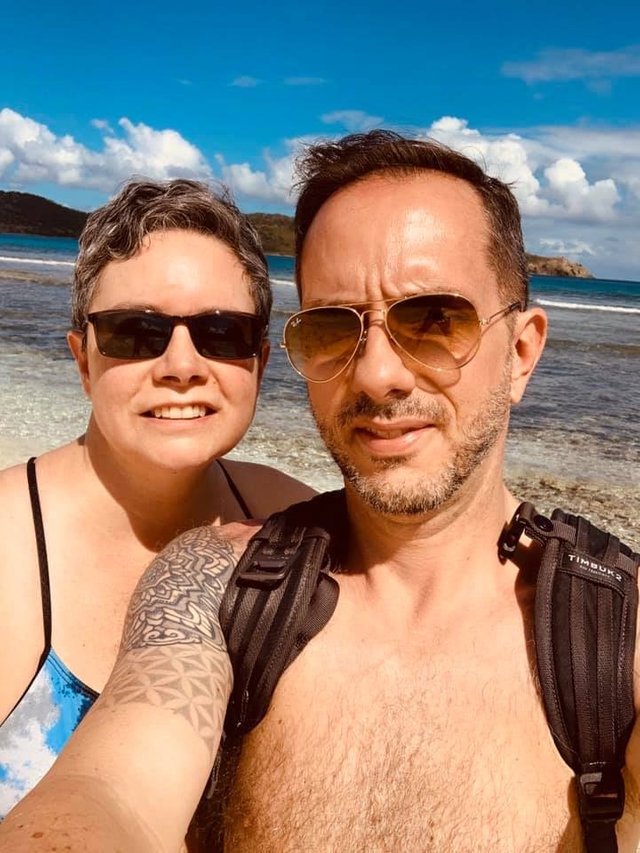 Us exploring Lindquist.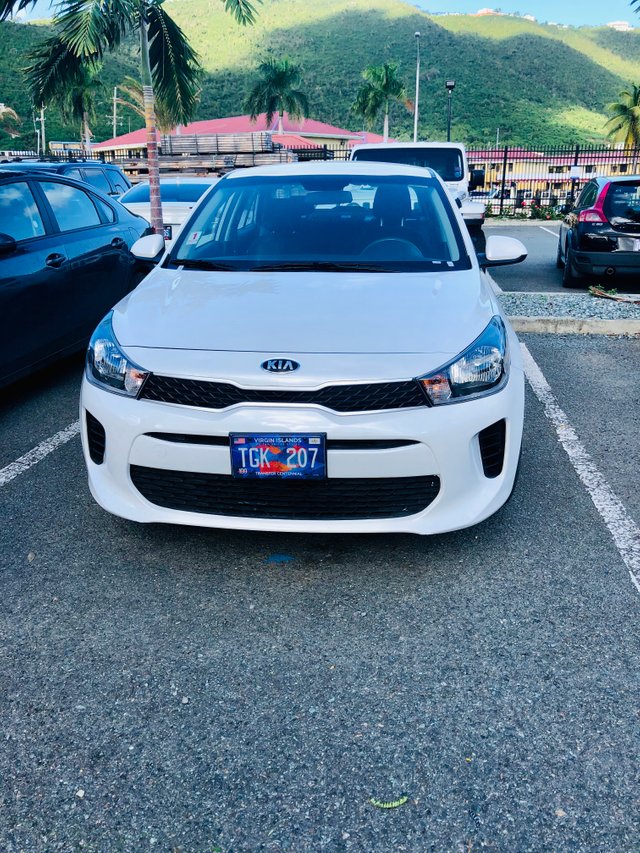 This year we drove our trusty little Kia Rio rental car to one of the highest points on the island, Drake's Seat. We parasailed last year and standing here looking at the expansive view of Magen's Bay down below gave us flashbacks of that parasailing experience. I must say that Kia has come a long way. We had a Kia rental a few years ago and it really struggled to climb the intense hills of the island, this 2019 Rio did so with almost no effort.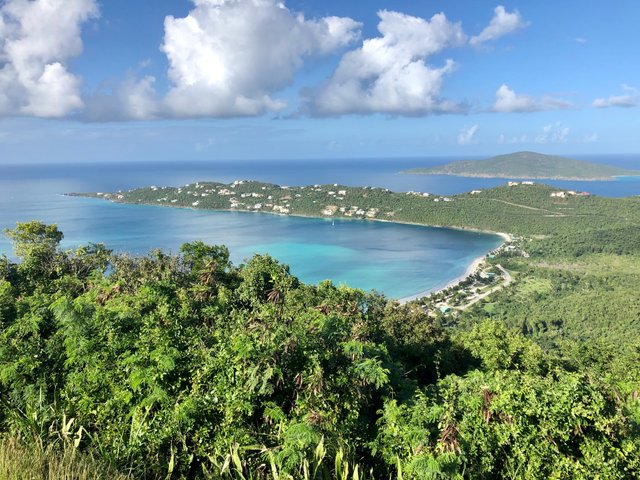 Drake's Seat
Here's a slideshow of more memories from our island adventure:
What thrilled us the most this year was seeing that the island is finally recovering from the two devastating hurricanes that hit them in 2017. The flora and fauna both have made an incredible comeback. In 2018 there was barely a bird left on the island, now there are as many as there were before the storms hit. The homes and businesses are taking a bit longer to recover. Many of the small businesses we knew and loved have closed down due to the financial impact of the hurricanes.
I always get a little sad when I empty my suitcase and put it away but am very grateful for the opportunity to relax, recharge, and plot my course for the year to come. What will 2020 bring? If we're lucky, it will give us more good than bad. As island time teaches us, not knowing what is to come can sometimes be the most rewarding aspect of life.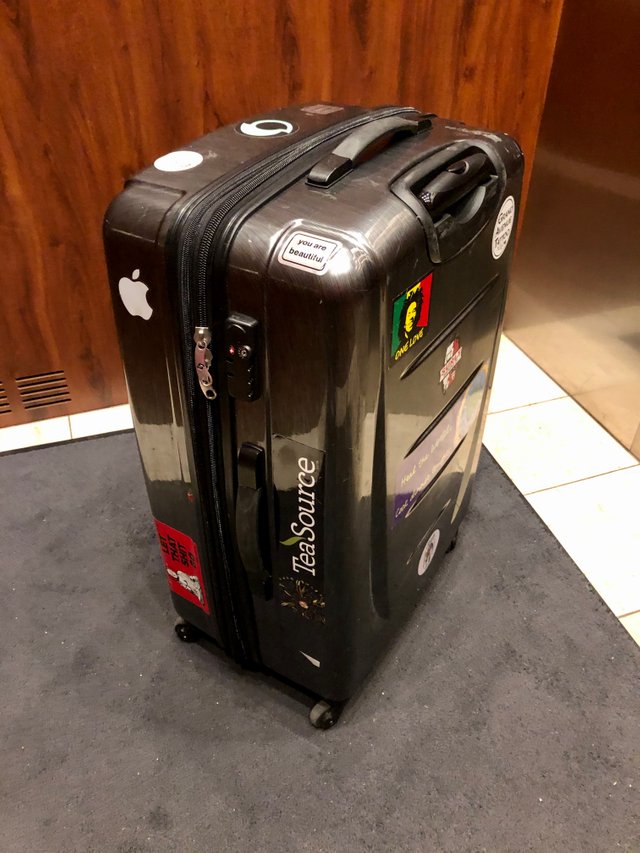 Life is truly an adventure, don't let it pass you by. Thanks for joining me on this journey. I hope for a peaceful, healthy, and prosperous 2020 for us all!
With Gratitude,
~Eric Vance Walton~
---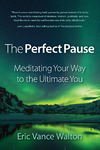 *I am an American novelist, poet, traveler, and crypto-enthusiast. If you've enjoyed my work please sign up for my author newsletter at
my website.
Newsletter subscribers will receive exclusive updates and special offers and your information will never be sold or shared.
Alarm Clock Dawn, one of the first full length novels published on the blockchain, and the book that started it all for me can be found HERE. Or Click Here to read it for free on the Steemit blockchain
My book on meditation, The Perfect Pause, is priced at $12.99 (paperback) and $4.99 (eBook). Buy the paperback and receive the eBook for free!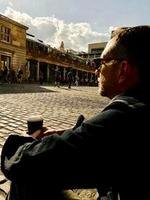 Let's Keep In Touch
www.ericvancewalton.net