My Never Ending Journey Across The World - Episode 7: Sa Pa And The Hmong
Here we go again with another installment in the journey that brought me across the world and back again. This is episode 7, but episode 6 can be found on my blog or by clicking here.
In the previous episode I went to an island just south of Ha Long Bay and connected with some pretty amazing people through a girl I met in Saigon. We decided we would take a bus and go see the rice terraces of northern Vietnam. This episode will go through the experience I had staying with a local family in the mountain village.
Sa Pa
Our first day in Sa Pa was filled with loads of rain, fog, and shopping around for rain jackets to protect us from the wet and cold of the northern mountain ranges. We were running between stores trying to get the best possible price on jackets when we met a couple of ladies from a Black Hmong Tribe who were in the city center promoting a homestay/guide of the rice terraces in their village outside of Sa Pa. The whole package included a night at one of their homes, a massive dinner, breakfast in the morning, a guided tour around the valley and rice terraces, followed by lunch at a local restaurant at the end of the trail. This all sounded great enough, but as we were standing there talking to the ladies a couple was passing by and started to tell us how they just got back from staying at a different family's home and it was the most amazing experience. That was it, we were sold and agreed to go with these two ladies to their house.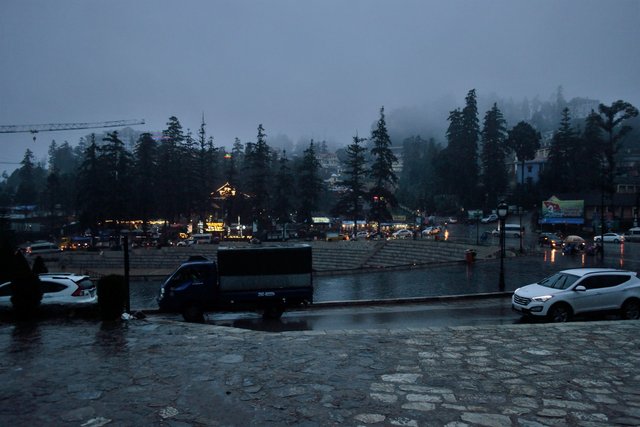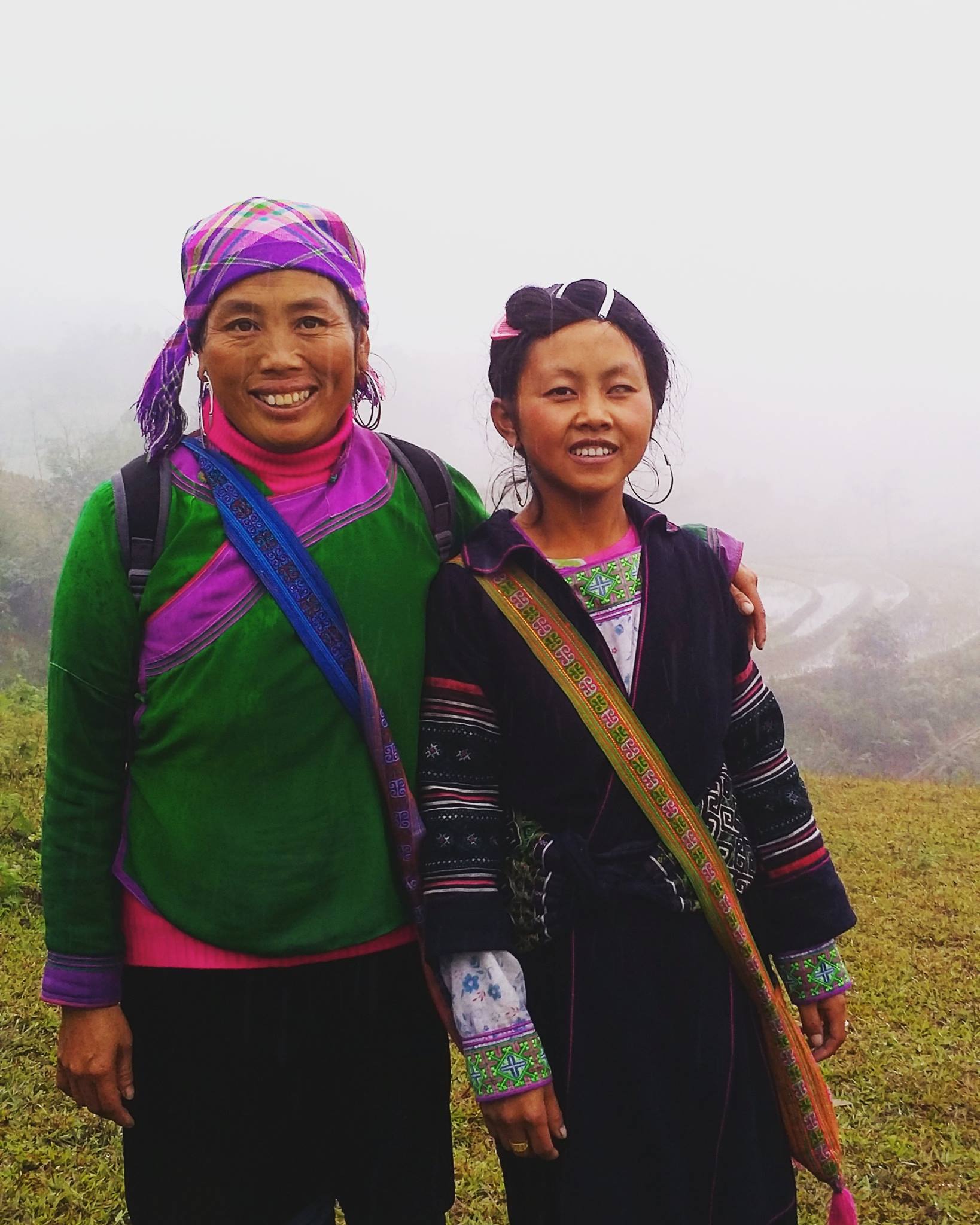 The Hmong people are an indigenous Asian tribes all around Vietnam, Laos, China, and Thailand with an estimated total population of 15 million and are to believed to have migrated over from China. Thousands of hmong people have resettled to western countries in 1970 after the North Vietnamese and Pathet Lao takeovers. There are many different tribes of Hmong in Vietnam such as, Black Hmong, White Hmong, Striped Hmong, and Leng Hmong. If you'd like to read more about the Hmong people then you can check out the Wikipedia page.
There were 6 of us cramped into the back of a 5 passenger SUV, not to mention that everyone each had at least one giant backpack. Needless to say, I was the lucky one to sit on top of everyone in the middle. The journey out to the lady's house was approximately 45 minutes from downtown Sa Pa and followed an extremely narrow, rocky dirt road, with a million potholes, high up on the side of the mountain. Yay me.
By the time we had stopped and got out, my butt had already lost all feeling 20 km back along the road. You never appreciate anything quite like standing and stretching your legs until you endure something so jam-packed and bumpy going down a winding road. I would have kissed the ground had it not been for the buckets of rain coming down, instead I ran under the nearest shelter and found my raincoat buried at the bottom of my bag in preparation for the walk to our homestay.
When we finally arrived the family were extremely welcoming, sweet, and treated us like their own. There was the wife (Dung), husband (Thao), two sons, and two daughters. They showed us to our room to change from our soaking clothes while they began to prepare dinner.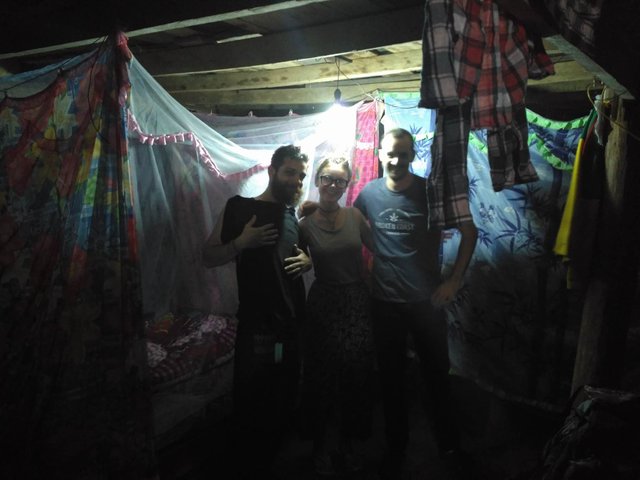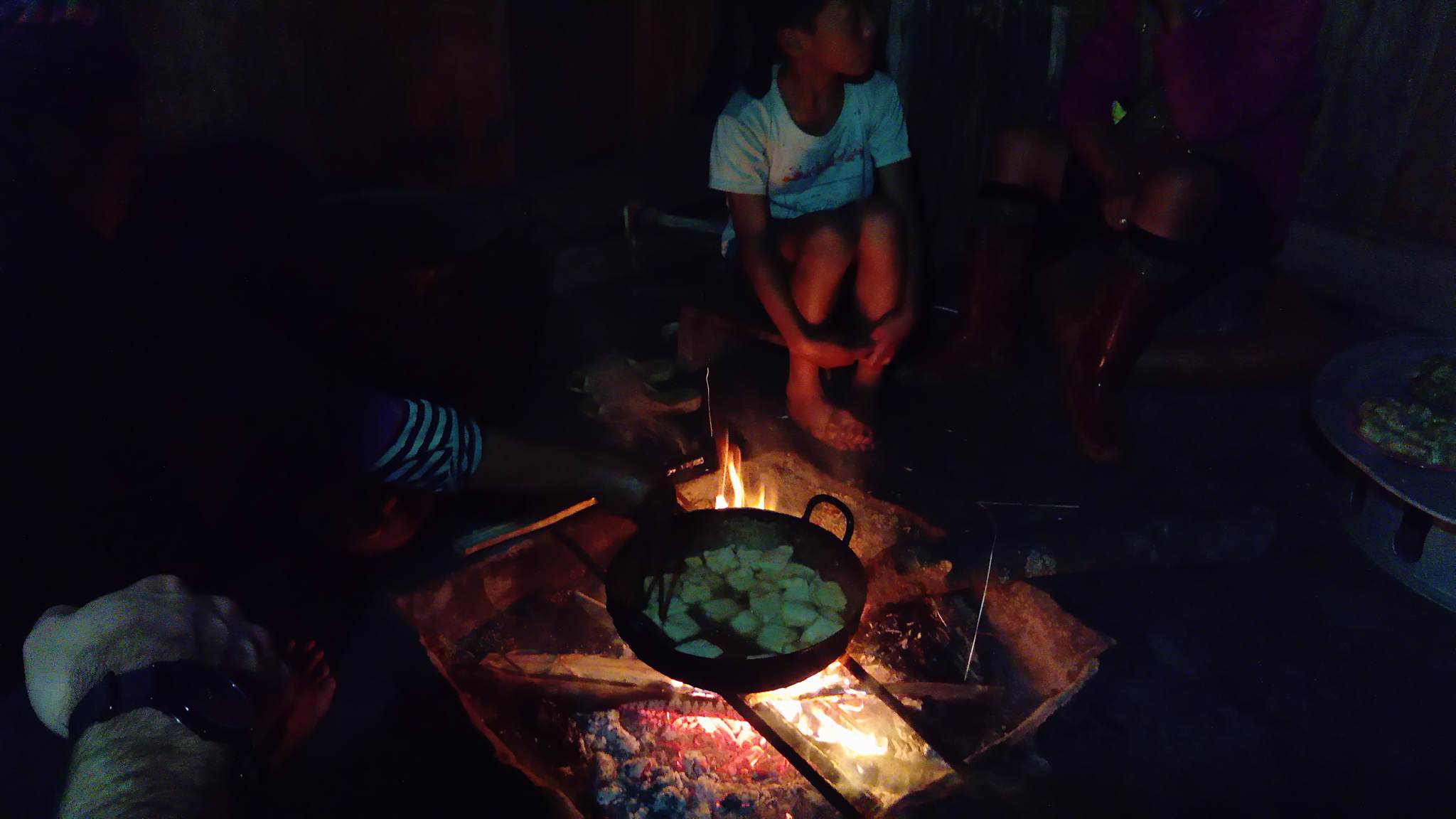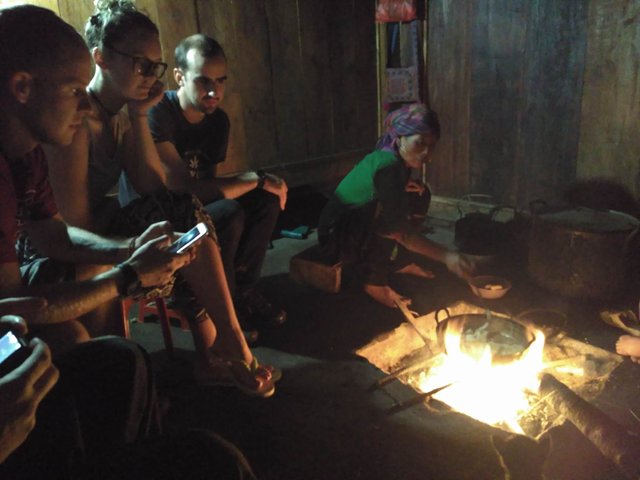 Dinner consisted of rice, vegetable noodles, and approximately 500 spring rolls. Now if you know me, you'll know that I hate to leave any leftovers on the table, however there was way too much food for one man to finish. It pained me a little inside to leave a bunch of it, but they assured me they would use what was left for breakfast in the morning. I could sleep easy that night.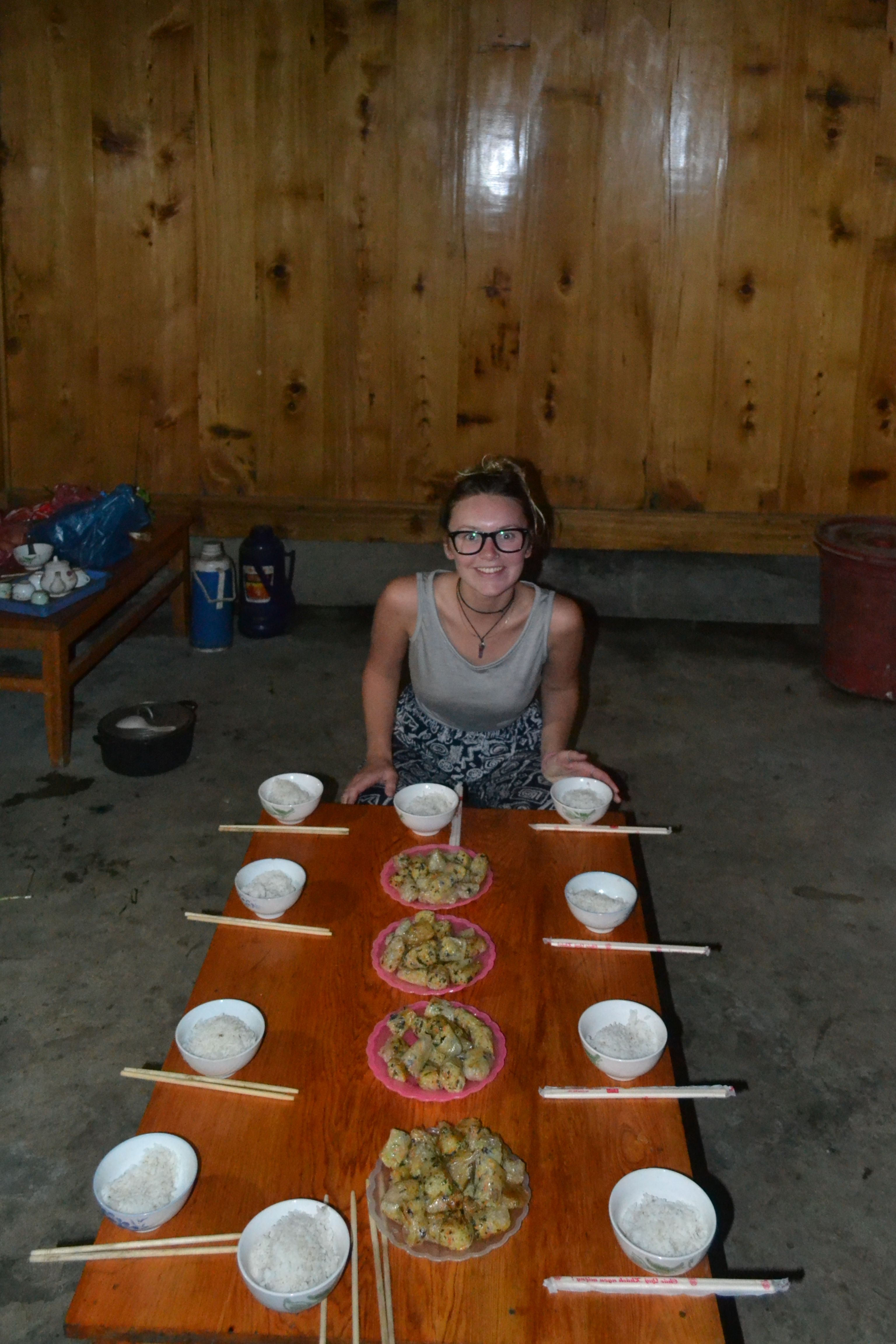 After dinner the kids went to bed and our group all stayed up talking around the table and drinking a bottle of vodka we had purchased in Sa Pa earlier. It wasn't before too long that Thao and Dung came back from putting the children to sleep when they decided to sit down and have a chat with us. Now I should let it be known that Dung could hold a very basic conversation and Thao only knew about 50 words of English, so Dung had to be his translator tonight. We were all sitting around taking shots of vodka when Thao, with his toothless and overly excited grin, looks at us and says something in Vietnamese. We were all perplexed and looked to Dung to translate.
'Bong' She says.
One of the guy's eyes lit up and he immediately said yes. Thao went outside to retrieve a bong a lot of the local Vietnamese people make out of large bamboo stalks and a bowl of bush weed he had grown not too long ago.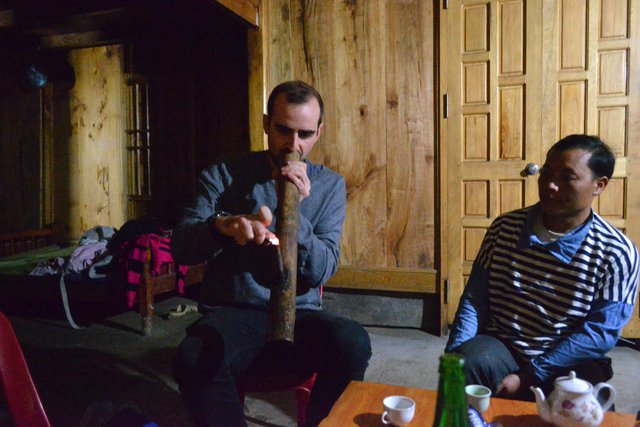 The next few hours consisted of funny misinterpretations, bowls upon bowls of shitty weed, and numerous shots of cheap vodka, much to the dismay of Thao. I'm not sure if it was the marijuana, vodka, or the fact he was completely and utterly infatuated with me, but I looked over and noticed Thao, sitting there, grinning and not saying anything before I had realized he had been looking at me for a couple minutes. When I would look over he started to laugh and grin even larger and this happened a couple times throughout the rest of the night. If it wasn't for the smile and giggle I would be slightly concerned about sleeping in the next room over.
We called it a night and went to bed because we were to have breakfast at 7:00 am and leave for our guided tour at 8:00 am and it was already creeping up on 1:00 am.
We woke up to another table full of food and tea to get our day started. After finishing breakfast we all gathered around to say goodbye, take a few pictures, and thank the family for being so hospitable to us. Everyone packed their things and we were off to check out the saturated rice fields and fog covered mountains.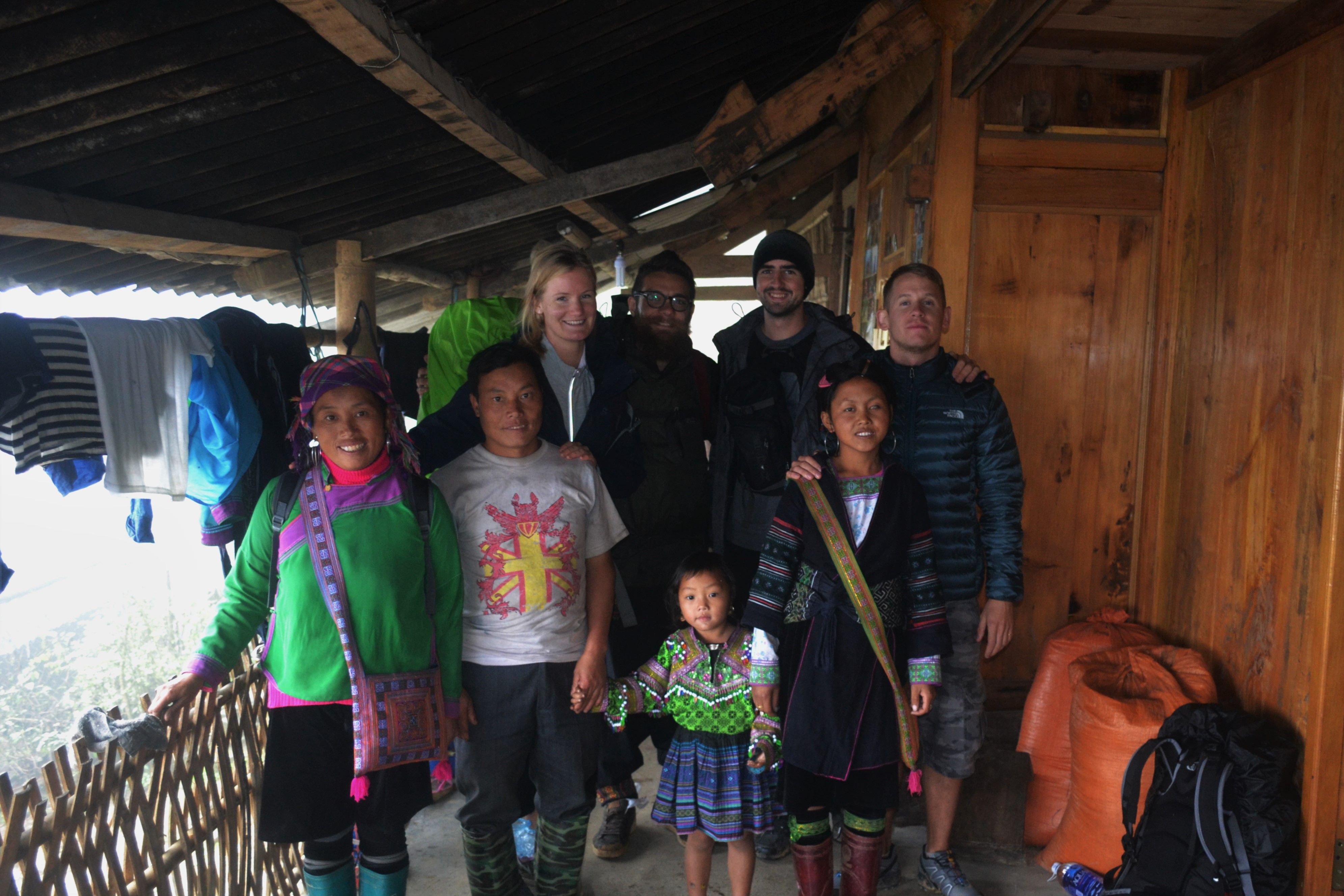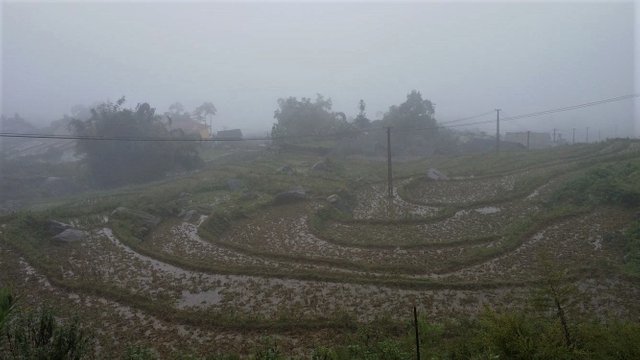 The entire walk was about 3 km and went from a small village, down one side of the valley, across a rickety bridge over top a gushing river, through another village, past a couple waterfalls and back up the valley to a restaurant where we would have lunch before getting picked up and brought back to Sa Pa.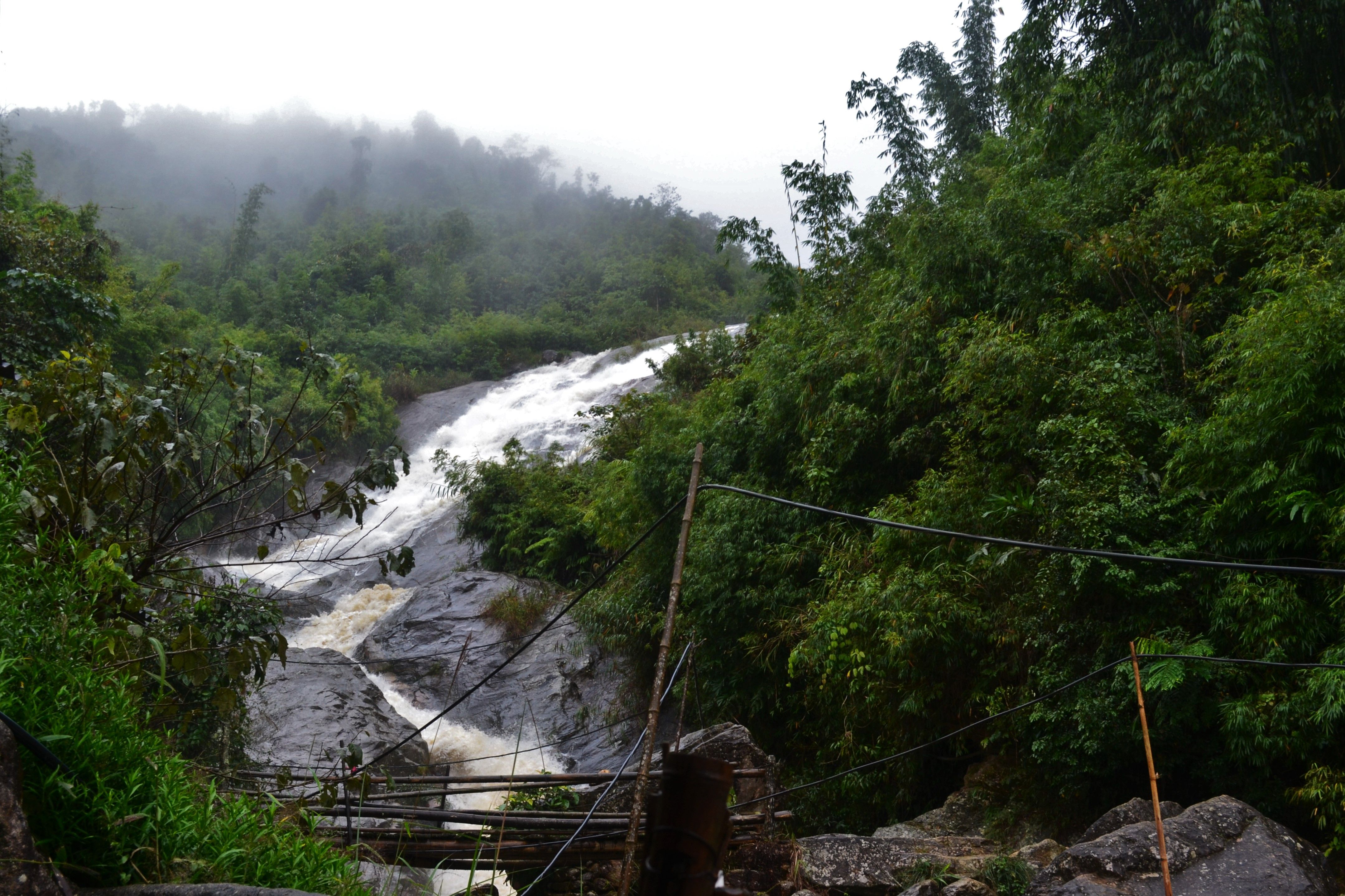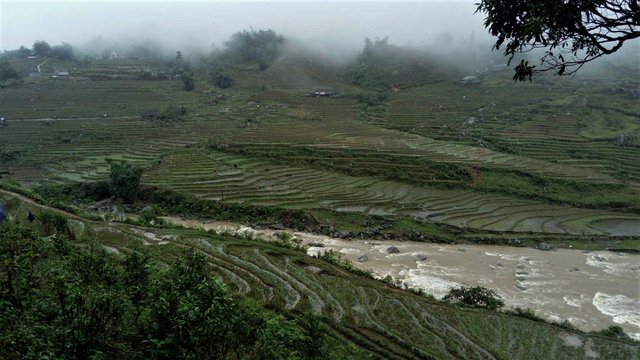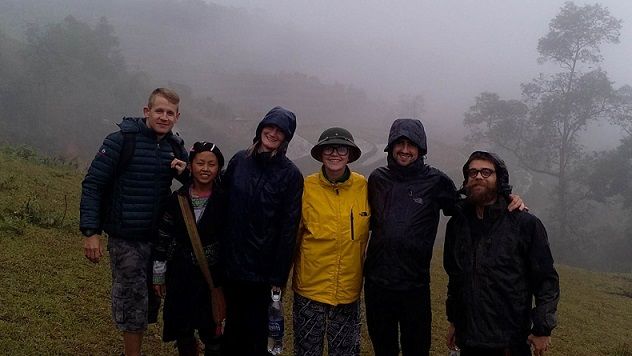 Although everything was soaking wet and partially covered by fog and clouds I was still impressed by the beauty the countryside and rice terraces had to offer and getting into nature, breathing fresh air after spending the majority of my time in Vietnam encapsulated inside bustling cities with hundreds of other backpackers alike. We only saw a handful of other people walking along the trail which made it an even more peaceful experience.
If you are planning to go to Sa Pa to see the terraces and maybe go up Fansipan I suggest taking a couple days and doing this type of homestay. Not only is it something that not many other people get to experience, but it also helps support the local tribes that make a living from tourism dollars. The whole thing only costs us about $25 CAD each, which included accommodation, meals, and a guided tour. Not to mention the connection we all shared with the family we stayed with.
Have you ever been to Sa Pa? Did you hike up Fansipan or take the gondola to the top? Or did you get to have the same guided tour and homestay that we did?

If you enjoy reading my stories and you'd like to help fund my on-going journey, a tip would go a long way and is greatly appreciated.
BTC - 3J1bnbUT4ZTxKBTgi3783VJ2kREGkbP2LV
ETH - 0x80080e970360eaeebbc12129619ecf60325d7bab
LTC - LR8mdJN494e4W1wMWM2rcyfcwfvog7u6HW