Galapagos Part 1
The Galapagos Islands have been my dream destination since childhood. The only thing I knew about them was TORTOISES. Giant tortoises. Recently my dream has come true and I found out lots of things about these far-away pieces of land and its inhabitants. There are 13 main islands, 6 minor ones, and 107 islets. Only few of them are inhabited. The population of the area is 30 000 people. Most of them live on Santa Cruz and San Cristobal Islands. Both islands have airports, where planes from the continent land. I picked Santa Cruz Island as a starting point of my Galapagos exploration.    
The only big town on the island is Puerto Ayora. And the most popular place in town is malecon (embankment in Spanish). There one can see many fisher boats and pelicans. Those big birds aren't afraid of people at all. They feel like owners of the place.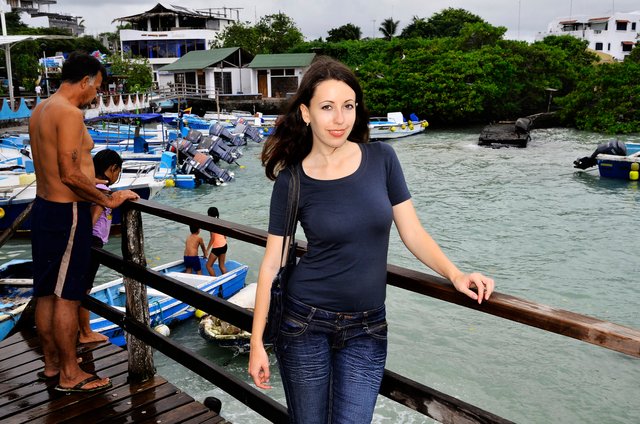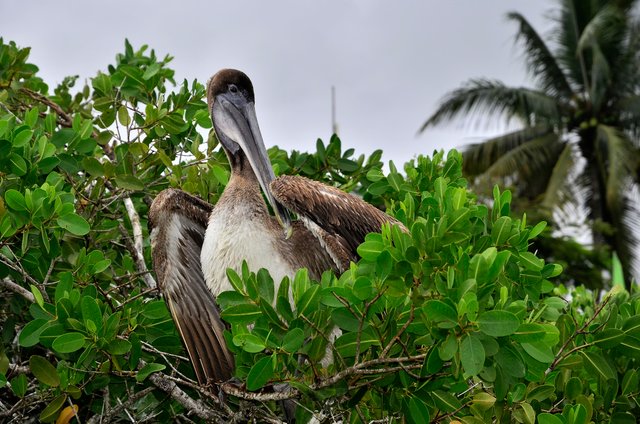 I spotted two flirting birds in the bushes. After a while, one of them had a messed-up hairstyle.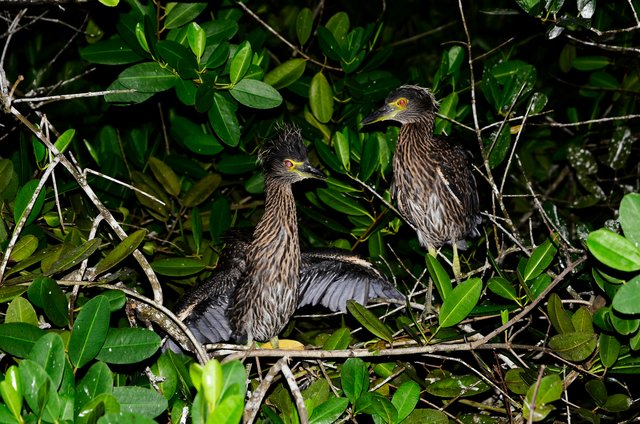 At night I was lucky to see a wildlife show at the fish market. Hungry pelicans and a sea lion came to get a generous titbit from fish vendors. They were very patient and didn't attack the vendors. It's fantastic that wild animals and birds live side by side with people.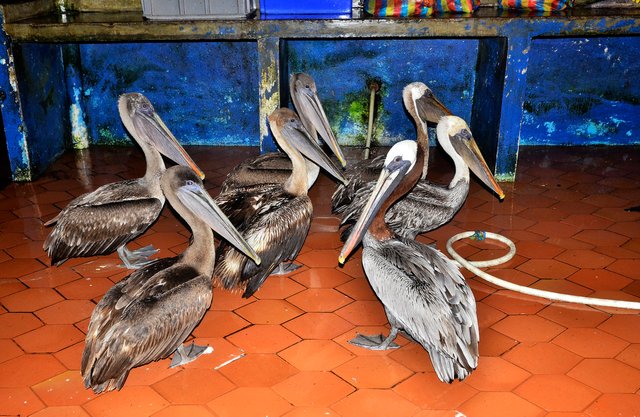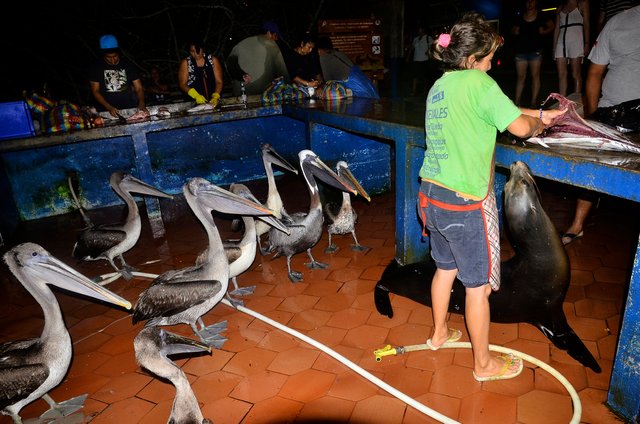 No, I didn't forget to tell about giant tortoises. I saw them the next day. Galapagos tortoises are very rare, so they are protected by different research centers. The one, located on Santa Cruz, is called Charles Darwin Research Station. Its mission is to make sure that baby tortoises would survive. Eggs are taken from egg-laying and kept in incubators for 120-150 days. Sex of the animal is determined by the temperature during incubation. As soon as they get mature, they are set free. The research station is worth visiting to find out more about tortoises, but you won't get much fun here. Animals are kept in enclosures and you can't come close to them. Keep reading to find out about a really interesting tortoise spot.  
I negotiated with a taxi-driver to take me on excursion to 3 interesting places located next to each other: a private tortoise farm, lava tunnel and twin craters. The price for this excursion is 30-40 dollars per car. Travel agencies charge 40 dollars per person! This excursion lasted 3 hours and it took only 20 minutes to get to the first spot – the tortoise farm Reserva El Chato. Here I got rubber boots for walking around, as it often rains in the highlands, where the farm is situated. I got amazed when I saw several tortoises munching guava and walking freely wherever they wanted. The farm has a huge green territory and tortoises feel good there. No enclosures and as much food as possible. There are real tortoise shells on the farm. So you can crawl inside them and feel what it is like to be a tortoise.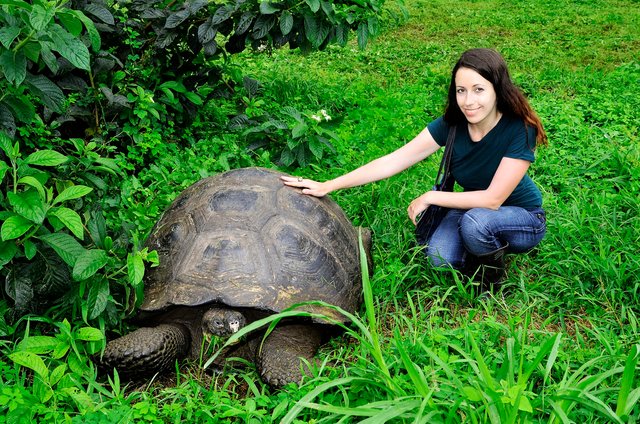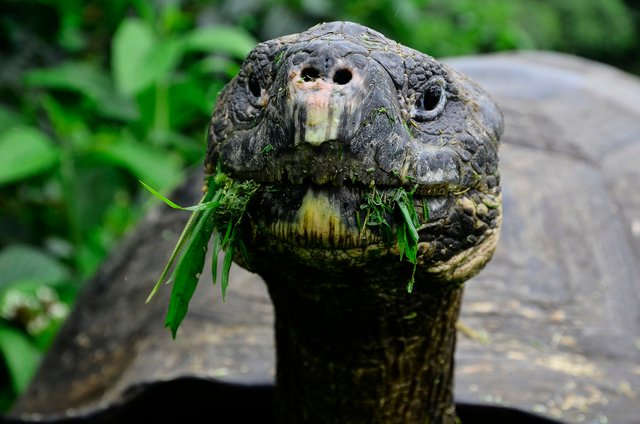 After I was done with tortoises, I went to a lava tunnel, situated on the farm's territory.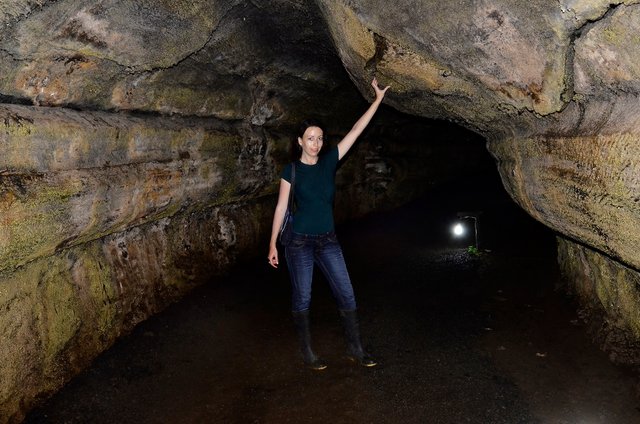 The next point of destination was twin craters Los Gemelos (The Twins). They are sink holes created when the volcanic roof of empty magma chambers collapsed from tectonic shifts and erosion.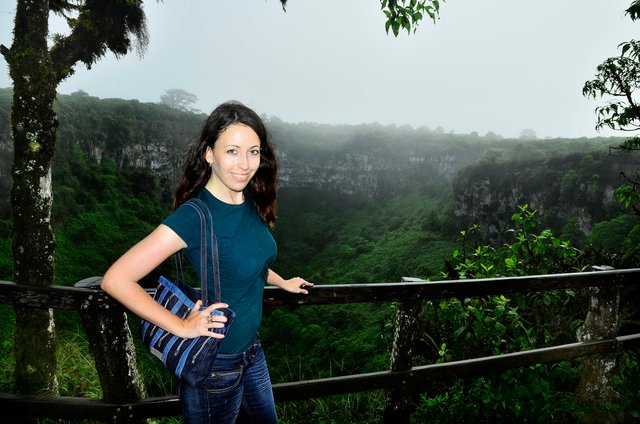 Santa Cruz boasts beaches as well as wildlife. The best beach is only 2.5 km away from Puerto Ayora, and called Tortuga Bay (Turtle Bay). There are no gigantic tortoises on the beach, only green marine ones. You can't get there by car, only by walking along a really nice trail. On the way to the beach I saw several endemic birds (Galapagos mockingbird, the Galapagos flycatcher and Darwin's finches). The Galapagos birds are very brave. For example, this flycatcher was trying to sit down on the lens of my camera when I was taking pictures.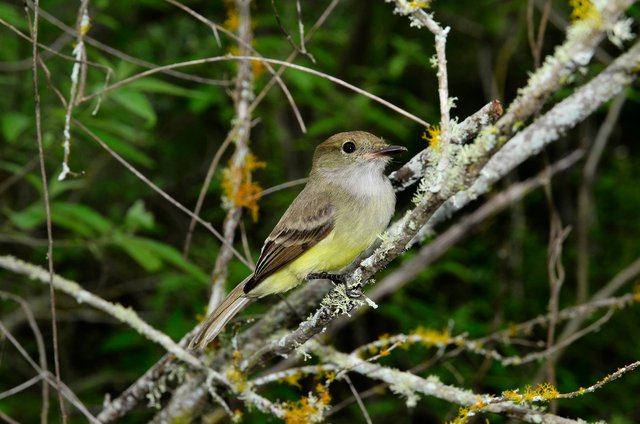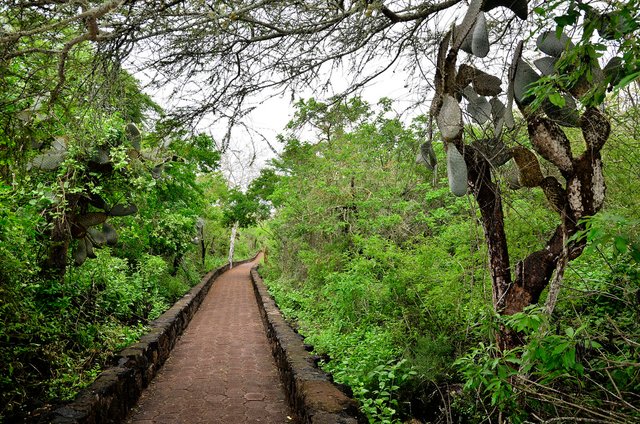 I walked down the beach and got to a calm bay with mangrove shrubbery. I saw endemic black marine iguanas and decided to join them. We were warming up on the sand together.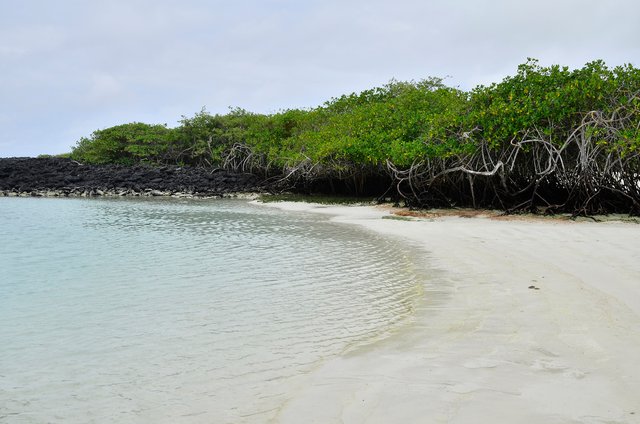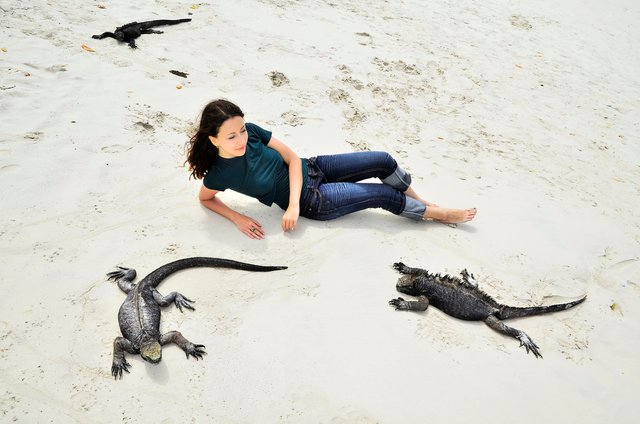 Also I would like to show you local architecture. It's pretty simple.  This is more or less everything you can see on the island. In Part 2 I'll tell you about the excursion to the biggest island of the archipelago where I saw 9 kinds of animals, including penguins, in their natural habitat. Stay tuned.