How to get FREE Flights and Accommodations?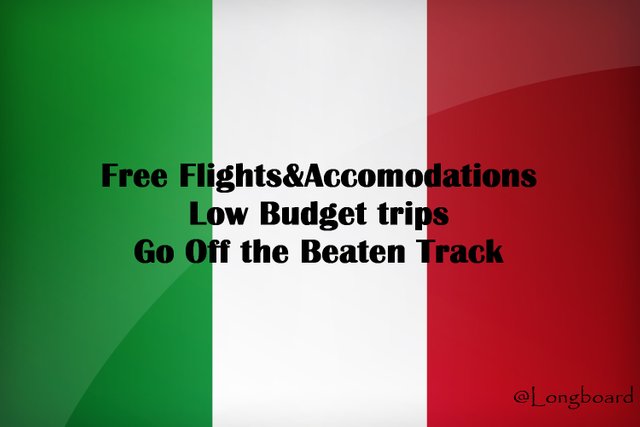 Hello everybody as i wrote in the last post, this one gonna be about my first vacation in Italy, before getting in love with this country and decided to come back after 4 years in Germany to live here. Italy is hard to resist especially for all the culture, art, the historic cities and the food, without talking about the wine and the beauty of the Mediterranean seas.
Today i came out with the idea to make my content more interesting by sharing some useful informations from my trip experiences like " how to travel with a low budget and things you can do and get for FREE " . Because obviously money is what holds a lot of us back from traveling, so thats why my tips for today gonna make it looks easier for your next trip.
--> How to get FREE flights & Accommodations?, and some tips for a low budget travel in italy based on my experience.
Get FREE Flights : sometime our saving can't even afforda one way Flight, but if i tell that there are so many ways to get free flights like the famous way that im actually using what called " Travel Credit Cards ", they are so many in which you can sign up, if you guys need some help with that write me in the comments below.

Get FREE Accommodation : that's the best part what makes my Journey more interesting because that's the way i get in touch with locals who are willing to let you stay with them for FREE. There are many services that offer you that kind of services like ( Couchsurfing/ Servas/ Global Freeloaders ) and using these sites, you will never have to pay for accommodation again.
From my experience i used this sites many times and that gives you the possibility to meet amazing people, who maybe would share rides, meals, gears and much more. so i highly recommend you to try it at least once.
That was our general traveling tips, now let's get to talk about Italy and how to save money on your italian vacation.
Visiting big or famous cities : stay outside the city and go in by train or tram for a day trip, for exemple let's say you want to visite Venice, i recommend you to stay in Mestre, its like 15minutes by tram from Venice and it costs 1,50 euro, and you will usually get better and more shaper value accommodations and restaurants.
Travel Period : Spending the summer in Italy can be hot, crowded and expensive, especially on the coast. Consider traveling in spring or fall, you are more likely to find low prices, batgains and fewer tourists.
*Try to go off the beaten tourist path by trying some regions and cities less frequented by tourists. Each region of Italy has interesting things to see and do.
Here are a few suggestions based on my experience:
-> Val Chisone in the Italian Alps.
-> Brisighella, Emilia-Romagna.
-> Urbania in Le Marche.
-> Puglia AKA the heel of the boot.
so thats it guys, i hope my article was interesting and helpful enough for everybody, let me know in the commets bellow if you need more infos and thank you for coming by, tomorrow's article gonna be about my trip to Netherlands.