Greetings from 9,321 Feet - The Winter of '19 RV Adventure Reaches Basecamp! - Taos Ski Valley... 🏂
On the morning of December 4th at 7:30 am, my partner in adventure @wolfcat and I fired up the RV and headed Southwest bidding farewell to the Minnesota winter. @wolfcat recently acquired a beautiful vintage 1984 Itasca Sundancer, and this is her maiden voyage under our care!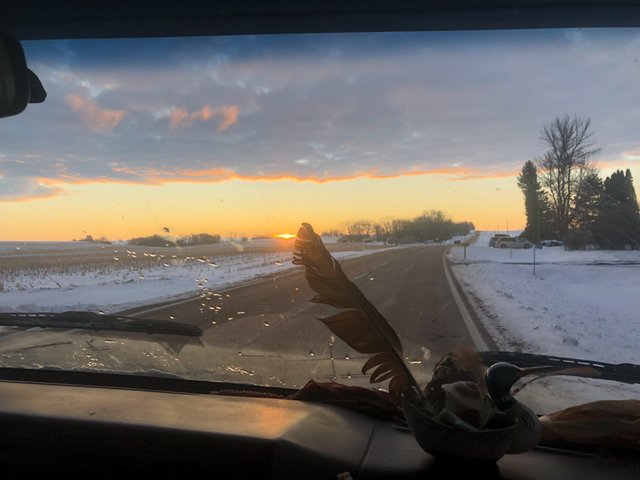 From Southern Minnesota to Pine Ridge Reservation, South Dakota was the first leg of our journey. Specifically, we were eager to visit our friend Bryan Deans, of OLCERI who is doing the good work of bringing food and housing security and so many other profound benefits to Pine Ridge.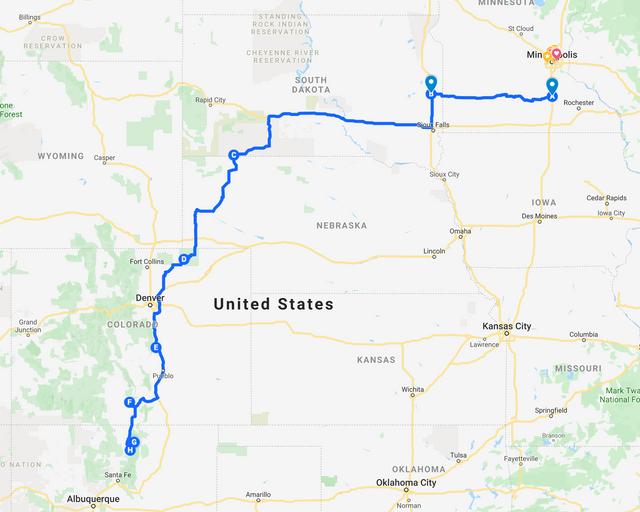 Our Route: Approximately 1230 miles.
Faribault, Minnesota –> South Dakota Art Museum, Brookings, SD –> OLCERI, Pine Ridge Reservation –> Pawnee National Grasslands, CO –> Colorado Springs, CO –> Sacred White Shell Mountain, CO –> Taos Ski Valley, NM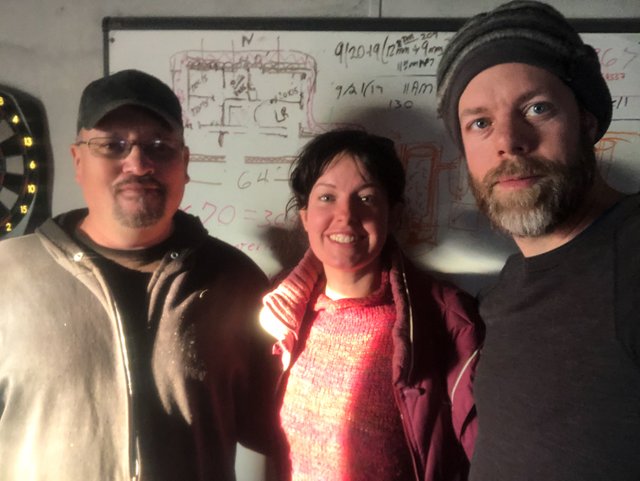 We finally made it to Bryan's home at 3:30 in the morning, completely exhausted and partly delusional... we promptly passed out for what remained of the evening. Bryan was gracious enough to let us sleep in, and by early afternoon, we were having a great and productive conversation, getting caught up on the work of OLCERI, and picking Bryan's brain for all the pro tips on how to build a wood gasifier for the back of the RV so we can supplement the petrol with scrap wood and get some better MPG from this V8 gas-hog.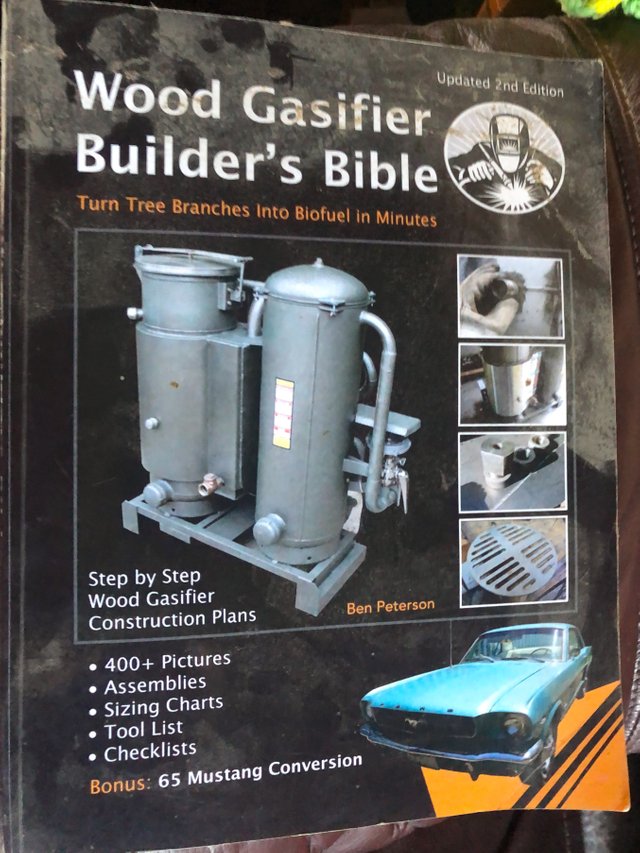 I'm super excited for the wood gasifier project! I've seen a few working gasifier systems, and you really can run an engine on wood gas, it's true!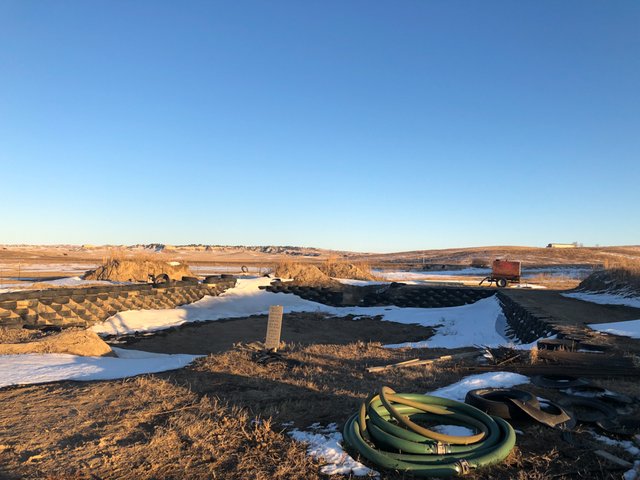 It's hard to appreciate from this dark and snowy image, but this is the emergent foundation of OLCERI's latest project, an Earthship-style rammed earth tire building that will house the Indigenous Wisdom Center, a Lakota language school and cultural preservation center. Preserving and recovering the Lakota language is a mighty goal, and we're proud to have pounded some of the earth in those many rows of tires this past summer. If you want to learn more about OLCERI and contribute to the important work they are undertaking, you can do both here!
From Bryan's place on Pine Ridge, we cruised into the sunset and beyond, until we arrived at our next overnight waypoint at Pawnee National Grasslands in Colorado. It was dark and ummmm, grassy.... and I didn't take any photos there.
After the grassy grasslands, we made a brief stop in Colorado Springs to meet up with our friend Jeff, make a few phone calls, and then head further into the Southwest where we would make camp late that evening at the base of Sacred White Shell Mountain, CO.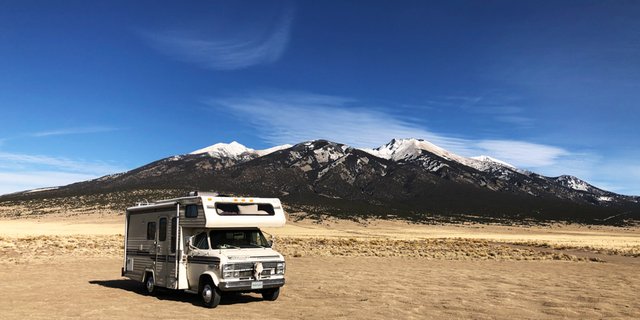 Sacred White Shell Mountain, Mosca, CO.
It's called Sacred White Shell Mountain in one place and Blanca Peak in another, but the former sounds much better.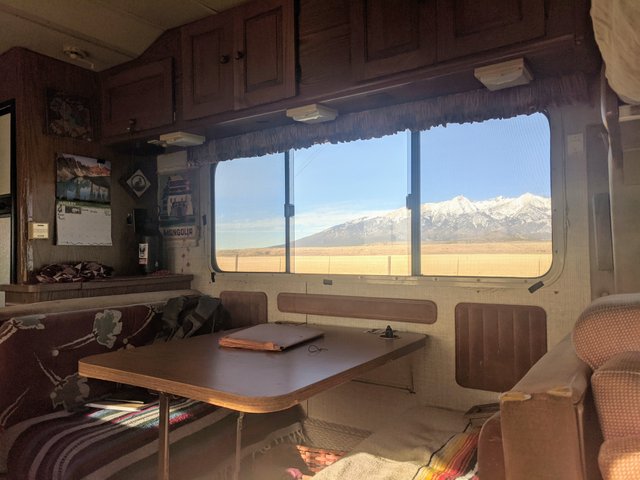 Here's a peek at our mobile command and control suite, errr... living room / dining room / spare bedroom.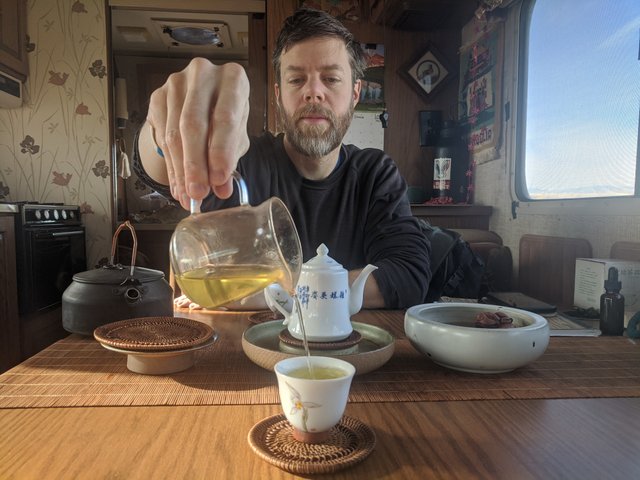 After the first good night's sleep in a long while, naturally, the first thing to do was make time for gongfu tea. The area around us was warm and open, and for the first time in a long while it felt like the perfect morning for some Spring '19 Laoshan Green from the He Family, courtesy of Verdant Tea. It was delightful and washed away so much of the accumulated road weariness.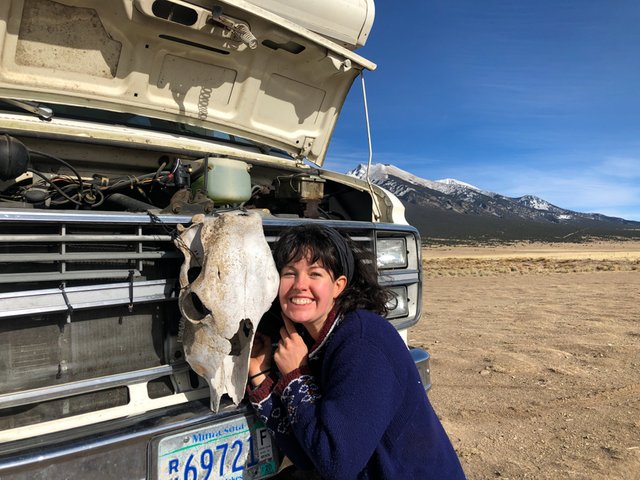 Obviously, the next thing to be done was to lash a cow skull to the grill of the RV. @wolfcat was having way too much fun!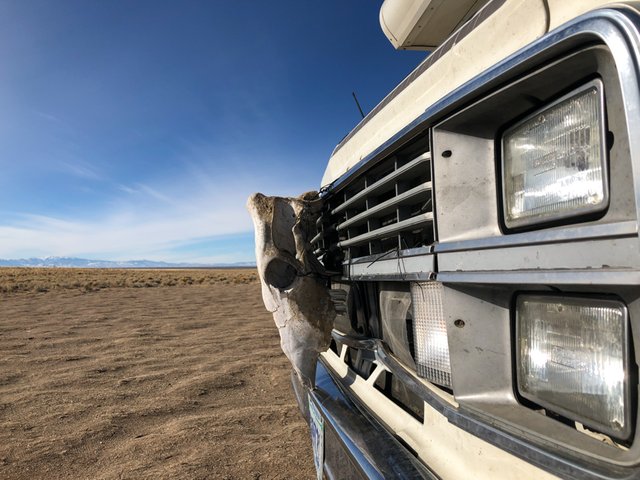 We think it's a cow skull anyhow... let us know if we're wrong.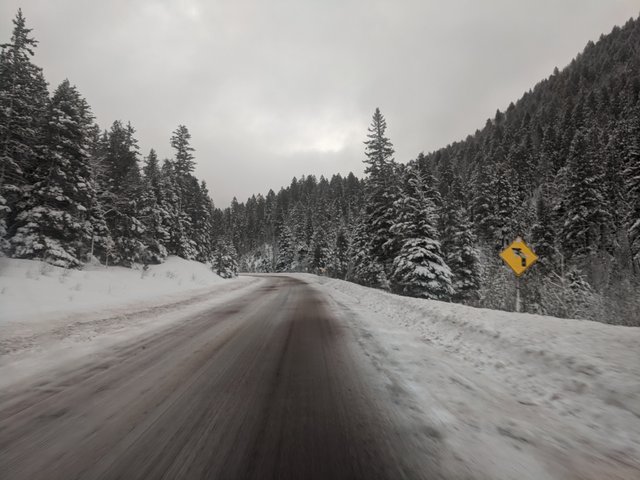 We left Colorado, and headed into New Mexico bound for Taos Ski Valley, where we will be keeping our mountain abode this winter. The roads got snowy and we had to climb in 2nd gear, but "Gertie" as we are now calling the RV, performed admirably.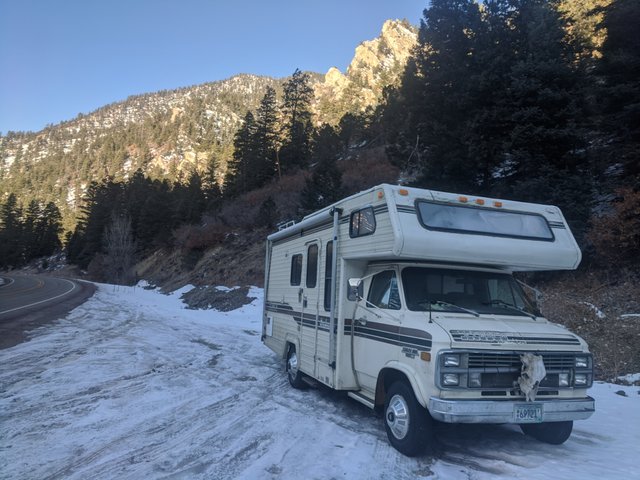 After exploring the Taos Ski Valley village on a sleepy Sunday evening, we decided to descend partway down the mountain and chose a roadside spot adjacent to the surrounding National Forest for our night's repose.
We spent the following day in the town of Taos, attending to some repairs and enjoying the local vibes... Taos is really friendly and full of charming places to explore, not to mention the history. Perhaps as I uncover the history a bit more I would write about it, but for now I'm just learning.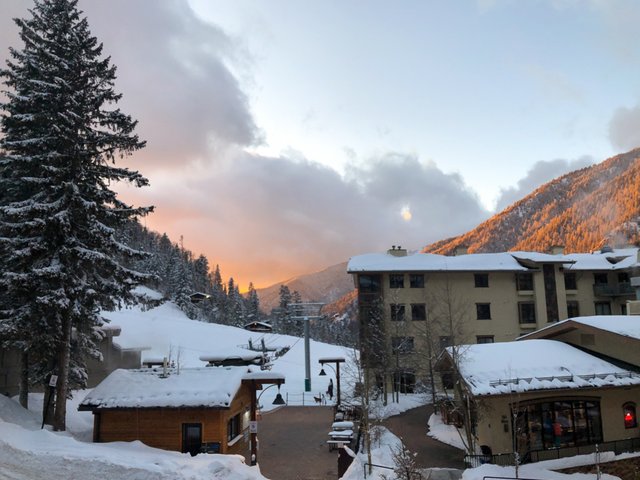 At present, we are posted up in Taos Ski Valley and acclimating to the 9,300'+ elevation where we will be spending the winter working part-time on the mountain, and enjoying some adventures on the side as well!
The next priority is to get our Chinese Diesel Heater installed and operational... it's cold up here and we can't just rely on the propane heater. It's too inefficient and we need that for cooking. Still getting our systems sorted out but so far RV life is going alright!
Thanks for reading about our adventure thus far. I'll keep the posts coming as often as I'm able... in fact, I think I feel a rant coming on. ;)
---
Here are my goals through 2020.
And how you can help!
Finish my first Novel
Launch a blockchain coaching & consulting business.
Continue being an advocate for Steem adoption
Continue providing insightful commentary and thought pieces on the intersection of community and blockchain technology.
Launch a blog @wolfjoy with my partner @wolfcat filled with enchanted adventures, homespun creations, and new discoveries.
Blog or Vlog every day here @lovejoy even if it's just to check-in briefly! ;)
Continue collaborating with and supporting the work of OLCERI
Continue searching for and finally locate the crash site of BUNO 17254
Get back to my visual art roots! Generate a series of ink and watercolor to start.
Be My Accomplice!
Join my newly launched patreon!
Make a contribution in STEEM or SBD directly to @lovejoy or @wolfjoy
Send EOS to: loveistheway
Buy me a coffee through ko-fi
And of course... I appreciate every vote I receive here!
Thank you all so much for following my journey this far! I sooo appreciate you for being here. :)
Much more to come!
–@lovejoy