Hello 🇵🇷Puerto Rico!
My day started at 3:30am this morning. We're on a family adventure and got an airline sunrise for our troubles.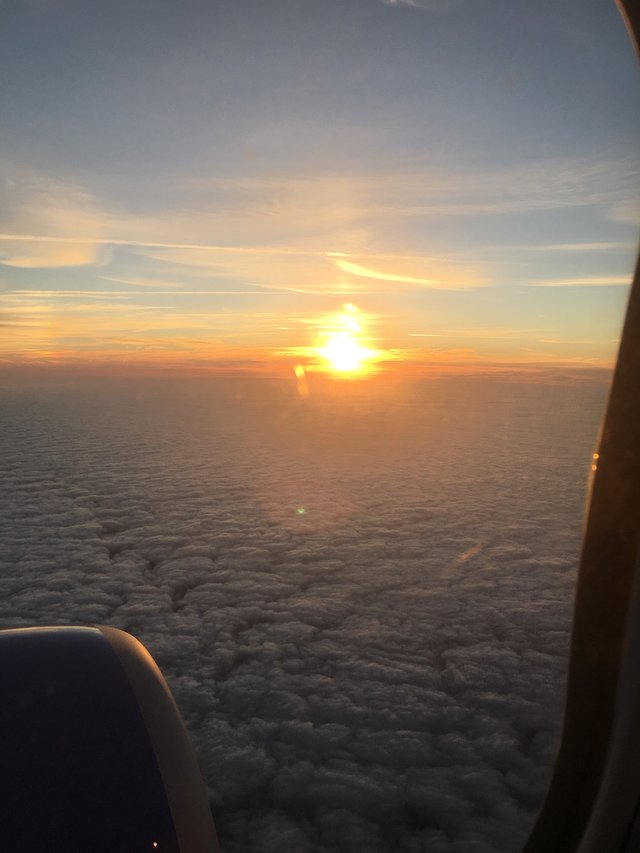 We're house hunting in Puerto Rico.
Last year my friend @sean-king moved to Puerto Rico. What started as a Facebook message in June of 2017 has now come full circle: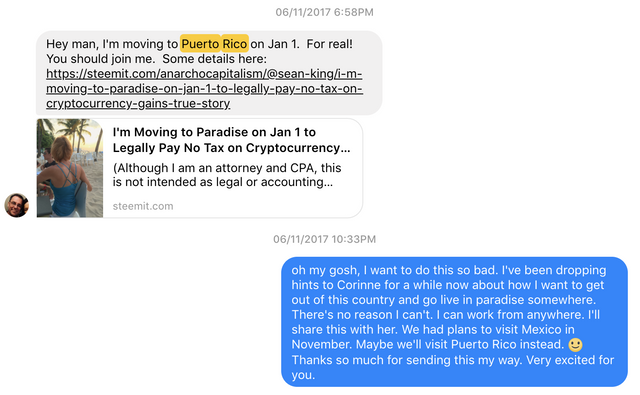 Due to hurricane Maria, our November 2017 travel plans had to be rescheduled so we came in March 2018 instead which you can read all about here:
Fast forward to today, Tuesday, September 11th 2018, and we're back on this beautiful island with a mission: We're here for a week to find a house to rent or buy with plans to move by the end of the year, assuming all goes well.
Not only did we get the kids up before the sun, we also packed 6 boxes and 4 suitcases full of stuff to store here while we prep for a move. I say "we", but really @corinnestokes did all the work while I was at Burning Man. She's totally awesome.
We had two porters lug all of our stuff to the rental car place, and we were in and out in no time. Within minutes, we were at @sean-king's place where he agreed to store our stuff until we move. This is the view that greeted us when we arived:

We finally got a real meal around 3pm (long day!) and amazingly the kids didn't completely melt down beforehand. We got settled into our AirBNB spot near Caguas after a bit of misdirection from Google Maps. Corinne went out to get us some food for the week but forgot her phone (!!!) and the GPS she has couldn't find the way back. Thankfully she didn't mind stopping at a gas station for directions. Someone wrote her a custom map while someone else agreed to lead her there, keeping their hazard lights on so she wouldn't lose them. People here are amazing!
So tomorrow we start our quest to find a place which we will hopefully some day call home. When we really got serious about this idea to move, our cryptocurrency holdings were worth around 6 times more than they are now. It's been a tough nine months, in that regard, especially because I sold my business and have gone all-in on cryptocurrency as the best path forward for non-violent global consensus with humans everywhere controlling their own store of value.
We're living an adventure which is a little on the edge, but not too much as I already paid off my house using cryptocurrency. I don't want to live my life thinking "What if?" I want to take every opportunity as it presents itself and explore living a life many only dream of. Life can be whatever we make it, if we're willing to do the work and plan ahead.
Adventure is out there. Go find it.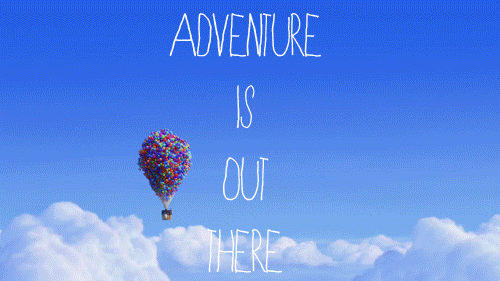 Source
---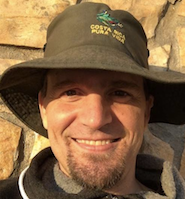 Luke Stokes is a father, husband, programmer, STEEM witness, DAC launcher, and voluntaryist who wants to help create a world we all want to live in. Learn about cryptocurrency at UnderstandingBlockchainFreedom.com







I'm a Witness! Please vote for @lukestokes.mhth