Travel Blog #4 by @MikeTravels: Hiking up to Neuschwanstein Castle (German: Schloss Neuschwanstein)
Two years ago, I was fortunate enough to get a layover in Munich. I wasn't sure if I'll ever work a trip to Germany again, so I had to scratch a famous castle off my bucket list. A visit to the famous Neuschwanstein, a Disney-like castle up in the hills.
When we arrived at our hotel, I quickly took a shower, got dressed and got on the train. The weather forecast said rain all day, but it didn't stop me.
I was determined to see this castle rain or shine!
One of the useful travel apps that I've used in Germany is the Deutsche Bahn.
https://www.bahn.com/en/view/booking-information/booking/db-navigator-app.shtml
It sure saved me a lot of time! The Deutsche Bahn rail is so impressively efficient, and it is possible to visit almost every city in Germany using this mode of transportation. It's free to download, and trust me! If you are in Germany, you are going to need this.
After purchasing my ticket, I got on the train and sat quietly in one of the seats.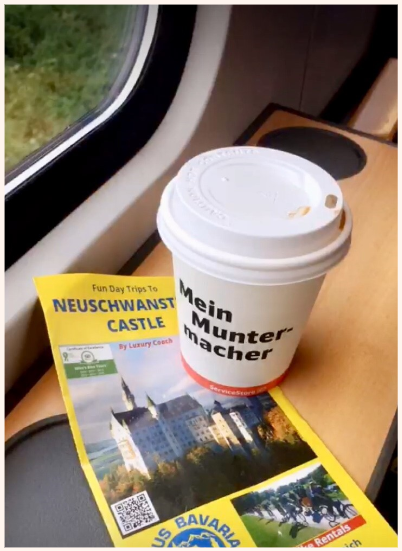 The train wasn't full at all probably because of the weather. Not too many people were perhaps planning on visiting the castle that day.
It took me two hours to get here, and since I hadn't slept. I decided just to set my alarm, and take a nap on the train. It was still raining when I got there, and as I climbed the 40-minute hill up to Neuschwanstein, I read the history of the castle from my I-phone. I didn't bother bringing a guidebook since everything is pretty much accessible in the internet. The castle was built by "Mad" King Ludwig from 1869 to 1886 and stopped construction after his mysterious death. The palace was the inspiration for Disneyland's Sleeping Beauty Castle, and the film location of Chitty Chitty Bang Bang, and the Great Escape. It also has a dark Nazi past. They used it as a depot for hiding Nazi stolen art during World War II. George Clooney's film 'The Monuments Men' sheds light on Neuschwanstein's role during that period.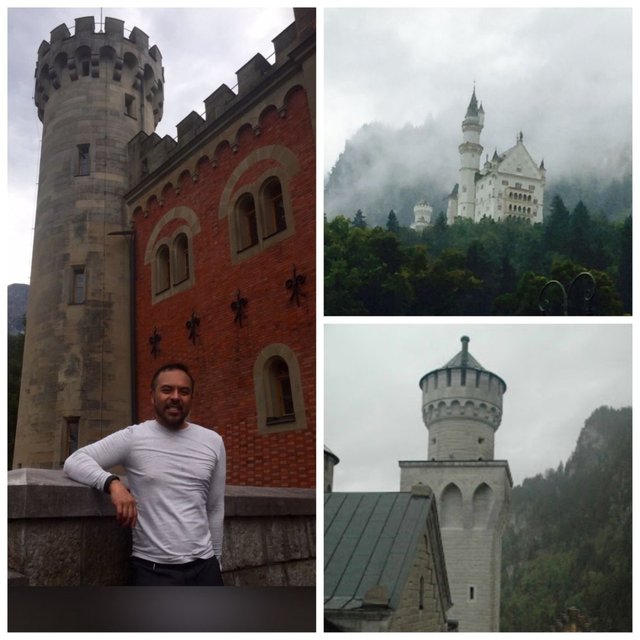 I decided not to visit Hohenschwangau castle, King Ludwig's childhood home which stands below Neuschwanstein. I did walk around outside and took pictures, but I didn't bother to go in. The outside of the castles are more important visually than the inside anyway, so I didn't buy any tickets.
I spent about 4 hours there hiking, exploring, taking pictures until I got hungry but as a vegetarian. I had a tough time finding a vegetarian restaurant there, so be sure to pack your food!
I took the evening back to Munich and decided to eat dinner at München Central Station since they have a large food court with plenty variety of food choices.
Now was it worth going there? Not sure. All my pictures turned out blurry because of the weather, but I'm glad I got this off my bucket list.