Travel Blog #8 by @MikeTravels Hiked the sacred mountain of Kulen, and swam in the river of 1,000 Lingas
On the outskirts of Siem Reap, there is a place called Kulen Mountain. It's a long drive away from Central Siem Reap, so I had to hire a driver to take me there. We drove past paddy fields and remote villages to see the carvings of the 1,000 lingas which are phallic symbols etched into the sandstone riverbed. I read in my guidebook that it was the birthplace of the Khmer Empire which dates back to the 9th-Century. This mountain is considered to be very holy, and there are many ley lines (the natural energy veins of the earth) all over the world, particularly in Cambodia - I believe that the ancients knew something that many people now have forgotten.

The Monk and the Bird Tribe Statues
The entrance of the temple had two impressive statues. There were these two humanoid figures that are half human and half bird. I've wondered if these were the bird tribe beings that I've read in some of my esoteric books. Could they be the Blue Avians that David Wilcock featured on the Gaia channel?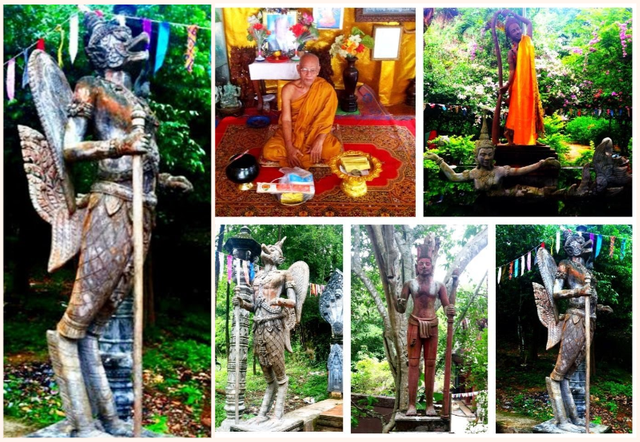 I went up on top of Preah Ang Thom, which is where the location of the giant golden reclining Buddha.
The statue was so massive and carved on a sandstone about 8 feet long. After getting my picture taken next to the giant figure, I noticed that there was a Buddhist monk that seems to be blessing some young men.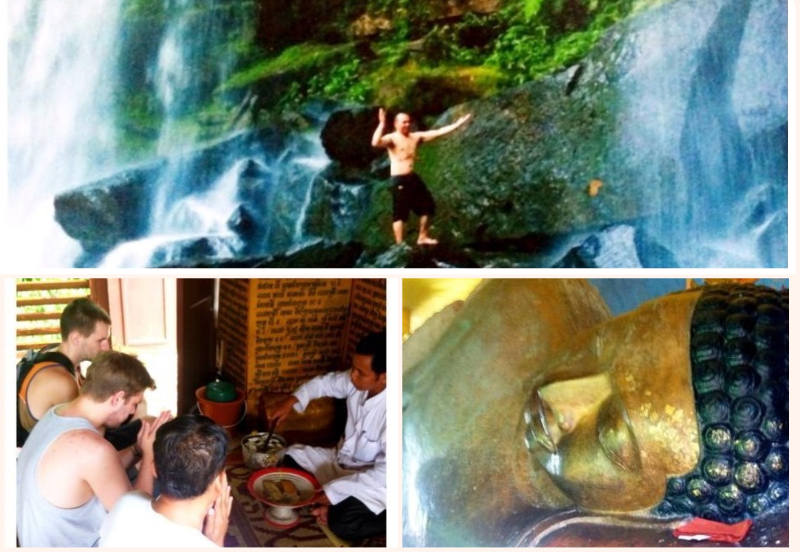 A spiritual blessing wherein monks pray for you and cleanse your aura, and repel negative energy. I wasn't sure if he was chanting Sanskrit or Cambodian language, but I didn't care. I had to try it, and I felt rejuvenated afterwards. The monk whisked on holy water on me, tied me a red bracelet and sprayed fragrant holy water in the atmosphere. After being blessed by the monk, I climbed back down and went to the healing waterfalls.
The hike was pretty easy, but it requires reasonable fitness and agility. The weather was hot, so I had to take a dip in the cold water of the waterfall. Embedded in the rocks were Sanskrit symbols and images of deities. Lots of butterflies seem to attract this place. The water is considered holy and Khmers like to bottle it to take home with them, and the mountain is still a site of pilgrimage. The water was refreshingly cold, and there were even species of fishes that eat dead skin cells in the water. This species is called Garra Rufa also known as Doctor Fish.They eat away dead skin found on peoples' feet, leaving newer skin exposed. It felt weird at first when they swarmed around me, and started nibbling on my entire body, but after a while, it seemed relaxing.
After my hike and swim, I shopped a little bit and got some lotus flowers.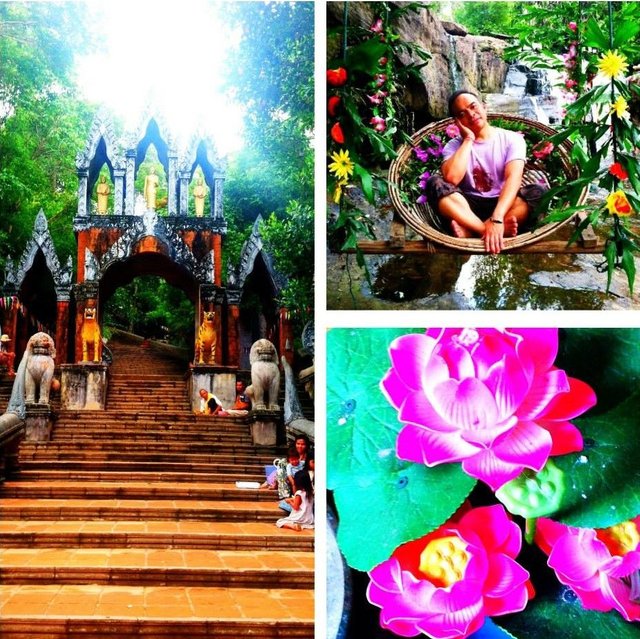 The Kulen Mountain waterfall is truly a must see if you can get there, and was also featured in Lara Croft: Tomb Raider. There are also a lot of other Angkorian sites on Phnom Kulen, including minor temples around the plateau. The most impressive one is Prasat Rong Chen, the first pyramid or temple-mountain constructed in the Angkor area. I didn't make it up there, and few people do because it is difficult to reach. However, once you get there, you'll be impressed by the giant stone animals known as Sra Damrei (Elephant Pond). Maybe someday, I'll go back and visit this place.