Our Life Story | Chapter 12 – Its London Baby!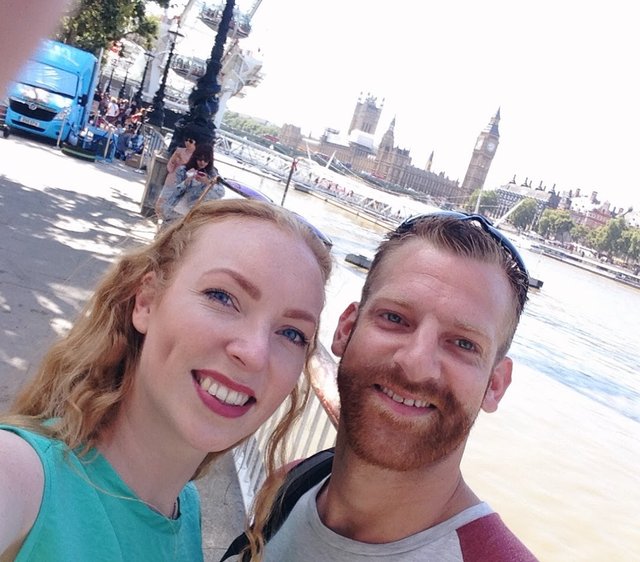 There are so many beautiful cities in Europe that are worth visiting. Living in the south of the Netherlands has its benefits when it comes to location. 
City´s like Berlin, Paris, Amsterdam, Brussels or London are all within a 4 hour drive from home.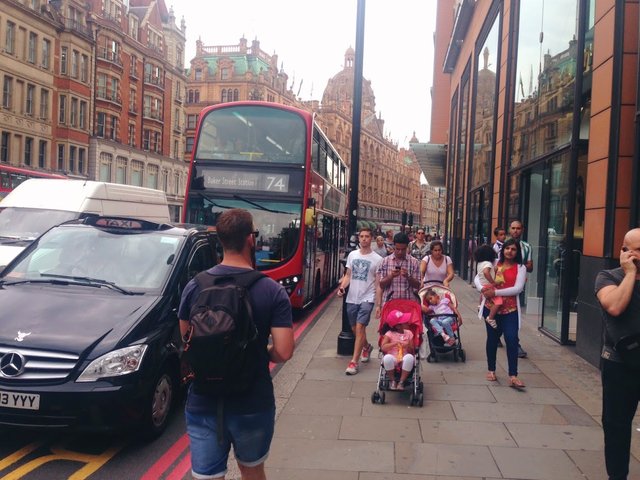 The road alongside Harrods store,  Brompton Road 
We can get to London in three ways. By train, plane or car. For the athletes among us you can even swim the English channel if you want to ;) Although this would take you a bit longer and you probably won't arrive as well rested as you normally would like to start a city trip.   
It's not that we don't like sports but swimming roughly 30 kilometres to our destination is just a bit too much for us. 
I think we would drown, so we chose the plane!
Tickets bought from Ryanair where dirt cheap and I think we payed about 40 or 50 Euro's for return tickets for 2 people. 
Not the most luxurious  Airliner, but it's just a 45 minutes flight. So we didn't mind to get stuffed in a plane like sardines in a can.   
Just like in most big "European" city's the public transportation is great. A lot of metro stations scattered throughout the city makes almost everything really easy accessible.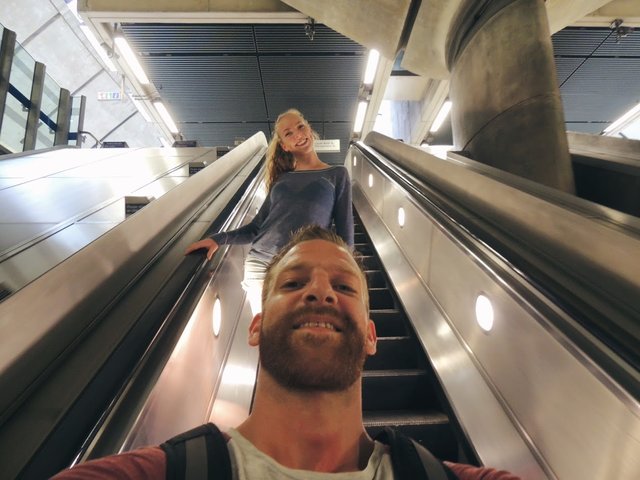 One of London's metro stations
Buying an Oystercard or travelcard is a good idea to get rid of the hassle with buying new tickets every day.
London is an amazing city with so much authentic and beautiful buildings. It took us almost 4 days to see most of this British Capitol. It's not just the buildings or architecture which we liked a lot, but it's the beauty of the British people too. Most people are really down to earth and very friendly. We've always had the idea that there's just something with British and Dutch people that makes them almost the same accept for the language.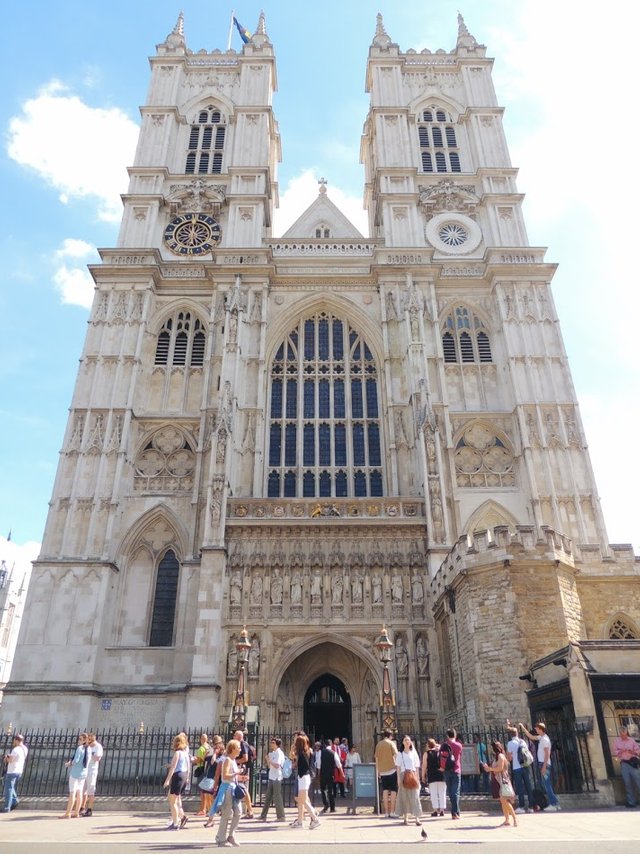 Westminster Abbey
We had the pleasure to be in London while the Notting hill Carnival kicked off. This is one of the world's biggest street festivals filled with lots of music, beer, delicious foods and most important, a whole lot of very happy people!  
Around 2 Million visitors each year!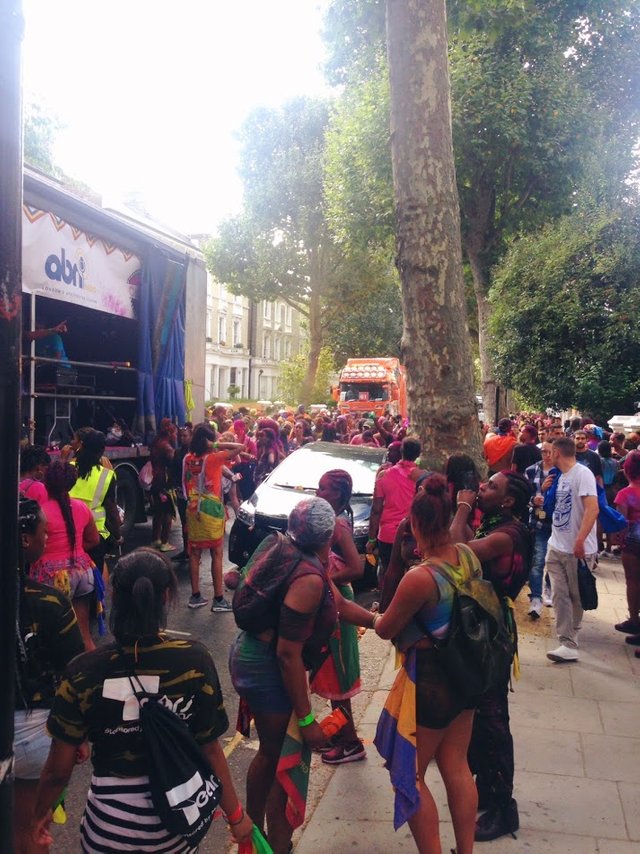 Lot's of colors and happy dancing people
This makes the Notting hill Carnival the second largest street festival just behind Rio de Janeiro carnival. All of this is being guided by almost 40.000 volunteers and more than 9000 police. 
If you ever get the chance to visit London during the Carnival weekend, just go… This is a no brainer.    
We enjoyed it and are very pleased to have drank some delicious beers with our oversea neighbors while enjoying the variety of music.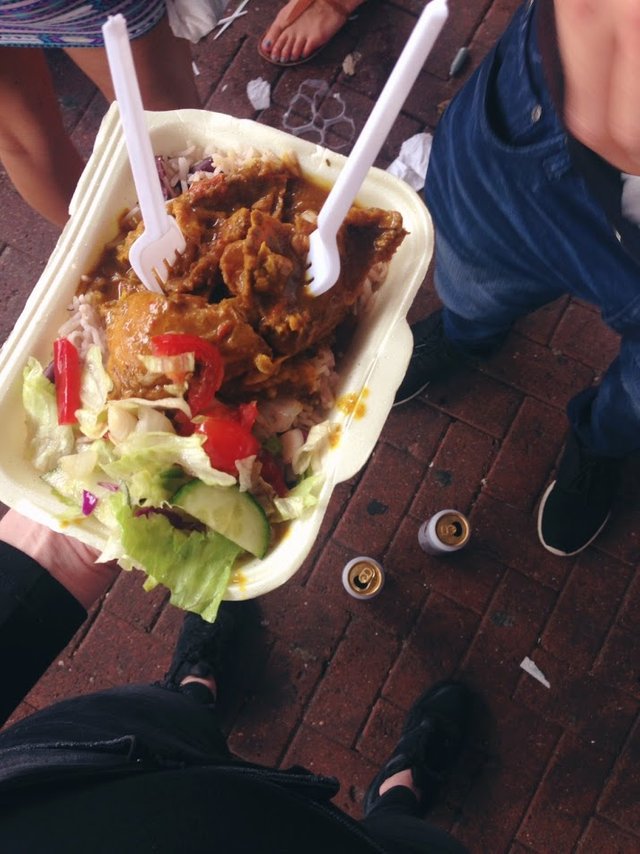 Delicious food and beer
London was one of the last big cities in Europe we just had to visit before embarking on our journey to the Caribbean. Living in the Caribbean will give us a new location to travel from, exploring the cities and country's from the other side of the world, South America in particular. 
We just can't wait to go.....
Have you ever been to London? Share your favorite place with us! And don't forget to upvote, resteem and follow us ;)