Stairway to Heaven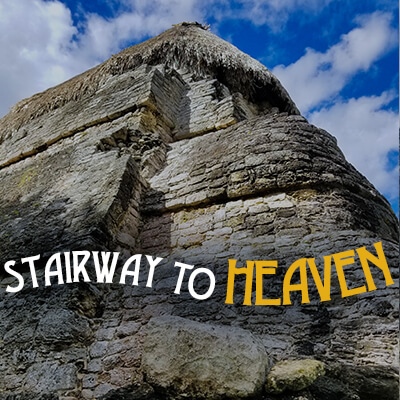 Imagine yourself being dropped right smack dab into the middle of an Indiana Jones adventure. That's what visiting a Mayan ruin is like...sans the bad guys! Exploring, climbing, and squeezing through narrow passages makes each ruin site a lot like jungle gyms for adults and one of the most fun things we've done while housesitting places in Mexico and Belize.
Visiting the ruin sites have also provided history lessons (check out our post "The Magnificent Maya") about things that made us go "hmmm," and are a unique way to connect with an incredible people that lived here thousands of years ago. The Greeks and Romans came up with very little that the Mayans hadn't already thought of. But then again, as far as history goes, the Greeks and Romans got more publicity!
We've visited five ruin sites so far: Chacchoben, Kohunlich, Dzibanche, and Kinichna in Mexico, as well as Cahal Pech in Belize.
We've heard that some of the most popular ruin sites, like Tulum in Mexico, can be crowded with tourists, so we've chosen some of the "off the beaten path" places, and although we've met a few tour groups and individual strollers, we've mainly had the sites all to ourselves. I'm a fast walker and explorer, but a slow climber, especially when it comes to descent. John is a slow walker and explorer (he takes a gazillion pictures) and a fast climber. Thus, when we visit one of these ancient wonderlands we generally split up and meet each other, at a designated place and time, then go back through everything together.
Also, I'm terrified of heights and play the "old lady" card, a lot, by needing to hold on to something while making an ascent or descent. But I transformed my Vibram 5-Fingers running shoes into climbing shoes and didn't look back…or down…, because we're hooked on Mayan ruins!
Chacchoben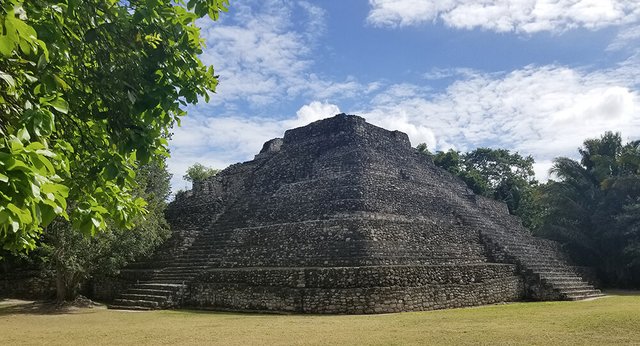 Even though the Chacchoben ruins themselves date back to about 1000 BC, they weren't discovered until the 1940s when Serviliano Cohuo, a Mayan man looking for the perfect place to build a farm, accidentally found the main temple of the site. He settled down on the land, got married and had children. His kids used the visible parts of the temple structure as their playground.
It wasn't until 1972 that the Cohuo family allowed a team of archeologists, sponsored by Tulane University and the Royal Ontario Museum, to excavate the site. In 1974, the Mexican government started regulating land possession of historical sites and in 1978 Serviliano was named the honorary guard of Chacchoben and was granted the rights over his farm. His lifelong dream was to see his backyard temples fully restored, but unfortunately he died in 1991, before the most of the full restoration was complete.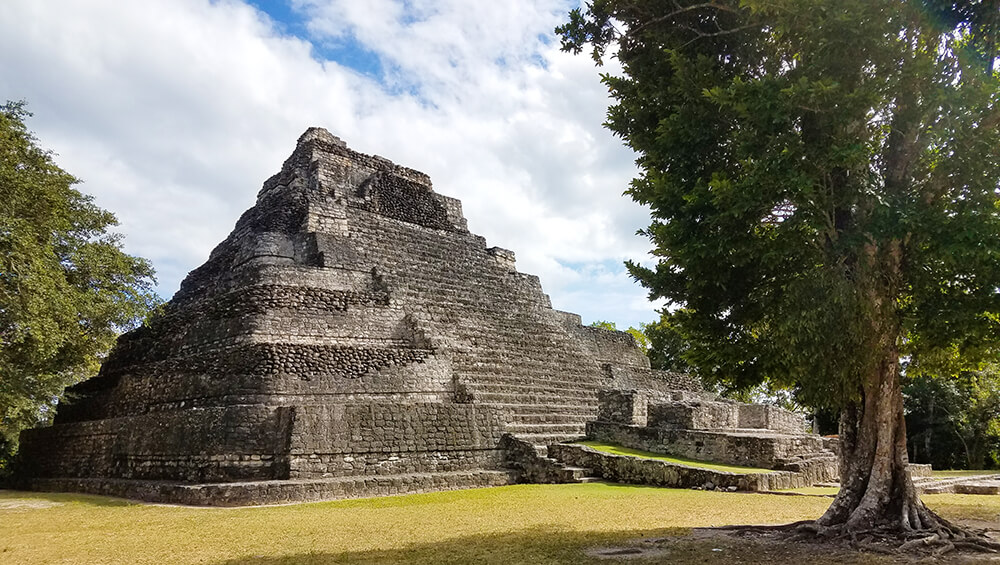 The Terrain
Because the Chacchoben structures are temples, there are many ceiba trees surrounding them. We learned, while we were in Puerto Rico, that ancient peoples revered the ceiba as being magical and a source of wisdom and strength.