Travelers Honeymoon ~ Episode 11 ~ Backwater Gangnam Style, Part 2
The Backwaters of the Backwaters...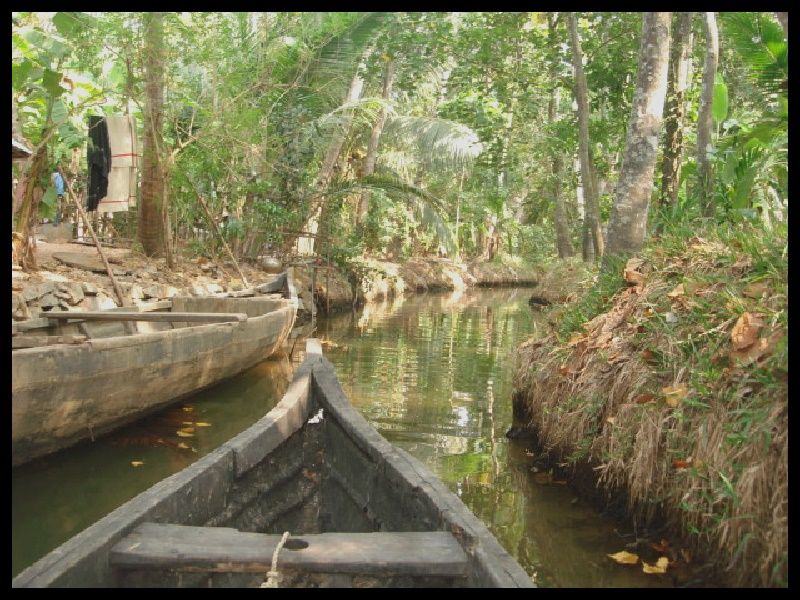 ---
Welcome to another episode of Jessi and Greg's Travelers Honeymoon, we got married once in the desert and once again by the sea. These are the stories of our Eight Months Honeymoon. What better test of compatibility is there than traveling on a shoestring with your partner....India can really make the best and the worst come out of you... sometimes it's Heaven and sometimes it's Hell!

Ah Goddess of Light... I worship you!
We left off in Part 1 of Kerala's backwaters with a great photo of a the Goddess of Light which you should head over and see.. My computer is working again and I now have access to the photos I promised you for the rest of this episode...
---
We stopped for lunch on the shady side of the river. Our personal chef made us a nice lunch in a typical Indian portion fashion. This means we had way too much to eat and had quite a lot of left overs... I can't stand wasting food!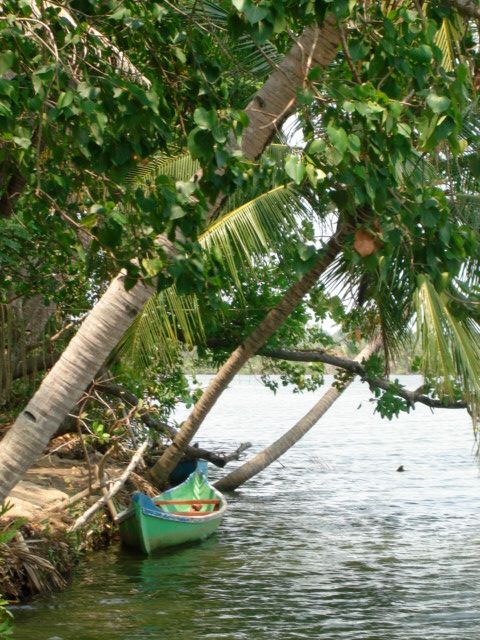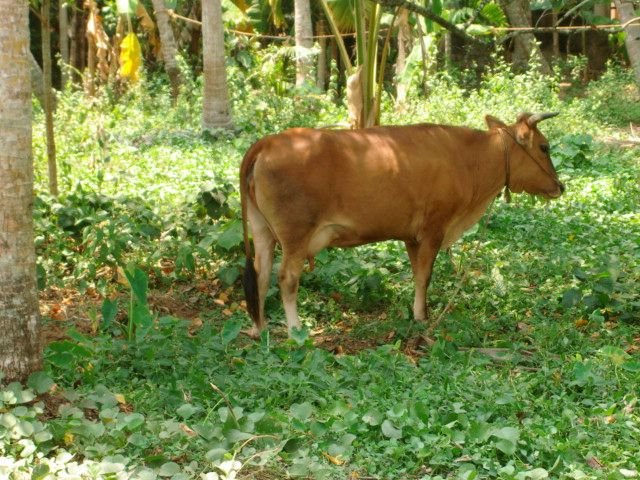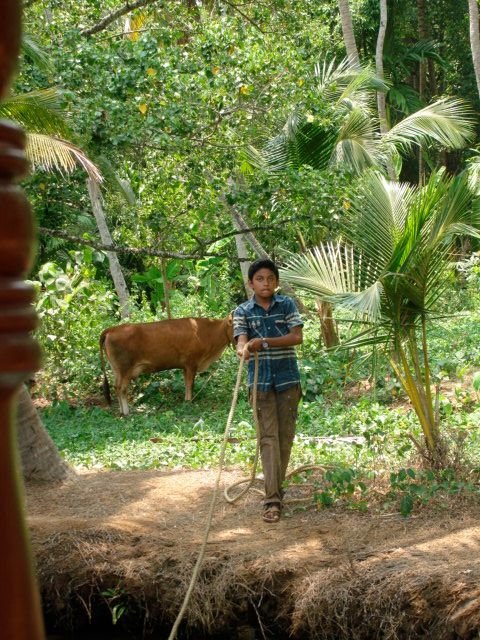 After a boat ride, there's nothing better than fish and beer for lunch!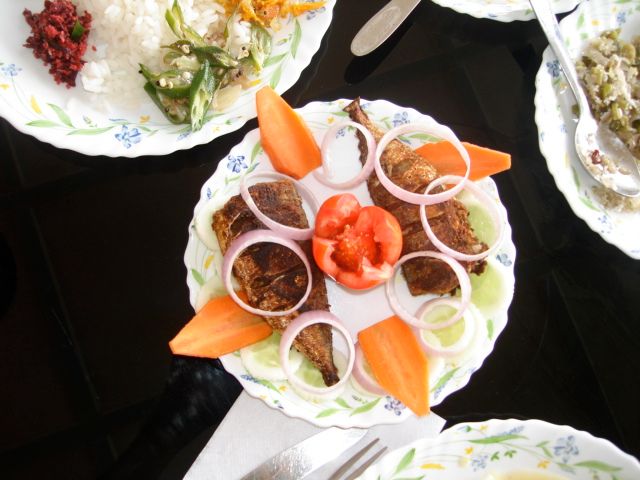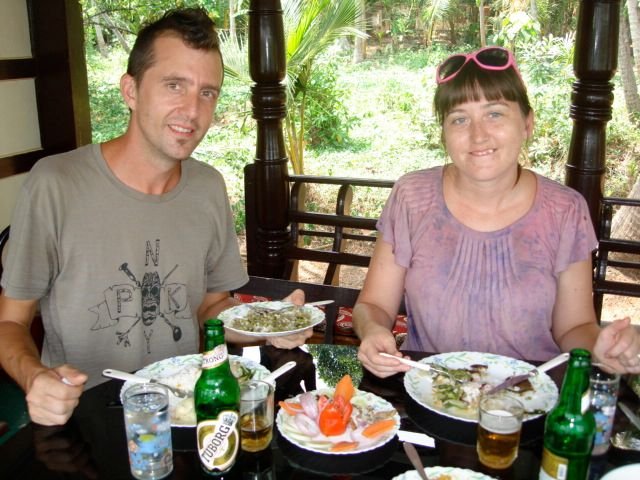 ---
A few photos before we go on?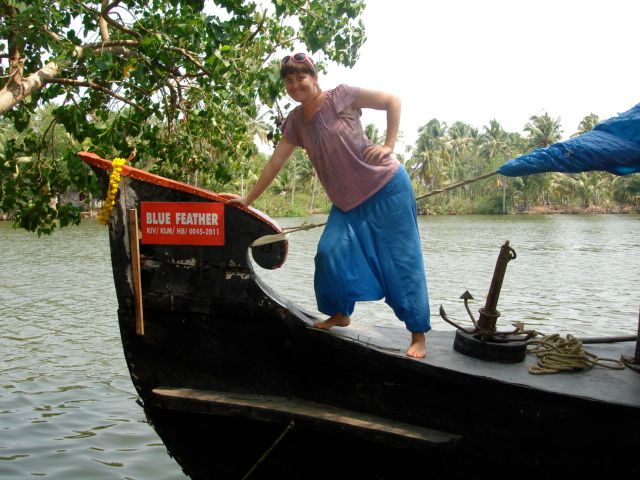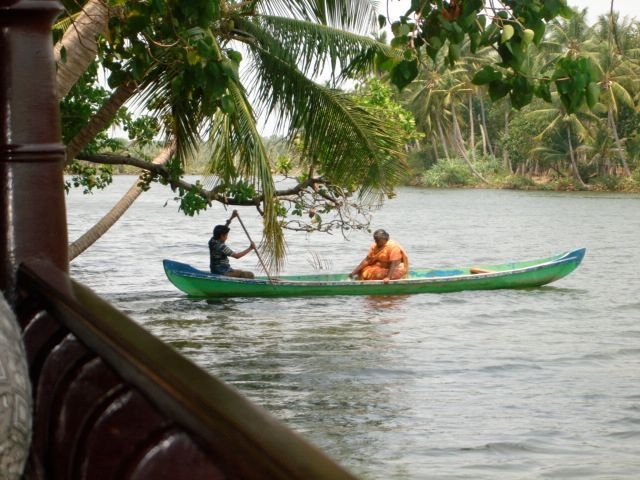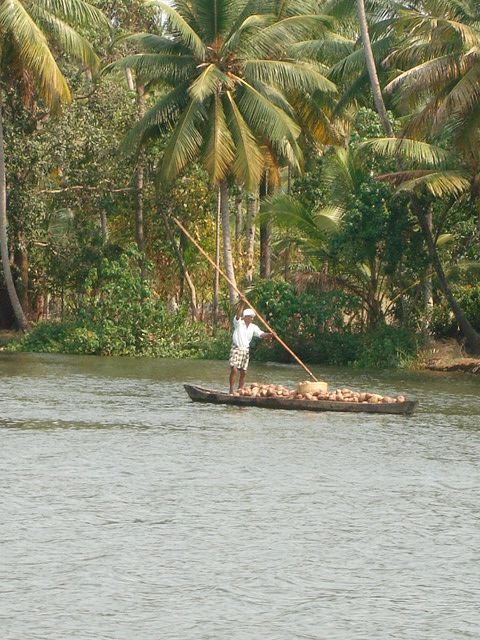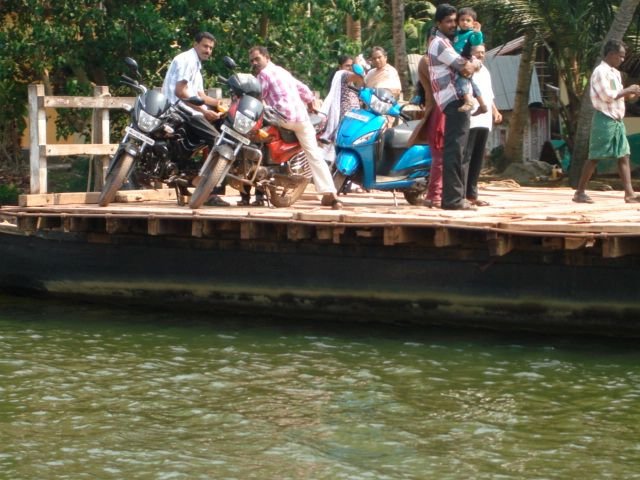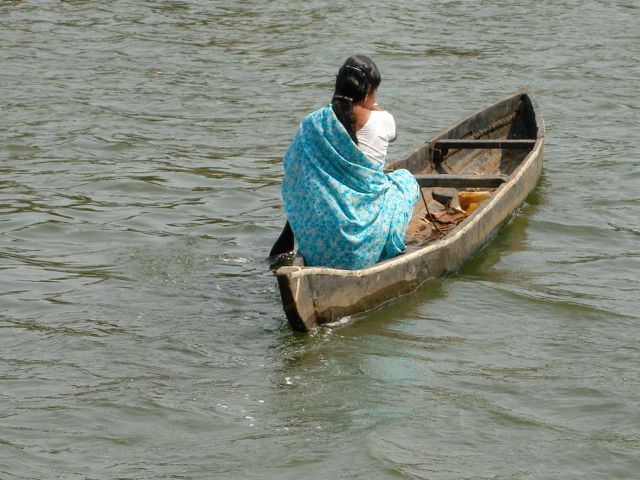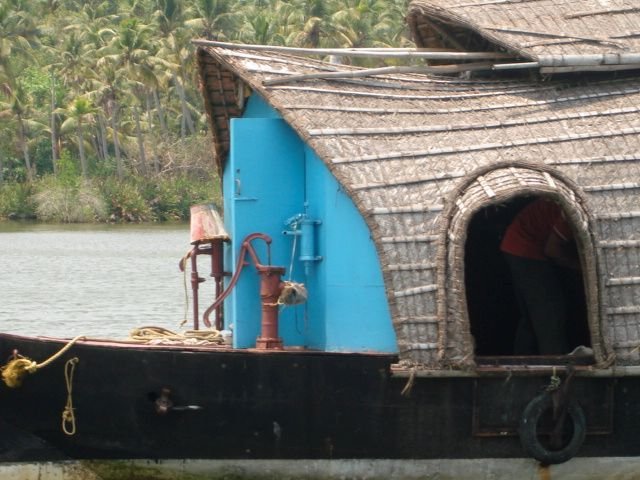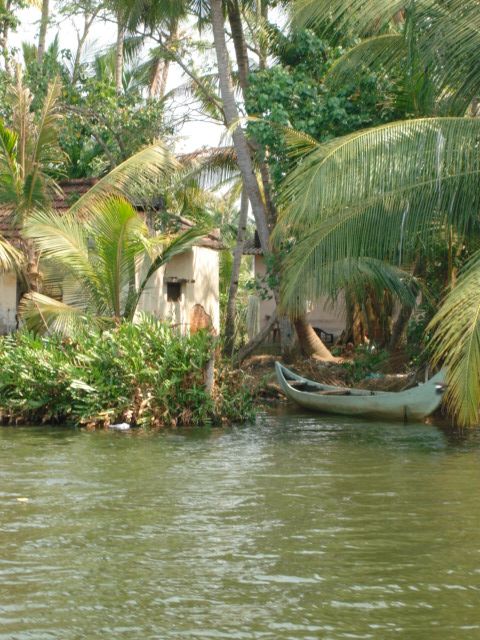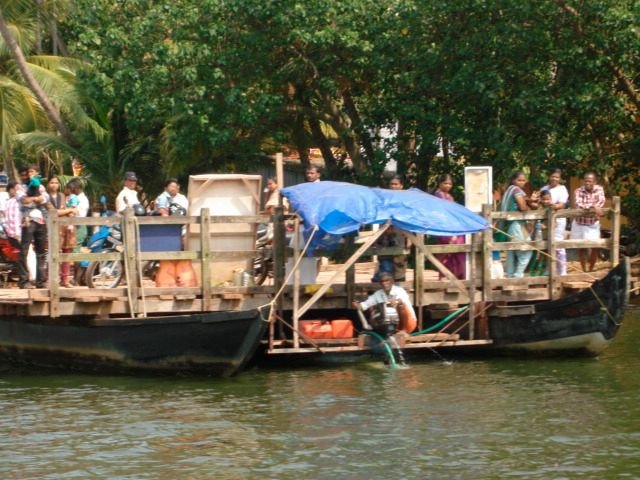 Do you see how this barge is made? Sorry the photo on the right is a little fuzzy, but you can clearly tell that it's two long canoes straddled with heavy decking and propelled by a small outboard motor. This is part of that human genius that is so magical in India!

Our next stop was in a small backwater village. We took a tour on a small canoe through the canals. It's a small island in the middle of the river that is criss-crossed with man made canals and ponds where they farm prawn. Our tour guide was really animated and sang Gangnam Style the whole time. He told us it was his daughter's doing... it's always on in his home and it got stuck in his head. It was just really funny to see this serious looking gentleman singing such a silly song!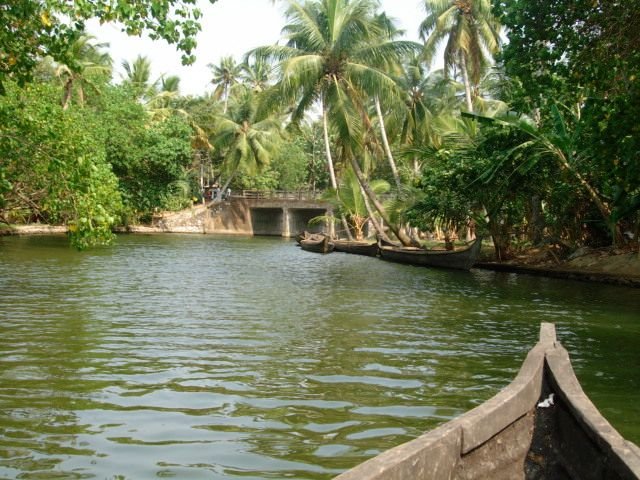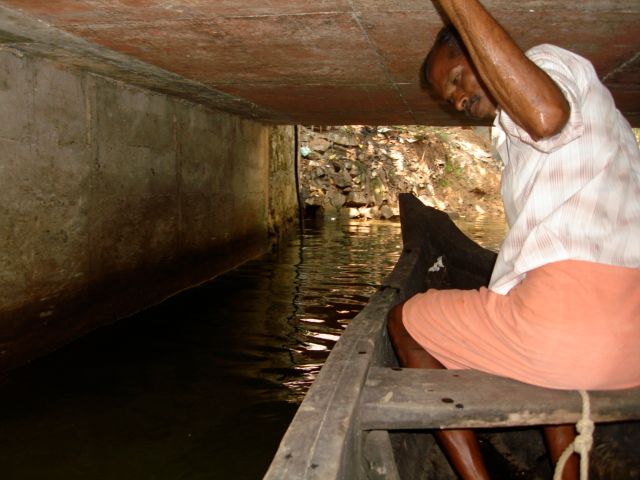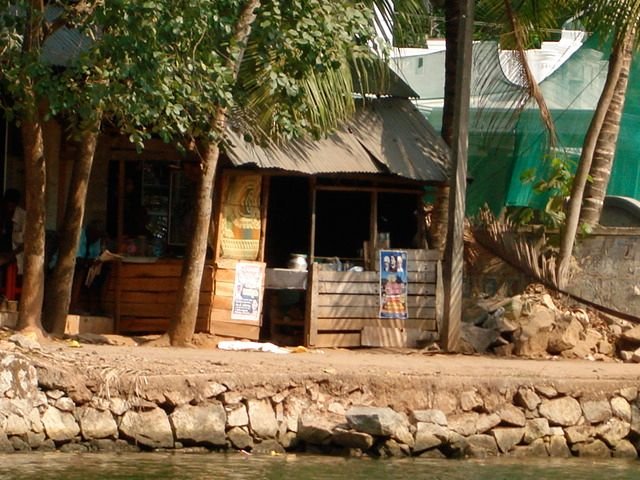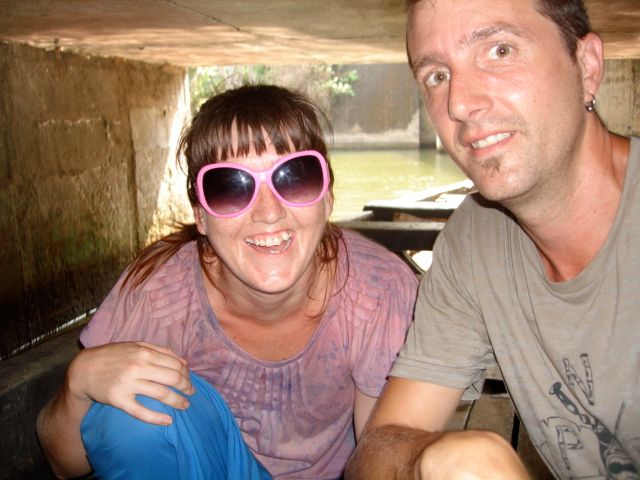 Other than prawn, the village has a large coconut industry, so you see piles and piles of coconut shells everywhere. What an incredible life they seemed to have here, in the middle of the river, secluded from the rest of the world. The people seemed happy, kids were playing and at a certain time some would be collecting little water snails, for dinner I supposed. I really liked to see that there roads were the man made canals, I thought it was so interesting.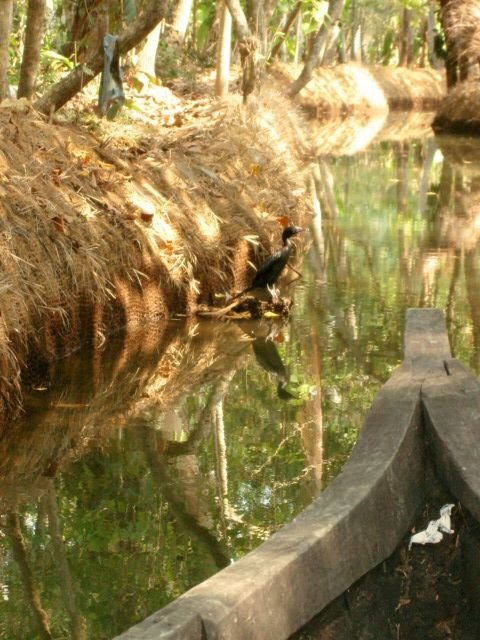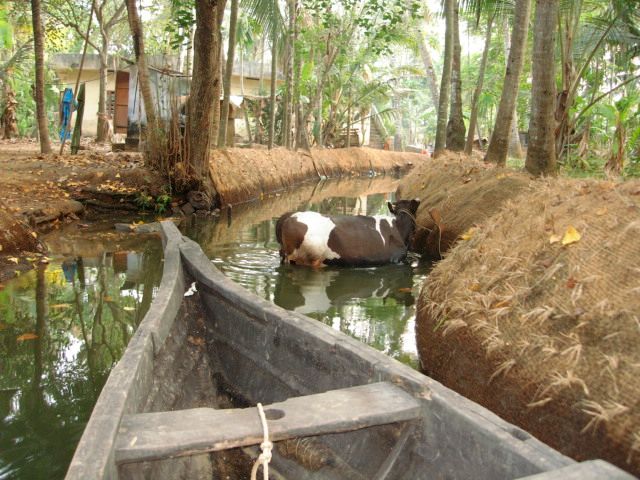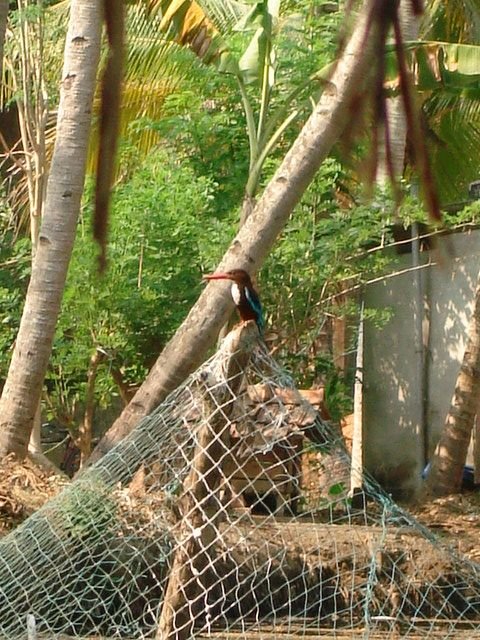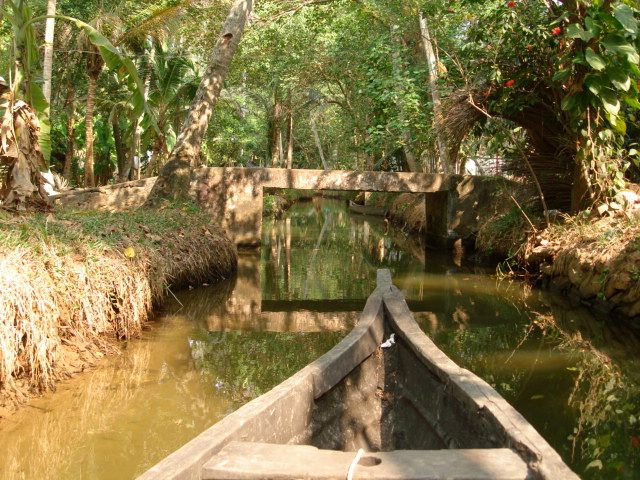 Saying goodbye to our awesome singing tour guide! We had to take a photo... you see how serious he looks? Next time you feel like judging a book by it's cover, think twice about that, you never know what you're gonna get!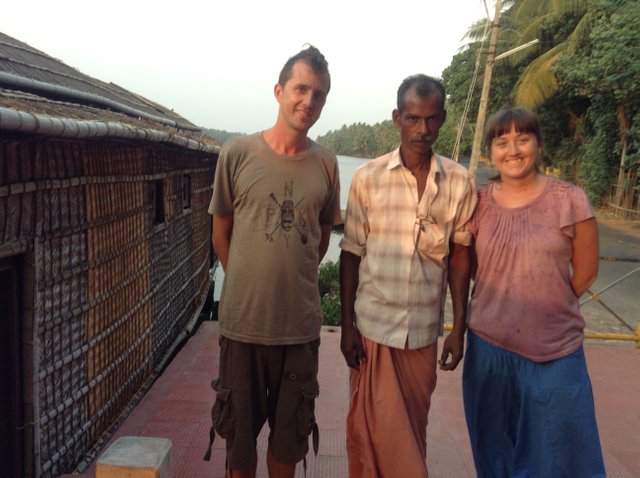 It was almost time for dinner, we said goodbye and hopped back into our houseboat. We were offered some refreshments right away and as we sat down dinner was served! It was again deliciously made by our on-board chef who obviously took pride in his food. The captain found a nice quiet spot for sunset and we spent a lovely night gently rocking with the river.
We both slept like babies (if babies slept all that great... We found out this line is a fib, babies wake up all hours of the night!). Anyway we slept really well, woke up to a beautiful breakfast and headed back to town. We had booked ourselves a boat to Alleppey but hadn't realized it was going to be an 8 hour journey. Being on a boat where everyone is squeezed in there like sardines for that long wasn't really our cup of tea, so we canceled and took a train and stated our journey towards Goa. We were in need of a little western influence. Sometimes I need a little vacation from my vacation...

This was such an amazing cruise, we were both very satisfied and really happy to have taken the opportunity to do a houseboat tour of these incredible Kerala backwater ways. I will do it again if we go back to Kerala for sure!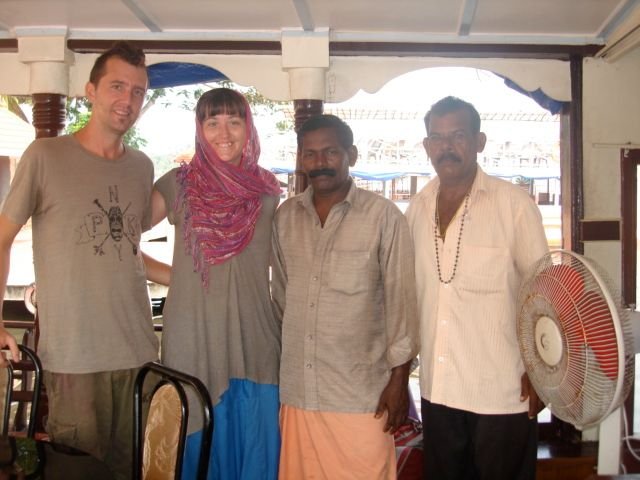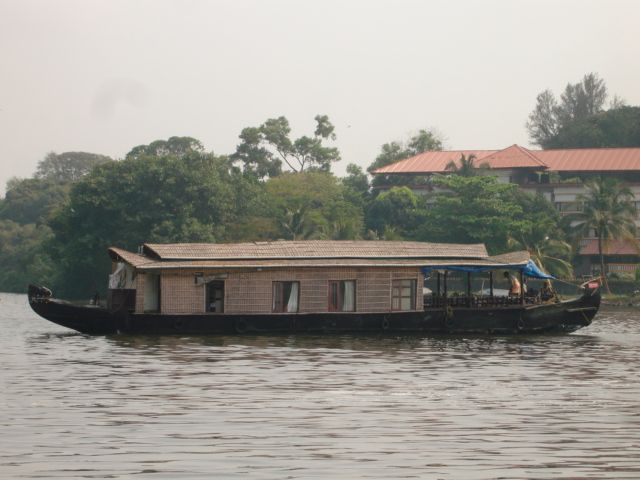 The crew (very serious bunch) and our ship. She was a bit older... not as pretty as some newer houseboats we crossed on the river, but we couldn't see that from inside of her. All we could see were the elegance of the more elaborate ships passing us by, which was a beautiful sight!
Thanks again for reading our adventures..
.
---
Previous Episodes:
---
Next Week: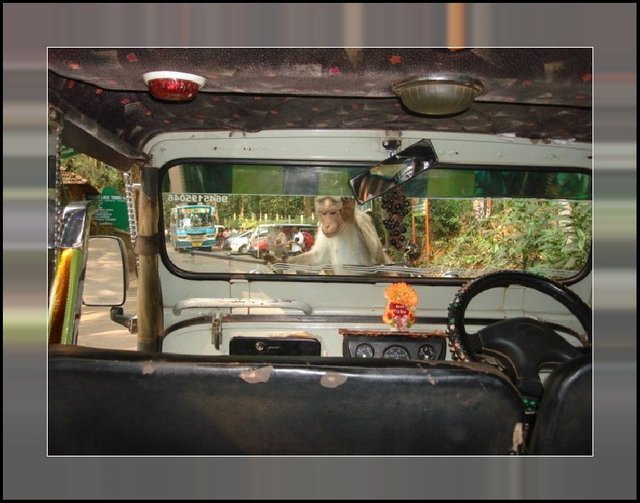 The Monkeys of Pookode Lake

If you really want to know what is inside this Coconut, take a look at Humans Of Steemit.
QUOTE OF THE MONTH @stranniksenya
After all, a dream will remain a dream, if you do not start doing anything.
AS ALWAYS... THANK YOU FOR LOOKING, YOUR SUPPORT IS GREATLY APPRECIATED.
Up-Vote, Re-Steem and Reply. Your comments are very welcome! Don't forget… #DreamsComeTrue!