Iceland Review - Day 3 & 4 !
Day 3 Of 4 – Adventures Galore!
Days 3 of this trip was action packed! We knew we had a lot to get done during the day so we got breakfast early morning at Dunkin' Donuts. It literally took 40 minutes to get our order right as we seemed to get a casher who was not familiar with English. We got an extra donut though so I guess it was worth it haha!
The first stop on our list was to see a popular tourist attraction of an airplane crash. The Icelandic government decided to leave it there as it's become quite a popular tourist attraction. We parked in this lot and followed a trail that took 30 minutes to walk (one way). It was quite long and exhausting and the rainy weather was not helping at all. By the time we got to the airplane it was a little underwhelming in my opinion. It was just a small hollow plane with its guts cleaned out. It had names of boyfriends and girlfriends all over the inside but was definitely not worth the grueling walk! Here's a quick picture I took from the inside.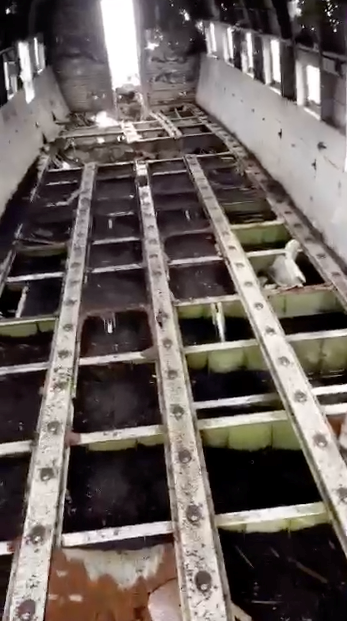 Our second stop was Black Sand Beach. It was quite a drive but we eventually made it there. The weather was absolutely horrible! It was raining nonstop and freezing cold as well. There is a Black Beach restaurant right next to the popular tourist attraction so we were able to grab a bite to eat. I wasn't able to get a great shot with my camera with the bad weather but I was able to get this for my SnapChat... The sand is actually that black!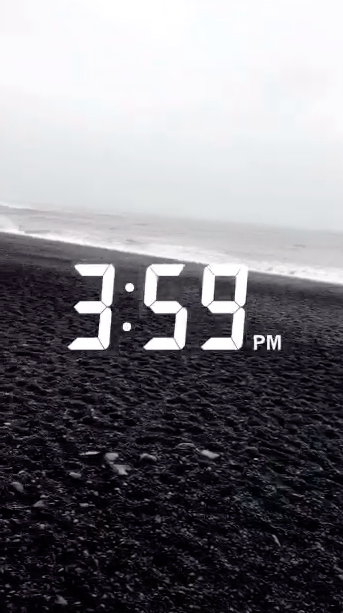 The third stop on today's agenda were the Geysir Hot Springs! Once we got here, right away we noticed some water and smoke erupting from the ground. None of us had our camera though so we were unable to capture it. The color of the water was incredible too with small hot springs all around the area. I was able to get one picture of how blue the water was! I also found this video on YouTube showing the eruption of the hot springs in case you're interested.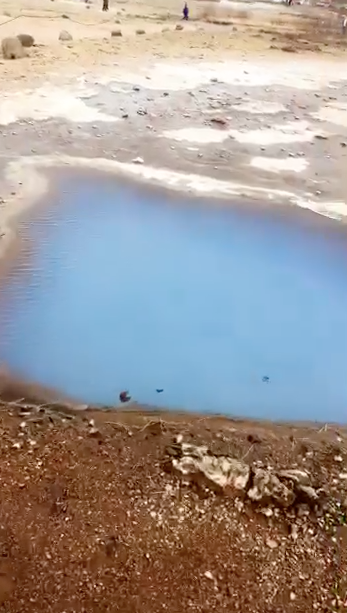 Geysir Hot Springs Video:
Continuing along the Day 3 Itinerary, our fourth stop was the Seljalandsfoss waterfalls. It is known to be one of the more famous waterfalls in Iceland and a friend recommended to check it out. Coming from the land of Niagara Falls I wasn't expecting to be blown away but the Seljalandsfoss waterfalls was very unique. You could actually walk behind the waterfalls and get a view from right behind it. It's basically a trail they've made for tourists to take pictures and get sprayed by some freezing water. Here's the picture I was able to get of the Seljalandsfoss waterfalls.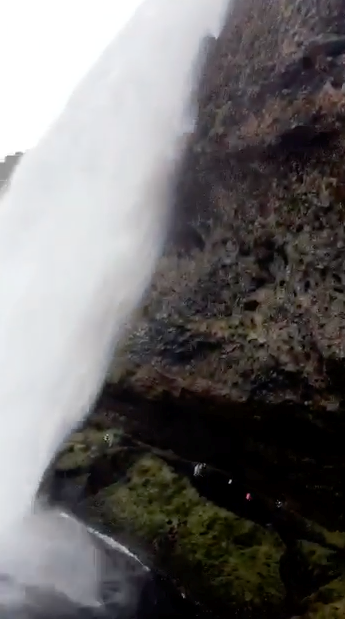 The fifth and final stop were the glaciers! This was right next to the Seljalandsfoss waterfalls so we decided to check them both out. This was probably one of the highlights of the trip for me. I will share a picture but it really doesn't do it justice. Seeing a perfectly green mountain right next to a bright blue glacier was breathtaking. If I wasn't seeing it with my own two eyes I would think it's fake. You see for yourself below!
At this point it was pretty late and we were exhausted. We headed back to our hostel and knocked out right away. The trip was going by so fast… It was already our last night there!
Day 4 Of 4 – Last Day In Iceland!
Our last day was finally here! All of our flights were leaving around 3 PM so we had time to do only one activity before our flight. We left the Blue Lagoon for last! This was actually quite expensive considering some of the other tourist activities but it was a must on our list during our planning phase. When we were approaching the Blue Lagoon the smell of Sulfur started to seep into the car. It was quite strong and almost unbearable. Once we got in we were given wrist bands that would allow us to order whatever we wanted. On our way out we give the wrist band back and pay for what we ordered. It was freezing but the water was quite warm. They had a few generators in the water as well which seemed to give off heat. People were ordering drinks from the bar and getting facials done. We met a few other travelers and it really was a great time. Here's a SnapChat of the Blue Lagoon!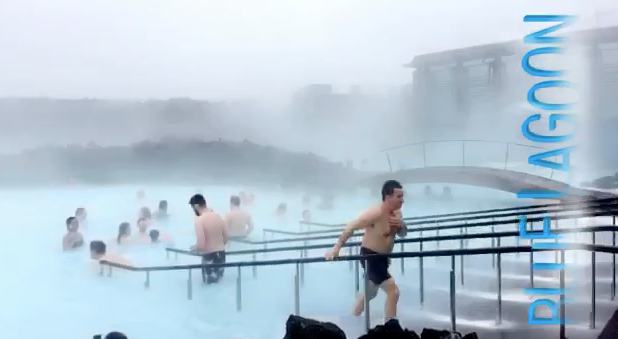 Just a disclaimer folks I will take MUCH better pictures on my next trip. This Iceland review was something I thought about after the trip to see if I can help others who want to visit.
When we finished up at the Blue Lagoon we headed off to the car rental spot. We had all of our belongings in the car with us so we were able to go directly to the airpot. During this time, we were all reflecting on how much we were able to see in such a short period of time. It was definitely a different type of vacation considering you're not just relaxing at the beach working on your tan. This vacation required heart and perseverance especially in the tough weather! Our only regret was we weren't able to see the Northern Lights. The weather was not in favor of our trip whatsoever! Oh well. We booked these tickets way in advance and you can't plan for the weather, now can you?
Overall, I would say Iceland is a country you should visit at least once in your life. The natural beauty is breathtaking and there is a lot to explore. I would suggest going in the middle of summer though as opposed to spring like I did. You should also know that food is extremely expensive in Iceland. Be ready to fork up some serious cash just to fill your stomach.
I hope this 2-part series was insightful and am looking forward to posting more trip reviews.
Feel free to let me know how your experience in Iceland was!
Cheers!