Travel with me #77 : A walk through downtown Nassau and a visit to the renowned Straw Market!
Dear Steemit friends :
Believe it or not, in my 10 days or so in Bahamas, I only had one opportunity to visit downtown Nassau for an afternoon. Travelling with such a tight schedule with activities and places to visit each day mean prioritising the adventures which I find most appealing. If you've followed my travels thus far, you will know that I'm very fond of Atlantis at Paradise Island and many of my blogs have been focused around the activities found at that resort.
I've also had the opportunity to visit the newly opened Baha Mar resort which is touted to be a rival to Atlantis choosing Cable Beach as it's base of operation. With each of these large resorts bringing in hundreds of thousands of extra visitors each year, they are both extremely important to the tourism industry of Bahamas.
Today, we'll be crossing over to the other side, off Paradise island, away from the ever so luring Atlantis, and away from the ultra luxurious Baha Mar. Let's take a stroll through down town Nassau!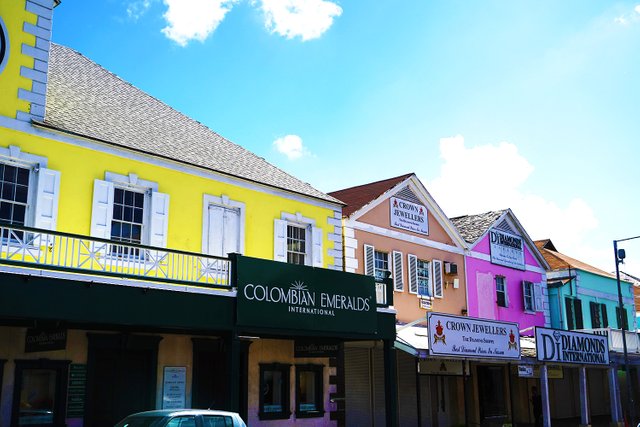 Nassau
Nassau was actually founded under the name Charles Town in 1670 by British settlers. They built a fort there named after the King of England, Charles II.
During this time, the English and Spanish had frequent wars and just 14 years after it's founding, Charles Town was burned down in a raid by the Spanish.
Between the years of 1684 and 1718, Charles Town was rebuilt and renamed to Nassau in honour of William III from the Dutch House of Orange-Nassau and governed by Nicholas Trott. In 1703, a Spanish and French alliance occupied Nassau but failed to govern the town effectively leading to the island becoming a haven for Pirates.
At one point, Nassau was the home to more than 1000 pirates and was even called the pirate republic.
In 1718, the British regained controlled of the island and appointed Captain Woodes Rogers to be the town governor. He was largely successful in bringing prosperity back to Nassau, spending much of his own wealth in the regeneration of the town.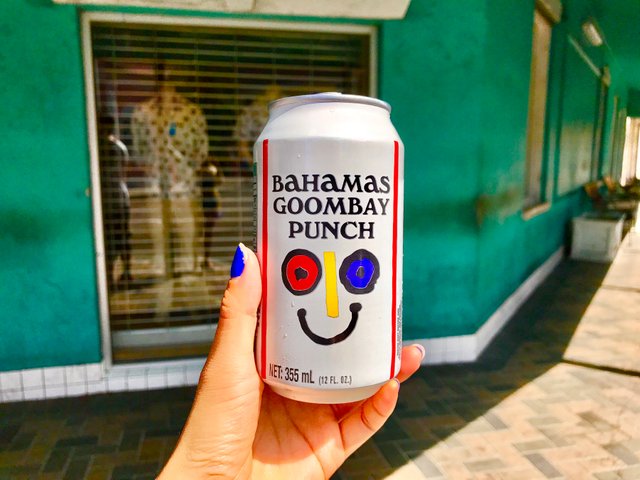 The town is extremely colourful and reminds me of a settlement style of architecture rather than a full blown city. Both sides of the streets are patchwork with a multitude of bright gaily coloured wooden houses. Many are blue and pink. It feels a lot like a scene from La La Land where everything is Blue and Pink.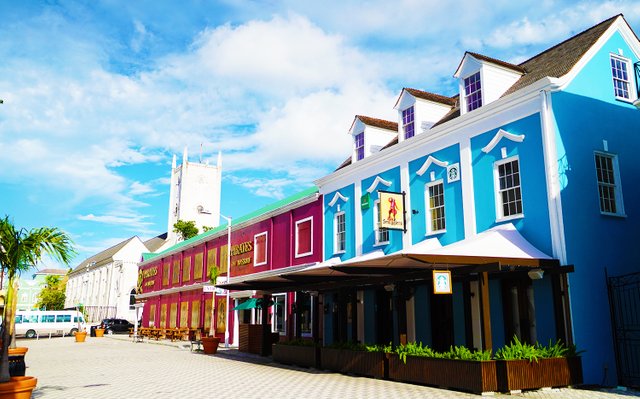 I didn't have time to go inside the Museum as it was closed really early on the Sunday afternoon. But, you do get a sense of the pirate influence all around the town.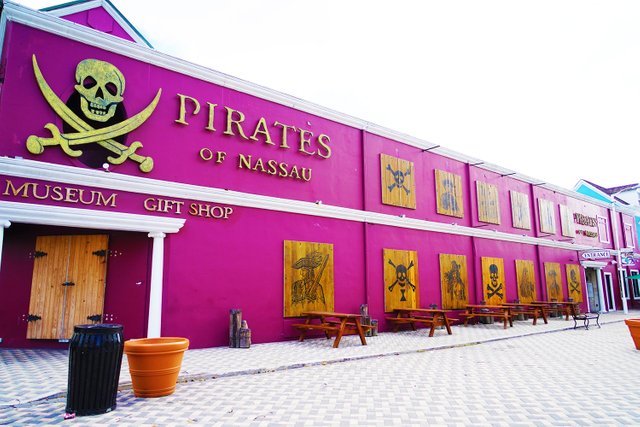 I think I probably would have liked to be a pirate if I was around in those days. I love their colourful clothing and sense of freedom and adventure. Probably wouldn't want to have the missing leg and eyes though!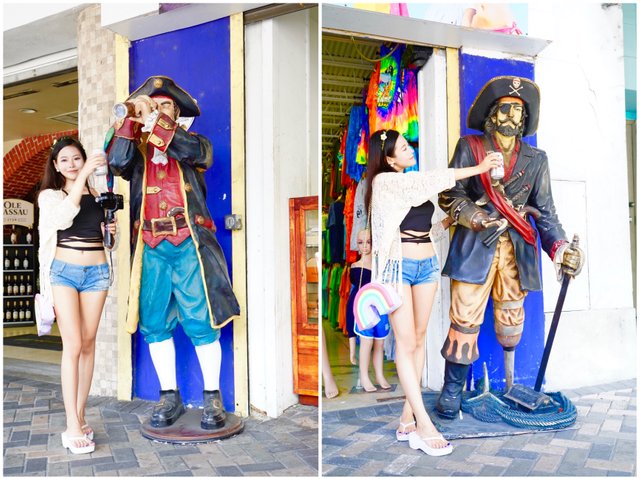 At one end of Bay St is Senor Frogs! We've been here before already!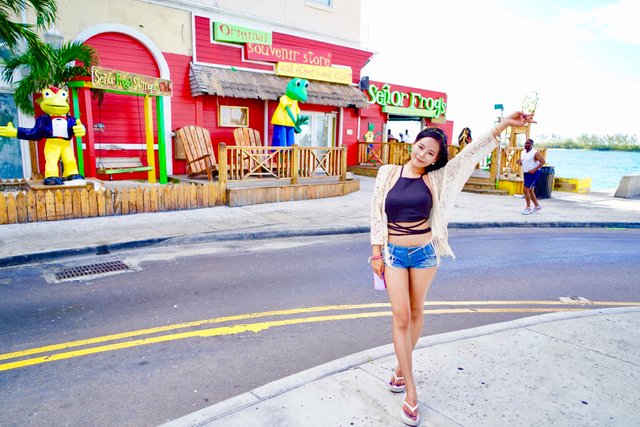 Some more fine examples of bright vivid colours. These were some stalls along Bay Street selling locally produced merchandise and souvenirs.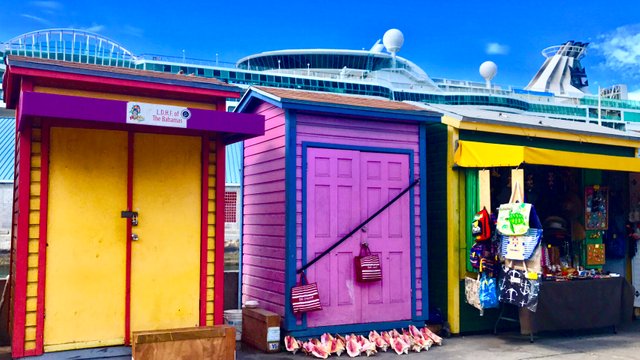 Other more commercial shops are also open for business in down town Nassau. They use very bubbly colours to attract their customers.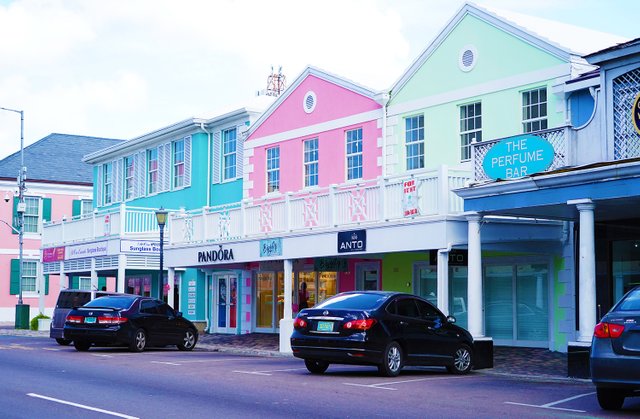 Most of the commercial shops and restaurants are around Bay St. and Woodes Rogers walk.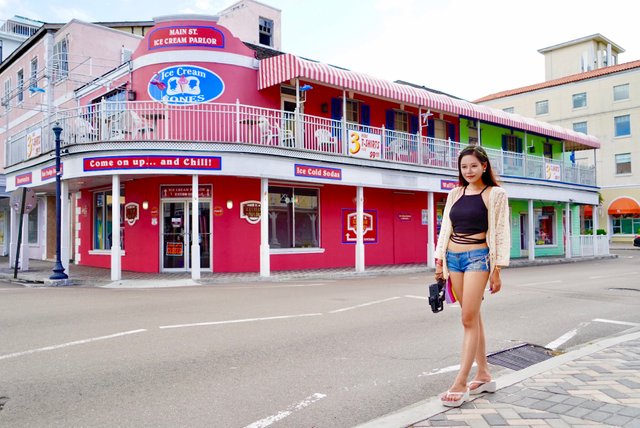 This is Pompey Square, sometimes they have a market here.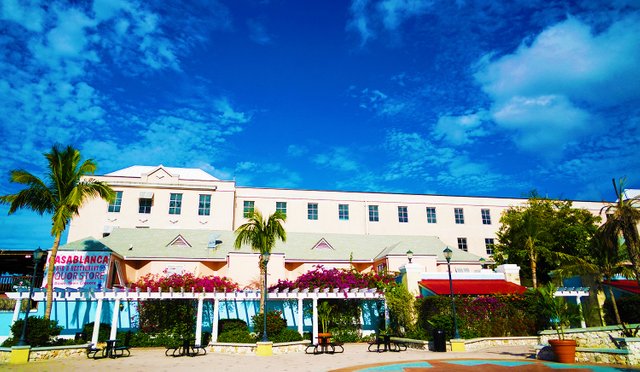 I stumbled across two Royal Bahamian Police Officers. They were really friendly and were happy to have photos taken of them!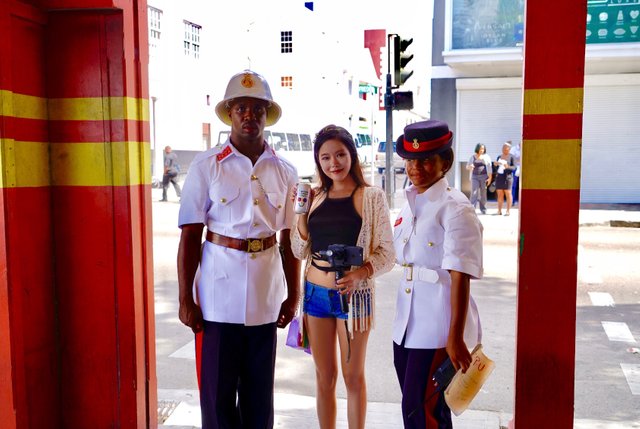 Just like Marina Village, none of the houses here are painted the same colour as adjacent buildings.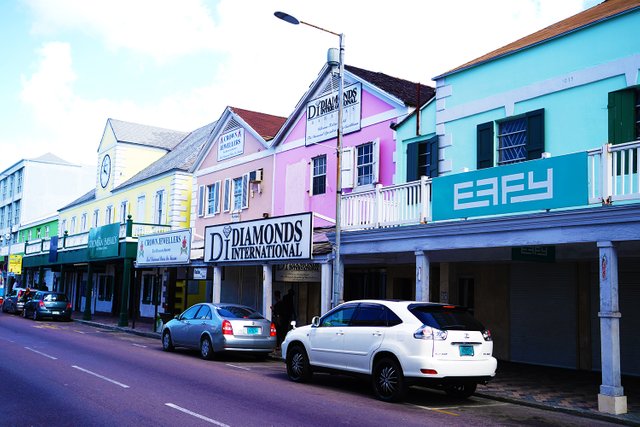 And there are certainly enough shops to keep shoppers busy!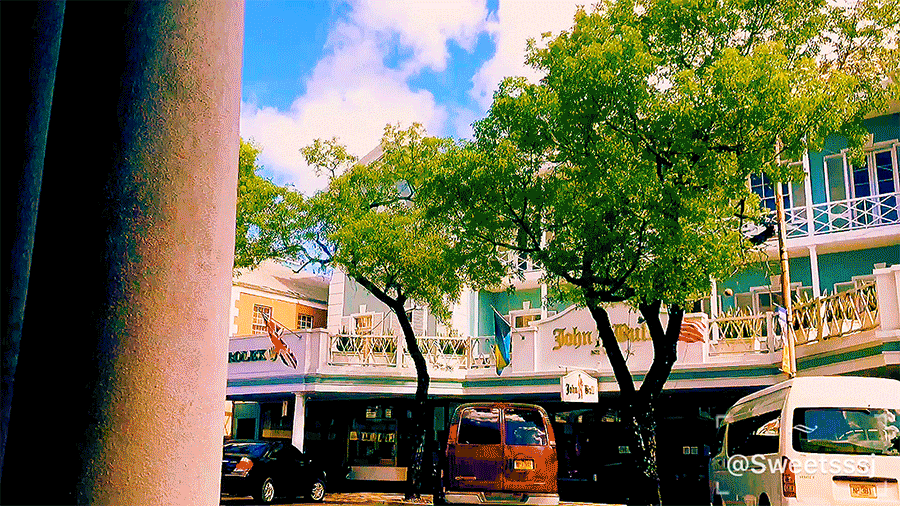 I think we need some more Steemit representation, wouldn't you agree?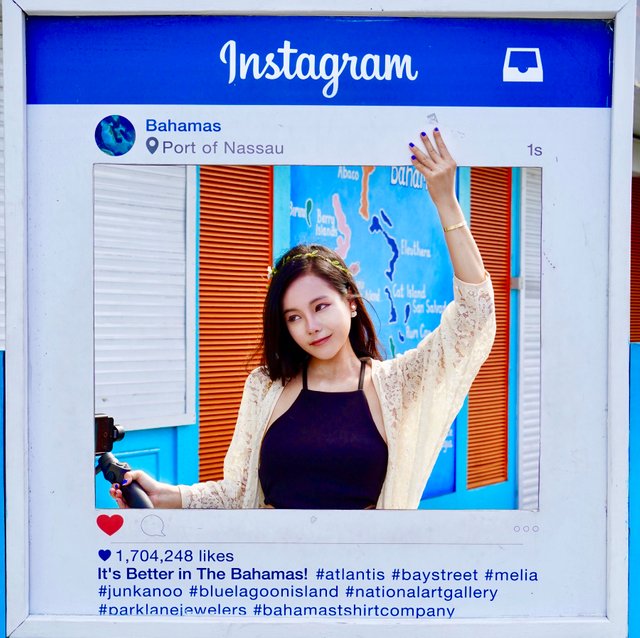 Do you see me?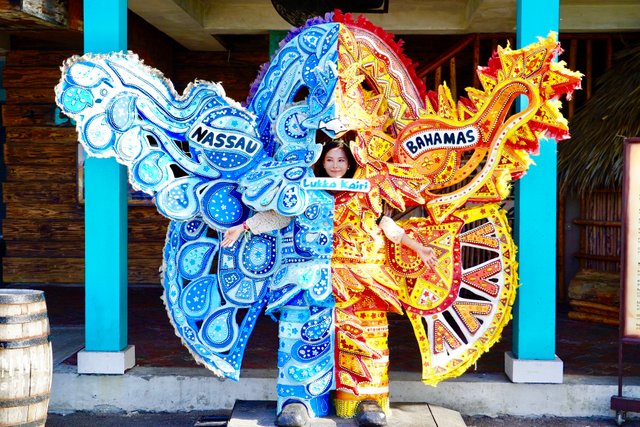 This is the Sun Clock at Pompey Square. As I mentioned earlier, there is usually an open market here but on Sunday they are taking a rest.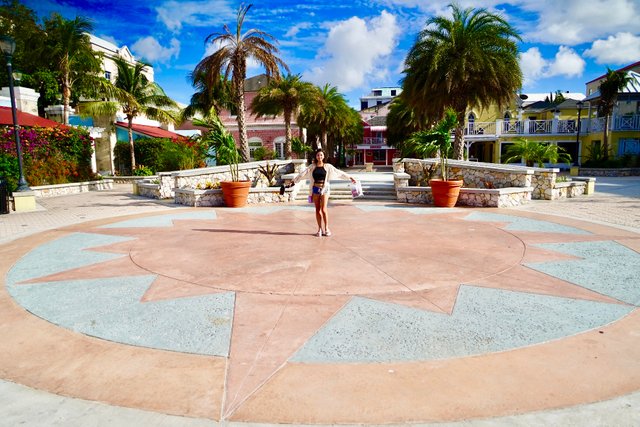 I found this lovely patch of flowers growing on one of the walls beside Pompey Square, they make for a really lovely background!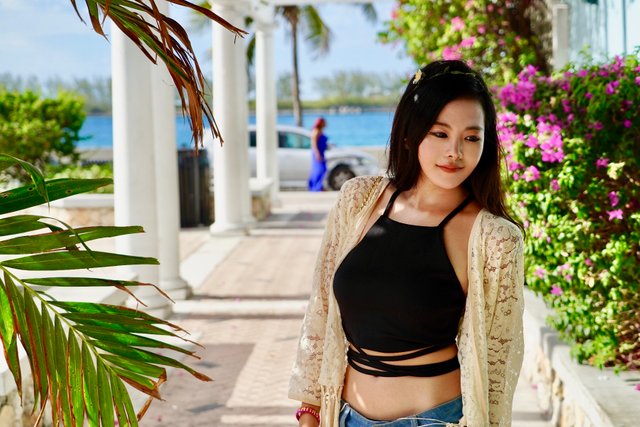 Especially with how pink and purple the flowers are!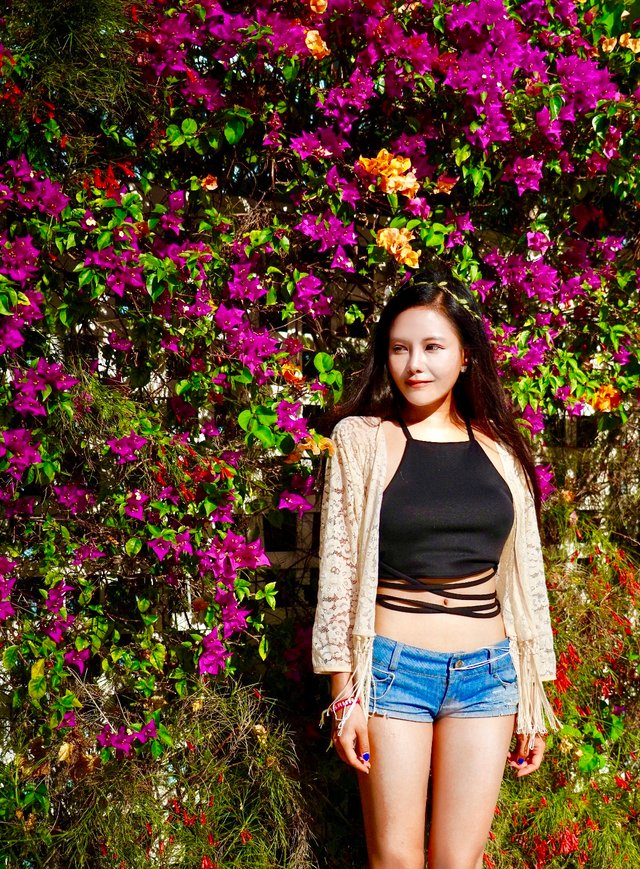 This is the Prince George Plaza which I thought would be quite a busy and bustling place. Quite a few unrecognised businesses here, the only one I recognise is Harley Davidson, others must be local businesses.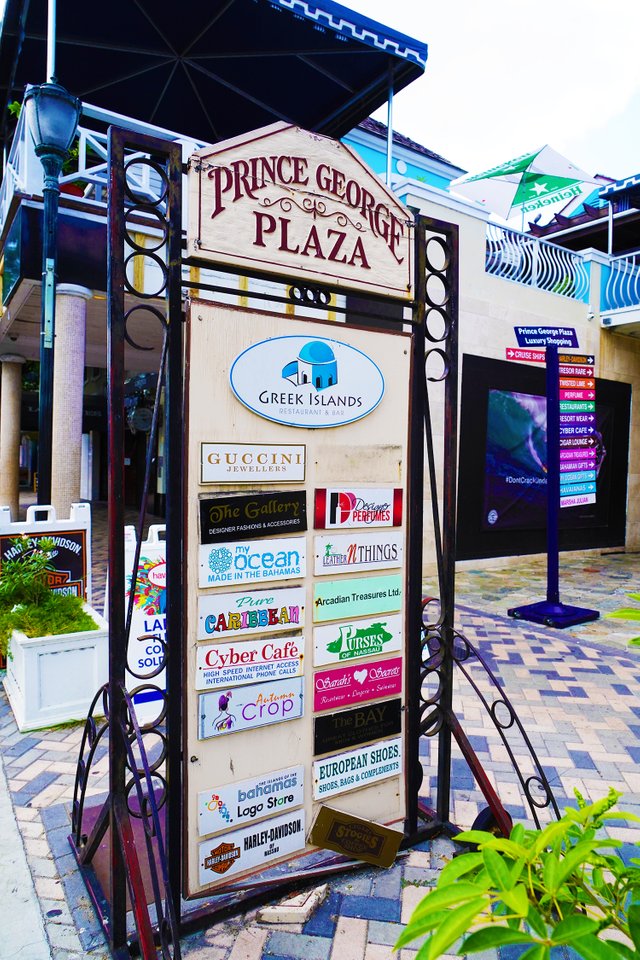 It was a very empty street. It seems Sunday is really not the ideal time to go shopping as most stores are closed!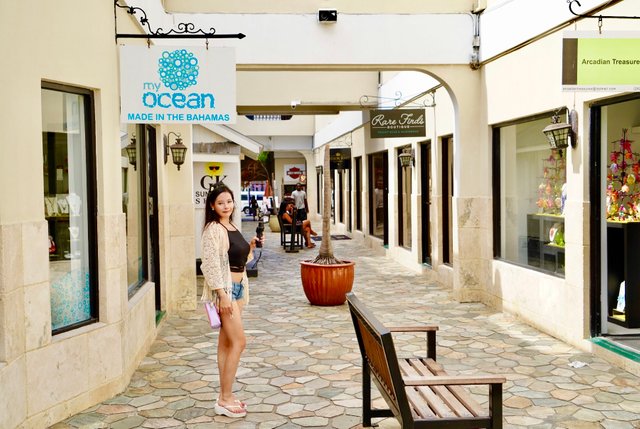 From Bay St. a walk through the Prince George Plaza takes us back to Woodes Rodgers Walk.
This store called Sharkeez is suppose to be the largest gift shop in Bahamas. If that is true, then the gift shops here are not very large at all!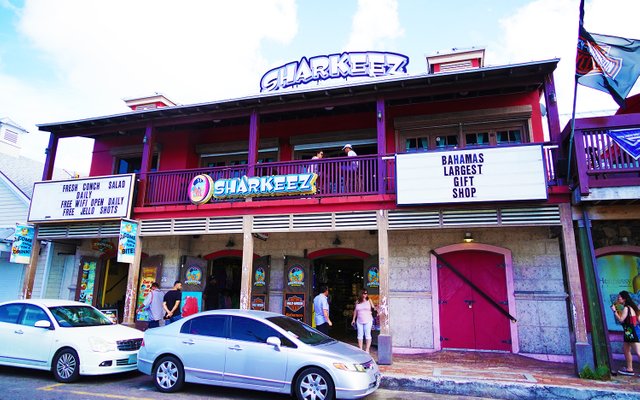 Straw Market
The last stop of the day is the renowned Straw Market. Before Bahamas became a point of interest for vacations, the locals led more subsistence lifestyles and would plait, braid and wave their own baskets and bags which were useful for carrying around fruit, veg and even fish.
Since becoming popular as a holiday destination, the sale of these hand made arts and crafts became a growing industry that pays homage to their humble roots.
Many places sell similar handmade arts and crafts, but the most famous of them is the Straw Market which is right beside Pompey Square!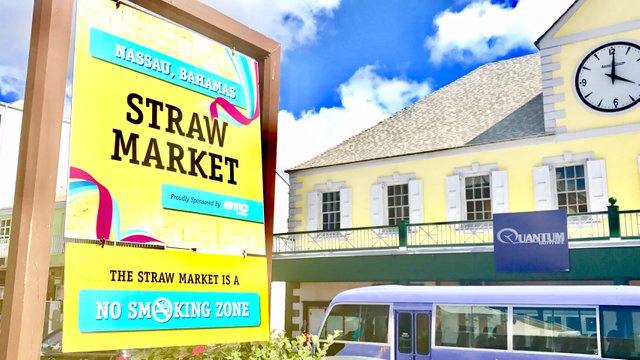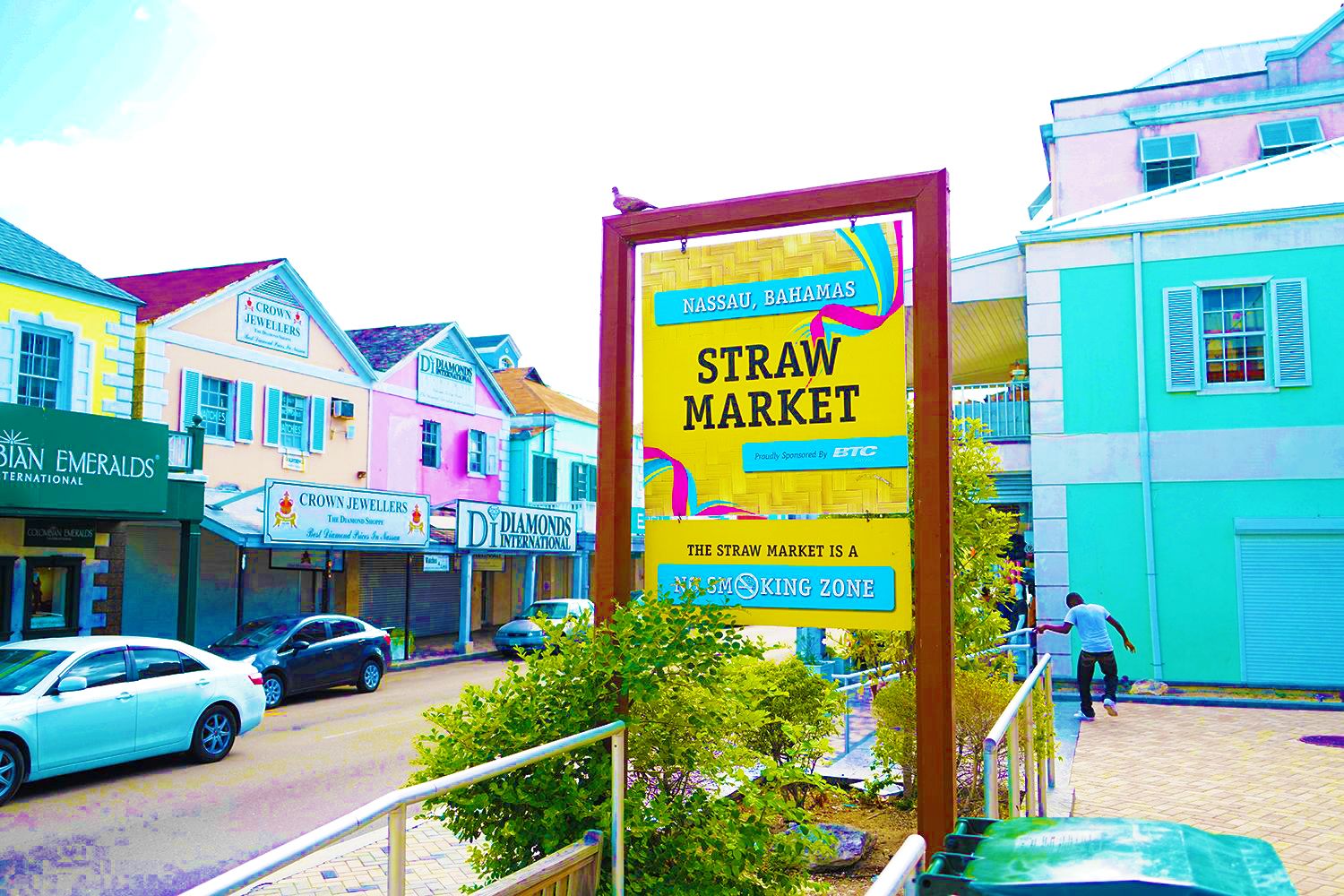 As you can see, there are many merchants here, each with their own stand and selection of merchandise. Most of the articles on sale here are either hand made by themselves, or are locally produced souvenirs. In either case, each store keeper has their own strategy for selling things.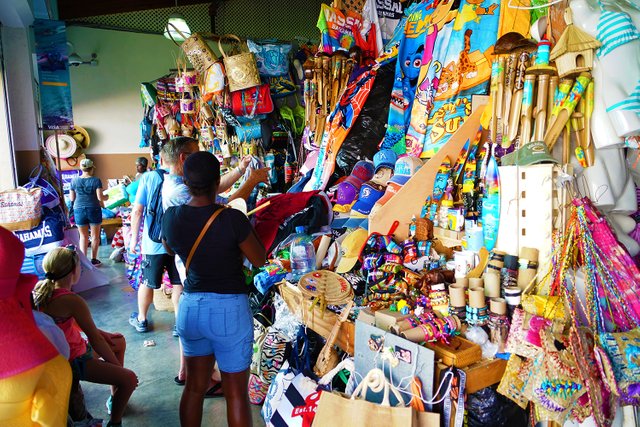 One of the surprising things I find about Bahamas was that it is most definitely not cheap. Certainly a magnitude above similar places in far east Asia. So, even though it is a market, you will have to haggle to get things at much more reasonable price.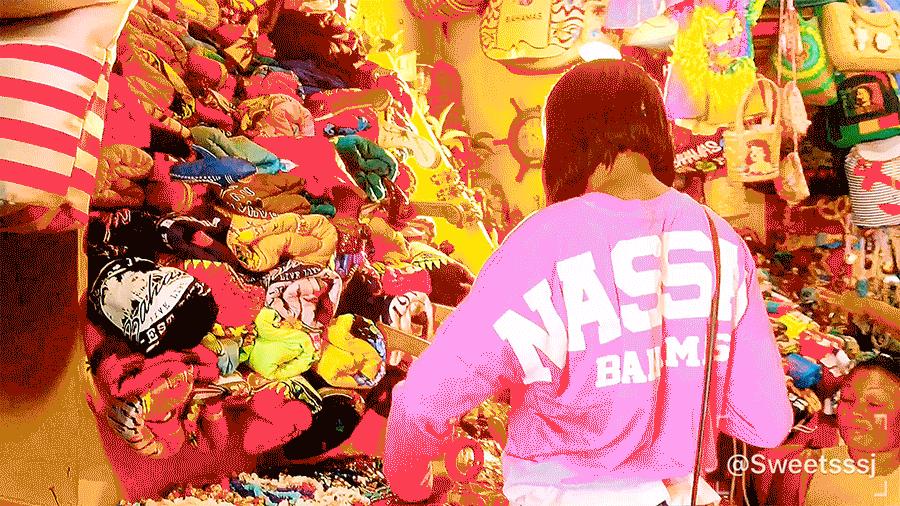 I do like the intense colours of many of the products here. They're extremely eye catching and exude the summer holiday feeling.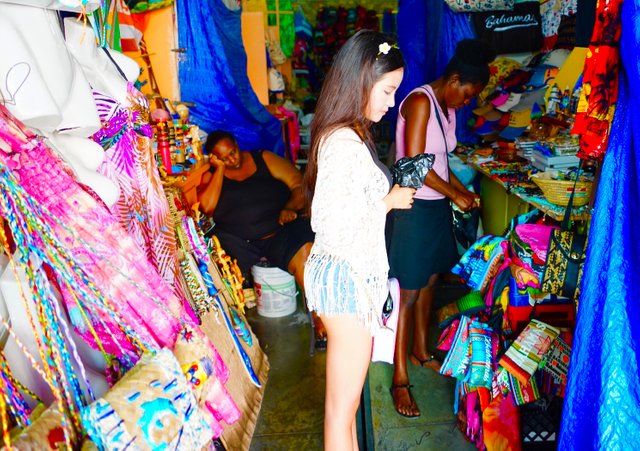 This stall specialises in embroidered plaited baskets and bags, just look at the selection on offer!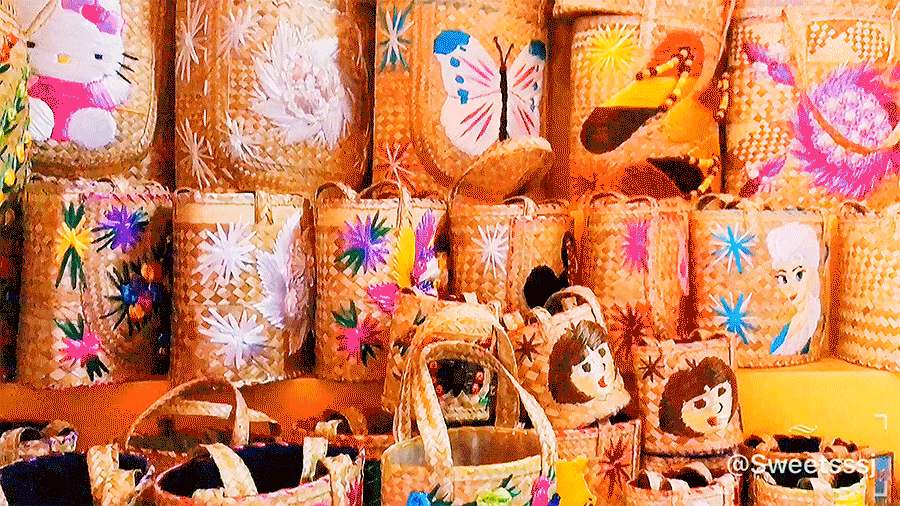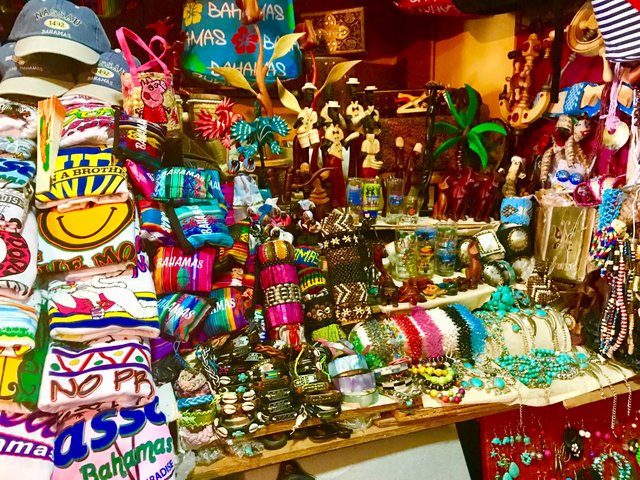 Check out the video!
---
Hope you enjoyed my tour of downtown Nassau! I would love to spend more time in downtown Nassau, especially to feel the local culture, understand the way of life, and see more of the history of Nassau. However, I hope you now have a good idea of what to expect! (just don't go on a Sunday like me!)
---
As always, I appreciate your upvote if you liked my blog, and a follow if you wish to see more. Don't forget to leave a comment to let me know what you think!
---
之前我们探索了关于拿骚最有名气的天堂岛酒店亚特兰蒂斯,从亚特兰蒂斯可以看到对岸的风景。所以今天我想带大家到天堂岛对面的拿骚市中心去玩一下。从天堂岛过河,可以通过坐车和坐船两个方式。拿骚是巴哈马的第一大城市和商业文化中心,港湾街就是天堂岛隔水相望的街道,非常有历史的街道。关于巴哈马拿骚,还有段小历史。早年英国等欧洲国家的海盗长年驻扎在这里,抢劫欧洲往来的商船。1718年,英国宣布巴哈马为殖民地。在那之后,巴哈马涌来不少英国移民来的后裔,这也是为什么这个岛上的居民英文讲的非常标准。在1973年之后,巴哈马才终于独立。
记得在lalaland爱乐之城的电影里,所有的天都是蓝色和粉色的, 因为导演觉得蓝色和粉色是世界上最浪漫的颜色。而拿骚的市中心,街道两边错落有致的分布着英国乔治王时代的浅色建筑和造型特别的木制办公公寓,商店,走在街道上好像穿越到了英国。高高矮矮的房子也都刷成了蓝色和粉色,当然还有紫色黄色和绿色,仿佛来到了连好莱坞片厂都没法复制的童话里的小镇,住在这的人每天看到这么浪漫有情调的彩色房子,肯定心情特别好。我手上这个笑脸饮料是巴哈马独有的汽水品牌,来到巴哈马必须要尝一尝的芒果口味饮料。拿骚的建筑大多3,4层高,接着眼前这个漂亮的紫红色大楼算是拿骚著名的景点—海盗博物馆。众所周知,拿骚曾是海盗活动的基地,17世纪末18世纪初随着商船增加,海上贸易飞速发展,海岛也就随之盛行。在巴哈马,海岛是一个职业。那些本以为是传说的带着黑眼罩的海盗,成了拿骚一景。博物馆里有丰厚的海岛发展史,也还原了海盗的的日常生活。可惜来的时候是周日去不开门。
我身后这个青蛙先生的餐厅,大家很熟悉啦。大部分的彩色房子里都是卖工艺品和名品的专卖店,因为巴哈马购物免税,所以也算是购物天堂。正好碰到值班的巴哈马警察,白色的衣服漂亮的花帽子,我赶紧和他们合个影。这个巴哈马的instagram牌子真可爱。这个巴哈马和拿骚的彩色照相牌子好鲜艳,让我想起了中国的京剧服饰。现在是下午阳光强烈的时候,广场上没什么人。广场的地上有一个像时钟的圆盘,我站在正中间,影子成了时钟的时针,是不是很有趣。来到热带国家,我最享受的是可以和这些鲜艳多彩的热带花朵照相,心情好极了。接着走看见一个步行街,里面是各种商店。最后我们来到拿骚最有名的Straw Market编织品集市。专门卖当地的手工针织品,香料,陶器,木雕手工艺品。就像北京著名的秀水街一样,我也赶紧抓紧时间,为家人朋友挑选纪念品。因为去的时候快要下班了,所以很紧急的拍了视频。希望大家能够喜欢,之后还要去更多有趣的巴哈马故事要和大家分享。