Travel with me #79 : The Aquaventure Water Park, a deal breaker for staying at Atlantis?
Dear Steemit friends: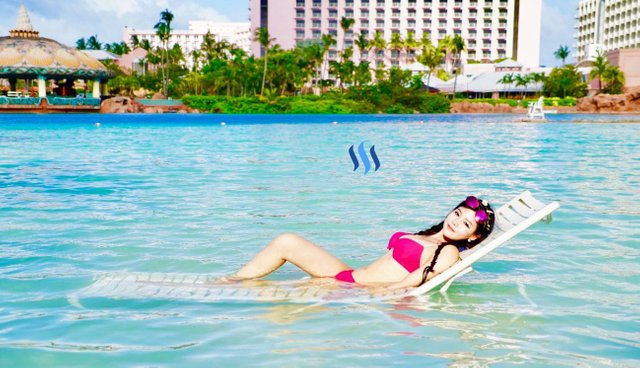 Making a decision to visit the Bahamas should be a relatively easy one. What is harder to decide on is where to stay. Even if you decide to stay at the Atlantis resort, you are still faced with deciding on which hotel within the resort to stay at.
Will it be the value for money Beach Tower, the moderate run of the mill Coral Towers, the deluxe and signature Royal Towers or the ultra luxurious Cove at Atlantis?
Each will suit a different kind of visitor and each will be have different price ranges.
One thing that is consistent across all the hotels available at Atlantis, is the access to the beaches, aquaventure water park, and the marine aquariums.
Considering a non-Atlantis guests will pay around $135 USD for a day pass to Aquaventure water park and Atlantis' beaches, you might even consider your room to be quite value for money given that access to these facilities are inclusive of your room price (even the value option of Beach Tower).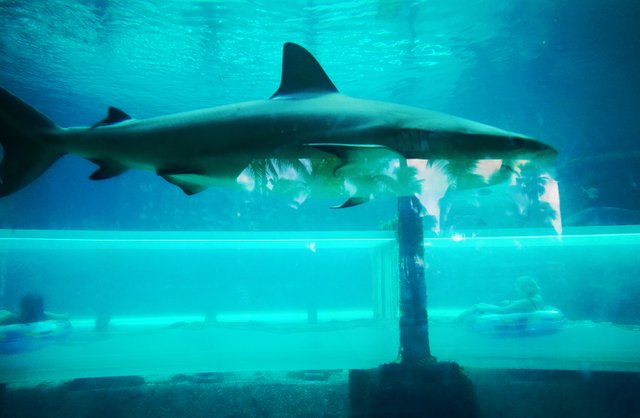 For many visitors, a stay at Atlantis resort is a no brainer. Prices at Beach Tower are comparable to budget hotels outside of Paradise island, and yet no other resort can offer the same quality inclusive facilities or sheer number of activities. Baha Mar doesn't offer the expansive marine aquariums, or the terrific Aquaventure water park, despite this fact, Baha Mar's prices lean closer to the Cove at Atlantis - the high end ultra luxurious hotel which of course include access to all of Atlantis' standard offerings.
So, is it really worth staying at Atlantis?
Is access to Aquaventure water park and Atlantis' private pools and beaches really worth it for the extra cost?
We've already seen how awesome The Dig is, and also had an opportunity to visit Predator Lagoon to see Sharks, Stingrays and Sawfish up close. These are all exclusive to Atlantis resort guests.
Well, now let me show you the beaches, pools and water park which are also exclusive to Atlantis guests.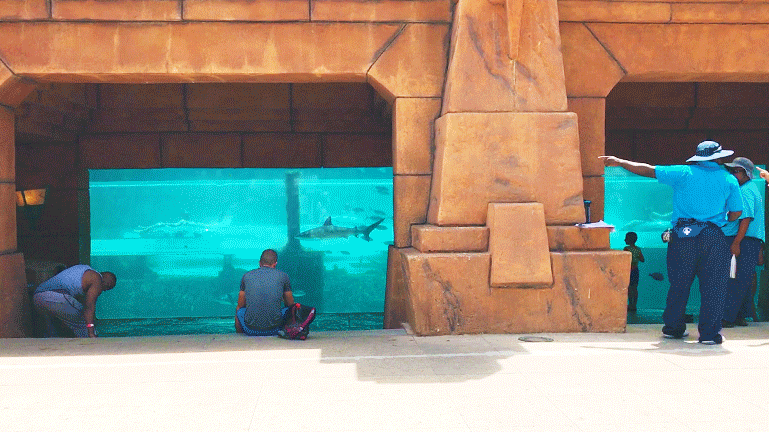 Most of the food choices by the main pools are quite simple. Salads, Wraps, Burgers, and Soft Drinks are your standard options, for anything else, a visit to a "proper" restaurant is recommended, and we've also had the opportunity explore a number of these already.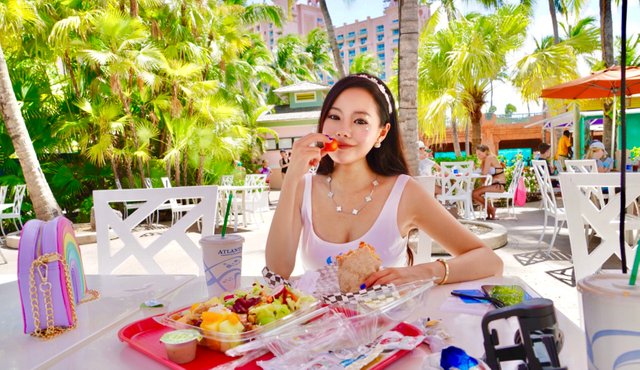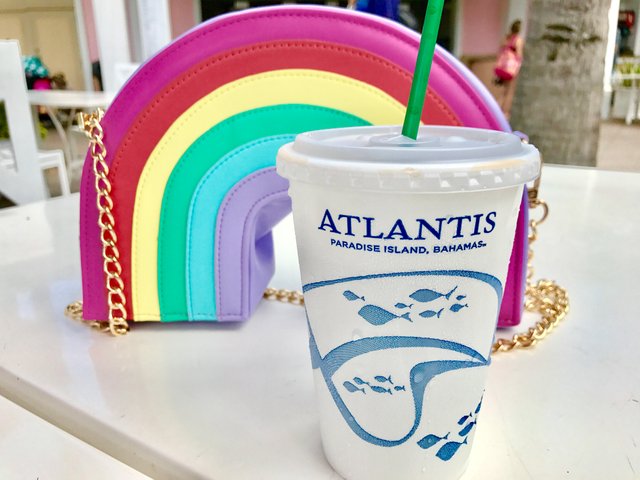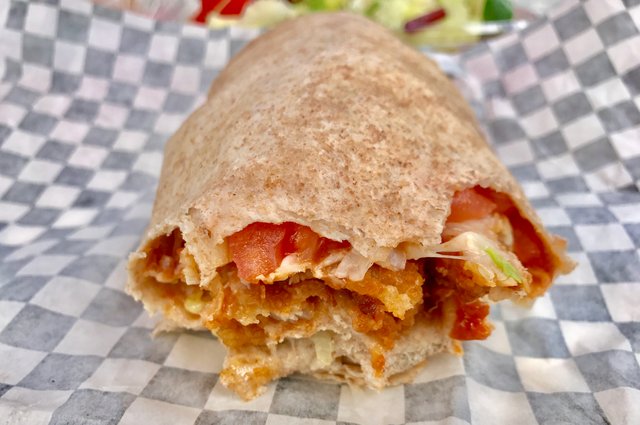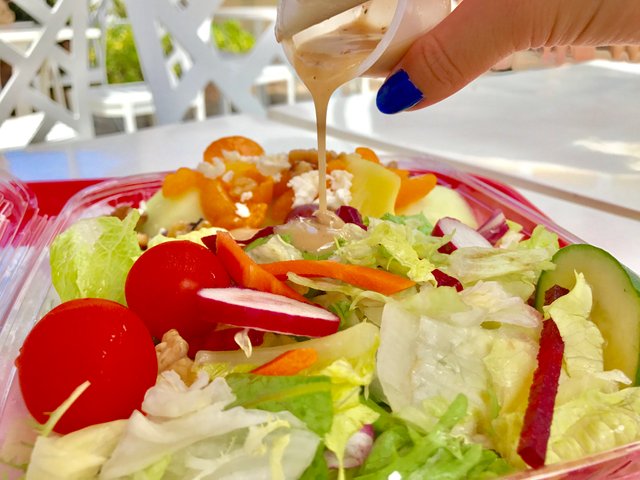 If you prefer to hang by the beaches, there are two main beaches, namely Cove Beach and Atlantis Beach.
Both have beautifully clean and natural sandy beaches with shallow blue natural water. Be warned that there are many non licensed water sports operators here who will try to convince you to have a go on their jet ski's and other water sports. These are not licensed by the hotel so the hotel will not be held liable for any accidents which may happen. Use at your own discretion.
The Cove beach seems like a sun bathing paradise with so many sunbeds laid out in neat orderly rows.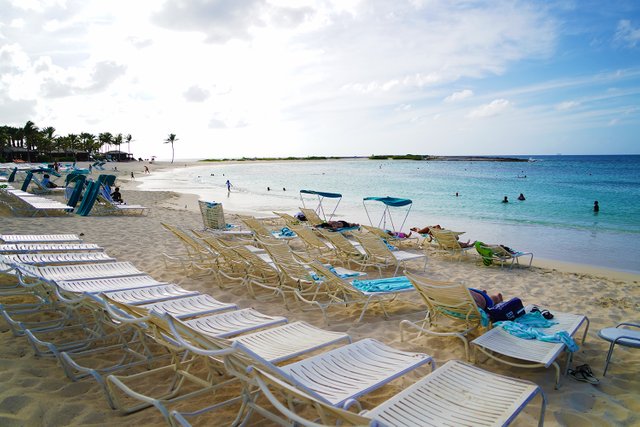 I prefer Atlantis Beach. It doesn't have the plethora of sunbeds and seems to be favoured by the sea gulls too.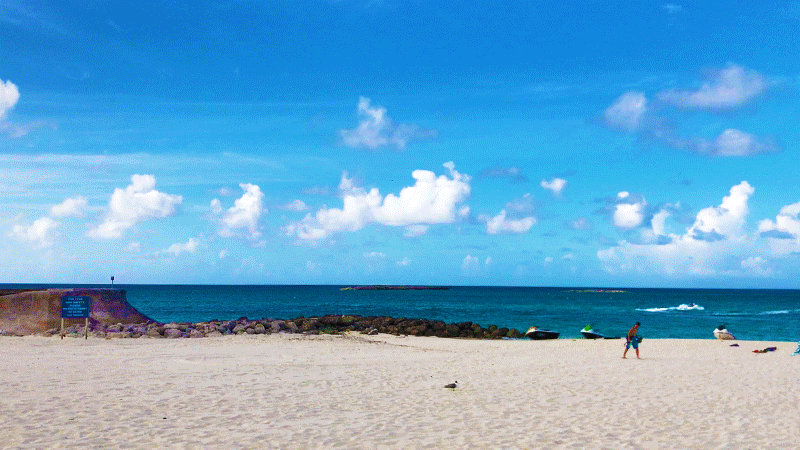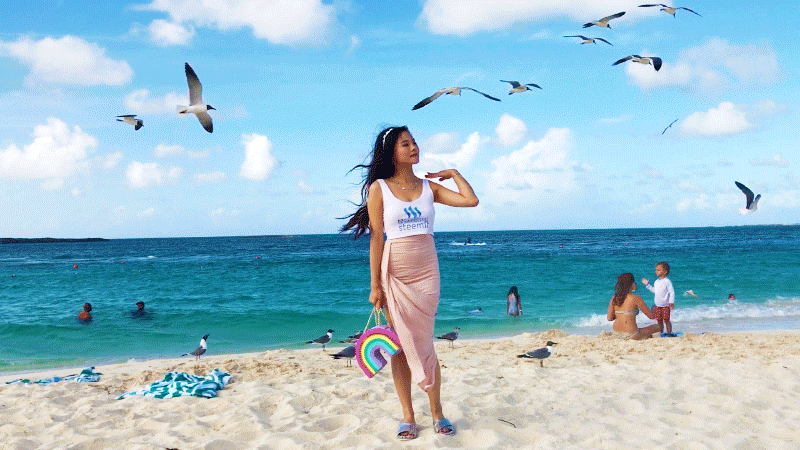 For most people however, the Aquaventure park and it's many pools are the main attraction. This is the 'waterfall pool' which was surprisingly empty.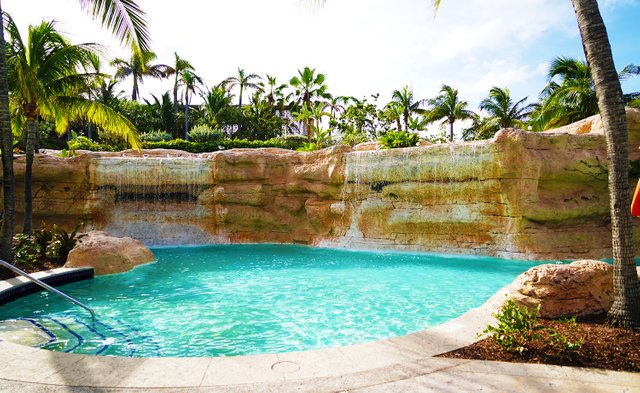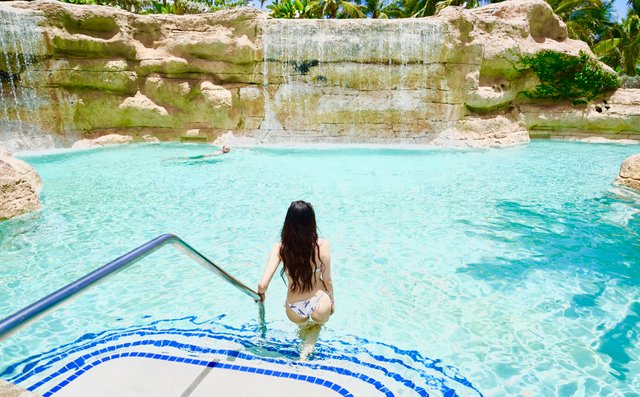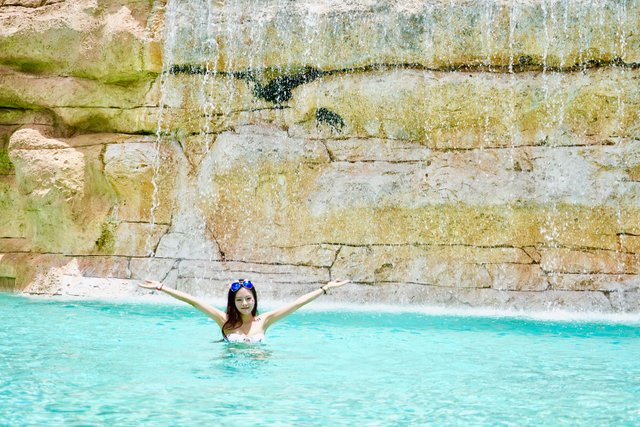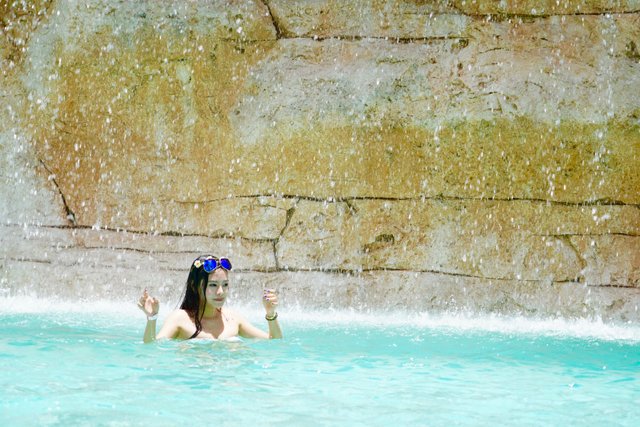 There is also a toddler area with some mini slides and climbing apparatus. The pool here is also very shallow making it both safe and fun for the young ones.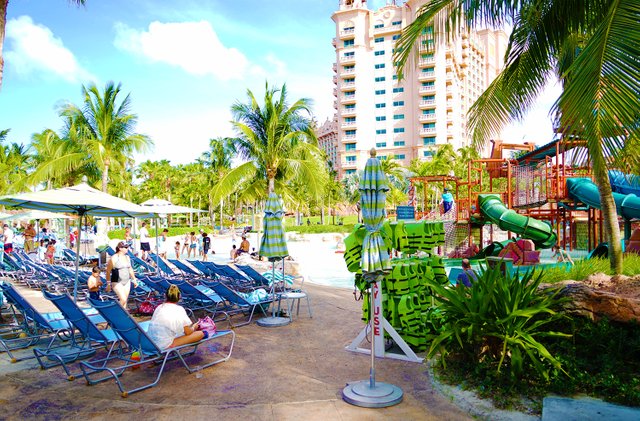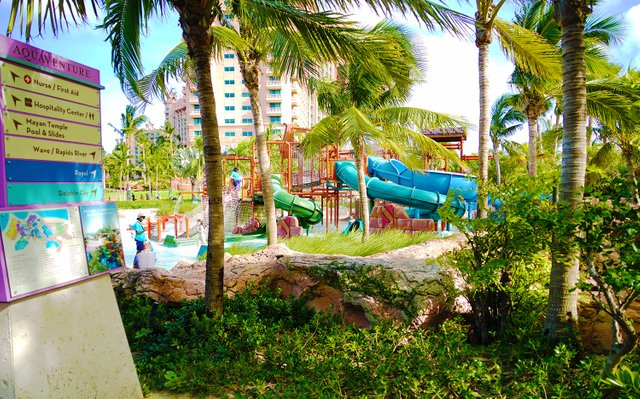 There's even a place dedicated to rock climbing. It looks quite simple and probably isn't a challenge to the experts but at least the option is there!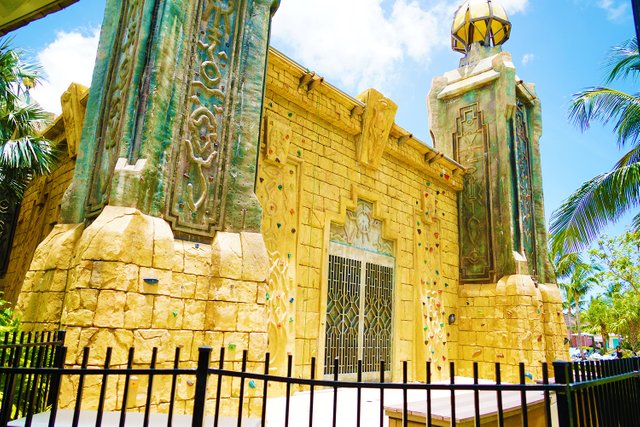 This is the main swimming pool which is directly in front of the Royal Towers. For me, it's probably the least interesting pool out of them all.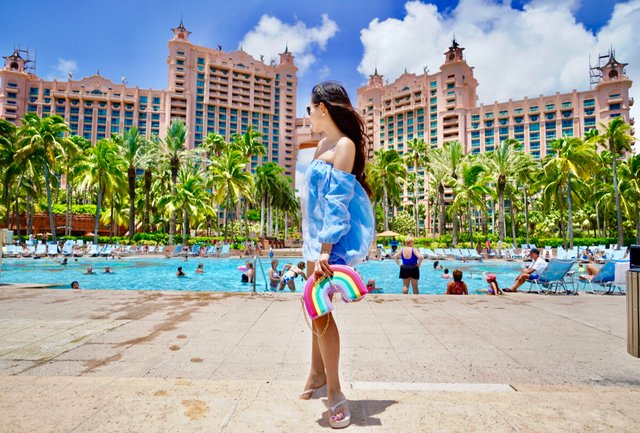 Being the main pool, it's also the one most visited so expect to find a lot of people here throughout the day. If you like the busyness and aren't too claustrophobic then it'll be fine. Perhaps some of you will even like rubbing shoulders with strangers due to close proximity.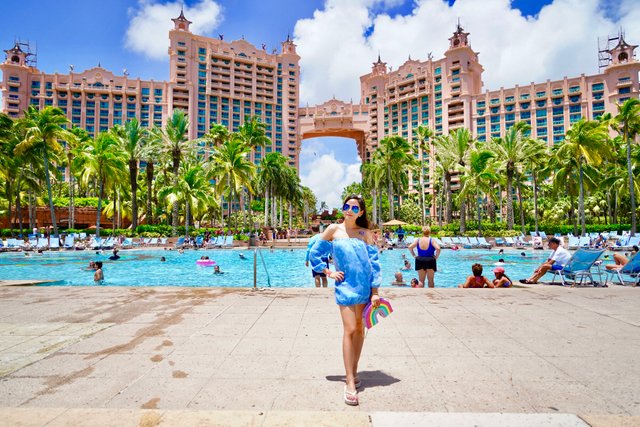 You can also rent private tents to save you from going back to your room if you intend on staying by the pool all day.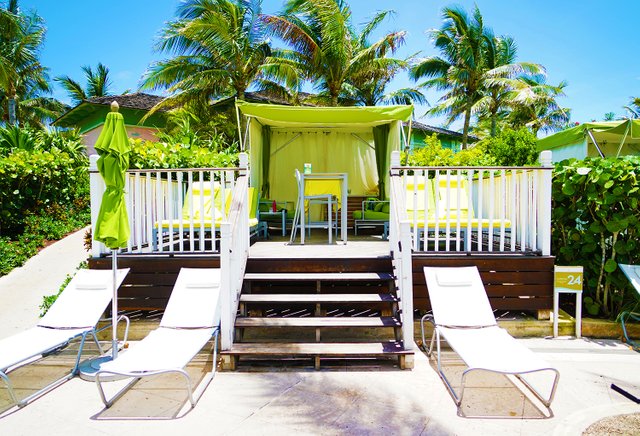 Here is yet another super shallow pool. If you're here to actually go swimming, then this is not the place for you, as even standing up, the depth of the water is only up to my knees. Let's face it though, very few people actually swim "properly" here. It's a holiday resort, not a training place!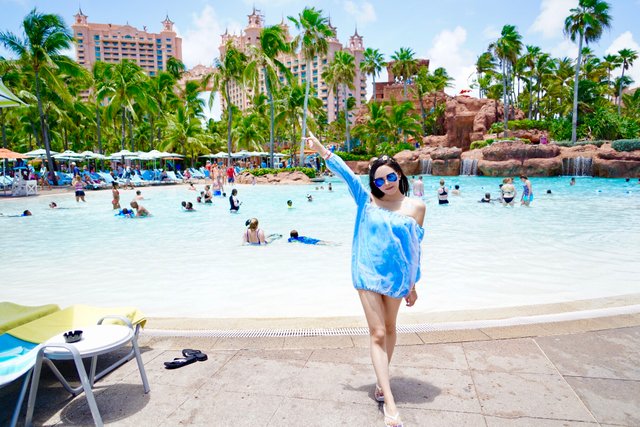 Paradise Lagoon
We already mentioned this place before as we made our way to the Predator Lagoon.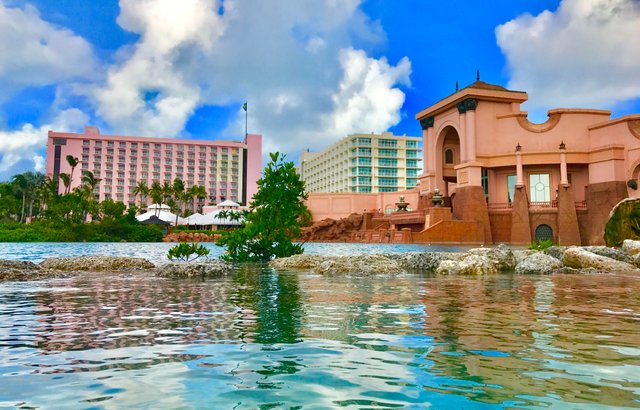 In the distance, you can see the seashell roof of the Predator Lagoon entrance.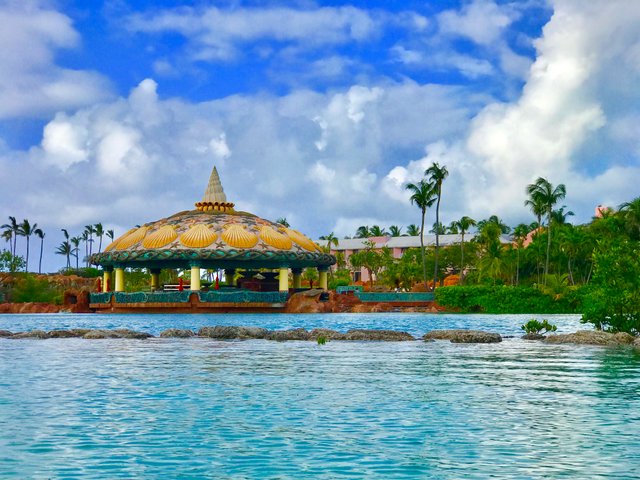 There are hardly any people here, it's so peaceful and tranquil. No annoying kids screaming, and splashing around in the water. Just pure bliss.

You can grab yourself a sunbed and lie half submerged in the shallow water.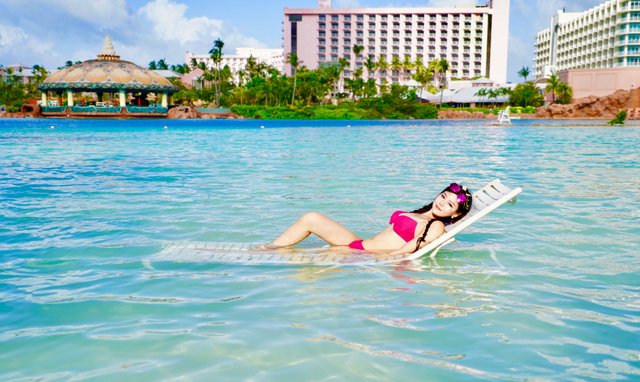 This is my view from the sunbed.

Around me there are just palm trees absolutely everywhere. It's a really lovely mixture between the green trees and blue waters.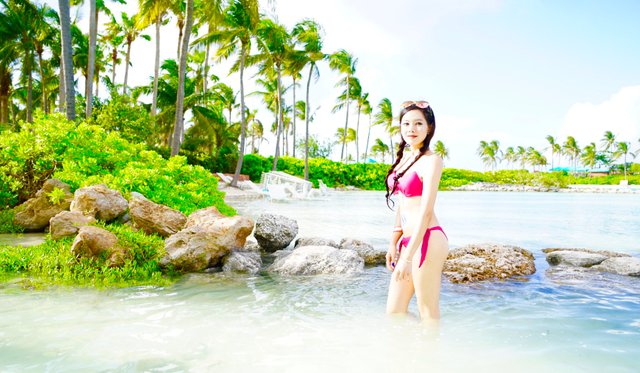 Here you can see the different gradients of blue as they transition to green and then back again.

One of the other great things about Paradise Lagoon is that it is connected to the sea. This means it has it's own marine ecosystem independent to the aquariums run by Atlantis. Here, all the fish and marine wild life are completely natural and free to roam the sea.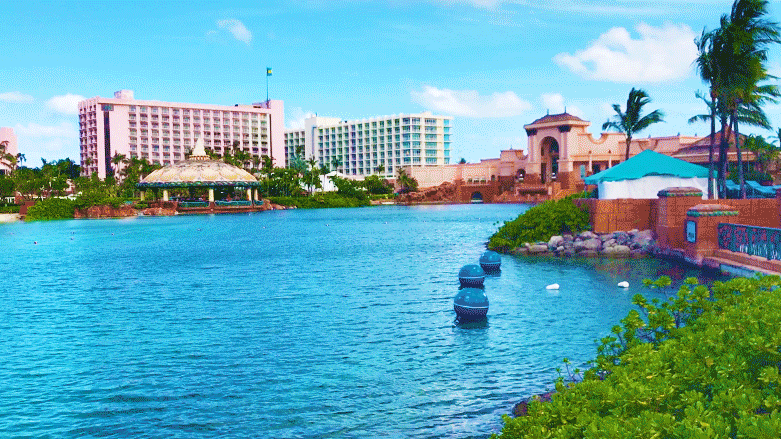 To explore the Paradise Lagoon, we can cross over a bridge to the other side, and pick up some snorkelling equipment.
As you can see, there are lots of mini paddle boats here which can be used on the Lagoon if you wish to rent one.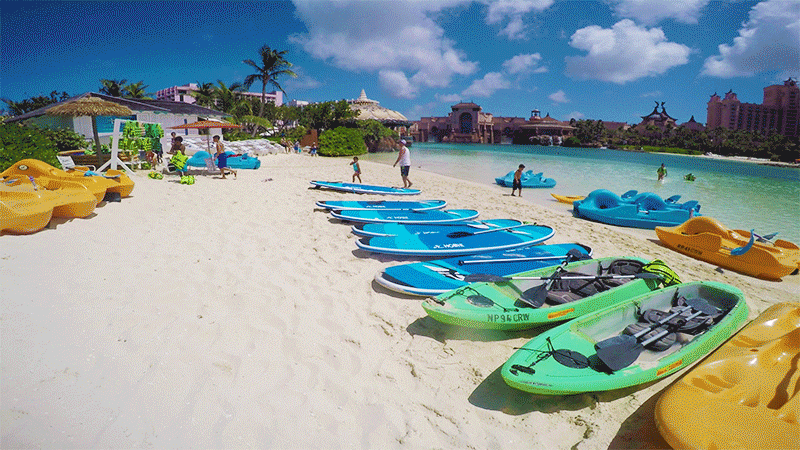 I was surprised to find quite a lot of fish in this Lagoon.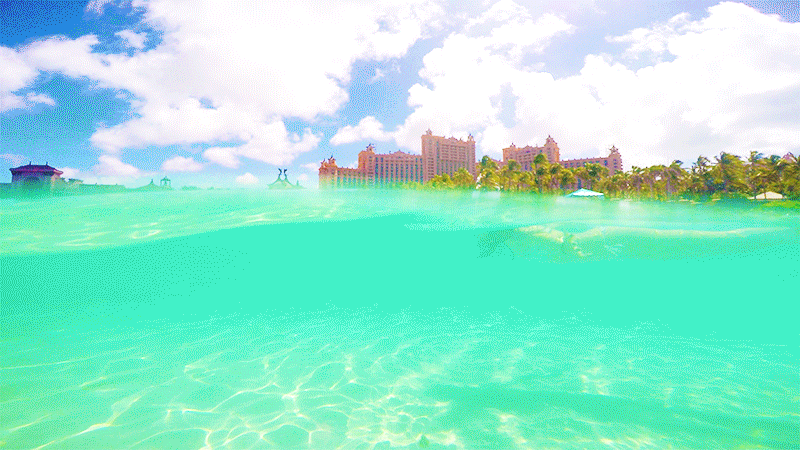 To attract their attention, you can just use a leaf to perturb the surface of the water, and they will come over thinking it's something to eat.
They don't seem to be afraid of humans at all. They swim so close to me and my camera that I often felt them physically touch me and the camera.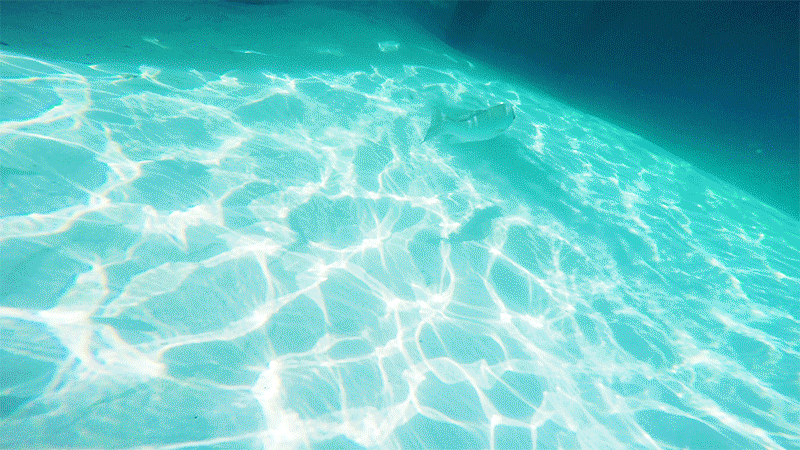 Luckily they don't appear to be carnivorous. If I was around this many Piranha's, I wouldn't be this relaxed.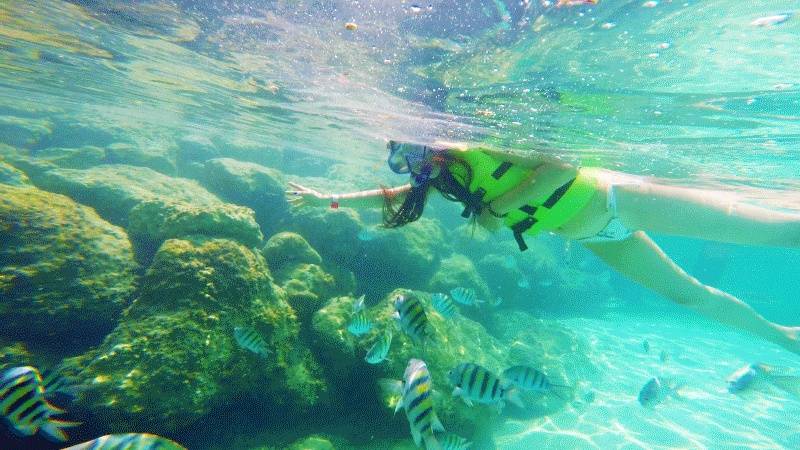 Rides and Slides
One of the most popular 'rides' at the Aquaventure park is the river rapids. You sit on your own donut float and the artificial current of the water will whisk you away on a very wet, and exciting journey around the whole of the park.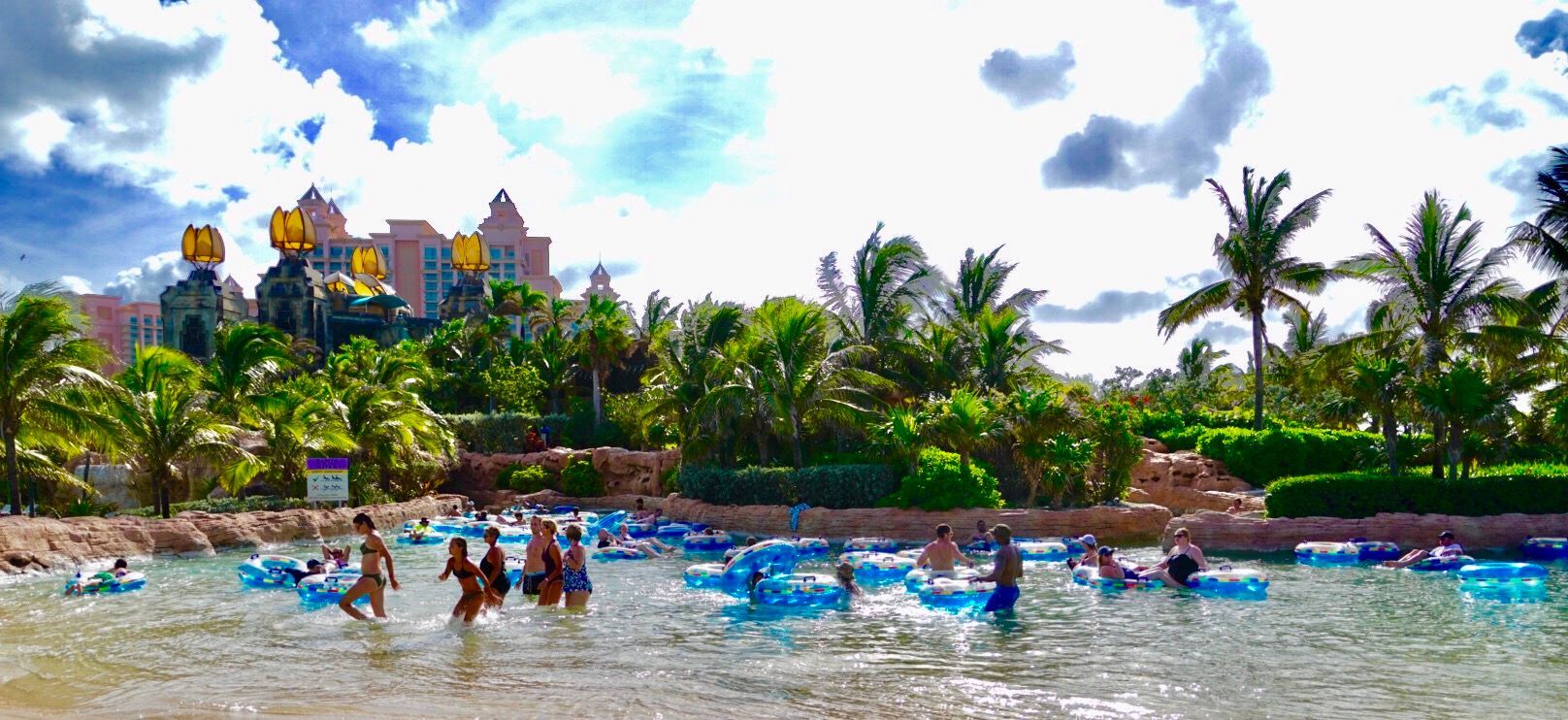 It's really quite fun actually, and all the splashing around and rough water currents make for a very "cool" experience. You'll never feel too hot under the sun whilst on this ride because there's almost no chance that you'll stay dry!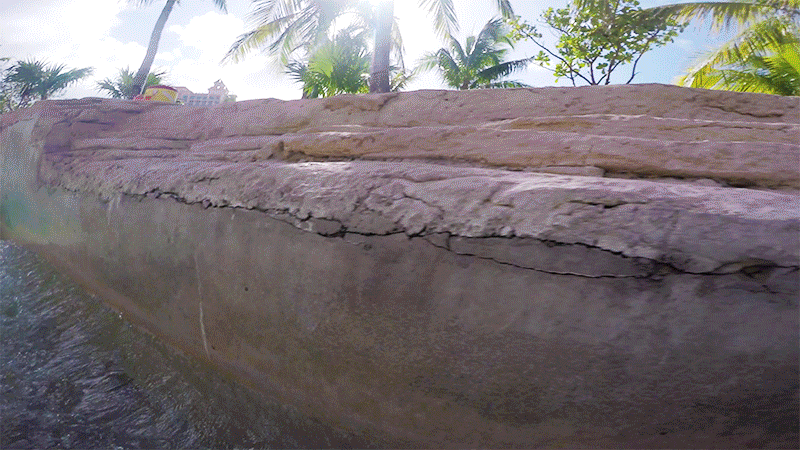 Mayan Temple Slides
One of the signature buildings at the Aquaventure water park, the Mayan Temple is actually home to several slides each with their own offering.
The most exhilarating would be the Leap of Faith which features a near 60ft vertical drop from the top of the Mayan Temple.
For me, I opted for the Challenger Slide which is like a beginners option.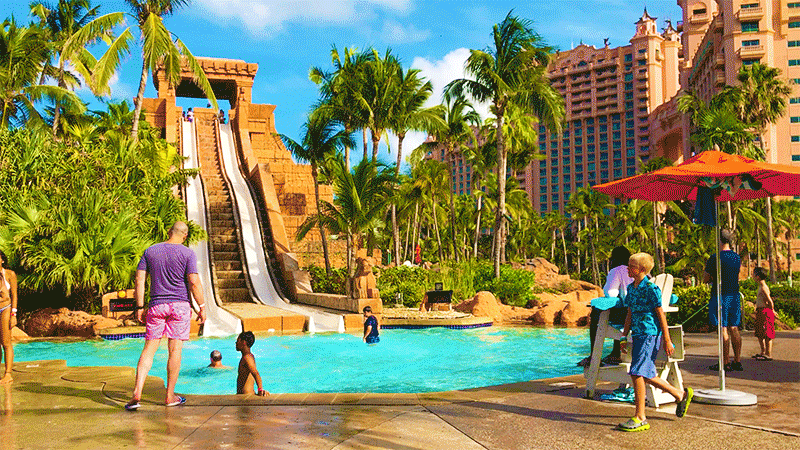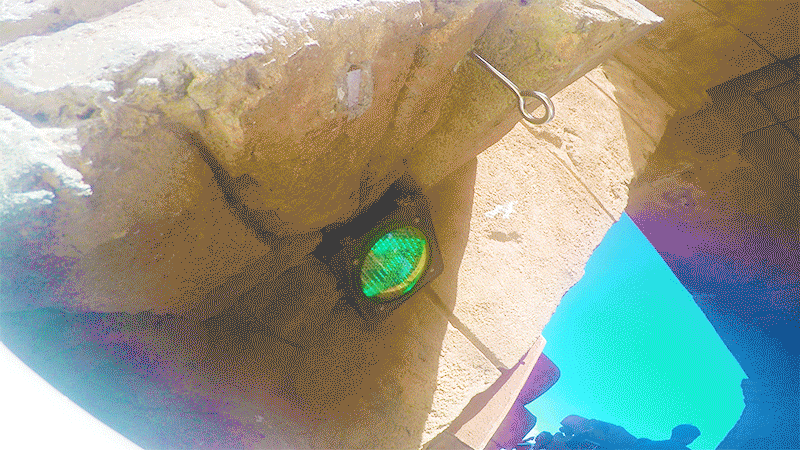 After the Challenger Slide, I decided to go for the Serpent Slide which is a twisty turny slide in the darkness culminating in a leisurely pass through a clear acrylic tunnel submerged in a shark-filled lagoon.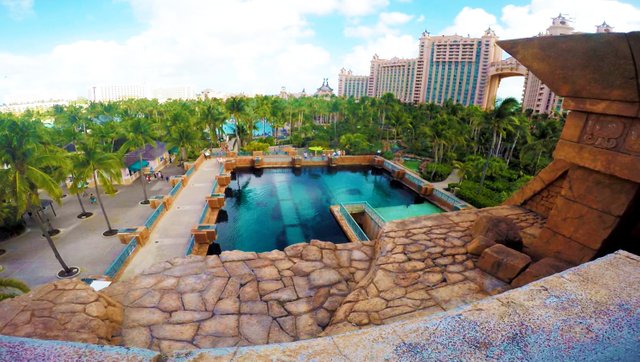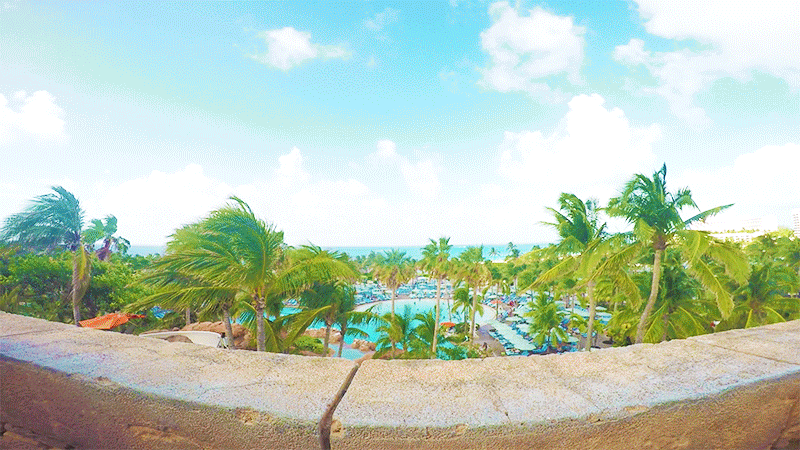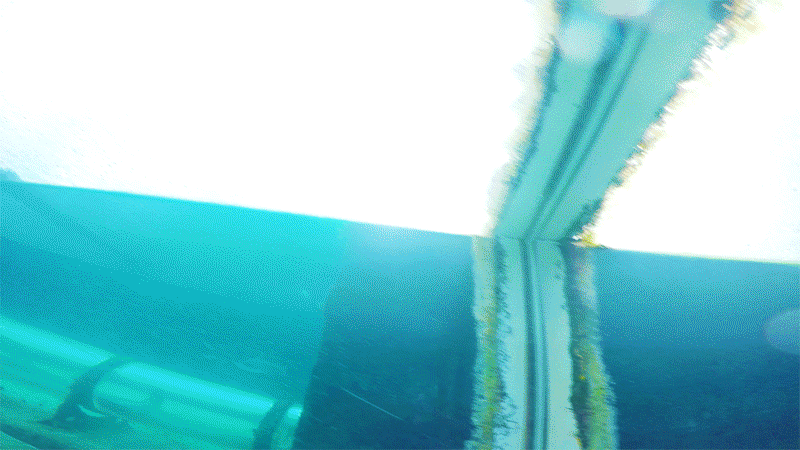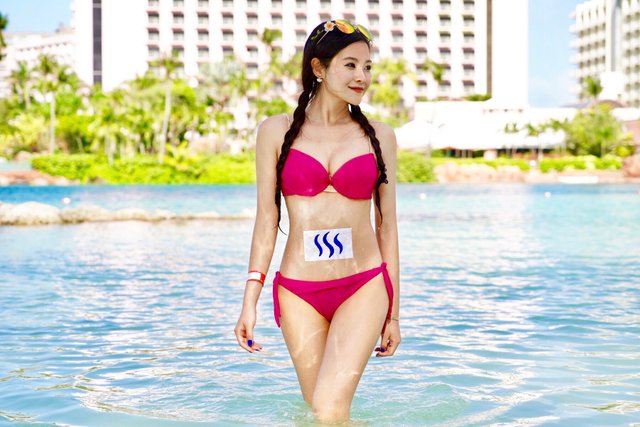 ---
So, after a look at the various water activities and facilities available at Atlantis, my personal feeling is that they do add a whole lot of value to the stay at the resort. Atlantis without the aquariums, lagoons, beaches, pools and water park would not feel like Atlantis, and that is part of the reason why people are willing to pay a premium to stay here.
If you are not interested by any of these 'extras' then you are likely better off staying at somewhere like Baha Mar, or even a budget option in downtown Nassau. That's perfectly reasonable too, after all, Bahamas is a lot more than just resorts such as Atlantis. In fact, I might avoid Atlantis altogether next time I visit, not because it's not a fantastic resort, not because it's not value for money (because it is fantastic and is value for money), rather because it's almost too distracting from the rest of Bahamas which I had less time to explore as a result of all the activities which keep you glued to Atlantis!
On the other hand, I can't praise it enough, and for first time visitors, I really couldn't recommend anywhere better.
---
I hope you enjoyed my round up of Atlantis' water park, beaches and lagoons. Please upvote the post if you like it, follow for more, and leave a comment to let me know what you think!
---
今天我想带大家去亚特兰蒂斯酒店好玩的水上乐园玩玩水,这里有几十个大小各异的游泳池,还有高矮不同的水滑梯,能够充分燃起游客们的运动细胞和夏日狂欢的激情,酒店弯曲绵延的私家海滩也真正为顾客提供了安静放松,非常私人的休闲环境,听到这里你会不会已经有些心动了呢,赶快和我走进亚特兰蒂斯水乐园吧。
亚特兰蒂斯酒店集合酒店、沙滩、水族馆等各种娱乐休闲设施于一体的庞大度假村,它与迪拜的亚特兰蒂斯的棕榈岛是姐妹酒店。这家酒店的价格不算便宜,在拿骚整体酒店价格算是比较昂贵的了。所以值得与否,除了体验酒店真正的居住环境,最吸引人的就是它的水上乐园了。平时,如果你不住在亚特兰蒂斯酒店,水上乐园没有单独的门票,必须要买水上乐园,海滩和水族馆的套票,每人约135刀,这也快要差不多亚特兰蒂斯酒店一天的房费了。首先我们在游乐园吃了欢乐午餐,有汉堡包,沙拉,饮料,美妙的一天开始啦!
沙滩
首先我们来到酒店的海湾沙滩,这片海滩主要提供给住在旁边海湾塔楼的游客享用,午后的沙滩上很宁静,你可以坐在沙滩椅上静静享受一整个下午水天一线的蓝色世界。接下来这个沙滩是亚特兰蒂斯沙滩,这个是酒店的主沙滩,主要提供给住在皇家塔楼的游客享用。沙滩上自由飞翔的海鸥,吸引我走过去与它们同框合影,这样的场景太美了。
泳池
了解完酒店的沙滩,我们再去看看酒店的游泳池吧,享用酒店的游泳池,在池边上的小屋还可以自由领取酒店提供的毛巾,并且为了保证客人们过渡集中在同一个游泳池,要坐在池子边上的沙滩椅可以通过网上免费预定,我觉得这是一个非常好的办法,避免游客挤在同一个地方,因此也保证了游客们一个舒心宁静的独家环境。这个是瀑布游泳池,正好没有什么游客在用,我赶快进水里享受一番清凉。瀑布冲下来的力量好大,让我有些眩晕。瀑布游泳池边上有一个儿童水上游乐园区,可见酒店为来度假的家庭想的非常周到。再往下走,是一个攀岩区,提供给热爱运动的游客,不过由于天气太热,这片区域被闲置下来。主楼前面这个游泳池应该是酒店最主要的游泳池,也是人最多的。不过这片游泳确实景致甚好,除了可以在水里躺着欣赏亚特兰蒂斯别出心裁的独特主楼建筑群,还可以享受楼前面密密麻麻的棕榈树,放松自己的眼睛,愉悦心情。在主游泳池边搭起了很多小棚子,看起来很奢华的休息场所,听说是要花钱租用的。另一个游泳池在玛雅神庙滑梯边上,也有小型瀑布和儿童区,酒店服务的泳池设计真的很贴心。接下来是捕食者池的人工湖,这是酒店里最大的游泳池,也是我最喜欢的一个。中间的深湖区里养着大大小小成百上千的鱼,边上的浅水区就是我们玩耍的天地。把沙滩椅搬进水里,躺下来休息真的很舒服。
浮潜
在捕食者池人工湖的另一面是玩各种水上运动,例如划船,浮潜的天地,不需要预约,只要在海边借上浮潜工具,就可以跳进水里和鱼群供舞了。第一次这么近距离接触热带鱼,摸它他们可爱的身体,太有趣了。
漂流
漂亮系统是绕着整个亚特兰蒂斯酒店漂流一圈,在4个漂流的起点,可以借用游泳圈。漂流的过程又凉快又刺激,其中有很多小瀑布的地方冲下去,引起大家尖叫。
玛雅神庙滑梯
这个仿造玛雅末日神殿的建筑一共有3个不同的滑梯,排队的时候可以看到游乐园的全景,还有那个冲下去之后恐怖的鲨鱼池。我最喜欢的是坐在泳圈里坐在冲进鲨鱼池,可以和恐怖的鲨鱼隔着玻璃来个同框噢!
希望大家喜欢狂欢的水乐园,之后还有更多好玩的故事要分享给大家!