Supper Time Part 5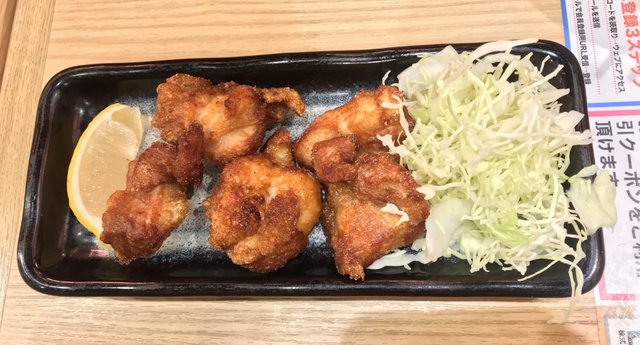 Fried Chicken
I know I know I know, nothing special about fried chicken. Almost every other country you can eat fried chicken but Japan fried chicken is different than any other country. Look at plate, the fried chicken come with lemon and with shredded cabbage. Even the colour of the fried chicken is slightly different than the famous Kentucky Fried Chicken (KFC).
Almost all the fried chicken size look like this, there is no chicken wings or drumstick fried chicken, I means the big size fried chicken that I always see. I notice most of the food in Japan doesn't come in big size, 50% of the foods size is small to medium. I started to think why🤔 🤔 🤔 . Maybe because it is easy to chew if it small size, the chef is very thoughtful. Japan is a very thoughtful country, even the hotel I stay also very thoughtful. I have never ever receive an earpiece, only in Japan hotel does that. Reason is because they want you to have a good night sleep, plug in the earpiece so that the car noise or any noise can't disturb your sleep.
When I reached my room, there is a room spray that was prepared for me to spray my shoes, my clothes, my bed or anything that I wish to spray. Guess what, the spray was exclusively make for the hotel. I couldn't buy it anywhere because they didn't even sell it.