A Hidden Oasis!!
We were lured in with a story time but found a hidden gem!
Opened in 1985, the Tohono Chul is a wonderful mix of natural beauty, beautiful plants, culture and art. Their website suggests that they are located over 49 acres of land, but the children's short legs only allowed us to explore a small portion of that today!
Story time was lovely. They had a selection of picture books all set in the desert and featuring local plants and animals. My kids liked it, and it would have been appropriate for older children too. It was nice to read outside and I definitely plan to do that more at home too.
After storytime the docent offered to give us a tour.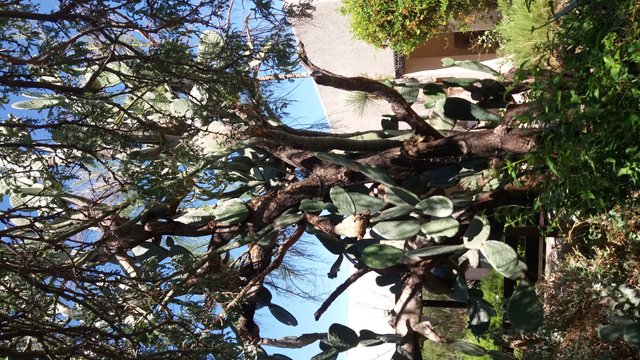 The docent told us that this is the Indian Fig Cactus and they can grow to be around 15 feet tall. It was as tall as a tree and a very impressive sight. She explained that the pulp used to be used in the old style adobe buildings in the area.
There were a few different docents that we encountered this morning, all were very friendly and eager to share their knowledge with us. I think of all the places we have been in Tucson so far, their team was the most willing and passionate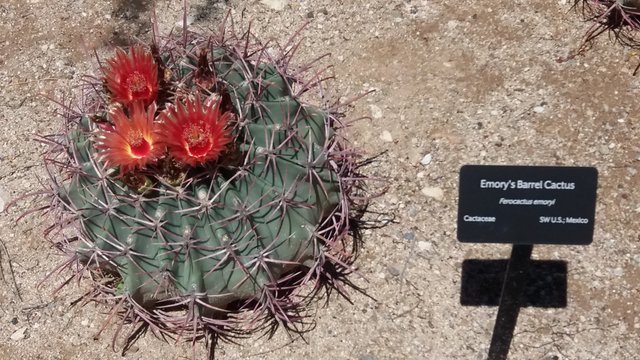 Tohono Chul has beautiful themed gardens like the Butterfly garden, Ethnobotanical Garden, Streamside Garden and Sonoran Seasons Garden. I really loved this Emory's Barrel Cactus. The flowers were so vibrant and it was hard to capture that in a photo.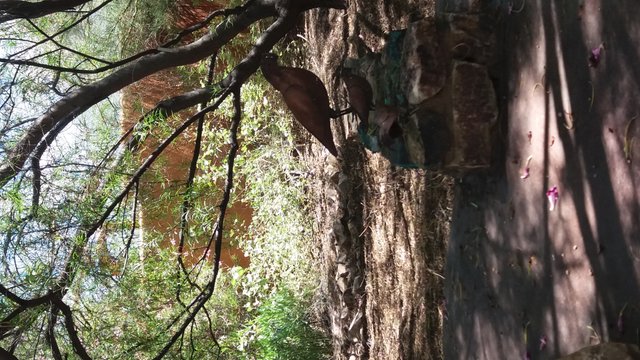 Throughout the gardens there were artistic sculptures of different animals found locally. These birds looked so natural even though they were made of metal. We also saw Mule Deer, Cactus and Horse statues.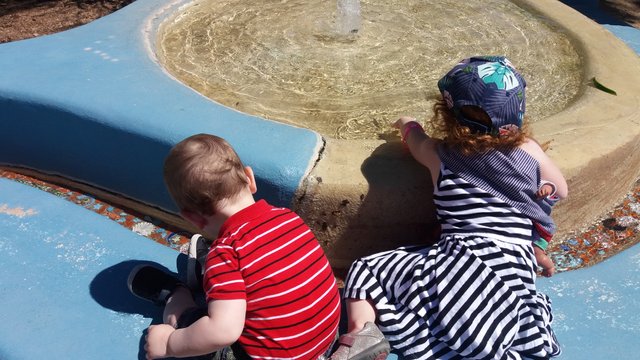 Next we came to the Children's Garden. There was a little flowing river and the children both enjoyed placing their boats at the source and watching them flow down to the mouth of the river.
As you can see, M is still very eager to bring her baby everyehere in her little ringsling that I made her.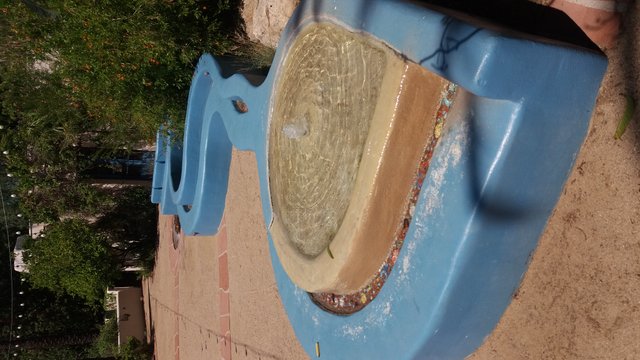 As well as the river there is also a little outside classroom in the children's garden. I bet it is great fun in a group. They offer a range of learning activities and crafts throughout the week.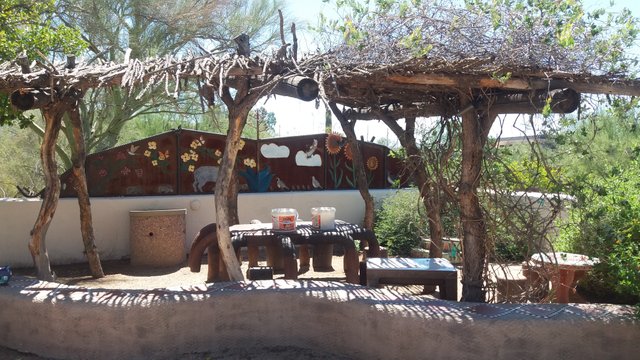 We did encounter a docent with animal skulls and pelts. He was extremely knowledgeable and taught us how to tell the different between predator/prey using the skulls. He showed us subtle differences in eye placement as well as in the type of teeth they have.
The docent had skulls from the major species that live in the area, including mountain lions, javelinas, bears, packrats, jackrabbits, household cats and a deer.
There is also a musical section in the Children's Garden.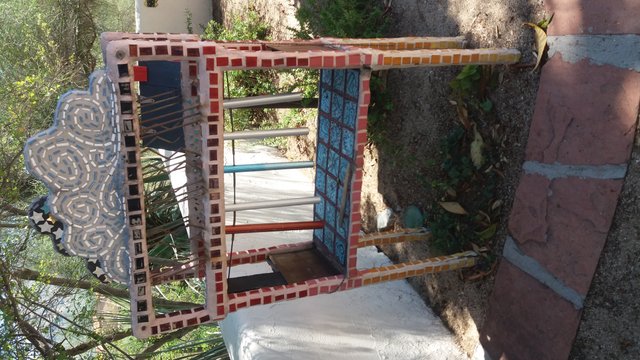 There was a little garden where a Desert Tortoise lives. We had great fun looking for him in amongst the plants he loves.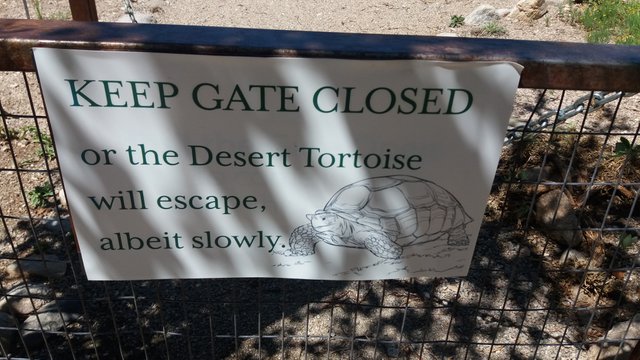 Sadly he was hiding today, but we did see his wild friend!!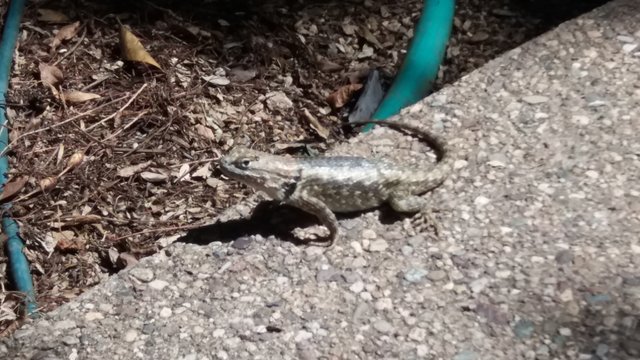 I showed M how people use the sun to tell the time and explained it is where the clocks we have in our house evolved from.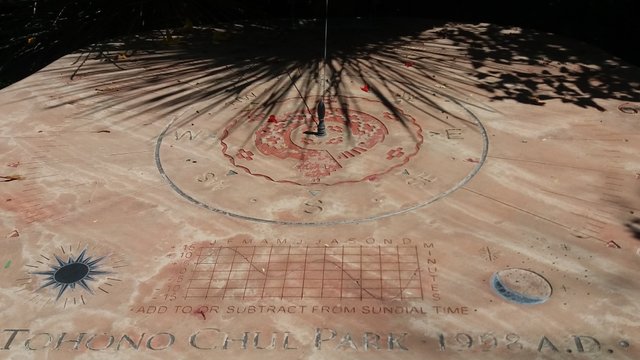 It was complicated but fun!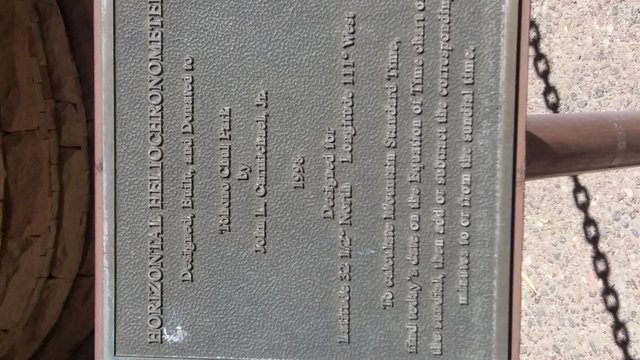 On the way out we saw this amazingly large piece of Copper with Azurite and Malachite. The urge to touch was strong!!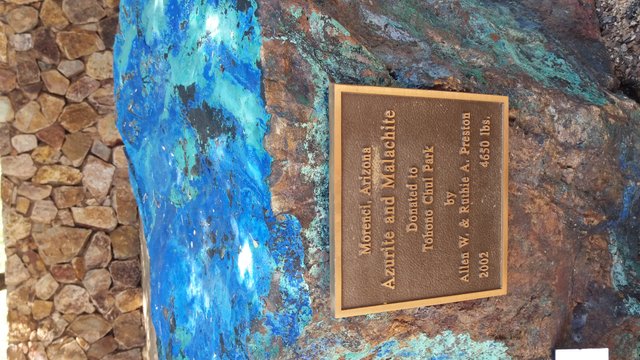 The other added bonus of being outside exploring is that my kids fell asleep in the car and I have 15 minutes peace to myself on the driveway 😉
The only downside was that we could only stay 90 minutes as it was 95 degrees today and I had the kids with me. We will definitely be back again though and I recommend it to anyone planning to visit Tucson.