Best Things To Do In La Romana - Activities And Tours
With these fun things to do in La Romana, Dominican Republic, you'll get a taste of this fun island. The Dominican Republic is world renowned for its sugar cane fields which you can explore off road in an open 4x4. Then learn about rolling cigars in a boutique factory. The azure blue waters of the Caribbean Sea calls with stunning marine life that can be admired when you snorkel or scuba dive. Sail into the sunset on a catamaran or have an adrenaline rush on a speed boat. Golf lovers can play some of the most scenic greens on the planet and the fearless can soar high above the lush green forests on a zip line. End your day relaxing at a quaint restaurant in a re-created 16th century village. Here are some of the most fun tours in La Romana and activities.
Cruises, Sailing, Water Tours In La Romana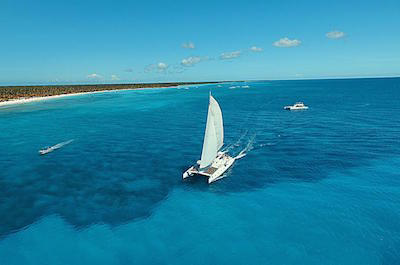 More About Cruises, Sailing, Water Tours
Getting aboard a sailing or cruising vessel is a definite thing to do in La Romana and one of the best La Romana activities. The city lies on a stunning coastline and the water calls! Start with a half or full day luxury boat trip that allows you to see the sights from the water. Stop at a private beach where you can snorkel in the pristine clear waters. For extra excitement experience a relaxing catamaran cruise that anchors a small distance from Saona Island and then transfers you for a thrilling high-speed speedboat ride to the land.
Party animals will love the La Romana Snorkel and Party Tour. Dive from the boat and see the fabulous marine life and then get set for a few hours of dancing, eating and partying on the deck as you head back to the harbour.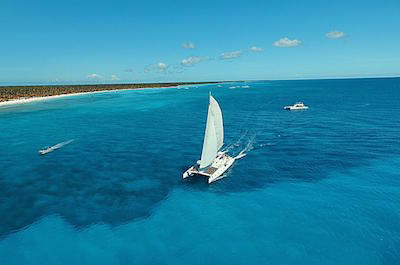 More About Day Trips & Sightseeing Tours
Discovering the sights in the region surrounding the city is a fascinating thing to do in La Romana, where you can see the most interesting La Romana attractions. Start your day with a thrilling air flight in a turboprop aircraft that takes you to Samana. Then see the mountains from a safari truck before taking a horse back ride! Learn about the sugar cane trade on a day trip into the Bayahibe countryside. You will witness age-old traditional ploughing methods and discover how the famous Dominican Rum is made.
Nature lovers will enjoy a trip to Los Haitises National Park where they can stroll through mangrove forests, explore ancient caves and relax at natural pools. Historians must visit Altos de Chavón, a replica 16th century village and then end your day at Santo Domingo, the oldest city of the Americas.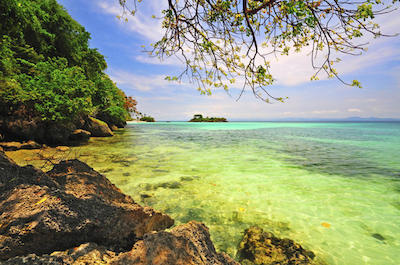 Ziplines In La Romana
Getting up into the air and zip sailing above the luscious forests is a another amazing thing to do in La Romana. It is also considered as one of the top La Romana activities. You need a head for heights but this is super fun!
A half day adventure takes you to the Cumayasa area, where you will be provided with helmet, gloves, harness and a safety briefing. Hike up to the top and get attached to the zip lines. A small jump and you are sailing above the most stunning scenery and getting a bird's eye-view above the treetops.
For a romantic experience, you can ride a unique double zip lines side by side with a partner! The line is over 2500 feet long and takes you from platform to platform where you can catch your breath before launching off again over the forests.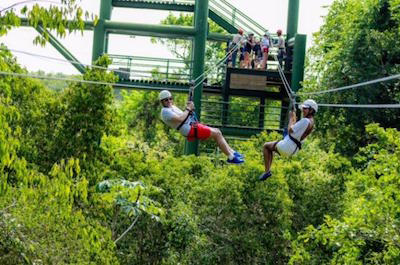 Altos De Chavon Village
Historians love all things old, and exploring a recreated 16th century village is a fascinating thing to do in La Romana.
Visit Altos de Chavon for a fabulous day out, it's one of the best La Romana points of interest. This Mediterranean-style village was built using stones from the region and metal work from local artists. It features shops, Mediterranean restaurants and a famous Design School. The key attraction is the massive Roman Amphitheatre which has hosted iconic stars like Sting and Shakira.
Follow your guide along small quaint cobblestone streets and learn about the culture and history of the times. Stop at art galleries and explore the Regional Museum of Archaeology. The picture-perfect setting of the village set in the mountains above the Chavón River will enchant.