Lotusland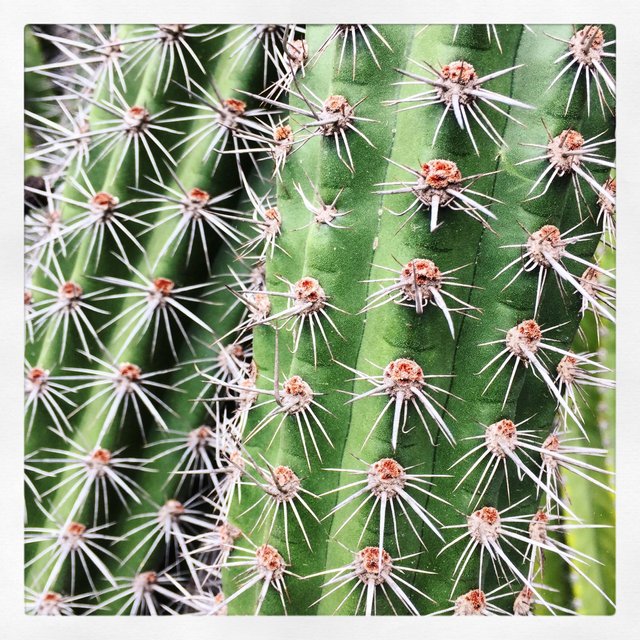 This prickly, green beauty is a barrel cactus. It grows on the grounds of Ganna Walska Lotusland in the seaside community of Montecito, California. Lotusland is an absolutely gorgeous private garden that is available to tour by advanced reservation. All tours are guided (unless you have a garden membership pass). If you find yourself in the Santa Barbara/Montecito vicinity, you MUST visit!
My husband and I visited the gardens as part of our anniversary celebrations in September 2017. In addition to a cactus garden, Lotusland features TWENTY other specialty areas! These include an aloe garden, succulent garden, Japanese garden, insectary garden, a water garden, orchards and a topiary garden to name a few. Each was utterly stunning!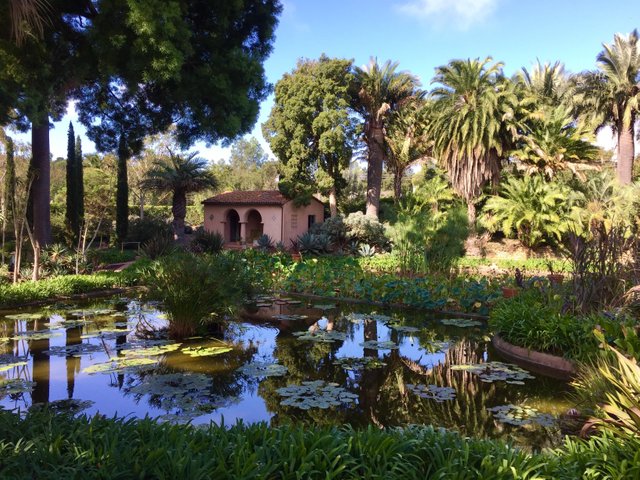 The water garden.
Guided tours of the grounds last approximately two hours and are limited to just 10 guests. The garden is meticulously maintained and tour docents are very pedantic when it comes to guests following rules while on the property. Don't step off the path! Stay with the group! And for heaven's sake do not speak while your guide is speaking or you will definitely be scolded! 🤣😂 That being said our guide's knowledge of the plants and garden's history was greater than her rule abiding ways.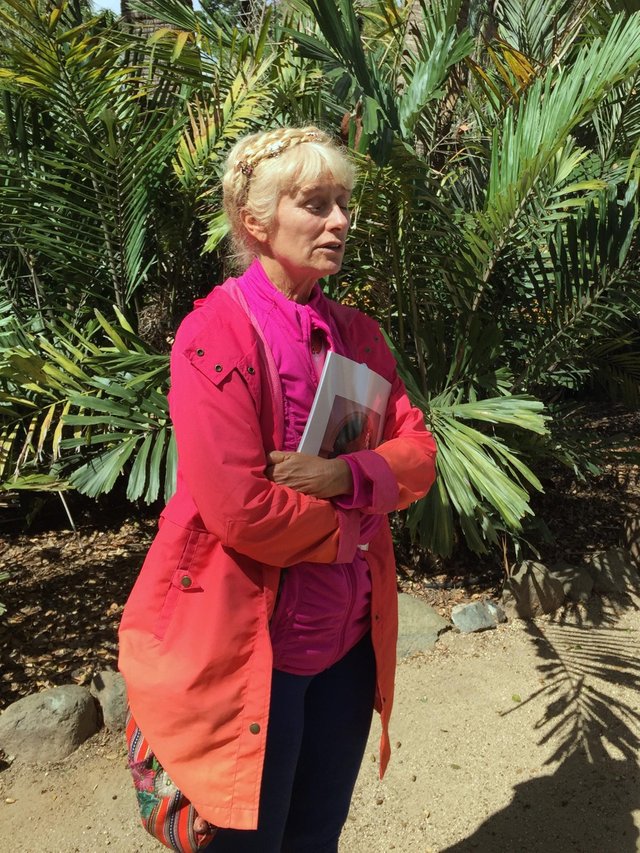 Our German tour guide had NO time for funny business. 😄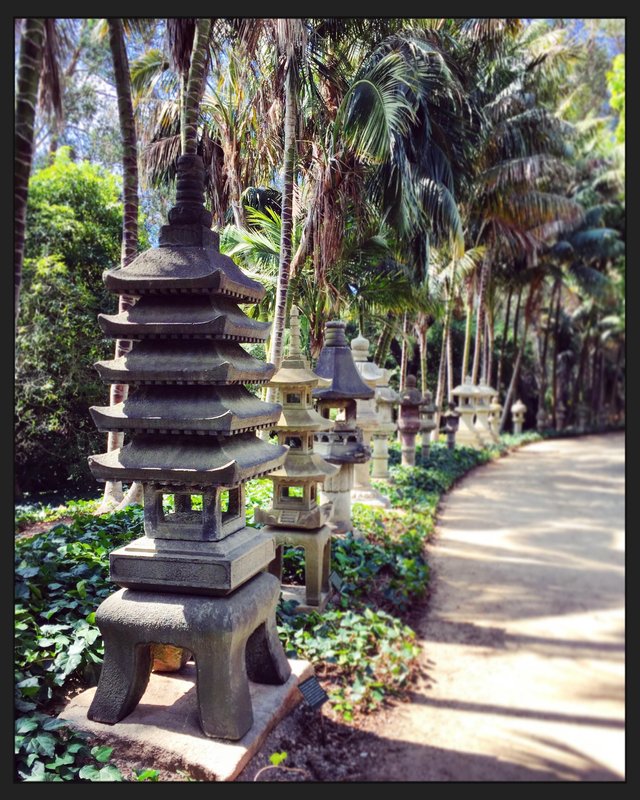 The Japanese Garden
Lotusland was established in the mid 1900's by a Polish singer/actress named Madame Ganna Walska. After five marriages, two decades in the spotlight, and escaping the German occupation of France, Madame Walska made her way to Montecito in California's Santa Barbara County. She and her fifth (but not last) husband purchased the land Ganna Walska would eventually transform into Loutusland.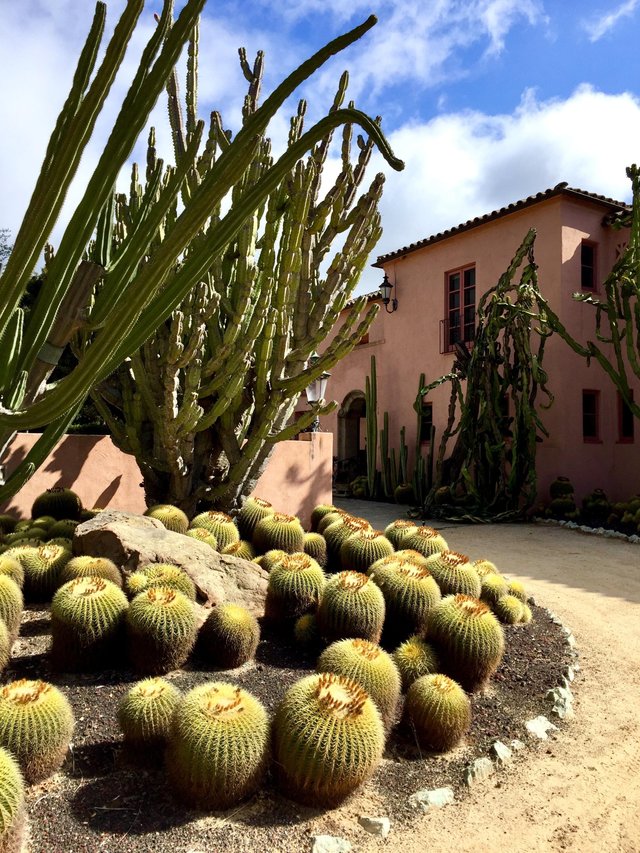 Cacti (a new world plant) and succulent euphorbias (old world plants) line the paths to the "main house" at Lotusland.
Peekaboo views of the mointains behind Lotusland.
Lotusland is 37 acres in size and is home to over 30,000 plant species. As I mentioned early, the property is made up of 20'differnt gardens. Let's have a closer look at a few of these areas.
---
Topiary Garden
Lotusland's topiary garden waa installed in the mid 1950's. It features a boxhedge maze, 26 different topiary animals, and a large clock made of succulents which utilizes zodiac symbols made of copper to mark each hour. The garden was refurbished in 2001. In 2013 Lotusland received a $1 million dollar donation to maintain the the topiary garden in perpetuity.
Parterre
A parterre is an ornamental garden consisting of raised flower beds in a symetrical pattern, separated by paths. The parterre at Lotusland is located between the topiary garden and main house and is designed in a Moorish architectural style. Roses fill the raised beds and several fountains line the pathways.
Theater Garden
As the name suggests, the theater garden is an outdoor theater. It is complete with a small stage and tiered seating for 100 guests. It was originally constructed in 1948 and renovated in 1990.
The garden also features several grotesques. Grotesques are comical, repulsive or distored figures. Often they are used kike gargoyles to ward off malicious spirits. The grotesques in Lotusland were aqquired from France just after World War II.
Orchards
Lotusland's orchard is a mix of citrus and deciduous trees.
The deciduous orchard contains nearly one hundred fruit trees including peaches, plums, apples, pears, persimmons, and figs. Orange, lemon, lime, kumquat, grapefruit and guava trees are planted in the citrus orchard. Source
Unfortunately, many of the citrus trees at Lotusland have been infected with a blight. While this disease is not harmful to humans, it is deadly to the citrus plants and incurable.
Cactus Garden
The cactus garden was donated to Lotusland in 1999. The gift came from Merritt Sigsbee Dunlap, one of Madame Walska's oldest friends. The collection includes 300 cactus species many of which were grown from seed by Mr. Dunlap.
The Cycad Garden
Cycad are cone bearing plants from the age of the dinosaurs! Lotusland has one of tbe most extensive cycad collections on the planet with over 450 species represented. This garden was the last Madame Walska designed in her lifetime and she funded its construction by selling her large jewelry collection. This garden contains several cycads which are extinct in the wild.
---
Lotusland's gardens are picturesque and filled with curiosties. Aside from the thousands of plants, the property also features koi ponds and a pool framed by giant abalone shells. The pathways throughout the property are lined with blue-green glass. This glass was a by product found in furnaces from when Arrowhead water was sold in glass bottles. Another funky find at Lotusland is a magnetized rock! The stone was hit by lightening and the magnetism is strong enough to attact paperclips through a human hand.
Madame Walska bought koi for her ponds, but returned them shortly there after. However, before returning the koi the fish had babies in her pond. So she ended up with FREE koi!
The abalone shell surrounded pool. It is painted white to reflect the moonlight.
Look closely at the edges of this path to see the blue-green glass found theoughout the property.
The magnetized rock! Pretty cool.
---
Lotusland is located in Montecito, California (two hours north of Los Angeles) in Santa Barbara County. In 2020, Lotusland will open for tours mid February through mid November, Wednesday to Saturday. Tours are available at 10:30am and 1:30pm for $50/adult.
To reserve tickets please visit: https://www.lotusland.org/visit/
---
All photos are my own. Taken 9/15/2017 with my iPhone 7. Some images have preciously appeared on my personal Instagram, narrative.org and steemit.
---