The mountains told me that it will be be a super day with heat and a mild cooling wind!
We have had a few dreary, dark and wet days and we thought winter had returned, but this morning it was a horse of a different color. A typical young summers day accompanied by much sunshine.
A great miracle also occurred after a meeting this morning, but I will talk about it in the conclusion of this blog!
Join me on a walk through the day!
As I said, a lovely day with the wind dancing with wispy clouds!
A North to South mild wind that kept the heat bearable!
Decided to post some on nature's twins today!
Two Squirrels here!
A pair of Egyptian goslings!
Two Red-wing Starling youngsters!
A pair of doves enjoying the sun!
You can see here that the wind direction remained constant throughout the day!
Two crows landed on a street lamp!
Of course the sunset lit the skies in beautiful colors!
Just as the sunset also covered the mountain peaks!
A lone pigeon serenaded in the late sun!
And even the full moon put up a show!
I think by now many of you know that I am a nature child and that I spend my best times in nature. I long for the days when I played with the shy otters at the river that ran across our farm and also befriending the otters by feeding them whole fish that I caught and watching then expertly cleaning the fish. But those day are long gone and the only remains are the lessons that I was taught by mother nature!
Oh, before I talk too much, I kept the best photo and news for last.
Here we have not one, but two Cape Skimmer Dropwing Dragonflies!
Now for the miracle that I mentioned earlier.
After getting the go-ahead to run the water distribution project in a meeting this morning, we stopped at a small restaurant for some coffee.
They had a lot of 5 liter bottles of water displayed behind the counter and I asked for the owner.
We met and the result is that Papillon will soon once again become the talk of the poor people in town, as they are all going to receive pure bottled spring water to drink for free.
Papillon will carry the costs and we are delighted with this outcome.
Hope that you have enjoyed this sunny day post and thank you for visiting @papilloncharity

(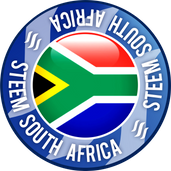 )
Connecting the people of #STEEM across South Africa. #steemsa