Beauties of Azores: amazing beaches of Sao Miguel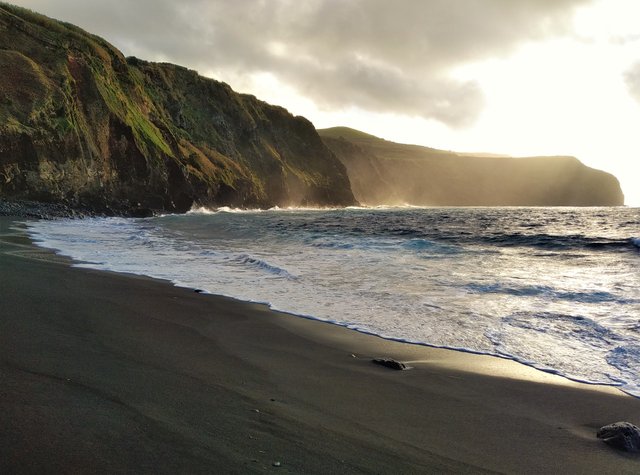 Read "Beauties of Azores: amazing beaches of Sao Miguel" on TravelFeed.io for the best experience
---
Hi there my Steemian friends and followers!
Welcome to my special weekly series called Beauties of Azores that was created by me to raise awareness of the extraordinary charm of a captivating Portuguese archipelago known as the Azores.
As I have already mentioned several times in my previous posts, the Azores are definitely not what can be described as a typical seaside destination for beachgoers but you can still find some nice beaches there if you know where to go and after checking out this episode of my Beauties of Azores series, you will know where to go as it is dedicated to some of the finest beaches of the Sao Miguel Island.
---
Praia dos Mosteiros
I will start out this little beach selection with the Mosteiros Beach (the Portuguese word praia means "beach"). Located on the outskirts of Mosteiros, a picturesque little town in the northwestern part of the island, the Mosteiros Beach is a beautiful black sand beach surrounded by large cliffs.
---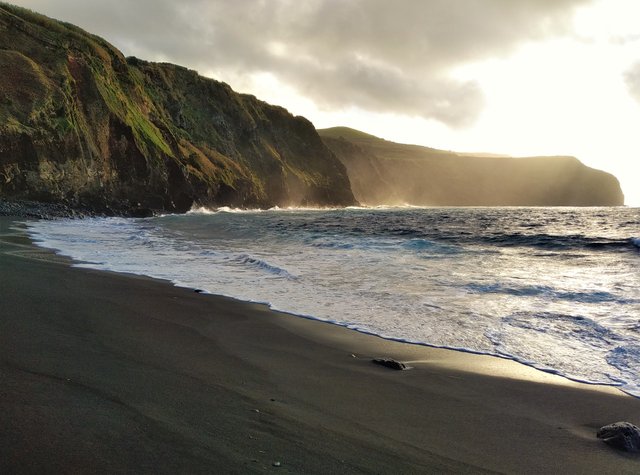 ---
When lying on the beach, you can also enjoy an impressive view of 4 massive volcanic cliffs sticking out of the ocean that are known as Ilheus dos Mosteiros.
---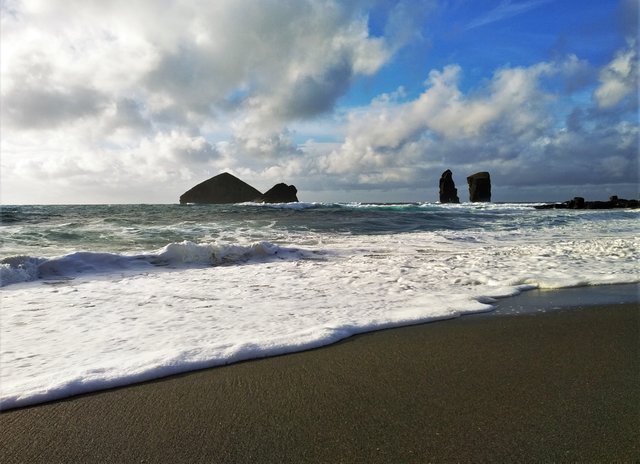 ---
In fact, it was one of these cliffs that the town´s name was derived from. If you take a closer look at the cliffs, you will notice that the largest one is shaped as a church or monastery and in the Portuguese language, monastery is called mosteiros.
---
Praia do Monte Verde
Stretching for some 1.2 km (0.75 mi) along the coast of Ribeira Grande, a town and municipality in the northern part of the island, Praia do Monte Verde is one of the largest beaches on the island.
---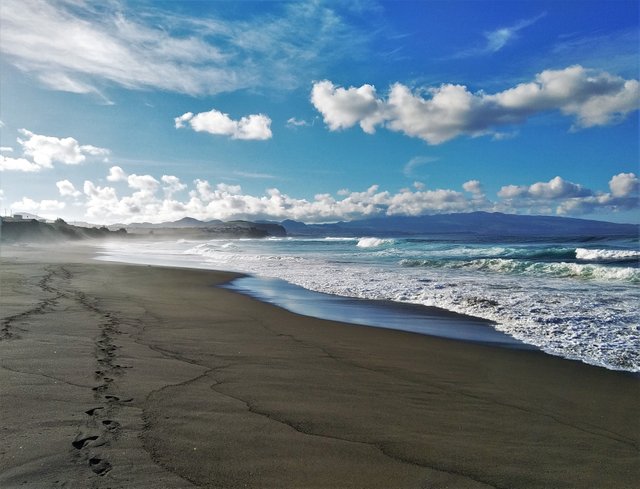 ---
The northern coast of the island is usually very windy and since the beach is facing the open sea, it often gets quite big waves, which is why it is frequented by surfers, body surfers and other water sport enthusiasts. Nature lovers and fans of romantic beach walks will certainly appreciate the astonishing hilly landscape in the background.
---
Praia das Milicias
Situated near the border between the parishes of Sao Roque and Livramento, approximately 4 km (2.5 mi) from the center of Ponta Delgada, the capital city of the island, Praia das Milicias is a vast black sand beach on the southern coast.
---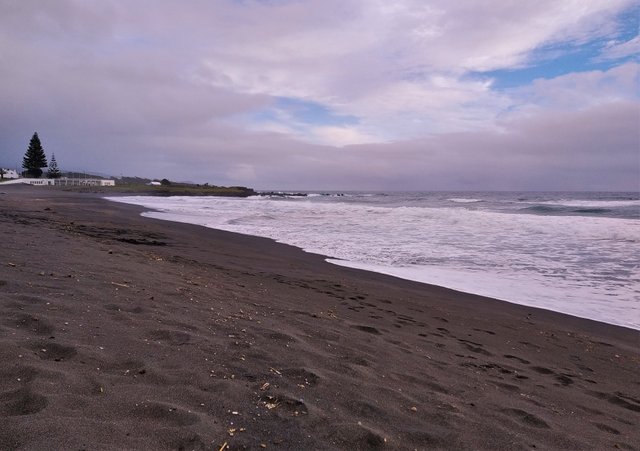 ---
It is one of the two beaches that surrounds the Church of Sao Roque, an iconic architectural landmark of the area that I wrote about in this post some two weeks ago.
---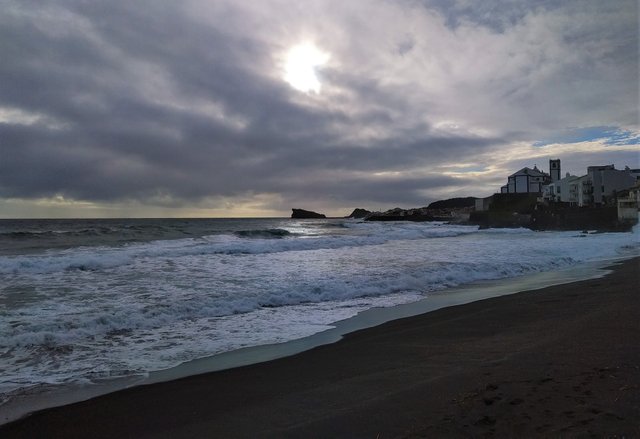 ---
I know the beach doesn´t look very attractive in these photos but that´s because we got there quite late and on a cloudy day. If you are lucky enough to have a nice sunny weather on Praia das Milicias, you can enjoy a top notch beachgoer experience over there.
---
Praia de Sao Roque
Located just a short walk from Praia das Milicias mentioned above, Praia de Sao Roque is much smaller than its sister beach but what it lacks in size, it more than makes up for in charm and cozy atmosphere. This beach often gets decent waves too but it almost feels like a bay as it is protected by cliffs from both sides, making it a great place for beginner surf lessons. Once you get tired of watching the surfers, you can turn left and enjoy the stunning view of the church, majestically towering above the ocean.
---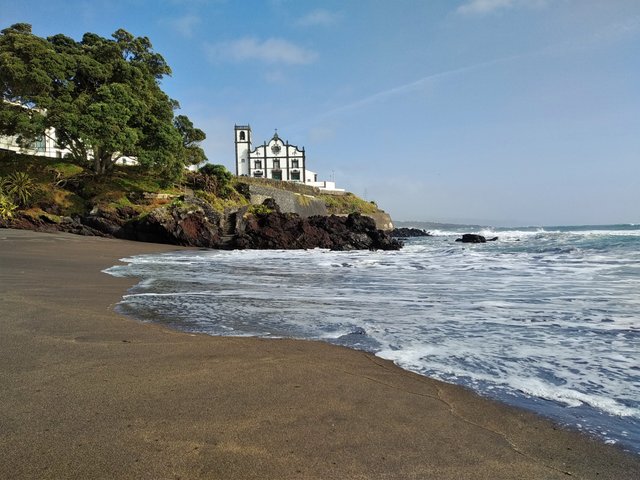 ---
Originally, the Church of Sao Roque served as a parish church for the old parish of Rosto de Cao that was later divided into two parishes - Sao Roque and Livramento. These days, it is a popular tourist attraction and a wonderful backdrop for creative photos.
---
So these are just some of the nice beaches that the Sao Miguel Island has to offer. There is a bunch of great beaches in some other places too, such as Nordeste, Ribeira Quente or Vila Franca but I am yet to visit them. I have actually been to the beach in Vila Franca but the weather was terrible that day and I didn´t even try to take any photos. Hopefully next time :)
I hope you enjoyed this episode of my Beauties of Azores series that was dedicated to some of the amazing volcanic beaches of the Sao Miguel Island. All of the photos featured in this post were taken by me.
If you want to learn more about this exquisite Portuguese archipelago and its charms, stay tuned for the next episodes of my Beauties of Azores series ;)
---
This post was created by me for the Steem blockchain exclusively.
---
---
---
---
Thank you for visiting my blog. If you like posts about #nature, #animals, #ecology, #crypto, #traveling, #photography and discovering secrets and beauties of the #world, feel free to follow me as these are the topics I mostly write about. Have a wonderful day and keep on Steeming! :)
---
View this post on TravelFeed for the best experience.