10 Reasons to Visit Ubud Monkey Forest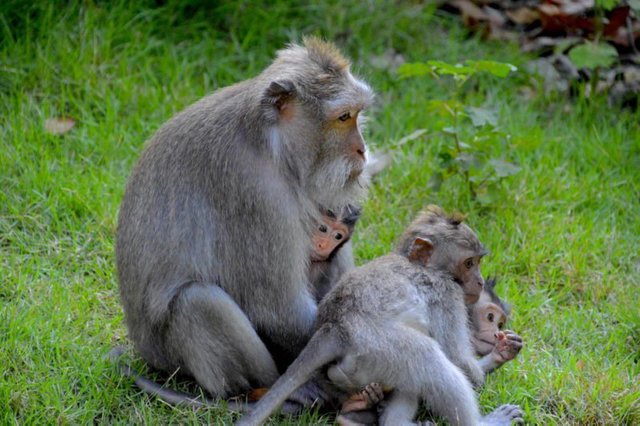 Read "10 Reasons to Visit Ubud Monkey Forest" on TravelFeed.io for the best experience
---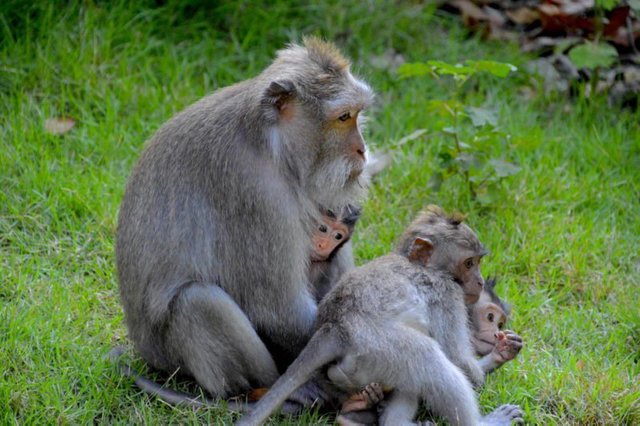 Ubud Monkey Forest in Bali is an amazing and unique experience that should not be missed! Don't believe the hype! We almost skipped Ubud Monkey Forest because of all the bad press about monkey attacks. Luckily, we still chose to visit and are so happy we did. We wanted to write a quick post for anyone debating whether to visit Ubud Monkey Forest.
1. UBUD MONKEY FOREST IS SAFE.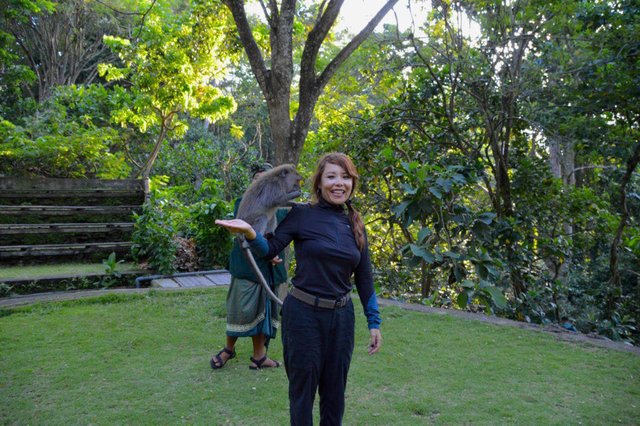 You can have fun, play with cute monkeys, and stay safe if you take a few precautions and follow a few simple rules.
PRECAUTIONS: Don't bring food from outside Ubud Monkey Forest. The monkeys will smell it and hound you until they find it. Also, don't bring unnecessary items or things you're not willing to lose. Monkeys love to steal jewelry, sunglasses, loose hanging bags, and anything else that gets their attention. You should leave as much as possible in your vehicles. You can also leave items at the ticket counter. The staff will watch it for you.
SAFETY RULES: The officials at Ubud Monkey Forest preach 3 key rules.
RELAX. The monkeys are emotionally sensitive and reactive. If you show aggression, they show aggression. If you panic, they panic. Staying calm and relaxed, is the best way to ensure they're calm and relaxed.
DON'T TOUCH THE MONKEYS. LET THEM TOUCH YOU. You may see other visitors breaking this rule with no problem. Don't do it. They are playing with fire. The people that break this rule are the group of people who get hurt. Most of the monkeys are friendly and docile. Some people may get away it, but sooner or later, someone always gets hurt. And it's always their own fault. Follow this rule and you'll never be hurt. We had some fun and thrilling close encounters, all initiated by the monkeys. Many will approach you under the right conditions.
AVOID PROLONGED EYE CONTACT. Staring a monkey in the eye is seen as aggressive, and they may respond with aggression. Prolonged eye contact is the issue, not normal observation.
There is also a huge staff at the sanctuary who work hard to keep you and the monkeys safe. These are the guys in the green uniforms. Always follow their advice and feel free to ask if you have any questions. They're there to help. If you just abide by these few rules and precautions, you will have a great and safe time.
2. UBUD MONKEY FOREST HAS CUTE, PLAYFUL MONKEYS.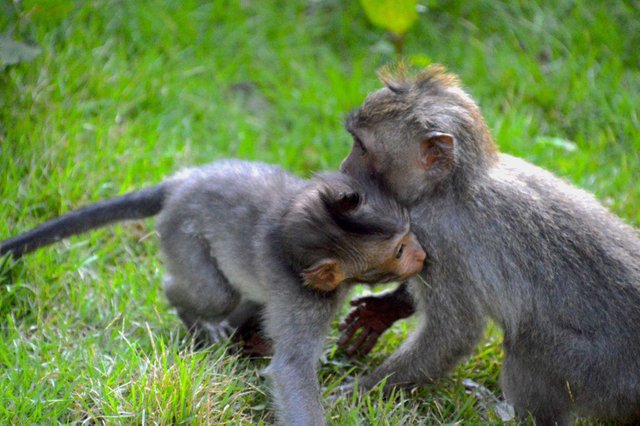 The monkeys are the stars of the show at Ubud Monkey Forest. The monkeys at Ubud Monkey Forest are cute, playful, and friendly. The absolute best thing about Ubud Monkey Forest is being able to experience the monkeys' behavior and interactions in a natural setting. This is no zoo. There is no confinement whatsoever. The monkeys are free to go where they want. You can even spot them outside the forest, walking around town.
Monkeys can be seen SWINGING through the treetops. They can be seen LOUNGING on benches, next to people. Visitors can see them SWIMMING in pools. The monkeys will also be seen CHASING and PLAYING with each other. You can see them NURTURE and care for each other. The monkeys interact with each other constantly in fun, fascinating ways. And they love to interact with humans too.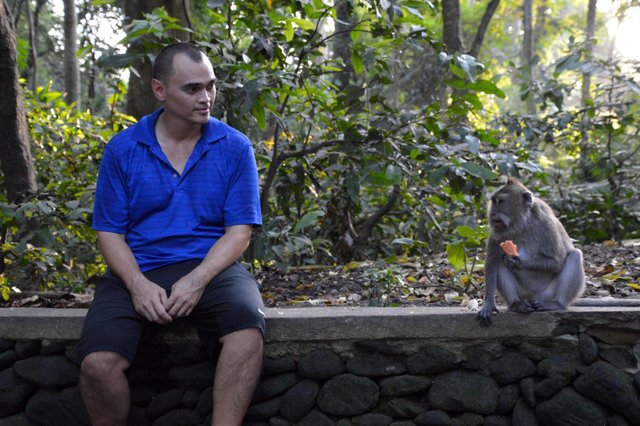 We could just sit around and watch them for days on end. For example, sitting next to a monkey while he eats some veggies may not sound that interesting, but when you're there, inches away, it becomes absolutely captivating. They have so much energy and personality that everything they do is entertaining.
3. UBUD MONKEY FOREST HAS WILD MONKEYS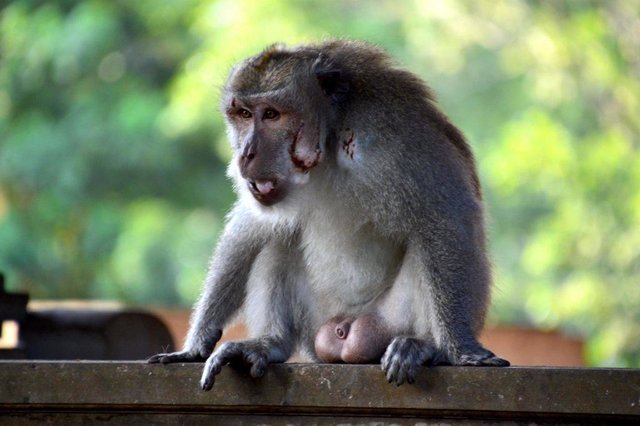 These same cute playful monkeys are also WILD. The overwhelming majority of the time, the monkeys are peaceful and playful with each other. But occasionally FIGHTS flare up. We witnessed a few fights during our visit and each one was INTENSE. The monkeys move with lightening speed and surprising strength. Most last only a few moments, but the damage can be severe.
**Obvious safety tip** – Stay away from the fight. Don't try to get close for photos and you'll be fine. We hated to see the monkeys hurting each other, but it's completely natural and real. Watching the cute monkeys go from funny to fierce in a split second was a great reminder of the harsh, raw reality of nature.
4. UBUD MONKEY FOREST TAKES GREAT CARE OF THE MONKEYS.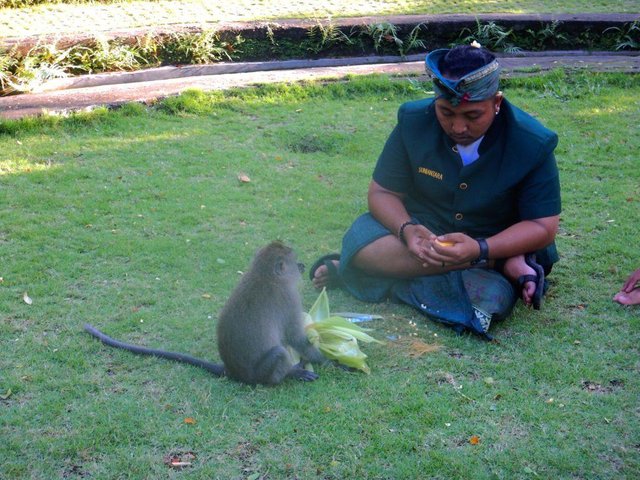 This is NOT a tourist attraction that abuses the animals it features. Ubud Monkey Forest is owned and operated by the local town of Padangtegal. They hold the forest SACRED and the monkeys are very significant to their deeply held religious beliefs. The sanctuary provides the monkeys 3 daily feedings of healthy fruit and veggies and veterinary care. Ubud Monkey Forest is not only a tourist attraction. It is also deeply concerned with RESEARCH and CONSERVATION. International scientific teams regularly visit the Monkey Forest to track the HEALTH of the forest and the animals.
5. UBUD MONKEY FOREST IS A BEAUTIFUL FOREST.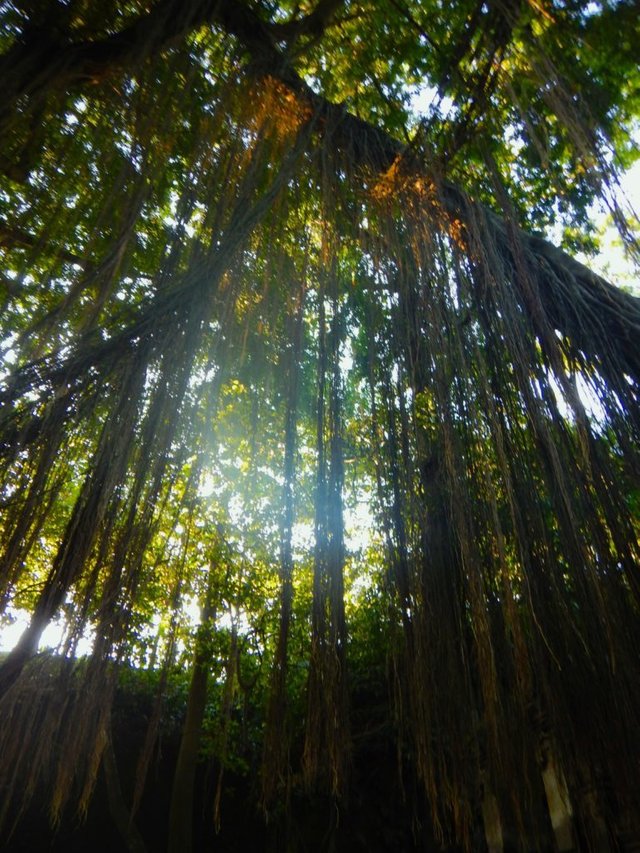 The monkeys are such a riot to watch that it's easy to forget how beautiful the forest is. There are a wide variety of trees, plants, and flowers. The colors are lush and the fresh air is rejuvenating. The gigantic banyan trees and intricate vine systems are iconic, alluring, and the highlight of the forest.
6. UBUD MONKEY FOREST HAS ANCIENT TEMPLES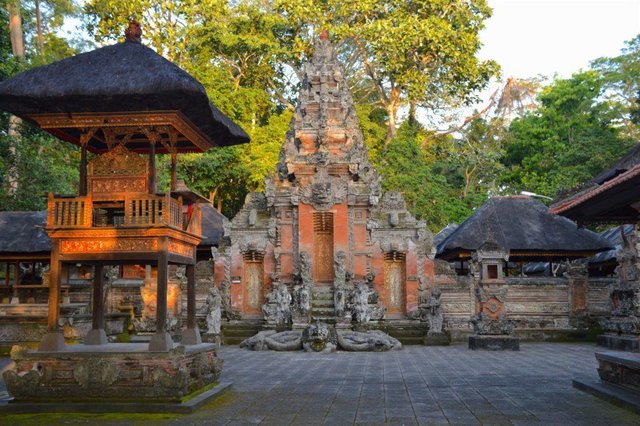 There are 3 temples that date back to the 1300's. These are active temples that the local people have been using for centuries. The long history of these beautiful temples is astounding and their continued use is inspiring.
7. UBUD MONKEY FOREST IS AN EXOTIC WONDERLAND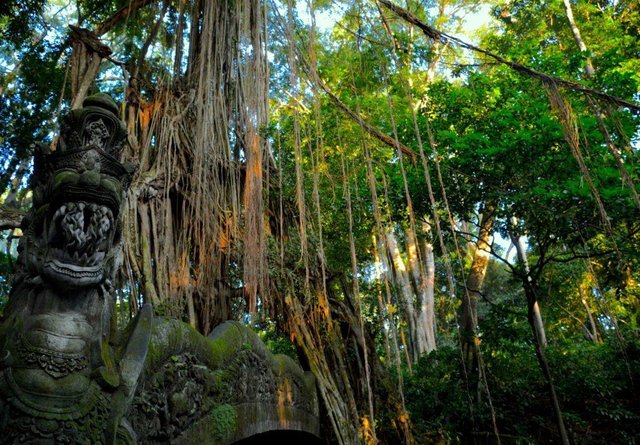 The great thing about Ubud Monkey Forest is the mix of incredible features in one place. We would visit to see only the monkeys, or only the verdant Balinese forest, or only the ancient temples. While each alone would be impressive, experiencing them all together is magical. You can watch a wild monkey leap from the rooftop of an ancient Hindu temple and catch hold of a vine. He then swings onto a giant banyan tree and disappears into a dense green canopy. And that is just one of the moments you can have. Ubud Monkey Forest is the type of exotic wonderland we all dream of visiting.
8. UBUD MONKEY FOREST HAS EASY WALKING TRAILS.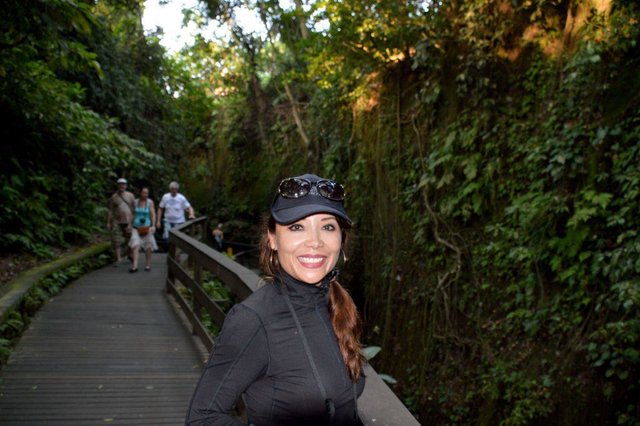 The Monkey Forest is large, covering 28 acres. You can explore the forest on paved trails that make for an easy stroll. We loved interacting with the monkeys in the park, but they were clearly born for the trees. Seeing the monkeys be free and fly through the trees is exhilarating and uplifting.
9. UBUD MONKEY FOREST HAS CONVENIENT AMENITIES. 
Food, drinks and modern bathrooms are all available on site. You don't have to worry about packing it all along or being stranded with no options.
10. UBUD MONKEY FOREST IS CHEAP ENTERTAINMENT.
An adult entry ticket is about $3USD, and the natural scenery, temples, and monkeys can provide hours of entertainment. We spent more than 3 hours there, and we didn't want to leave.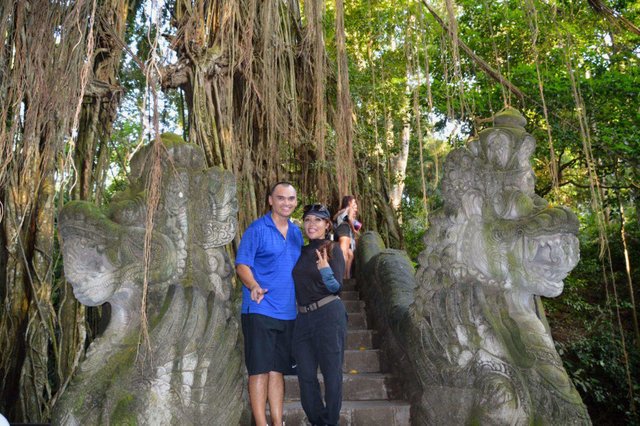 GOOD TO KNOW:
Address: Jalan Monkey Forest – Padangtegal – Ubud – Gianyar- Bali (80571)
Operating Hours: 8:30am – 6:00pm
Dress Code: Casual. There are temples, but no need for sarongs or special clothes.
---
View this post on TravelFeed for the best experience.