Datanla Falls, Dalat Vietnam ‐ Fun, Exciting, Beautiful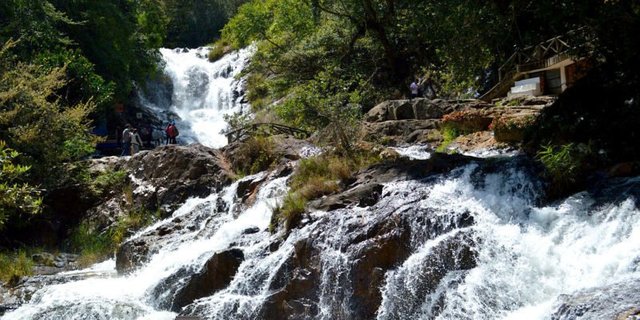 Read "Datanla Falls, Dalat Vietnam ‐ Fun, Exciting, Beautiful" on TravelFeed.io for the best experience
---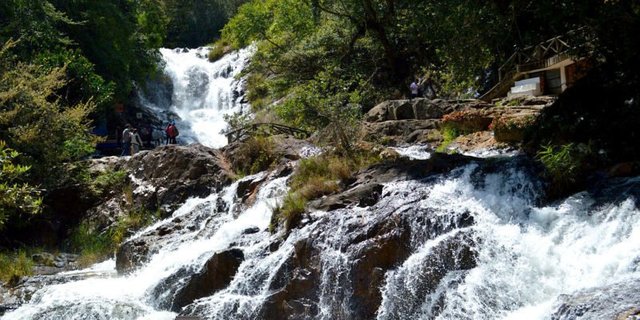 A visit to Datanla falls is just about the most fun you can have at a waterfall. They are not the biggest or most impressive waterfalls around Dalat, Vietnam – but Datanla is special. Datanla is like a little amusement park, with the waterfalls serving as a beautiful backdrop. And the falls are beautiful.
Datanla is actually a series of smaller waterfalls that cascade down the hillside at this large site. Their smaller size actually adds to the ambiance because they are nestled in some lush and lovely vegetation.
When these falls were first discovered long ago, it was a surprise as the falls were semi‐hidden in the dense foliage. In fact, the name Datanla means "water under the leaves" in an ancient dialect. And even today, Datanla maintains its charm as a pretty little natural gem "hidden" in the forest.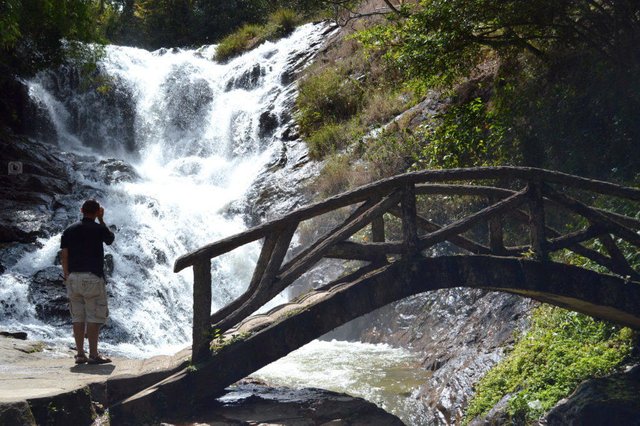 DATANLA FALLS
Datanla is also as popular as it is pretty and charming. Located just 6km from Dalat city, Datanla falls are almost always filled with other tourists – and not just foreign tourists. A majority of the visitors to Datanla falls are Vietnamese people on holiday. Don't fear the crowds though. The site is very spacious, and you won't feel at all boxed in.
The activities and amusements take advantage of Datanla's structure, as a series of descending, smaller falls. The first way down is on foot. Take this route if you want an immersive experience of the Vietnamese highlands. You can hike down the mountain trail surrounded by the beautiful greenery.
If that is too slow or taxing, you can get from the higher falls to the lower falls with my favorite – the alpine roller coaster. A round trip ticket is less than $2.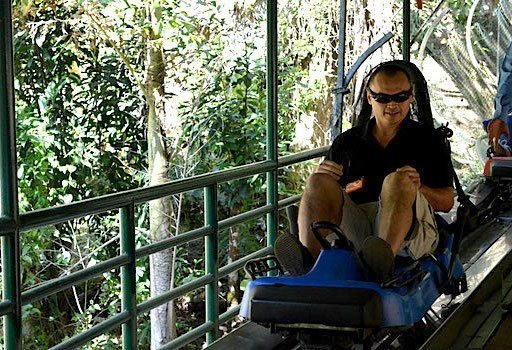 This "roller coaster" is more of a luge because you speed down the tracks at your own pace, applying your brakes at will. If you avoid the breaks, top speed is over 40kmh, which feels much faster and more fun than going 40kmh in a car. Be warned that the person in front of you can also control their brakes, and may be stopped in front of you.
If you want to ensure a fast ride, just hit your brakes at the beginning. Take a few photos and let the track clear out for a couple minutes. Then let it rip and enjoy the ride. The alpine rollercoaster totally exceeded my expectations. There are lots of sharp turns and switchbacks. I was amazed at how exciting it was.
You can also ride this coaster back up the mountain. The way back up is not as exciting as the way down, but the slower pace allows you to enjoy the gorgeous scenery as you glide by the flowers and trees.
You can even combine and mix the options for going up and down. For example, you can hike down on foot and then ride the coaster backup or vice versa. Or you can do both. A round trip on the roller coaster will take less than 10 minutes. Then you can hike down to enjoy the forest trail.
At the lower falls, you can take a cable car. This cable car system is not as new or as long the cable cars from Robin Hill to T rúc Lâm Monastery, but they will provide you with some great aerial views as you venture further into some isolated Vietnamese wilderness.
As you move down the mountain by these various modes, you can take breaks and have some fun. You can fling some arrows at the archery range or grab a meal at the full-service restaurant or – best of all – stop and enjoy the different falls.
But that's not all. The smaller size of these falls also let you get up close and personal – if you dare. You can go canyoning, go rappelling, go rock climbing, slide down an actual fall on your bum, free jump from 10‐20m, and go abseiling.
None of this is possible on the larger more powerful waterfalls. So definitely take advantage and have some fun.
---
View this post on TravelFeed for the best experience.