True Fun: My Love is for Steem ecosystem (No way for Haters)
Steem price ( including other top crypto´s) tanked drastically due to haters and fuders spreading lies and taking actions against Crypto´s which lead to some people who trade on emotions to sell off their hard earned steem.. In reality, those who take up the opportunity to buy the dip will make a lot of money in the short and long term.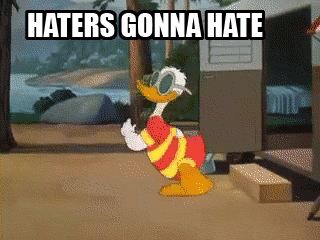 Haters will always hate: Central governments, banks , gold investors, some top technologists and some very rich investors are not happy with the way cryptocurrencies are empowering the common people hence they will always hate and spread bad news. It is , however, left for us to unite against their lies and continue our peaceful revolution because crypto´s are here to stay.
Do you agree? Send in your comments, resteem and upvote in order to send in your support.
See my former post:US Government Launches Criminal Investigation into Bitcoin Price Manipulation
An Advert for a top new crypto https://elyte.tech
Join Elyte whitelist via this link https://elyte.tech/whitelist.html
Join Elyte bounty via this link and win free cryptos https://docs.google.com/forms/d/e/1FAIpQLSeOcKUUoTU6IKr1qX5osYaWMdVL8-nB5RmroYtYBir6YYof9A/viewform
Join elyte.tech telegram group https://t.me/joinchat/E6tXj0dThqzzjVlWJRuxLw for info on their bounty and thus join the next best thing