John just wanted to make some cash blogging - Then he discovered Steem (and Tron)
John is a quite average guy, just like you and me. He works hard to make a living, and since he became a father a few years ago, having financial stability has become more important than ever. But, recently John woke up and it turned into what could be called a terrible day. It all started as the stepped into a dog poop on his way to work. Well, he thought that was as bad as it could get, but it wasn't!
As John finally arrived to his work, he was called quickly into the office of his boss. Something was wrong. He never started his day at the boss' office. What was the problem? He walked in and sat down while he waited for his boss to finish his phonecall. It seemed like forever before the boss finally ended the phonecall and looked at John with a somewhat special look.
It felt as if the boss was looking for words, because he started a few times, before he finally managed to say something like: "Nobody really prepared for a pandemic like this in 2020. And even though we hoped it would turn out for good, we are having serious trouble making the wheels go around. As a result, we have to cut down on costs, which means that you and three other employees have to end your work her, starting today."
John felt dissy, and he could feel the sweat run down from his armpit. The rest of the conversation just felt like a big fuss, but for some reason, he couldn't bear not to rub of the last remainds of the dog poop at the carpet in his boss' office before he said goodbye!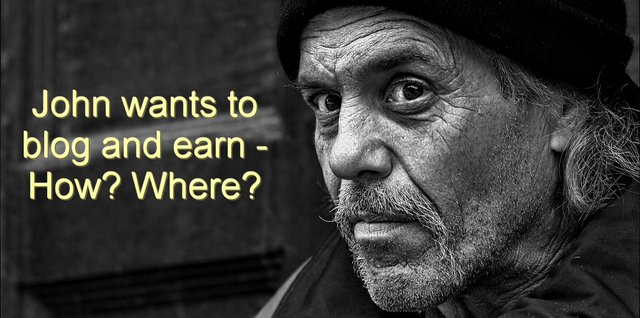 Source: Pixabay
Suddenly life was a mess - John has to find a solution!
Sheila, John's wife, did not understand what John was doing home that early. But, when he told her about what had happened, she just said that everything was gonne be fine for such a brilliant guy like John! Just don't go and feel sorry for yourself with beer, but get up and start looking for new ways to make an income. John felt the draw towards just drowning his sorrows in beer (or maybe some stronger stuff), but he knew that he had to keep it all together for the sake of himself and his family.
Maybe you didn't know this, but John had always loved reading. Whenever he had the chance, he always found a book and he digested the contents of it. But, right now he didn't feel like writing. However, instead of reading a new book, he thought about finding a place where he can share his thoughts about all the books he has read. After all, that is a passion he has had for a long time, but he hasn't had the time nor the energy to do something about it.
John wants to start blogging about books - where to go?
John recently read the book "The Chronicles of Narnia: The Lion, the Witch and the Wardrobe." Some people asked him why he cared to read a childrens book, but he enjoyed it so much that he decided to read all the seven books apart of the same story. And yes, now he wanted to write it all down - why he enjoyed all the books in the series so much. But where?
He wanted to write about books for the sake of having fun, but he also had a dream of actually generating income by writing. So, what could he do? He never thought this could become a full-time job, but while he was looking for some other full-time job, he hoped to get started with this and maybe also earn some dollars.


Where to publish the book reviews of the Narnia series?
What about Facebook, Blogger, and/or Wordpress?
First, John had to find a platform that would be suitable for his desire. He could write notes or publish on Facebook, but that felt stupid. He publishes serious content on Facebook? And if he did publish there, the only one who would get richer would be Mark Zuckerberg (and he already has enough money, at least according to John). He also considered pages such as Blogger and a Wordpress blog, but he didn't want to spend anything actually buying a domain, and he had also read that publishing on such platforms takes a whole lot of work if you want to get a single visitor to read your content. And once you have them there, actually earning is almost impossible.
There has got to be an easier way to publish and to earn...
As he searched for answers and options, he discovered an article telling about a crypto-platform named Steem. He had read a lot about cryptocurrencies, but he had never dared to invest, nor had the time to actually consider doing so. He immediately saw several advantages with the platform.
It had a great domain rating, meaning that people would easier find his content as he publishes it (he hasn't got to do all the SEO work himself).
It is easy to get started, and he can start earning from his articles immediately.
He can share all his published content to his friends, family, and followers on Twitter, Facebook, LinkedIN, and other places immediately.
He doesn't need any capital at all to get started!
There is nothing to lose, so John registered and started to work on his first article. He also wrote an introduction of himself, in order to make other people on the platform get to know more about him. He also searched for other content published by others about book reviews, books, and movies. He wrote some comments and invited some of the existing users to check out his content, just to spread the word about himself and all the content he was planning to publish in the coming days and weeks!
The first review is published - what now?
John published his first review, and also wrote a little article to introduce himself. Some of the people whom he contacted and invited to read his first posts already showed up and commented on his post. And they didn't only comment, but they also voted for his post. As a result, his first post with the movie review actually received total upvotes of 3 USD. What now?
It isn't much, but John also knew people who spent all their days writing on Facebook, and they had never ever earned a single cent, so he was actually quite amazed and inspired by this.
In the first week, John published three full reviews, and after seven days, he suddenly saw something that made him so enthusiastic!
Do I need glassees?
John checked out his Steemit wallet, and he had a feeling that something had got to be wrong. Or, at least he felt like he had ordered a BigMac in McDonalds, and he actually ended up getting a cheese burger in adition (just as a gift). Not only had John earned some Steem tokens, but he also had some TRX tokens in his wallet right now. What is that?
He spent the next hours reading about the Tron network, Justin Sun, and actually saw a lot of potential in the coin. So, what happened? Was this just a mistake? NO!
For every single Steem Power John earned as he published and voted on the Steem platform, he would actually earn just as many Tron tokens (TRX). Maybe you think those Tron tokens are just garbage thrown along? It isn't. They actually have a nice value and they can be used for so much more. They can even be used for online payments and so much more.
John, however, decides to just keep those TRX tokens, so he stakes them up and just keeps doing so whenever he earns new tokens.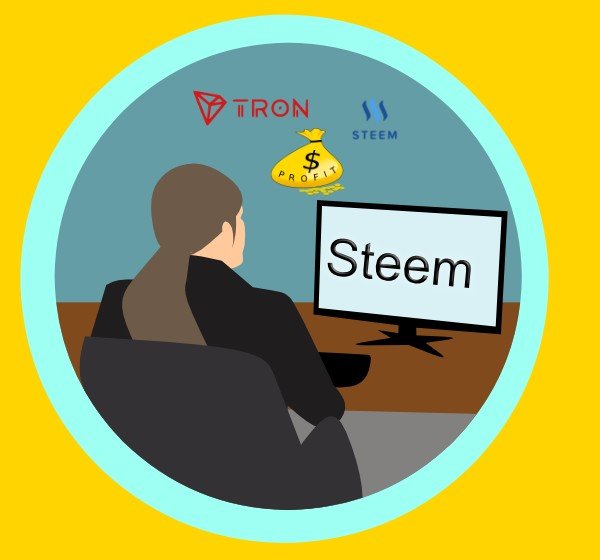 Source: Pixabay with modifications.
Not only is John super-happy about actually generating some income from his blogging, but he has also connected with other like-minded people, and he has already updated his LinkedIN profile and added blogger as a new "work." He has even been endorsed for this activity by some of his friends who have turned into regular readers of his blog!
John is still looking for a normal job, but he has definitely discovered a platform that he has fallen in love with, and he also written an article to his fellow Hungarians about "why every single unemployed person should start to blog?"
Do you know why? Instead of feeling sorry for yourself, you can actually start to generate income in this way. Also, in order to write you need to have ideas, and you need to learn. So, this will keep you active, it will make you use your brain, and it will draw you out of self-pity. As a result, it will also stimulate you to find a new job, and it will give you lots of new knowledge and ideas that might make it much easier for you to get an actual job later. And while waiting, you can connect, build a network, and generate income and earn both Steem and Tron tokens on the fantastic Steemit platform.
Blog on people!