Steemit: A way to earn more as a content creator! [For newbies][100% Power Up]
No matter if you are a professional content creator or a beginner one, content creation is not easy and it has its own challenges. Some people are good at copywriting and do the content creation professionally as a full-time job. Some others love to write or create other content, do it for fun or sometimes as a freelancer to earn some additional money.
Content creation for the beginners may seem challenging, also it is challenging. To write a great content, you have to know that language the best, grammar the best and keep practicing and get feedback from what you create.
But what If I tell you that there is a way to earn extra rewards as a content creator?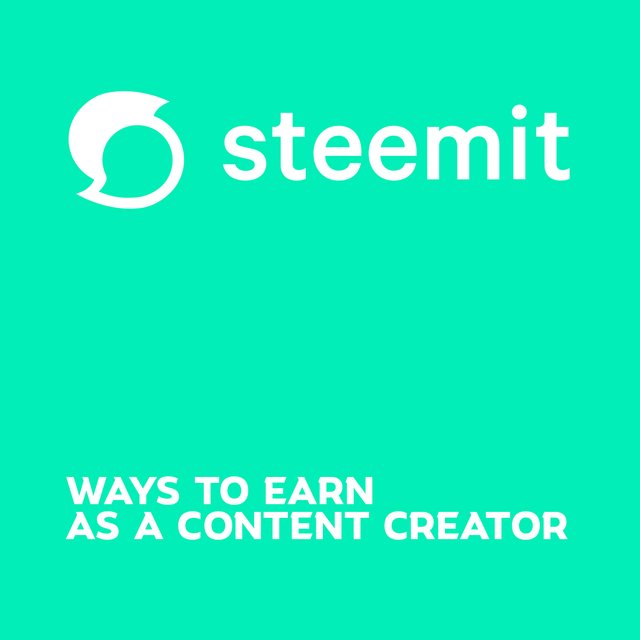 What is Steemit?
Steemit is a platform, that is built on Steem Blockchain and it is integrated to the TRON Blockchain. This platform has a great number of users, which use it daily, to engage with the community, to learn and to share their thoughts via different contents. As greater your content is and attracts people that are strong with Steem power, if they upvote your post you will earn a reward for the great content you create.
What type of content?
Articles
Steem is a blockchain which has tens of decentralized applications built on this blockchain. Steemit is one of the applications itself. In Steemit you can write a blog post. You can click here and start writing your article. Blog post has the title, content and the tag line.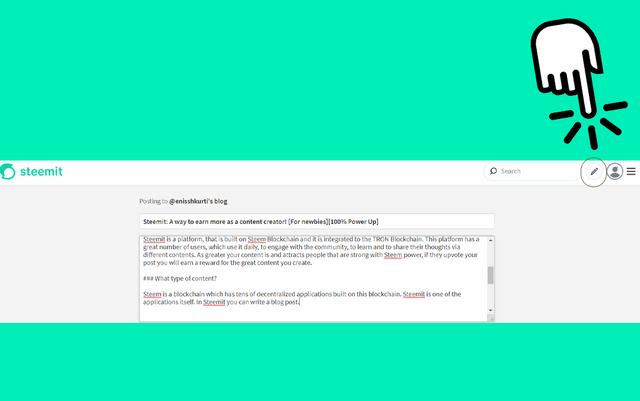 Down below are the options in an advanced settings, how you would like after 7 days your rewards to be distributed.
There are three options:
Decline payout: in the end of 7 days no rewards will be taken
50% SBD / 50% STEEM: rewards will be spitted half/half in two coins which you can find down below about those.
100% Power UP: After 7 days all your rewards will be given as a Steem Power.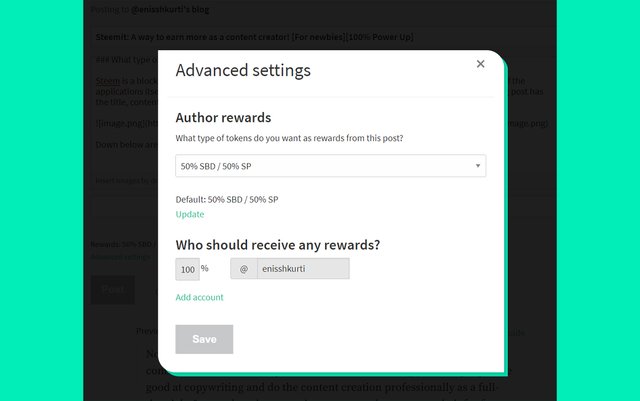 It is great like I did in this post, to 100% Power up all your earnings so you can have more Steem Power, having more Steem Power has more benefits and gives stronger upvotes. Also you save your coins, not to spend them, because sooner or later their prices may go higher in the future :)!
Other type of content that you can create is a video;
Videos
For video you can use https://d.tube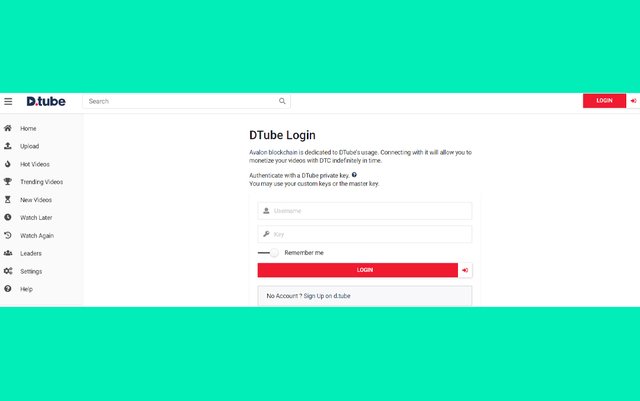 Once you log in you can watch videos, or you can upload your own video. So people will watch it, if they like your content it is the same, you will earn upvotes, you will get rewards.
What kind of rewards?
With the integration of Steem with TRON Blockchain, additionally you can earn TRX. Steem and SBD too. All this coins have their value. This Integration brought great changes to Steem Blockchain, because it will motivate you to earn more.
According to @steemitblog:
For every 1 SP earned, 1 TRX will also be awarded.
No TRX will be given for STEEM or SBD earned.
Posts set to Power Up 100% which get all their rewards as Steem Power, will therefore receive twice as many TRX as posts set to 50% SBD/50% SP.
Check the news here: https://steemit.com/steemit/@steemitblog/the-trx-and-steemit-integration-is-now-live
Under your content you can see a pending amount that will come from your post;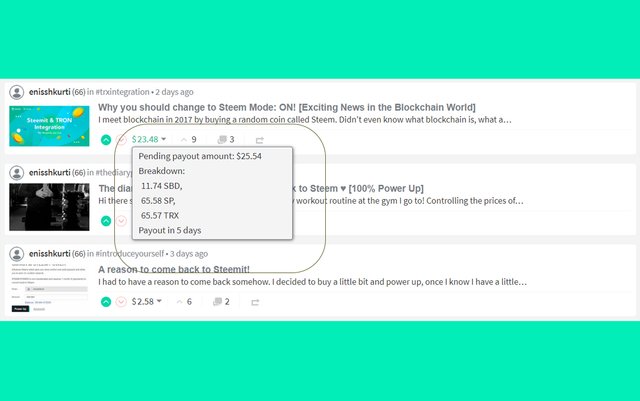 You can see approximately how much you may earn after 7 days, in the right time when you have made a post.
What is STEEM, SBD and STEEM POWER?
Steem is a coin itself, you can find Steem in the Coinmarketcap in the link below and see its value, max supply and the circulation supply;
https://coinmarketcap.com/currencies/steem/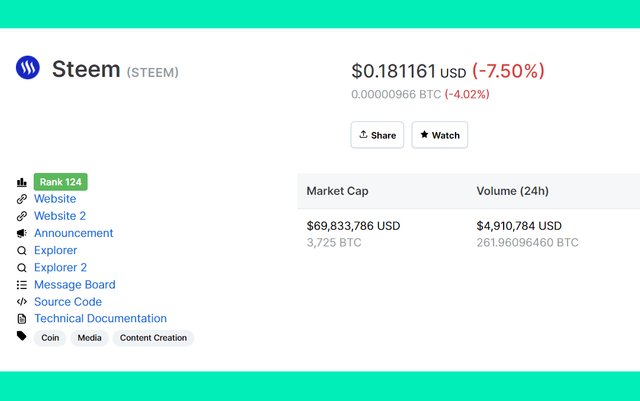 SBD is a coin too, you can check about SBD in this link: https://coinmarketcap.com/currencies/steem-dollars/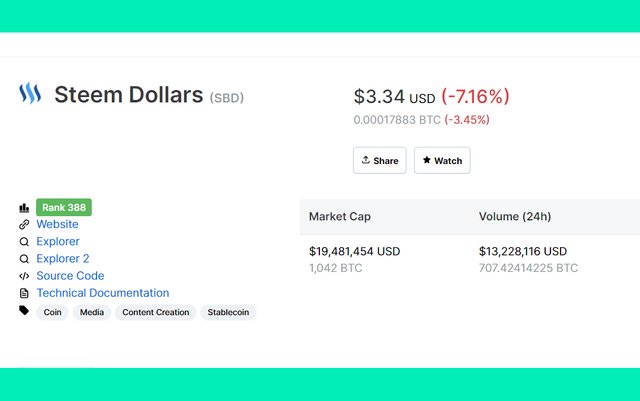 Steem Power
Are your Steem that are Powered Up, in 4 weeks you can power them down. Or if you do not use them, you can delegate your SP to some other account like I did with my 200 SP.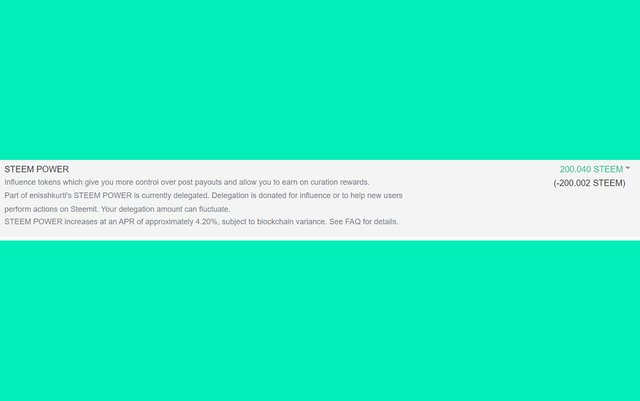 What is TRX?
TRX is a coin from TRON Blockchain, which is found by Justin Sun. A CEO that has bought Steem back in February 2020.
TRX can be earnt as mentioned above, now on on Steemit too, thank to the integration that was done in the 1000 day of creation of this blockchain.
How to start creating a content?
All you need is to create a Steemit account which is free on charge. In this link; https://signup.steemit.com/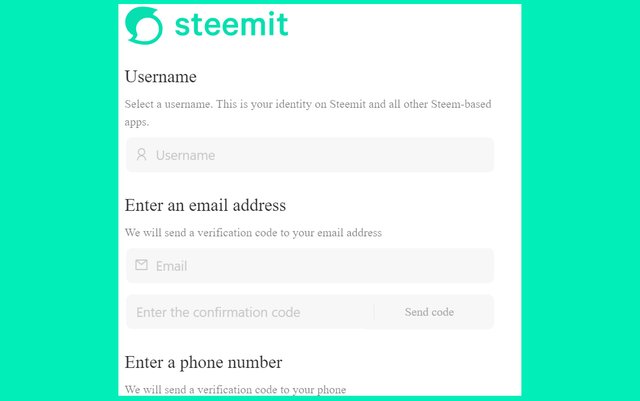 Once you verify your phone and email, make sure to save your active key and master key. It is so important in order to be able to login in your future.
Hoping to see you on steemit, if you have any question do not hesitate to contact me.
One tip for your content creation: Make sure it has value in it and make it with your heart! A content that a person reading that will totally get something out of it!