How to Set Up Push To Talk in Discord!
How to set up Push To Talk in Discord voice channels.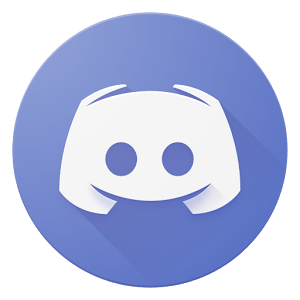 It's not the most intuitive system and can be very confusing for first-time users. I, for one, am a very visual learner, so here is a step-by-step tutorial. If I've missed something, please let me know and I'll update the post.

First, you must have a microphone. Most people can't just scream at their computer screens.
Trust me, I've tried. It doesn't work.
Some computers are magical, however, and do have working internal microphones!

As yet, I haven't figured out the secret ingredient as to which computers do and do not have internal mics that work with Discord. My advice is to experiment without an external microphone first and see if your voice comes through in the chat.
Some people say cellphone headsets can work if they're plugged into the microphone port on your computer. Personally, I've tried this once and it didn't work for me. But it might work for others.

I have a Corsair gaming headset with headphones and a built-in mic. They're comfy and the sound is great. In case you want to look into them, here's an Amazon link.

Okay, you have a microphone. Lovely.
Now you must make sure you're not muted and deafened. There are two ways to check this.
First, look at the bottom of the screen, next to your name. If either of those two have a slash through them, they're "off" and won't work.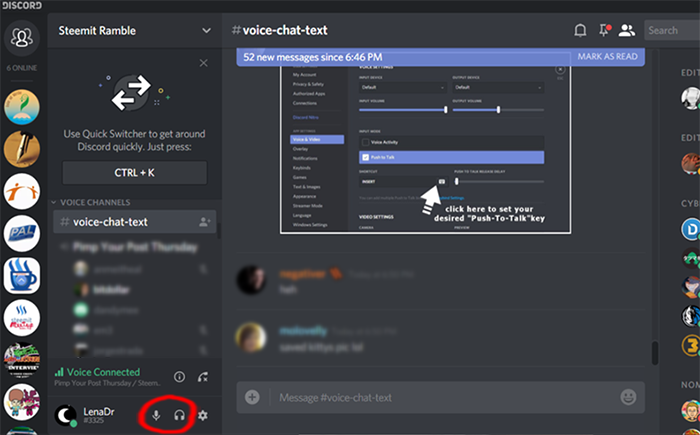 Next, right click on your name in the chat list.
This window (below) will come up; make sure these two boxes are NOT checked.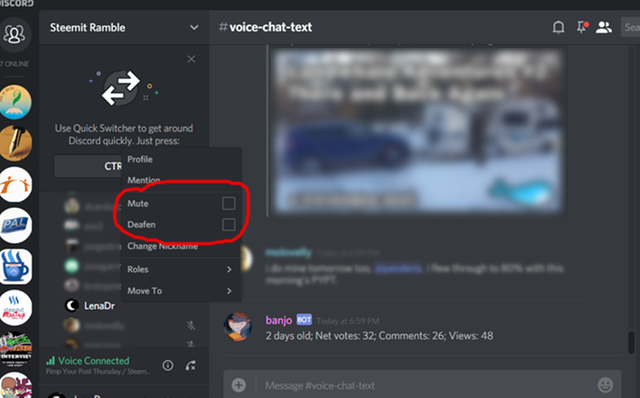 Okay, you're ready to hear and speak.
Click the little gear at the bottom of the screen. These are the settings.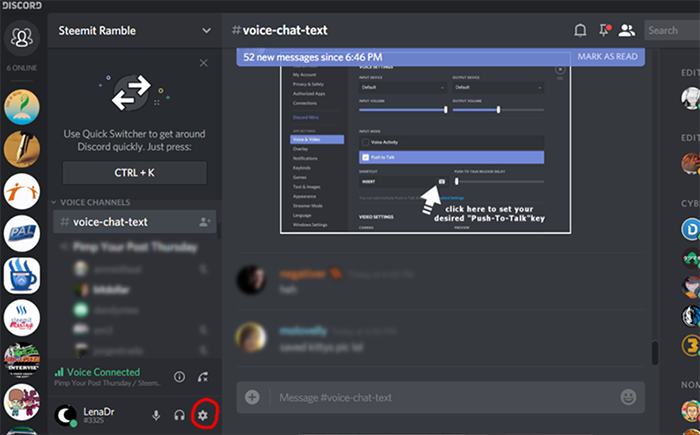 On the left, click on Voice and Video.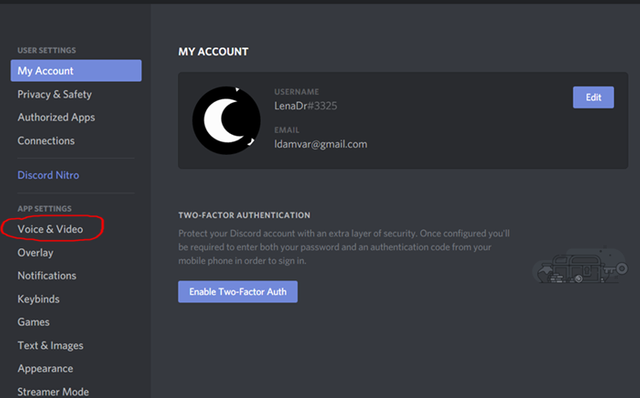 Under the Input Mode heading, make sure "Push To Talk" is checked.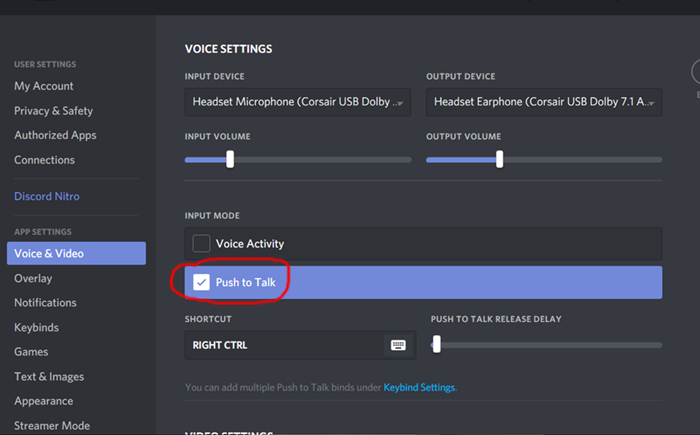 Now to set the key that you will push in order to talk.
Setting the key is called keybinding. Click on the keyboard-looking icon just underneath.
It also might say "Edit Keybind."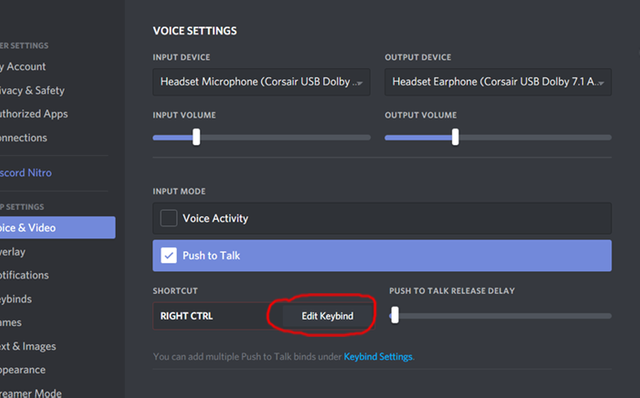 Once you click, it will turn red.
Push whichever key (or keys) you'd like for your Push To Talk. (Mine is the right control key.) Push it, and then click "Stop Recording."
Your keybind is now set. Woohoo!
When you want to speak in the room, push the key you've chosen and keep it depressed while you talk.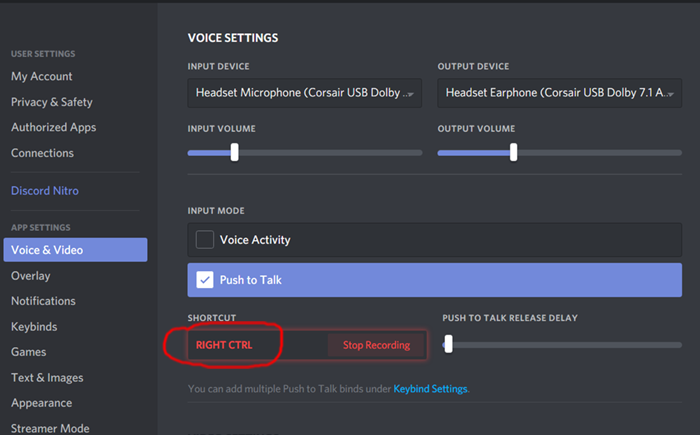 Almost done!
Up at the top are your input and output settings. Make sure the devices are correct and the volume is set. To change the devices, click the down-arrows to the right of the names.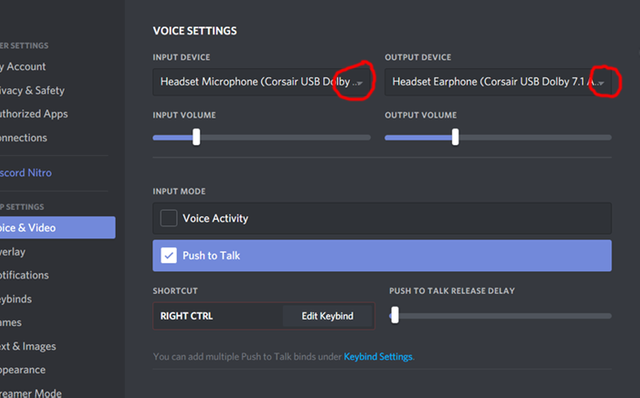 And that's it! You should be all set up for Push To Talk.
YAAAY!

If you're still experiencing problems, it might be that you don't have the correct microphone setup. Keep experimenting with different microphones.
It might also be a bad internet connection. I can't help you with that one.
Sorry 'bout that.

Again, if I've missed something, please let me know in the comments and I'll change it.
This is kinda my first "tutorial," so I can use all the help I can get. Heehee.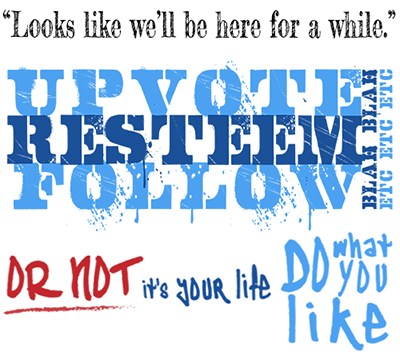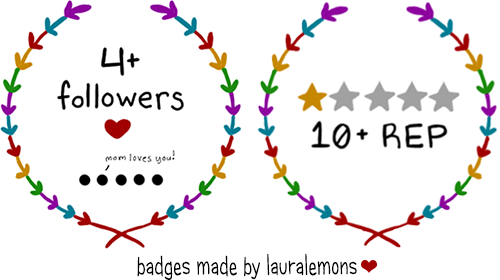 !steemitworldmap 29.9955 lat -98.0986 long Wimberley, Texas d3scr