TUTORIAL | Choker step by step | Gargantilla paso a paso
Merry Christmas, Steemian! I don't know about you, but I'm super happy that it's finally December. Today I'll put up my Christmas tree while I hear some good songs that remind me of my childhood.
Now let's go to the topic…
If you like jewelry and want to make a nice gift to your friends or to yourself, don't miss this tutorial I prepared a few days ago. The result is charming:
¡Feliz Navidad, Steemian! No sé tú, pero yo estoy súper contenta de que por fin sea diciembre. Hoy justamente pondré el arbolito mientras escucho unas buenas gaitas para recordar mi niñez.
Ahora vamos al tema…
Si te gusta la bisutería y quieres hacer un regalito a tus amigas o a ti misma, no te pierdas este tutorial que preparé hace unos días. El resultado es encantador: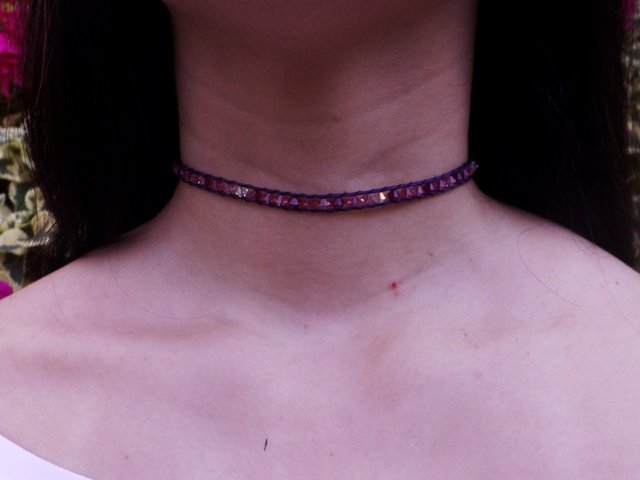 The best thing about this choker is that it's very pretty and super easy to make at the same time. So if you like the idea, here we go...
These are the materials you will need
Lo mejor de esta gargantilla es que muy bonita y al mismo tiempo es súper fácil de hacer. Si te gusta la idea, aquí vamosss…
Estos son los materiales que vas a necesitar: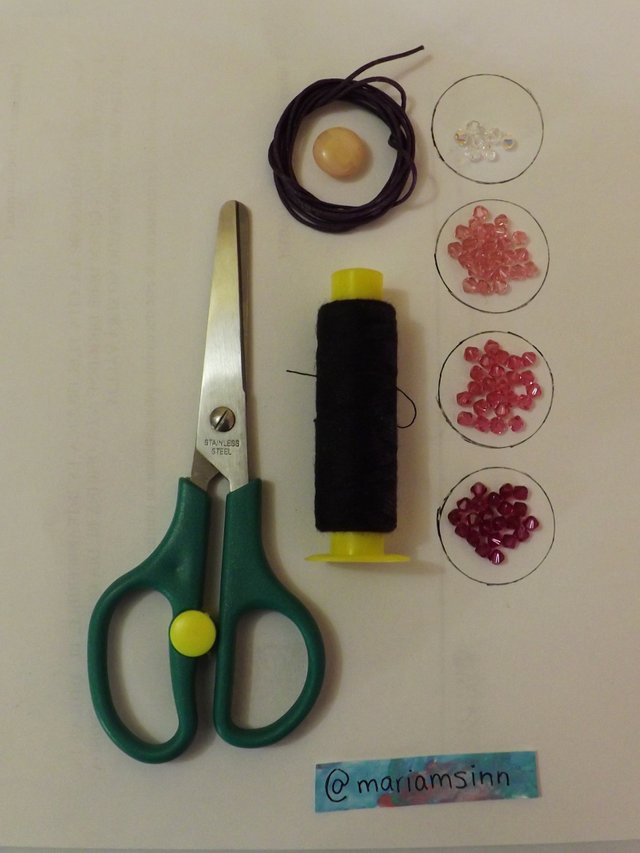 Waxed thread (multiply x2 the thickness of your neck and add 10 cm more)
Sewing thread (you can also use nylon)
Accounts (I used imitations of Swarovsky, but any other serves)
One button of the color of the choker
Scissors
Support table for leaves
Step 1
Hilo encerado (multiplica x2 el grosor de tu cuello y agrega 10 cm más)
Hilo de coser (puedes usar nailon)
Cuentas (yo utilicé imitaciones de swarovsky, pero cualquier otra sirve)
Un botón del color de la gargantilla
Tijeras
Tabla de soporte para hojas
Paso 1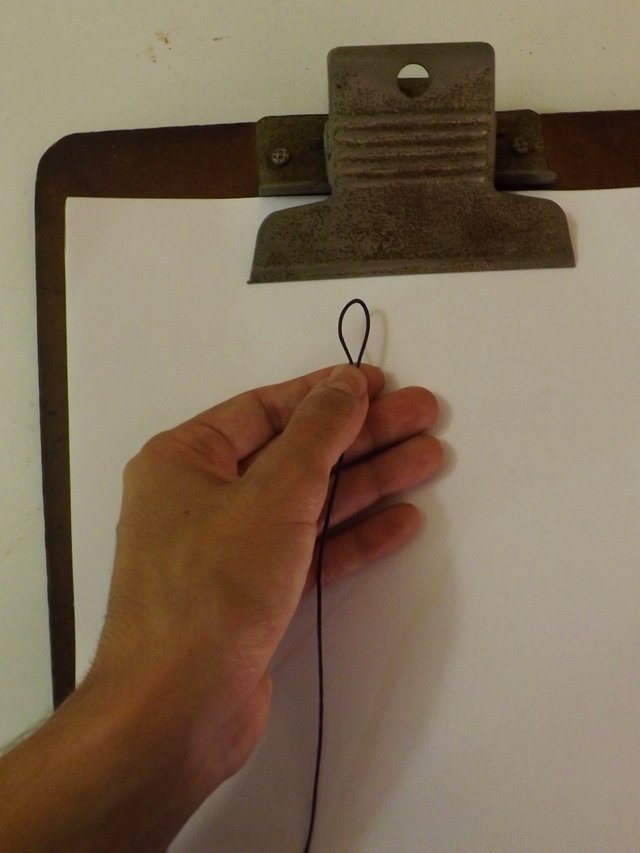 Fold the waxed thread in half, and on the opposite side to the ends make a kind of tail. Once you have it as in the image, attach it to the support table.
Step 2
Dobla el hilo encerado a la mitad, y en el lado contrario a los extremos haz una especie de rabito. Una vez que lo tengas, sujétalo con la tabla de soporte.
Paso 2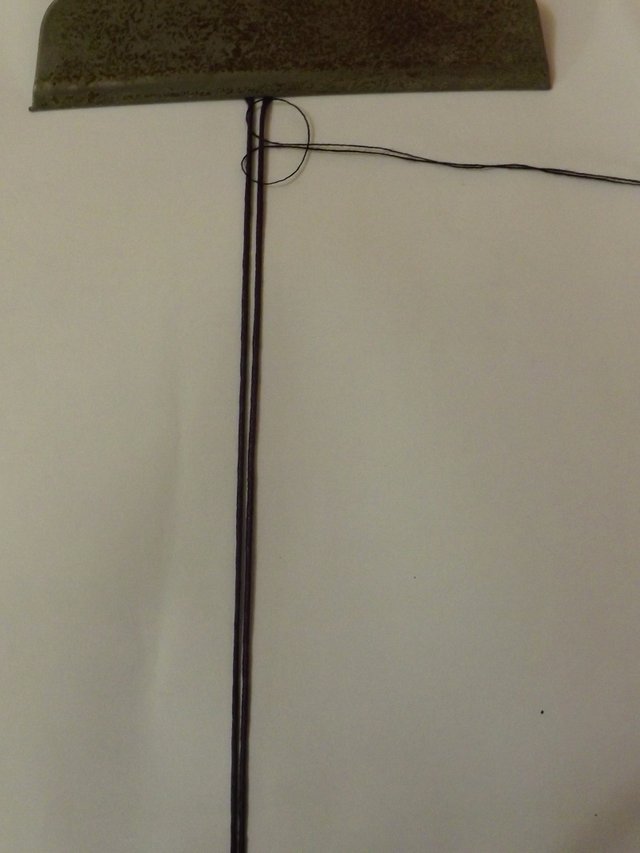 How easy this step and how hard to explain it xD. Take the sewing thread and do the same as we did in the previous step. Once you have the little tail you are going to pose it on the waxed thread, and its ends will pass underneath them until they come out by the same tail...
If you didn't understand, I don't blame you haha. You can observe the previous image and guide you.
Step 3
Qué fácil este paso y qué difícil explicarlo xD. Toma el hilo de coser y haz lo mismo que hicimos en el paso anterior. Una vez que tengas el rabito vas a posarlo sobre el hilo encerado, y sus extremos los pasarás por debajo hasta que estos salgan por el mismo rabito...
Si no entendiste, no te culpo jajaja. Puedes observar la imagen anterior y guiarte a partir de allí.
Paso 3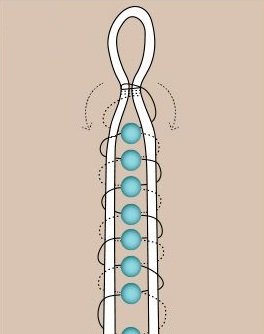 Imagen
I realized that it was impossible to explain this step, so I looked for an image that would do it for me. (Thank God I got it because I was going crazy)
This is what the previous step should look like
Me di cuenta de que era imposible explicar este paso, por eso busqué una imagen que lo hiciera por mí. (Gracias a Dios la conseguí porque me iba a volver loca)
De esta manera debe lucir el paso anterior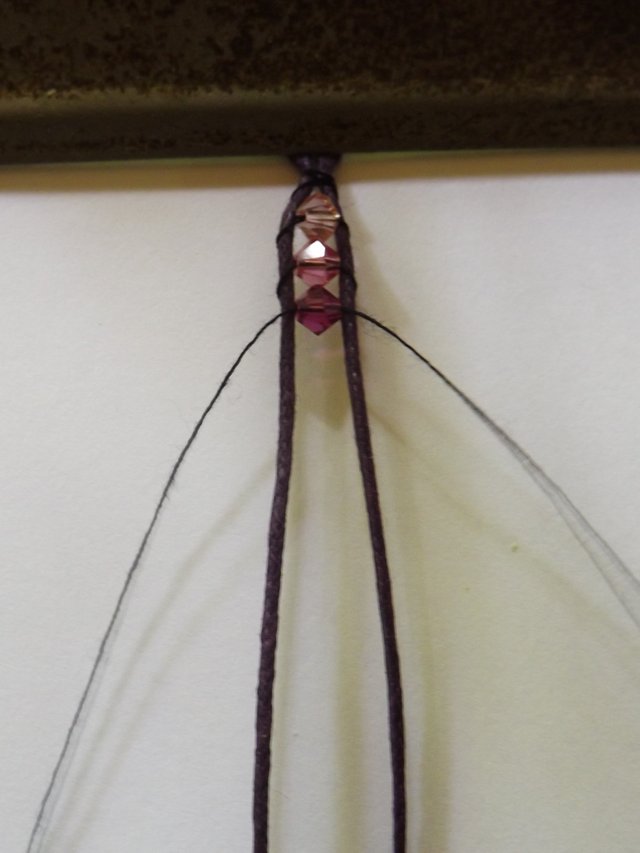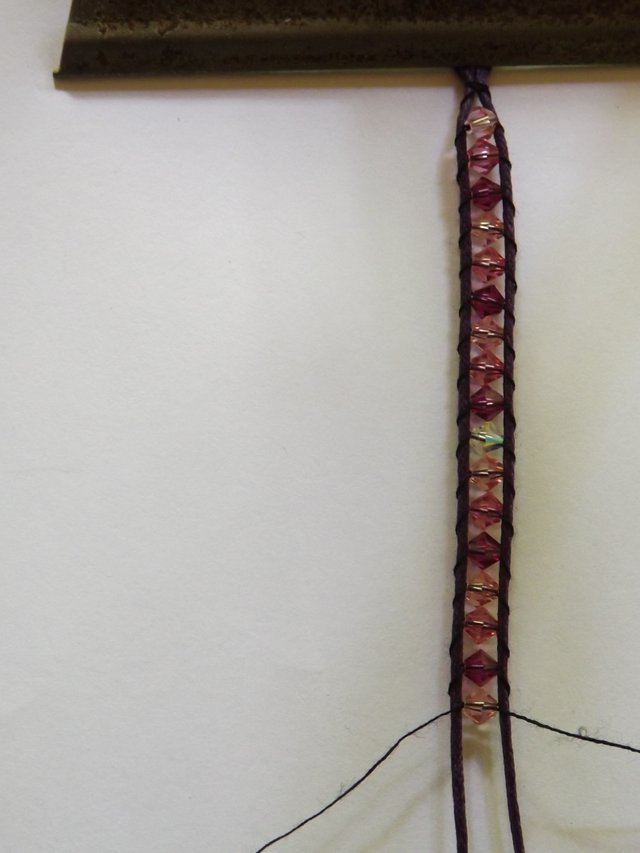 I recommend you relax and enjoy the process. If you can, convince someone to make a choker too and spend a different time. :)
Step 4
¡Relájate y disfruta el proceso! Si puedes, convence a alguien para que haga una gargantilla también y así pasas un rato diferente. :)
Paso 4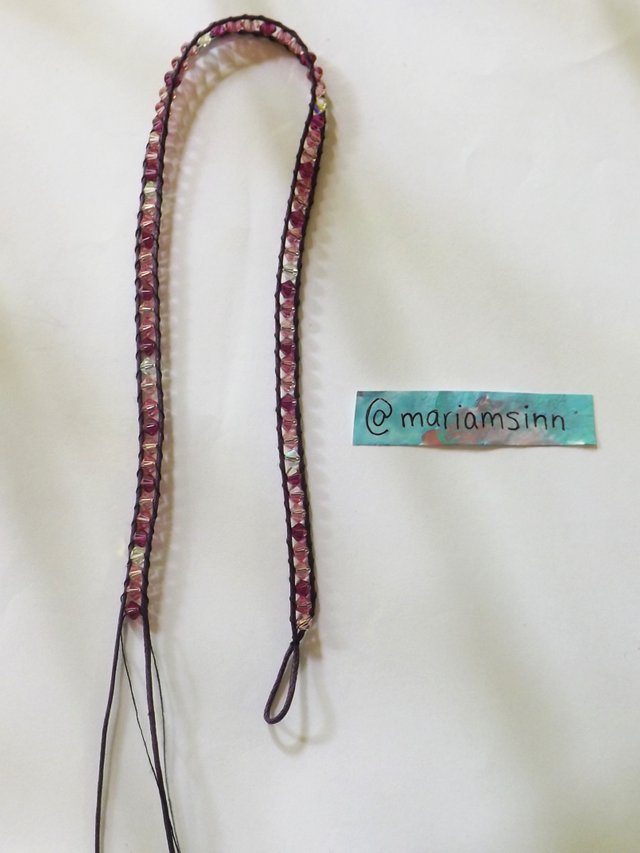 Continue adding accounts until you reach the desired length. When you do, insert the button on both ends of the sewing thread and tie a knot. If you want a more resistant knot, reintroduce the thread in the button and make another knot.
Then, cut the excess waxed thread and burn the ends with the help of a match or a tinderbox. This helps prevent lint from forming.
This was my final result
Continúa agregando cuentas hasta que consigas la longitud deseada. Cuando lo hagas, inserta el botón en ambos extremos del hilo de coser y haz un nudo. Si quieres un nudo más resistente, vuelve a introducir el hilo en el botón y haz otro nudo.
Luego, corta el hilo encerado sobrante y con ayuda de un fósforo o un yesquero quema los extremos. Esto evita que se formen hilachas.
Este fue mi resultado final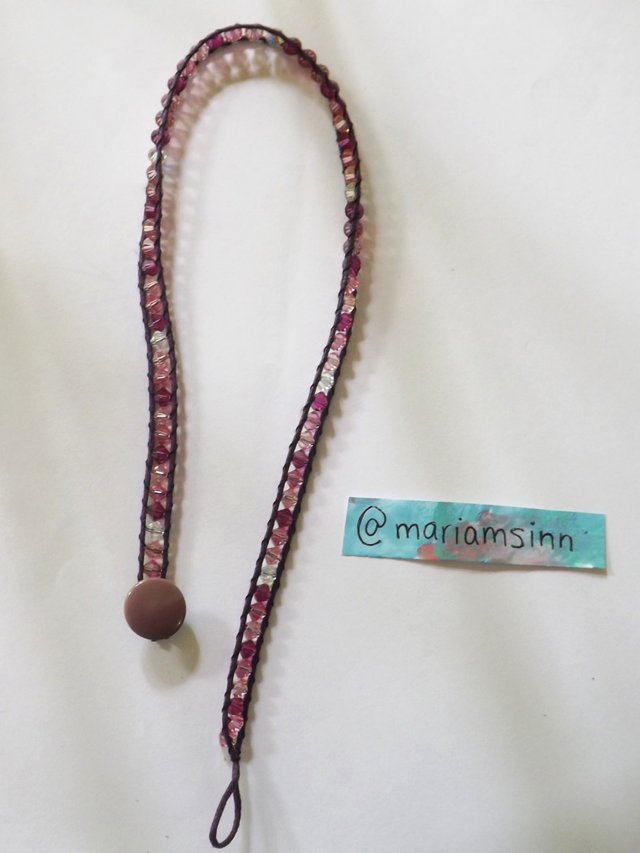 I hope you liked this tutorial and that you enjoy it as much as I enjoyed creating it for you. Remember that if you have any questions, you can ask me. And don't forget to share your creation with me. ♥
Espero que te haya gustado este tutorial y que lo disfrutes tanto como yo disfruté crearlo para ti. Recuerda que si tienes alguna duda, puedes preguntarme. Y no olvides compartir tu creación conmigo. ♥
---
The photographs in this post are my property

Las fotografías de este post son de mi propiedad