UChain - Decentralized network for the development of dApps
  UChain is a specialized ecosystem designed to address global economic issues in a shared format. In addition to similar competitors, the team aims to professionally and quickly create a decentralized infrastructure, bringing together many countries where users have the opportunity to share assets and freely publish decent content without intermediaries.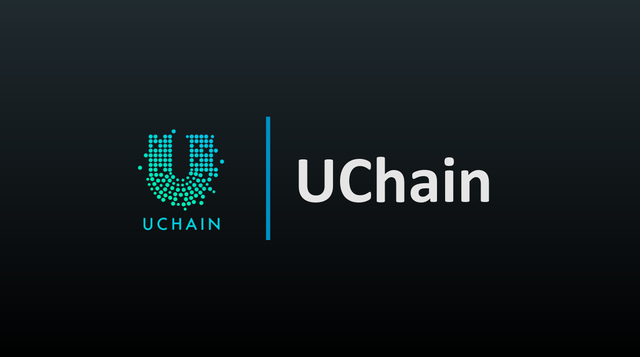 By means of the decentralized structure of UChain, both active users and traders will receive a significant profit. A truly free peer-to-peer network with blockchain technology will be organized in conjunction with the fundamental economic concept of sharing. The promising platform of UChain introduces middleware and combines effective blockchain tools with standard database technologies. With this approach, the company can 100% guarantee that all operations and reviews in open applications will remain intact and fully structured.  
  A few words about UCN tokens 
  UCN tokens are the base currency used in the UChain ecosystem. UCN coins can also be set in exchange for UCP tokens, which are used for voting purposes and are not subject to exchange or participation in trading operations. As the official digital currency of UChain, UCN has a huge potential in the cryptocurrency market. As the business grows this year, the number of applications increases and more data is collected. Credit assessment and technology services will become more valuable in the market.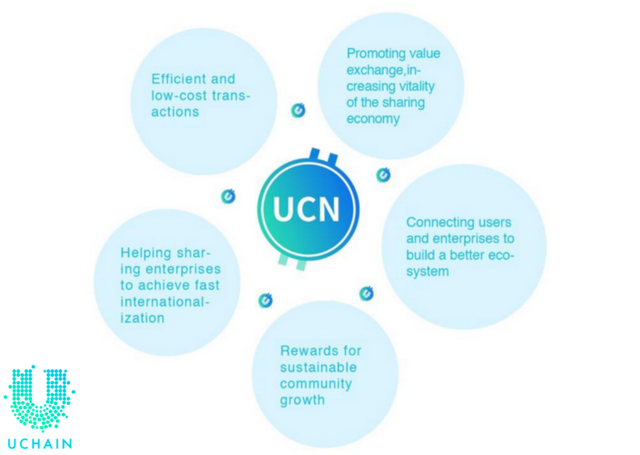 Token distribution:    
Token sale - 40%;
Ecosystem - 30%;
Team - 15%;
Company - 10%;
Partners - 5%.
The price for one UCN token during the ICO is equivalent to 0.0994 USD. or 0.0002 ether. Hardcap - 42.000 ETH.   
UCN is not only a digital currency, but also a base asset for all derivatives based on the UChain. The token is distributed in all dApps, built on the basis of UChain, as payment for all types of transactions. The coins can be used as vouchers to purchase assets from suppliers (exchange of bicycles, smart devices, etc.), to pay for API services. Users will be rewarded by UCN if they decide to contribute to the ecosystem. UCN can be earned by improving your activity in the community, for example by adding more users and creating valuable content.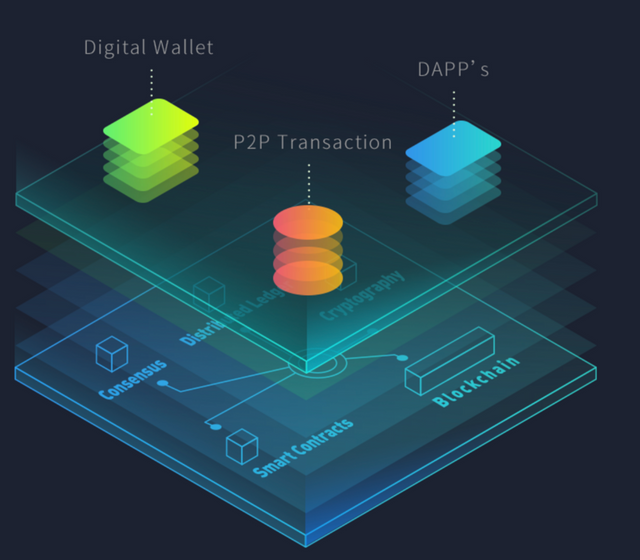 Main Team Members  
  The CEO was part of the founding team DianPing.com, which serves more than 300 million active customers. CSO was a leading participant in the creation of well-known enterprise software solutions. The organization's plans are to develop its own blockchain, but not all team members have had extensive development experience in this direction. The UChain platform has been developed since last year and most of the employees have moved from the U-Bicycle project, a former subsidiary of UB Group Holding. On the official website UChain are 8 core team members and 12 advisors.  

  Summary and risk assessment  
  There is a caveat to the Whitelist end pages, which States that residents from China and the US are not allowed to participate in the token sale. It is not clear whether the organization is currently cooperating with reputable law firms or individuals with extensive legal experience.  Based on public content, the level of development regarding the platform is low. The GitHub page for the platform is not publicly available, and the current stage of technical development is not discussed in detail in the company's community. Detailed information about the level of funding, that UChain has received, so far is not available in Whitelist, as is a discussion of possible problems that the organization faces or will face in the future (technical development, competitors, etc.). Still there are a lot more positive sides of the project, and it's definitely worth taking a closer, deeper look at it.  

References  
Web Page: https://uchain.world/#  
WhitePaper: https://uchain.world/css/img/pdf/uchain-whitepaper-dbe5656d6c.pdf  
Twitter: https://twitter.com/UChainEcosystem
Telegram: https://t.me/UchainEcosystem
BTT Bounty: https://bitcointalk.org/index.php?topic=4587074.0  
BTT ANN: https://bitcointalk.org/index.php?topic=4631038.0
Author: https://bitcointalk.org/index.php?action=profile;u=1143460